"I mean in like, my soul," says Saweetie while a glam attendant sculpts her brows. "'Cause I pray a lot. I mean in like, my body. 'Cause I eat good and I work out. I mean in like, my relationships. 'Cause I love my family and my friends. High Maintenance is about more than getting your hair, your weave, whatever done. It's about maintaining the things that you really care about in life."
The 26-year-old rapper, real name Diamonté Harper, is explaining the title of her 2018 mixtape in the first episode of PAPER's "Show/Off." Our new mini-documentary series captures intimate moment with remarkable people, before and during major moments in their lives. So we went behind the scenes with the rap upstart at her Rolling Loud Bay Area set, which took place at Oakland's Coliseum, about a 20 minute drive from her hometown in Hayward, California.
High Maintenance is the major label debut that took Saweetie from fierce competitor in a crowded freshman class of MCs (who got her start posting covers of songs like "My Neck, My Back" on Instagram) to one of hip-hop's most beloved breakouts. It's the home of "ICY GIRL," her splashy 2018 hit: a blasé kiss-off to haters and a pledge to "take custody" of her dreams that sits atop a double dutch, bubblegum-snapping beat.
She followed up High Maintenance with 2019's ICY, which includes her biggest hit to date, "My Type." The track leaves nothing to the imagination describing Saweetie's perfect man (her boyfriend Quavo is featured on two tracks), and pays homage to West coast gangsta funk and '80s hip-hop.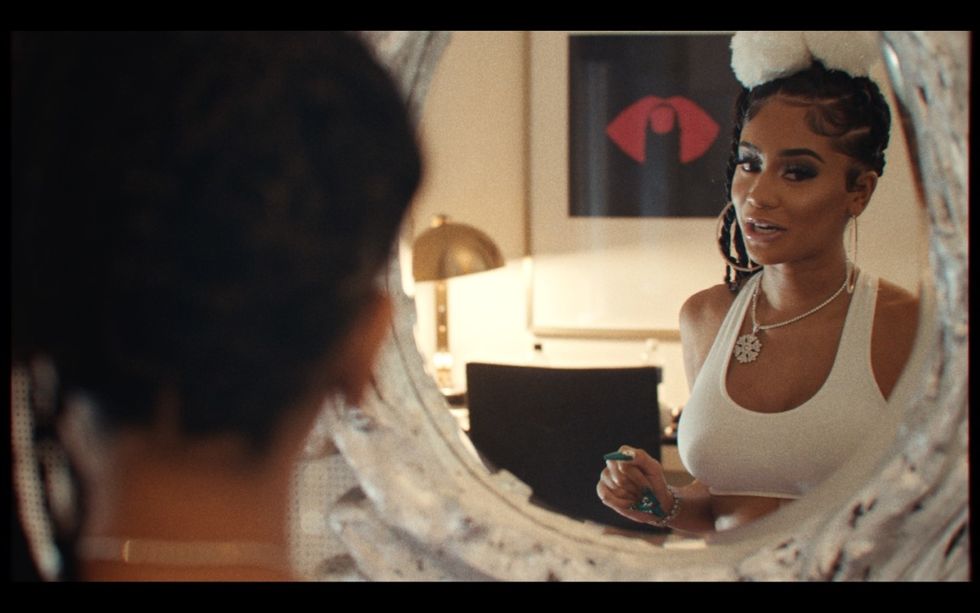 As it turns out, the things in life Saweetie really cares about — the things she knows she has to "maintain" in order to realize her hefty ambitions — are her family and roots.
"I'm high maintenance because my grandma was high maintenance," Saweetie says. "You know, she been bougie. She used to get her hair and her nails done every Thursday an hour away in her Mercedes Benz, driving herself off the money she made. When you're a little girl watching your fly grandma boss up and just be cute for herself, for herself..." She trails off.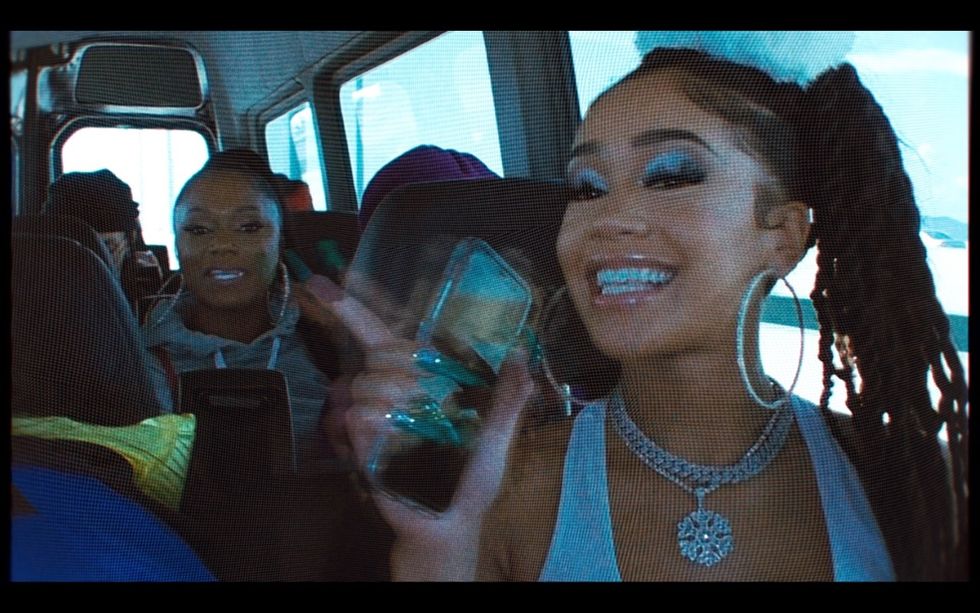 Her afternoon set at Rolling Loud is one of her first hometown shows since blowing up last year. "This day is a very special moment to me, because I'm home," she says, walking out to a reverent, deafening crowd. "This year it was my birthday, July 2nd. But five days after my birthday, my big cousin passed. So I got him on my back. So show some love to Ray Ray y'all."
Saweetie flicks her pom-pom-topped ponytail off her back, and turns show off her retro denim jacket, emblazoned with a portrait of her late cousin. "In the Bay Area when we want to show respect, or just show love to a loved one that passed away, we put them on a white tee, or on our clothing somewhere," she explains.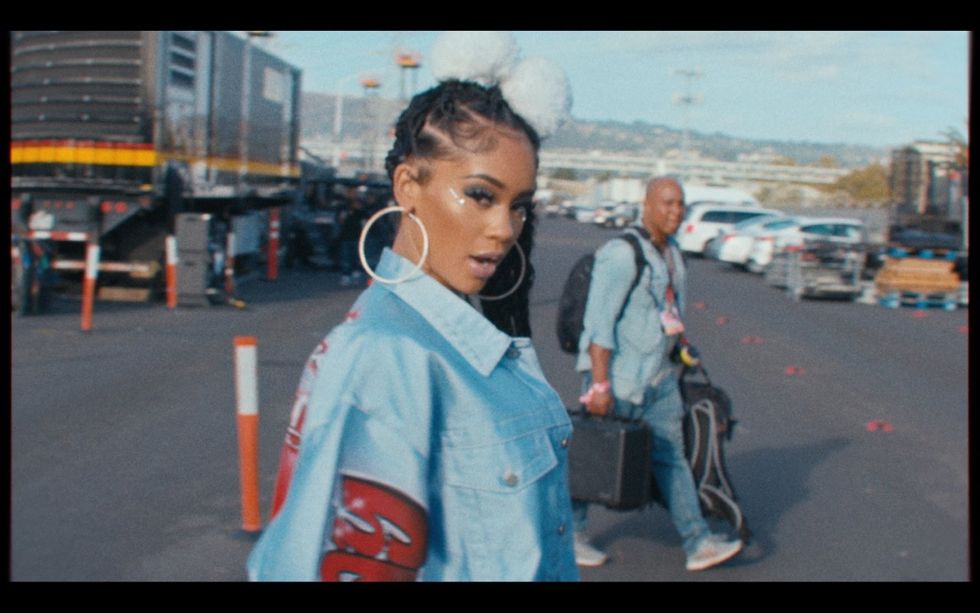 The artist pauses to wipe away tears. A minute later, she's a verse deep in a blistering rendition of "My Type," most of which is gleefully sung by the audience, directly into Saweetie's outstretched mic. Her pom-poms bounce on the beat.
"I'd hear that I was stuck up," Saweetie told us earlier in the day, while having her nails touched up. "But if you knew me, to know me is to love me, so it's just like... if they said that, they probably don't know who I was. I feel like people should stop judgin' people, because, you know... I'm from the Bay, we ain't stuck up, we real down to earth."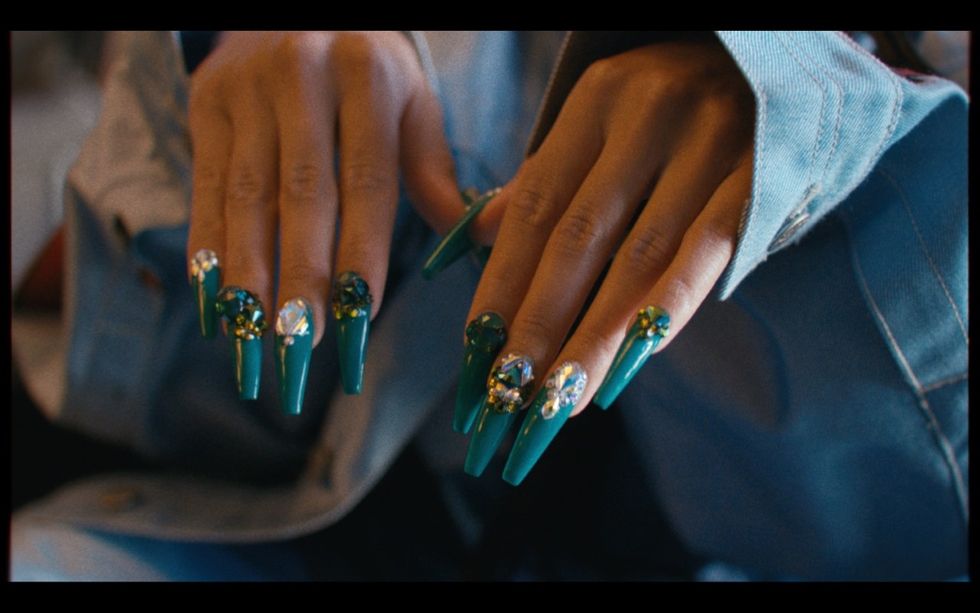 The hybrid of Saweetie's chillness and certainty she has what it takes to make it in the merciless rap landscape — where artists explode and burn out quick as fireworks — has served her so far. It's how she plans to continue.
"When I would tell people what my goals were, they would say you know, it's unrealistic, and they'd laugh and they'd chuckle," she says, laughing herself. "It was just like, 'alright, alright.' But I'm very confident and it's just like, 'I'mma show y'all.' And I did. I showed them."
Sign Up for the Morning PAPER