Join us at PAPER in June and July as we celebrate Pride online with a series of digital-only covers, features, and galleries celebrating and supporting the diversity, beauty, resiliency, and humor of the LGBTQ community. Today we dipped into the PAPER vault and time-traveled back to April 1993, when RuPaul, one of our digital Pride stars, made her first appearance on PAPER's cover. "Supermodel (You Better Work It)" was blowing up the charts and Ru was ready to take the world by storm. Read PAPER founder David Hershkovits' story below, and peep the sickening photos by Mark Contratto.
Home alone watching The Simpsons, spacing out thinking about RuPaul and the drag explosion when on comes a promo for Dame Edna, Barry Humphries' drag alter ego. There's also a commercial for The Crying Game, featuring Jaye Davidson's Academy Award nominated performance. Martin, a rather silly sitcom that I normally don't watch follows. But wait, Martin's in drag and getting a lot of laughs. And you can usually count on In Living Color, the home of "Men on Film," to roll out the drag jokes, too. If Fox-TV is into it, then the kids in the land of 90210 must also be. Among downtown cognoscenti, the likes of Charles Ludlum, Ethyl Eichelberger, Joey Arias, John Sex, John Kelly, John (Lypsinka) Epperson, Lady Bunny, Sister Dimension, Hapi Phace, et al., have been livening up the night with their talent and enthusiasm for years. Paris Is Burning celebrated house balls, Madonna became infatuated with vogueing and Susanne Bartsch made it respectable, but where is this generation's Divine or Sylvester?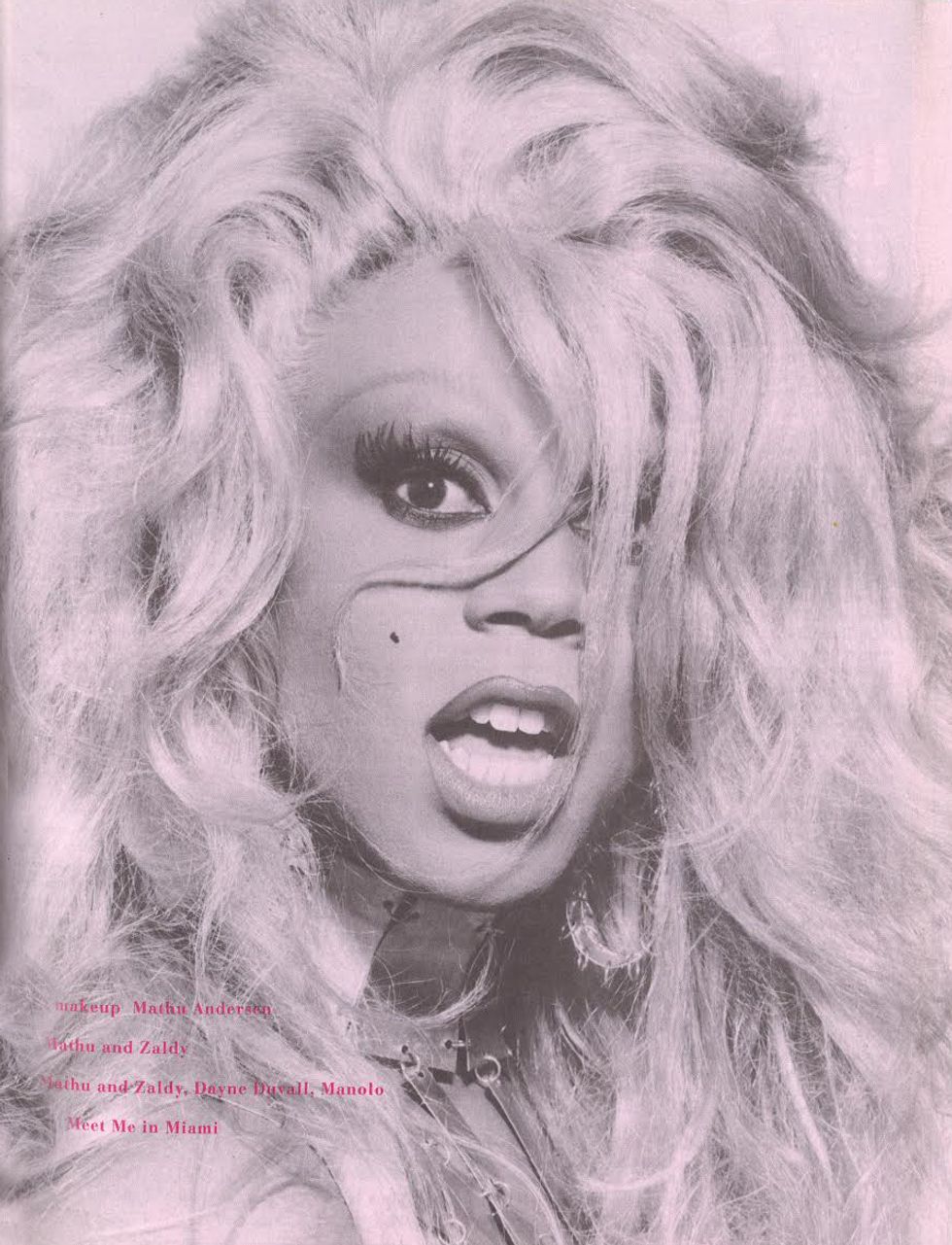 Mark Contratto
RuPaul can't help making anything but a grand entrance. A 26-inch waist, skin-tight hot pants, five-inche heels and a blonde wig tops off nearly seven feet of fierce divaness made up, dressed up and ready to claim the throne of King of the Queens. Tonight it's off to Bloomingdale's to spice up a combined promotion for Miami Beach and Mademoiselle magazine. If a seven-foot drag queen at a Mademoiselle party at Bloomingdale's seems incongruous, consider this: For several months RuPaul's "Supermodel (You Better Work It)" -- a send-up of mannequin mania -- has been one of the fastest selling singles on the charts. And the hilarious video that accompanies it is in heavy rotation on MTV where RuPaul has become an in-house favorite. Entertainment Tonight visited RuPaul's family and showed videos of the 12-year-old boy romping on the lawn in his sister's dress. RuPaul is also working the talk-show circuit and serious offers for everything from books to movies have been pouring in. In the Midwest, RuPaul is mobbed by young girls and his appearances at gay clubs virtually guarantee a packed house. And it's only just begun. In Europe, sales of "Supermodel" -- available thus far only on pricey imports -- are going through the roof. Germany's Stern, the Independent of London, Premier TV out of Hamburg have all dispatched correspondents to get to the bottom of this phenomenon.
Born in San Diego, RuPaul Charles moved to Atlanta, Georgia, at 15. "And then I started to do my act because I was away from all the people of my childhood," he says. "I always knew I wanted to be a star. I didn't know what it was going to be, but even at that point I knew that Hollywood didn't have my type. I was going to have to be pretty extreme -- whatever it was --to get people to notice me because the people that I loved were Michael Jackson, David Bowie, Diana Ross, Cher, Bette Midler. I knew that I would have to be something way out."
In Atlanta, RuPaul hooked up with some others of the same sensibility. Among them Larry Tee and Lady Bunny, two fellow Southerners who welcomed RuPaul into their scene. And into Larry Tee's band/performance group the Now Explosion. "It wasn't really drag to begin with," says Larry. "Back then it was gender fuck drag -- not the glossy Las Vegas style that Ru is working now."
Like Holly Golightlys everywhere, they eventually decided to give New York a try. "When we arrived in the mid-80's," recalls Lady Bunny, "the scene was glamorizing junkies -- gothic black doom-and-gloom. We're more upbeat and silly than morbid."
Settling in at the Pyramid with a like-minded core group, they went on to create the outdoor drag festival Wigstock, encourage the revival of disco, give birth to Deee-Lite and take part in the evolution of the modern drag queen. "The modern drag queen is doing it more as a tribute, an appreciation of women," says Les/Linda Simpson, host of cable TV's Party Time and editor of the drag zine My Comrade. "They're more their own personality, interested in creating a new persona rather than being Liza and lip-synching. They're more hip to pop culture. Rather than be on the fringes, they want to be on the cover of a magazine."
Though drag performers have been around since the days of Kabuki and men played all the female roles in Shakespeare's time, the social acceptance of transvestism varies with the time. From 1959 to 1967, Jack Dorashow ran a drag beauty contest that traveled around the country. The 1967 version, held at Town Hall, became the subject of a fascinating documentary, The Queen (which was recently revived at Film Forum). "Drag was very closeted. The thrust was the adversity; that's what motored my business. We could go into towns that had laws against cross-dressing. We would give a donation to a 'local charity' and the boys would come down from the trees to see it. By 1967, it had graduated to public acceptance and became chic among the social cognoscenti."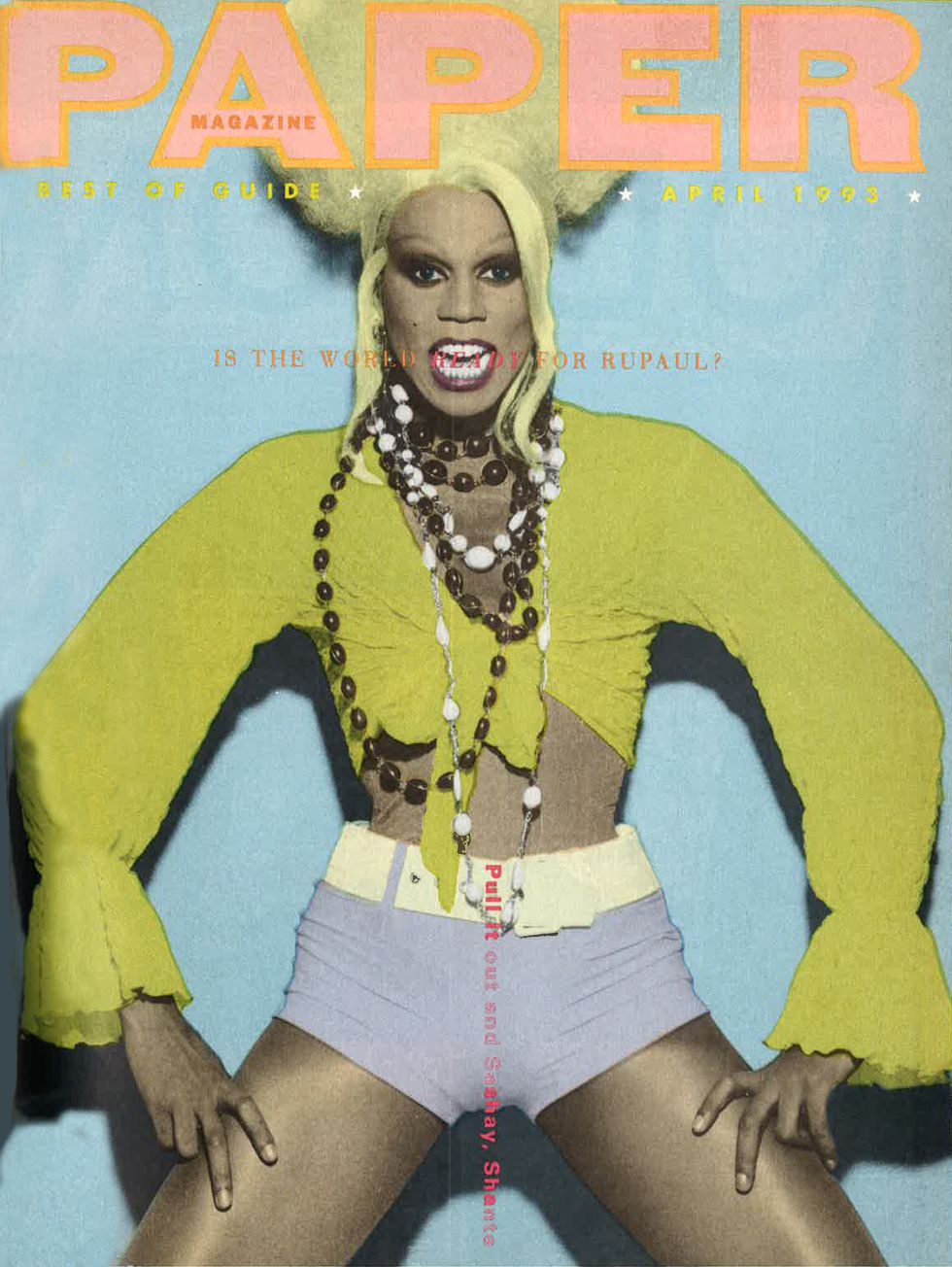 Mark Contratto
Enter Warhol "Superstars" like Jackie Curtis, Holly Woodlawn and Candy Darling, followed by gay liberation with drag queens leading the revolution at the Stonewall in the Village. With liberation, drag evaporated. Then came AIDS -- and disco and homosexuals were no longer cool. But drag was. "Drag was a way of circumventing the gay thing," says Dorashow. "But with balls. Drag queens have always been the guys on the front lines."
As they say, you've some a long way, baby. In an earlier guise as Star Booty, RuPaul turned up at the New Music Seminar wearing a jock strap, football pads, cut-off wading boots and a ratty wig, waving his record around and charming everyone within his considerable range. But it would take a two-year hiatus from the hectic and debilitating pace of New York nightlife to get the package ready to travel. "Two years ago Ru got himself together," says Larry Tee, who co-wrote "Supermodel." "He stopped drinking and all that and stopped making his living doing $100-a-night gigs at gay clubs. He made a conscious effort to take it to the next step."
"There was a point where I knew I had to reinvent myself," says RuPaul. "I had gone so far one way and I had to really struggle and sacrifice to get myself together. When I made the decision that I was going to go for this and work harder than I've ever worked before, everything else fell right into place."
The next step was reconnecting with his management company, World of Wonder, run by Fenton Bailey and Randy Barbato. Together with his writing partner Jimmy Harry, RuPaul went to work. "Wouldn't it be just mind-blowing if a drag queen had a number one record," thought Bailey. "Wouldn't that, in one simple step, break down a lot of walls of prejudice? People have always said that you could never have a drag queen in the charts. Why not? The modern drag queen is in essence what pop culture is all about -- sex, glamour, beauty. And celebrating and parodying it. The modern drag queen collages a lot of stuff from TV and media and creates a distillation of the glamour and beauty business."
Monica Lynch of Tommy Boy Music has known about RuPaul as a name floating around in the downtown consciousness. Then she received a tape of RuPaul songs. "I thought the idea of a drag queen recording artist would be great if the music was there," says Lynch, president of a label more famous for rap groups like De La Soul, Digital Underground, Queen Latifah and Naughty by Nature than they were for camp. "Otherwise it wouldn't stand alone on its two high heels." Everyone she played it for at Tommy Boy fell for it, too. There were other reasons to believe in RuPaul. "Ru has been performing for years. There's a cult of RuPaul -- not just in New York and Atlanta -- around the country. A lot of people knew who RuPaul was. There was a lot of good will."
And the timing was right. "What's too far out in 93?" Lynch asks. "When you look around the musical landscape and the other images that are shown in media, a lot of it is sensationalistic, pushing imagery as far as it goes." For Lynch, the RuPaul project had the added appeal of being a "perfect marriage of music and fashion," two of her favorite pursuits. And she hadn't even heard "Supermodel" yet.
Last October, at a photo session for RuPaul, Lynch was delivered the tape of "Supermodel," a late addition to the album. "I knew that it was going to be the single." Lynch then had the bright idea to debut "Supermodel" at the showings of Todd Oldham's and Isaac Mizrahi's spring collections.
"A lot of people don't have any idea he's a drag queen," says Todd Oldham. "But it doesn't matter. When you hear a new song, you respond to the vibe and the music, not what's between the legs. RuPaul furthers the spirit and eliminates all boundaries. If you have someone you can't pigeonhole, why not celebrate it?"
"It's so funny," says RuPaul, "because supermodeling has been in my peripheral existence for such a long time. As a drag star, I do a lot of shoots and wear lots of fancy clothes. Also my character Star Booty had been America's top black supermodel turned crime fighter, so Supermodel is kind of a sequel to Star Booty. And all the girls I name in the song -- like Linda [Evangelista], Christy [Turlington] and Naomi [Campbell] -- relate to the song on the level that they too are drag queens; they know that there's what's projected on the runway or the pages of a magazine, but there's a real person underneath all that. The modeling industry has taken on the glamour booth that Hollywood used to give to us but they don't anymore. We are all glamour pusses. We all love to pose right now, especially with voyeurism being at an all-time high everyone is getting the chance to be a supermodel, to sashay, shante on the runway."
Dressed in his Banana Republic drag, as he calls it, RuPaul has found that life for the African-American male can be very different. "People will treat an African-American male like dirt; it's not cool. And I want the people to know that that black man you may be dissing out there may be RuPaul. Be sweet."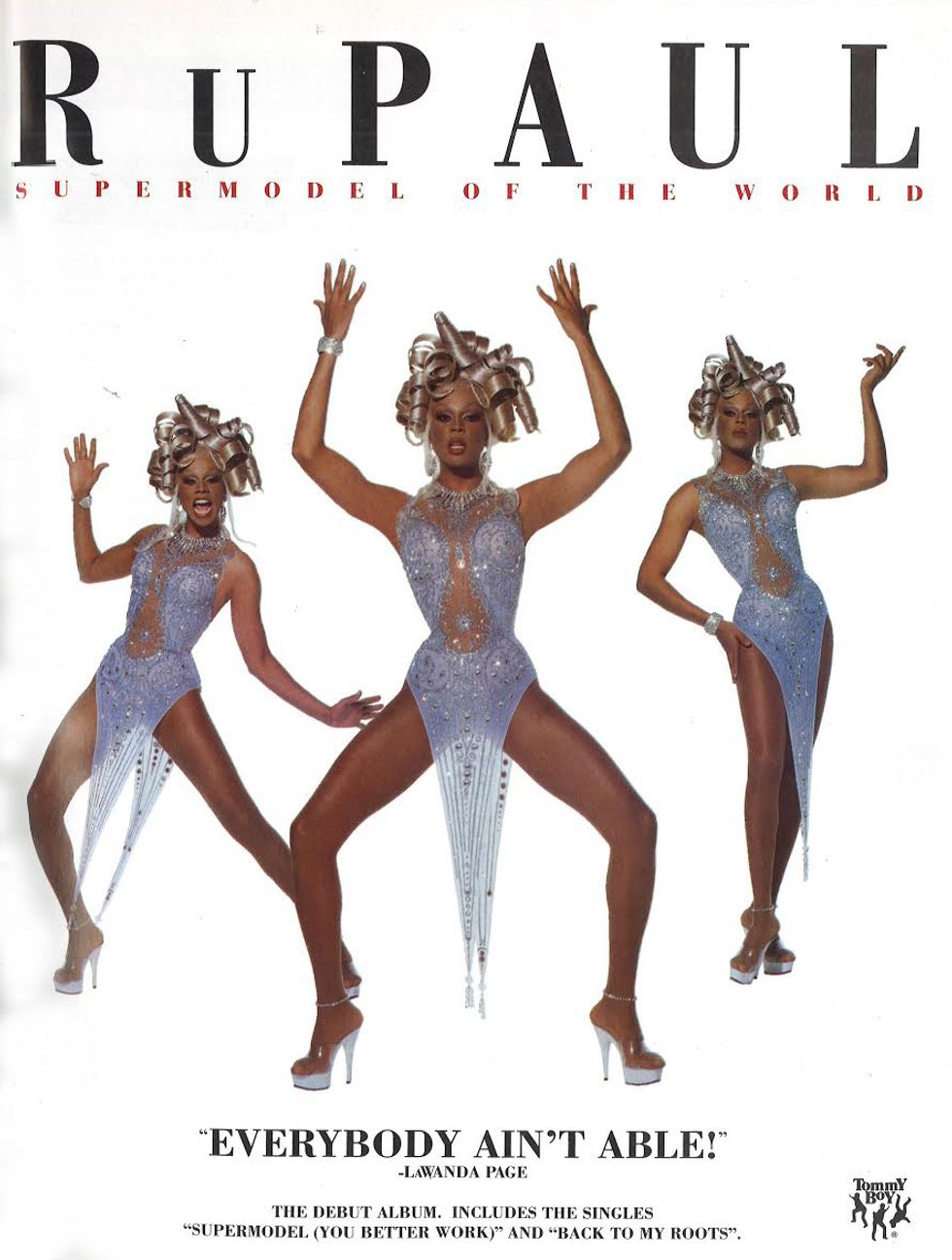 Ad for Supermodel of the World, from PAPER April 1993
Could drag, therefore, be partly a way of escaping that categorization? "Maybe subconsciously. Because I'm definitely a ruling diva when I'm in my Goddess Drag. Drag is the ultimate in power dressing. It's like using image and persona to work for you, however you want. My masculinity really comes out when I use my Goddess Drag. But the main thing is I get a kick out of it. People really like it. I come into focus when I'm there. It's like when people watching a 3-D movie put their glasses on and it becomes very clear. That's how my family saw it when I performed at our reunion. I'd always been in the shadows, in the corner, as a child; now the picture becomes clear, my essence came to the forefront and they saw me in all my glory and godliness."
Apparently the message is getting through, even to the much maligned mainstream where the big fishes with all the money swim. "It makes perfect sense," says Randy Barbato. "Mainstream America is weaned on TV. For people who grew up on TV what better person for them than RuPaul and the plethora of characters embedded in this Amazonian figure. Like zapping 68 channels."
The best messenger for the message, everyone concluded, was the Goddess herself. "America had to meet RuPaul," says Barbato. "Supermodel" hit in mid-November and by December RuPaul was off on a three-month tour of radio stations and gay and straight clubs around the country. Crossover radio stations in key markets picked up on it. Now it's branched out into the mainstream Top 40 stations and RuPaul is booking high visibility TV appearances on Entertainment Tonight, Arsenio and Joan Rivers.
Most of them time, though, you can find RuPaul on MTV, the primary vehicle that has brought drag into the heart of America. "We loved it. So we played it," says MTV programmer Sherry Howell. "Everybody who saw the video (directed by Randy Barbato) was so entertained, it was a no brainer." MTV has also featured RuPaul in different segments and invited RuPaul to perform and be a judge on the "Beauty and the Beach" segment of the Spring Break show from Daytona. "That's the genius of it," she says. "Two female judges, two male judges, RuPaul is the swing vote."
When RuPaul first saw the "Supermodel" video on MTV the "first thing I thought was that 15-year-old kids in the Midwest were watching it. Kids who were like me stuck in a small town thinking, God, what does life have for me? For me, Divine, Sylvester, Flip Wilson, Boy George, Michael Jackson, were examples of people who wee different. Like Diana Ross, she's totally from outer space. What a rebel! I love those people who against all odds come out on top. They're the fiercest things."
RuPaul enjoys the many facets of drag -- the fun and the fetish. "I always assume that everyone really knows [that I'm a man] when they meet me. I'm not trying to be a woman. I'm just RuPaul in drag. The only other women who dress like me are Dolly Parton, Patti LaBelle, Madonna, Diana Ross, Cher -- other drag queens who are women. That's why drag is such a release. It doesn't really have to be a sex fetish. It can be, and cute, too, OK. I get very excited when I put on a pair of women's panties. I think any man would. Anyone. Your father. Just because they're so sensual, and so soft and lacy. Oh, my God. I'm getting excited right now. We all put on masks. It's a defense mechanism. It's so funny to play games with that power."
In Vested Interests: Cross-Dressing and Cultural Anxiety (HarperPerennial, $17.50). Marjorie Garber talks of the "power of the transvestite to unsettle assumptions, structures and hierarchies." Fenton Bailey takes it a step further. "The drag queen as a personal cartoon creation is not caught up in issues of homophobia or transvestism. Ru's an entertainment package that transcends all bigotry that people say exists in America. RuPaul leapfrogs stagnated politics and says shazam, here I am."
And so (s)he is. Cominatcha with a follow-up single "Back to My Roots" -- a tribute to black hair products -- and a new album. "I did it for people who like to dance, go to discos. I think people will love it. And it will clear up any notions of this being a fag trend novelty act. RuPaul's been here for 11 years."
What you see on the video is that polished act, honed to perfection, not something put together in the studio. To prove it, RuPaul plans to tour this summer "with a band and the whole shebang. I see myself in Vegas, taking up the reins where Liberace left off."