Meet Pixie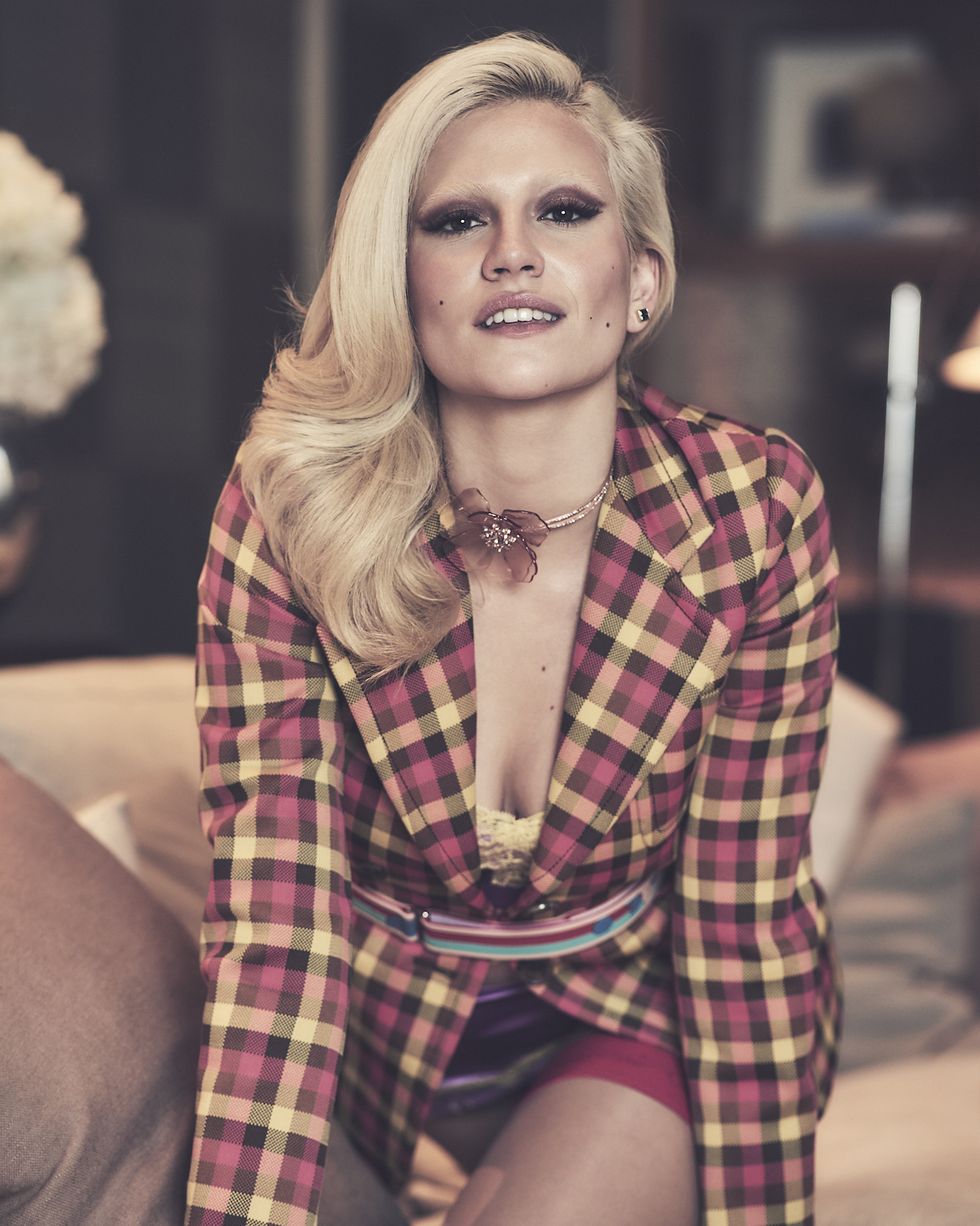 Pixie wears a jacket and belt by Prada, tights, top and skirt by Agent Provocateur and a necklace by Kate Spade
Pixie Lott is no stranger to the entertainment business, having launched her pop career after first getting discovered by legendary music exec L.A. Reid when she was only 15. Since then, the 26-year-old blue-eyed soul singer has racked up a string of hits in the UK ("Boys and Girls," "Mama Do") while also penning tracks for artists like Selena Gomez. Recently, she branched out into theater, starring as Holly Golightly in Breakfast at Tiffany's in London's West End.

You're only 26, yet you've done so much -- three studio albums with a fourth on the way, tens of millions of YouTube hits and numerous awards. Has the time flown, or does it feel like a long time since you first started out?

I love what I do so it's fun and time goes quickly, but, you know, when my first single came out, it was all about Myspace. How crazy is that, right? I remember seeing people from China messaging me on Myspace saying they loved my music, and I couldn't believe it.
What's the most significant change in the pop landscape since you began?

I signed a record deal at 15, and I don't think those kind of label deals are around anymore -- the 360 deals where they took a piece of [all revenue, including songwriting royalties and merchandise] because record sales weren't doing so well since downloading meant no one bought CDs. When streaming started, no one really knew what to do! It completely changed the whole pop market, but now labels get it more and people are earning more from streaming than when it started. The industry is getting to be a better place.

You've been many things before, from pop star to musical theater actress, but who is Pixie of 2017?

I want the music as my main thing. I've been lucky enough to have other experiences, and I love other sides of performing,because doing the same thing over and over can get boring. I really want this new music to be fresh and current, but the style I love has a soulful feel, whether it's through the delivery or the writing.The first thing to come out will be a [guest] feature on a real club banger, then my single will be out after that.

You're also a coach on the new The Voice Kids in the UK and you set up a performing school. Why is it important to have these other outlets in your life?

I love new talent, it excites me. I started out going to an Italia Conti Academy of Theatre Arts associate school, so I set one up too, and I see all these young people and they're so talented and excited to be there. The opportunity for The Voice Kids came up and I was like, "I'd love to be a part of that." The talent in the blind auditions... I'm listening and just gasping, like I can't believe this voice is coming from a 10-year-old!

You and Oliver were portraying the quintessential '80s Yuppie couple in these photos -- except you were born in 1991. So what's your first thought when someone says "1980s"?

I love The Wolf of Wall Street, the styling in that, but I'd have to say... Madonna [laughs]. Oh, and I watched Working Girl the other day and Melanie Griffith was fantastic.

There is always pressure and a not-always-welcome spotlight on celebrity relationships, so what makes yours work in the face of that?

When we're away from each other, we're speaking to each other as much as we can -- WhatsApp is a godsend -- but when I go on trips, I always ask him to come if he's free.He's my best friend, and the amazing thing is the memories we share. We've been together since I was 19, and now I'm 26. We know each other inside out.
Meet Olly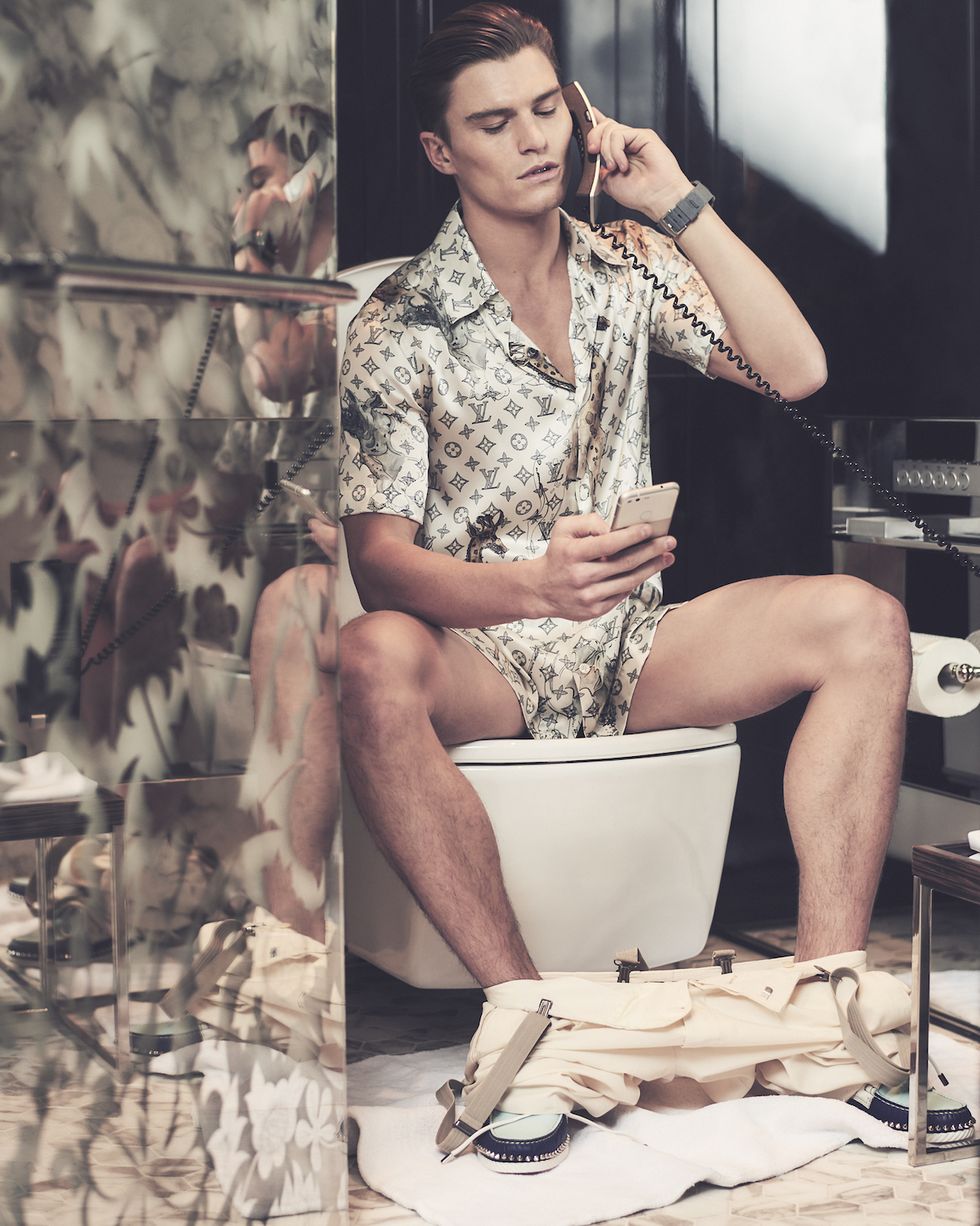 Oliver wears a shirt by Louis Vuitton, pants by Fendi, suspenders by Zara, shoes by Christian Louboutin, a watch by Nixon and a smartphone by Google Pixel
Since he was first scouted by Select Model Management at 15, Oliver Cheshire has become one of the latest avatars for the modern, sharply-dressed British man, following in the footsteps of fashionable blokes like David Beckham and David Bowie. Now 28 and one of the UK's top male models, working for brands like Calvin Klein, Vivienne Westwood and Dolce & Gabbana, Cheshire's recently entered the blogosphere, using his website I Wear The Trousers to espouse on everything from hemlines to the best young designers.
You've written about The Talented Mr. Ripley being your style wake-up call. Was it an immediate feeling that fashion was something you wanted to be involved in?
I was 13 or 14 years old seeing that and I just remember thinking Jude Law looked so cool and so dashing and I thought, this is kind of interesting, I might try and read up on some fashion and learn about it a little bit. I think there was always a passion in there somewhere. When I was little, I used to cut the sleeves off my shirts. I'd rip the Levi's tag off the back of my jeans, make a hole in the front then sew it on these random things!
What was the desire for you to start your blog?
I was getting so many questions on my social media about my style and I was getting written about [in magazines] a lot, so I thought, why not put it into my own words and be a bit more creative about it?
Since you started modeling, what's been the biggest shift with how men approach style?
When I started modeling, a lot of guys didn't get it, especially 'round my area of London. They'd be like,"What're you doing, that's a bit weird," but five years in they were asking me, "What creams do you use, Olly, what trousers you going to be wearing?" Now ten years later they're talking about it so much more, from tanning to grooming regimens. Men are no longer afraid to say,"I really like your hair, what have you got in it?"
What's the most common style mistake men tend to make?
Tailoring is probably the most common mistake. Get your suits tailored to the right length! And not reading the invite for the dress code, and it's the simplest thing. If it says black tie, wear black tie! And guys are going over-groomed as well sometimes. Don't do too much -- you still have to look natural!
You and Pixie both have crazy work and travel schedules, but that doesn't seem to be getting in the way of your relationship. What have you learned over the years about balancing your work and personal lives?
We're both passionate and driven and want to be successful, and we make time for each other.You can say you're really busy, but you can always make time. I'm lucky, I can fly around and meet her. There's a lot of Hollywood relationships where they're married within a year and divorced in two. We were in no rush -- we've known each other for six years and I finally asked her to marry me!
You both love your jobs and you're both always working, but, as a pop star, Pixie is the more recognizable one. How are you with that?
Oh, yeah, she is massively more visible than me! You can get, like, 20 guys asking for a picture and you just take it on the chin. It's a bit strange. People do know me through fashion, but everyone knows her! I'm like, "Don't be silly, they just want a picture!" [Laughs]
What do you think about for your future?
It's a dream to design. That's a real passion for me -- it's where my heart's at and what I'd like to do.
Have there been other creative temptations?
I studied acting when I was younger. I still love it but it's not right. I become very aware of myself as a model, and when you're acting you have to become very unaware of yourself. But never say never...

Splash photo: Oliver wears boxers by Dolce & Gabbana, a ring by Northskull and glasses by Max Pittion. Pixie wears pajamas by Prada, necklace and earrings by Tory Burch, bracelet by ORA Pearls at YBD and rings by Dyrberg/Kern. Laptop by Microsoft Surface Studio.

Hair by Brady Lea at Stella Creative Artists using Beauty Works
Makeup by Rebekah Lidstone at Stella Creative Artists using BECCA
Nails: H&H
Stylist Assistants: Shade Huntley, Ana Ganbator and Mia Pegrum
Light Assistant: Phil Hewitt
Digital Tech: Gemma Gravett
Post Production: The Laundry Room

Production: Imogen at Blood & Co.
Pixie and Oliver are represented by Select Model Management
Location: Rosewood London
Special thanks to Blood & Co / Utopia NYC

You May Also Like
Fashion
Story by Mario Abad / Photography by Oscar Ouk / Styling by Jimi Urquiaga
Paper People 2020
Creative direction by Agusta Yr / Styling by Erika Golcher