At the spring 2016 runway show for Kerby Jean-Raymond's three-year-old brand, Pyer Moss, a documentary on U.S. police brutality against communities of color aired wile models strutted down the catwalk. T-shirts bearing the names of victims of police violence, including Walter Scott and Eric Garner, declared, "They Have Names," and another design by the brand declares "Stop calling 911 on the culture." Having a political conscience in a post-Trump world maybe more of a necessity than ever, but Jean-Raymond's strong statements paired with even bolder designs are part of his CFDA award-winning brand's DNA. The designation of 'luxury brand' only captures a tiny slice of just how tapped into the culture Jean-Raymond is, and his vision of the future (with a spotlight on the past) is one to watch. — Claire Valentine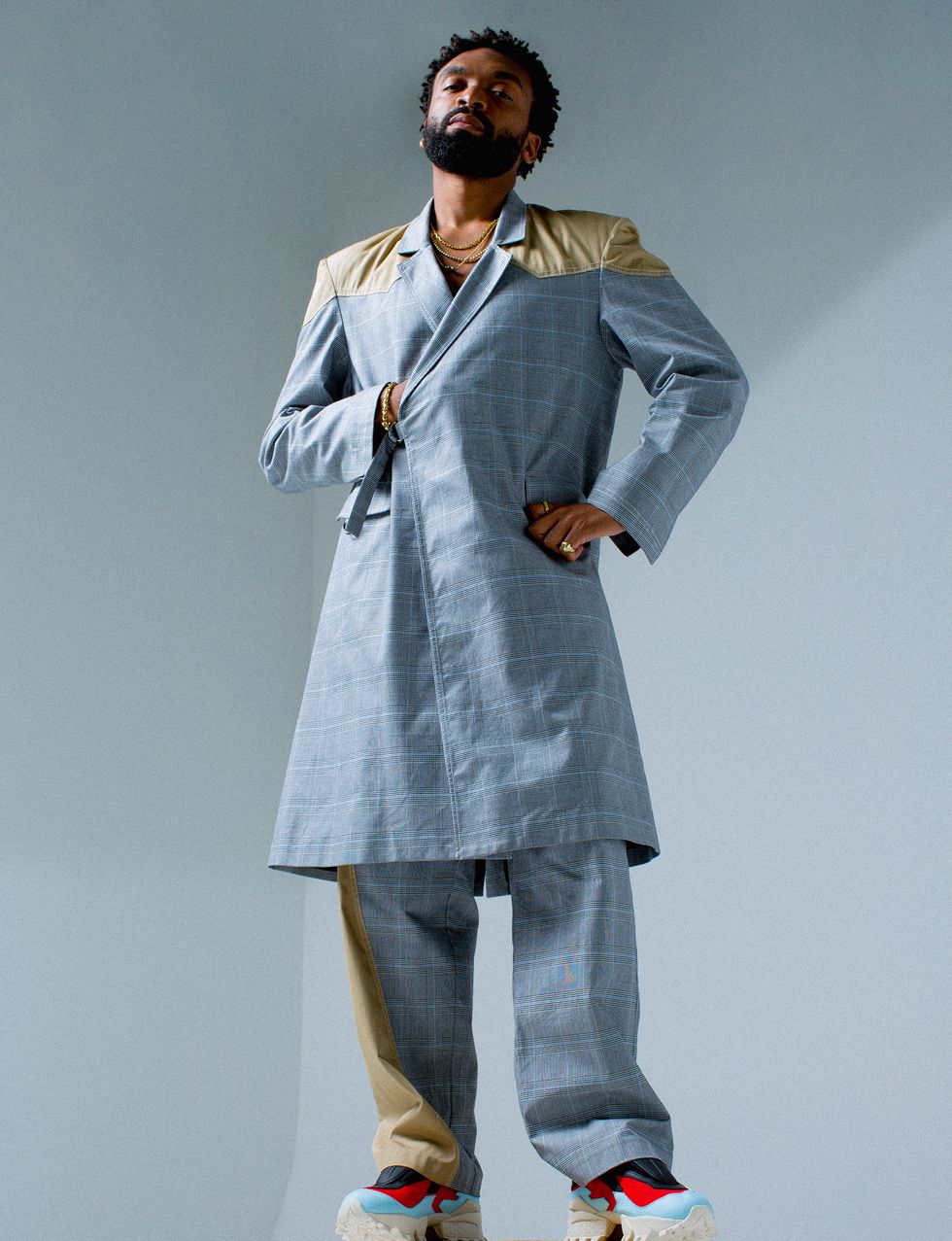 Jacket and pants: Pyer Moss; Jewelry: John Hardy; Watch: his own; Shoes: Pyer Moss x Reebok

What's the biggest misconception about you?
All the rumors are true.
What's something no one knows about you but wish people did?
I spend an unreasonable amount of time watching sports car reviews on YouTube and window shopping on Zillow. And that I'm a pretty savvy businessman, ask Francois-Henri Pinault, Laurent Claquin and Jen Rubio. Wink.
What's something you wish no one knew about you but everyone does?
That I get emotionally riled up fairly easily. I'm working it out though. No more twitter rants. Shout out to Momentum Education.
Do you Google yourself?
No, but I have Google Alerts on for the brand just in case one of these publications tries something funny.
What is the first website or app you check in the morning?
Slack. Just kidding, Instagram lol.
What is the last show you binge-watched?
City on the Hill. The use of racial epithets is fucking cringe but the show is good.
What's the last screenshot you look?
A meme of an old dude who got caught at the airport with $34k of cocaine under his wig.
What gives you hope in 2019?
Christopher John Rogers. Jay Z. Brent Faiyaz. Swae Lee. McLaren Automotive. Alycia Bellamy. Reebok. Elizabeth Warren. Andrew Yang. Lagos, Nigeria. All my agents at CAA. The Pyer Moss Crew.
What trend that you participated in do you never want to see again?
I guess wearing designers that don't love us back.
What's an interview question you never want to be asked again?
"So tell me about your Spring '16 show around Black Lives Matter..."
Sign Up for the Morning PAPER