The way watching Lena Dunham's Girls felt in 2012 is a bit like how experiencing Cat Cohen's comedy feels right now. Whether you consume it through the parody pop songs she sings at her weekly East Village cabaret show, on her diaristic podcast Seek Treatment (which she co-hosts with her best friend, the devastatingly underrated comedian Pat Regan), in her spots on High Maintenance and Broad City, or on Twitter, the way that Cohen turns herself into the joke through a hybrid of confession and caricature is undeniably familiar. But while Dunham stripped and flayed late capitalist, millennial womanhood alive, Cohen dresses up and sashays around in it, wearing anxiety, self-obsession and insecurity like feather boas. The effect is a mix of euphoric self-recognition and stomach-churning dread. If that's what gets you off, stay tuned. Cohen just made her debut on Seth Meyers, scored "Best Newcomer" at the Edinburgh Fringe Festival, has a film slated with Issa Rae and Kumail Nanjiani, and is currently developing a scripted show of her own. It's only a matter of time before she's everywhere. — Jael Goldfine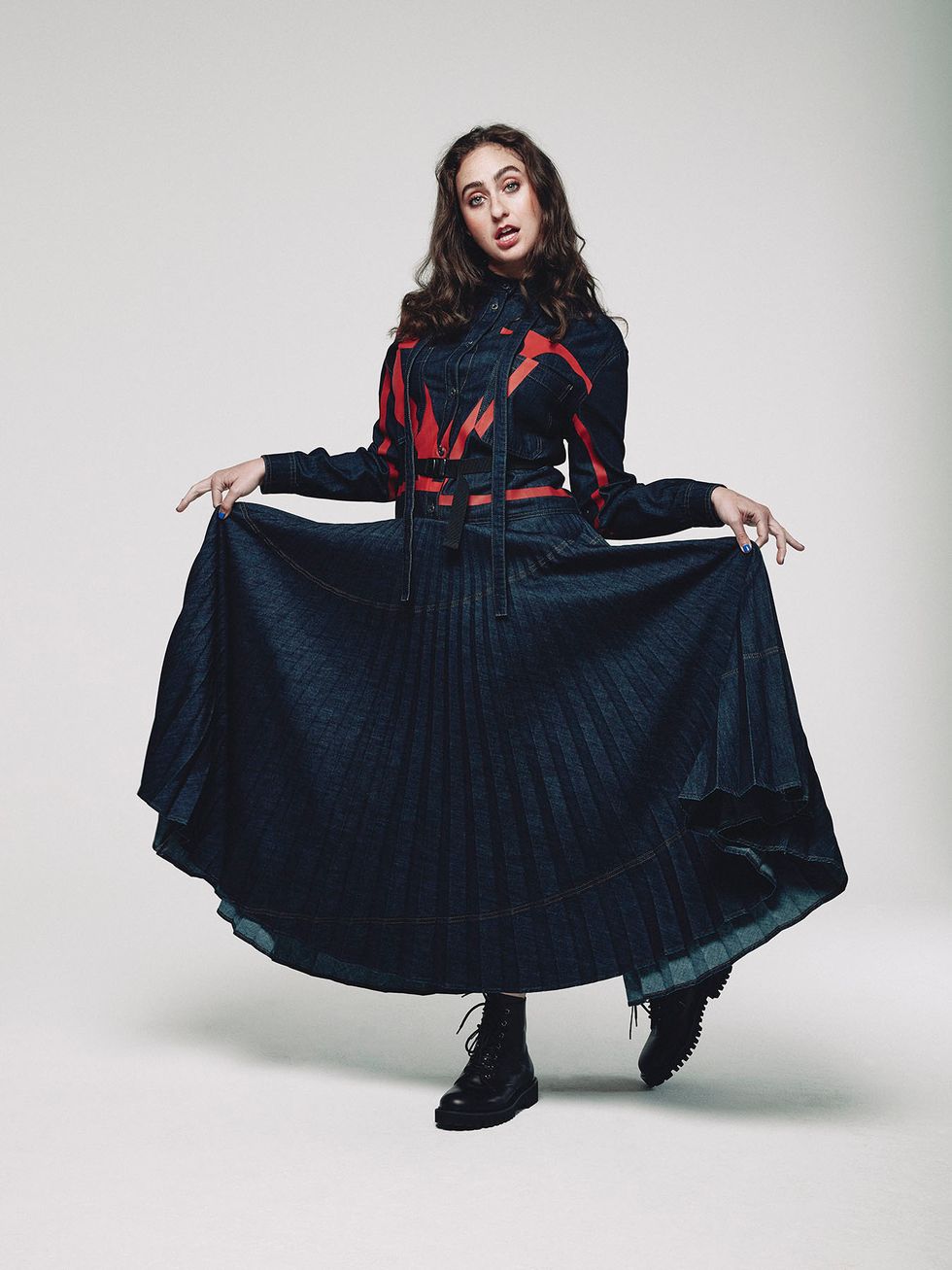 All Clothing & Accessories: Valentino
What has been your best night out?

My first year in NYC my dear friend Mitra and I were walking home from doing karaoke for her birthday and this woman on the street just screamed out "I'm Rosario Dawson's Mom!" and Mitra was like "It's my birthday!" and then Rosario Dawson's mom sang Mitra "Happy Birthday" on the street. Iconic.
If you weren't doing this, what would you be doing for a career?

Sobbing into the void.
What's your most disgusting habit?

Sometimes I burp so loud that I scare myself and even my loved ones.
What's the craziest thing you've done in 2019?

Made my late night TV debut on Seth Meyers with my brilliant collaborator and pianist Henry Koperski!
What's the most stressful thing about being you?

If I sit still for too long people find me so gorgeous that they think I'm a statue and they try and put me in a museum :( and getting out of the museum requires a lot of admin work... yawn...
What's your biggest irrational fear?

That I will, one day, die.
When you want to get attention, what do you do?

Cry out for help on my toxic podcast Seek Treatment that I co-host with my best friend Pat Regan.
Where do you want to be when the world ends?

What if I was like "At Pilates!!!"
What is the first website or app you check in the morning?

Sadly, Instagram... now you've heard everything...
What was the last show you binge-watched?

I started watching Entourage as a joke and then I watched the whole thing because I have a disease.
When was the last time you cried?

I deeeeply wept while seeing my brilliant friend Larry Owens star in A Strange Loop at Playwrights Horizons.
What's your worst date story?

I picked up a guy at the Taco Bell in Union Square... wait... maybe that's my best date story.
What's your go-to karaoke song?

"Criminal" by Fiona Apple.
Sign Up For The Morning PAPER