As 2017 comes to a close, we've predicted 11 names you'll undoubtedly know in the New Year. Between art and fashion, music and film, discover who'll be on fire in 2018.
Aaron Philip has been defying expectations her whole life. The 16-year-old's family, originally from the Caribbean's "small, beautiful island of Antigua" immigrated to the United States when she was just three years old to find better medical options for her (Philip's cerebral palsy emerged when she was a toddler).
This wasn't an easy journey, as Philip's father and mother frequently took turns traveling back to Antigua. In 2010, Philip and her father lived in a Manhattan homeless shelter before settling in her current Bronx apartment with little brother Aren. Philip's father now works in a school cafeteria and recently obtained American citizenship.
Related | PAPER Predictions: 11 Names You'll Know in 2018
Amidst the tumult, Philip became an advocate for the physically disabled by living openly and proudly as a regular teen with big dreams and a poetic voice that engages her followers. After a tweet she wrote about wanting to become a fashion model went viral, several big names in the industry reached out to the high school junior, offering guidance and support.
Philip's creative approach to community building and clear-headedness about how the world's perception of her can be used to further rights of marginalized people makes her one to watch in 2018.
What draws you to modeling?

The idea of being a muse and getting big job opportunities for simply and proudly being yourself. That aspect of modeling is so beautiful, and I feel as if it's getting even better with the diversity that's currently taking over the industry. I personally want to become a successful, acclaimed, signed model in order to dismantle negative stigma that surrounds the community and spaces I'm a part of — with me being Black, physically disabled, and trans. I want to be involved in everything from runways to beauty campaigns to magazines because I know my perspective should matter as long as I'm confident and beautiful.
honestly when i get scouted/discovered by a modeling agency it's OVER for y'all! by y'all i mean the WORLD! it's real inclusivity/diversity hours folks, get into it! pic.twitter.com/58VOSafAm6
— aaron (@aaronphilipxo) November 24, 2017
Some big names like PAPER cover star Duckie Thot reached out to you after your tweet went viral. What did that feel like?

Duckie is truly such a humble and kind person. It's an honor to have had the chance to interact with her. I very much hope to meet and work with her some day. I'm beyond grateful and honored for all the attention I've received, regardless as to whether that was negative or positive. Everything happened so fast, but I felt so accomplished and optimistic for the future. And I still feel that way. I remember one of my Twitter mutuals direct messaging me the screenshot of Duckie quoting my tweet and I literally yelled!
Related | Beautiful People: Duckie Thot Is Going to Shock Us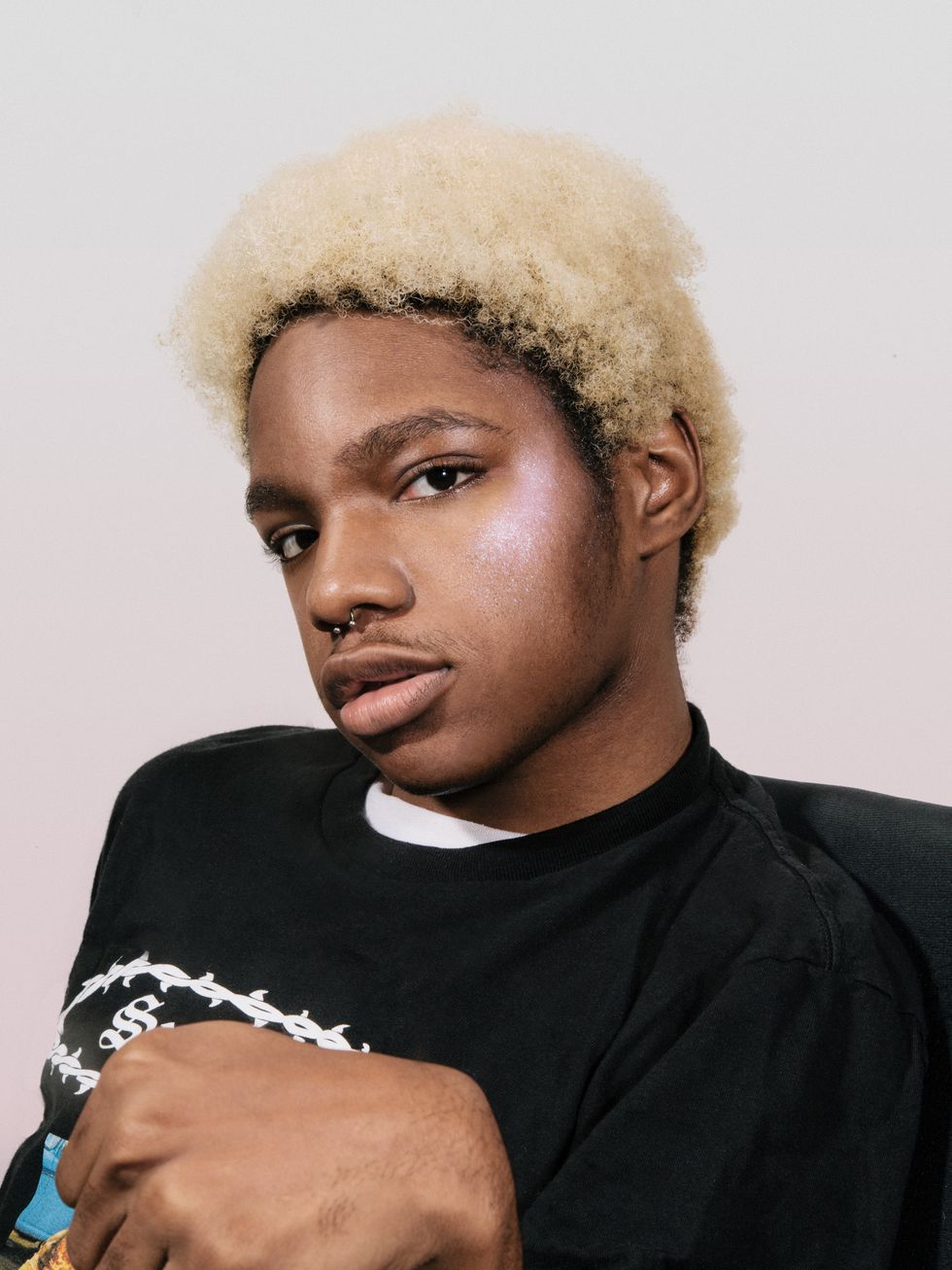 What would you like to see change in the fashion industry?

The fashion industry is such a special place to me, being that there's such an interdependence between models and designers. I'd like to be a part of this and show the world that muses can be Black, physically disabled, trans and accomplish big things as models if we're given the attention and platform.
What do you like about having an online community?

An online community is my equivalent of a safe space. The Internet is my safe space — I've been nurtured by a network of so many different people of various backgrounds and professions for years, and I've found myself through being exposed to that at a young age. I learned to love myself through art, music videos, different subcultures and trends. The Internet has both matured and nurtured me into becoming the individual I am today creatively, artistically and socially.
Do you consider yourself an activist?
I think of myself as a social rights advocate, but I don't necessarily think of myself of an activist. It doesn't feel right to discredit actual activists who have put their lives on the line for what she cares about just for a nice title. I do, however, credit myself as an advocate for LGBTQ+ and disability rights with my work in fine art and writing. At the beginning of the month, I flew back to Antigua for a week to be a part of my country's first national conference for people with disabilities as a guest speaker and panelist. I'm very honored that I was chosen to be a part of history.
Related | Casting Director James Scully on Diversity During Fashion Week
What are the biggest misconceptions people have about you? What would you tell them?

A lot of people assume that the opportunities I've been given from going viral are handouts, and actions out of pity due to what comes with my physical and social identities. Little do they the work and dedication I've put in as an aspiring model before any of this even happened to me. I guess I'd just want them to know that nothing comes easy or free, and that my entire life has been a series of trials and errors. A lot of people also have the mentality and misconception that just because I'm physically disabled, I can't be a good model, which is exactly why I'm doing the work I do currently.
What inspires you?

One of my biggest inspirations is my mother, Lydia Philip, who has worked so tirelessly as an intellect and a mother to make me the person I am today. I'm grateful for my father, Petrone Philip, and for my not-so-little brother Aren. I am also inspired by my friends, some of whom are also talented artists and models. They push me to be my best self every day and I'm so thankful for that.
What are you goals for the future?
In addition to modeling, I plan to go to college and pursue a degree in fine arts, psychology or guidance counseling. The emotional and mental side of humanity is something I'd love to know more about. I also plan to continue my work in writing, digital art and photography. I want to enjoy high school and be the best I can be in and out of my life as a model, and my life as a teenager.
Click here to discover 10 more PAPER predictions.
Photography: Ryan Duffin