The Moncler Genius project has seen the Milan-based brand collaborate with a slew of fashion creatives, including Pierpaolo Piccioli (Valentino), Simone Rocha, and Palm Angels. The latest capsule to hit stores features several moving parts, with a pair of lesser known yet highly experienced designers for men's and women's, and a covetable accessories collection courtesy of one super luxurious leather goods brand.
Veronica Leoni and Sergio Zambon are the brains behind the newest release, dubbed 2 Moncler 1952. Moncler CEO Remo Ruffini tapped each of these in-house designers to interpret the brand's codes their own way and deliver a modern women's and men's collection, respectively. The result for women's features several design elements including padded tailoring, boucle wools, bleached tartans, and fishnets/furs that are mixed and matched. For men, a range of puffer jacket styles from fringed, tie dyed to chrome are paired with oversized pleated pants.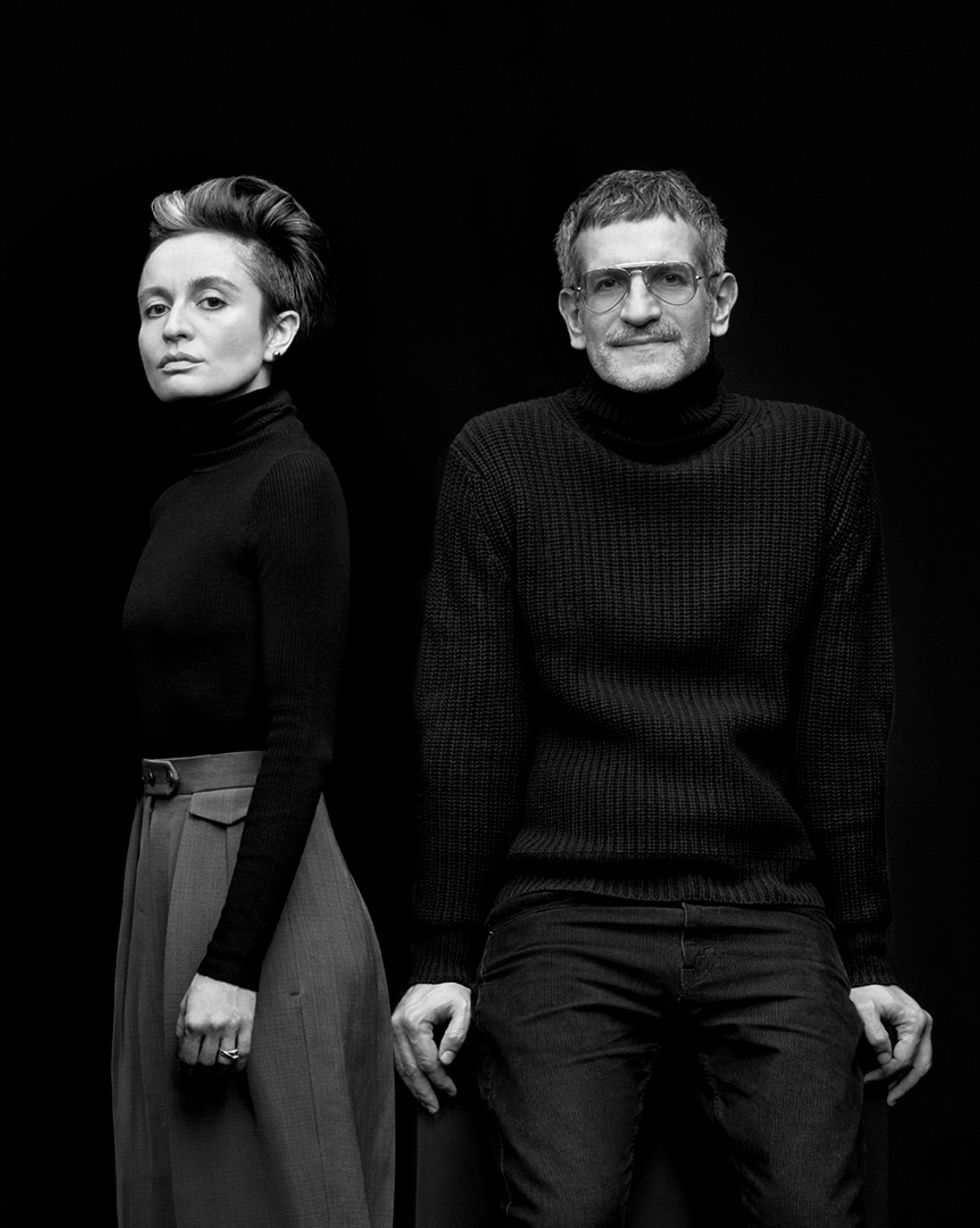 "This was my first season with Moncler and the biggest challenge for me was just to find the right balance between myself, my creativity and Moncler's codes," Leoni told PAPER at the New York launch. The designer has held numerous positions at different female-led luxury houses, including Jil Sander and Celine under Phoebe Philo. "I started digging through all the typical archetypes of the brand and from there I tried to push the boundaries from the classic puffer jacket into something that else was more related to my way of dealing with design. I tried to respect the workmanship and very specific way of outerwear as a functional piece, while making it desirable for contemporary city women and their wardrobe," adds Leoni who describes her personal design aesthetic as effortless, interesting and progressive femininity.
Zambon, meanwhile, explains that he designed the menswear collection as a combination of Moncler's heritage with a youthful spirit and street culture influences such as the "Paninaro" movement in the '80s. Prior to Moncler, he worked at Fendi for 12 years and acted as the head of menswear at Acne Studios. He has overseen men's design duties for Moncler 1952 since its launch.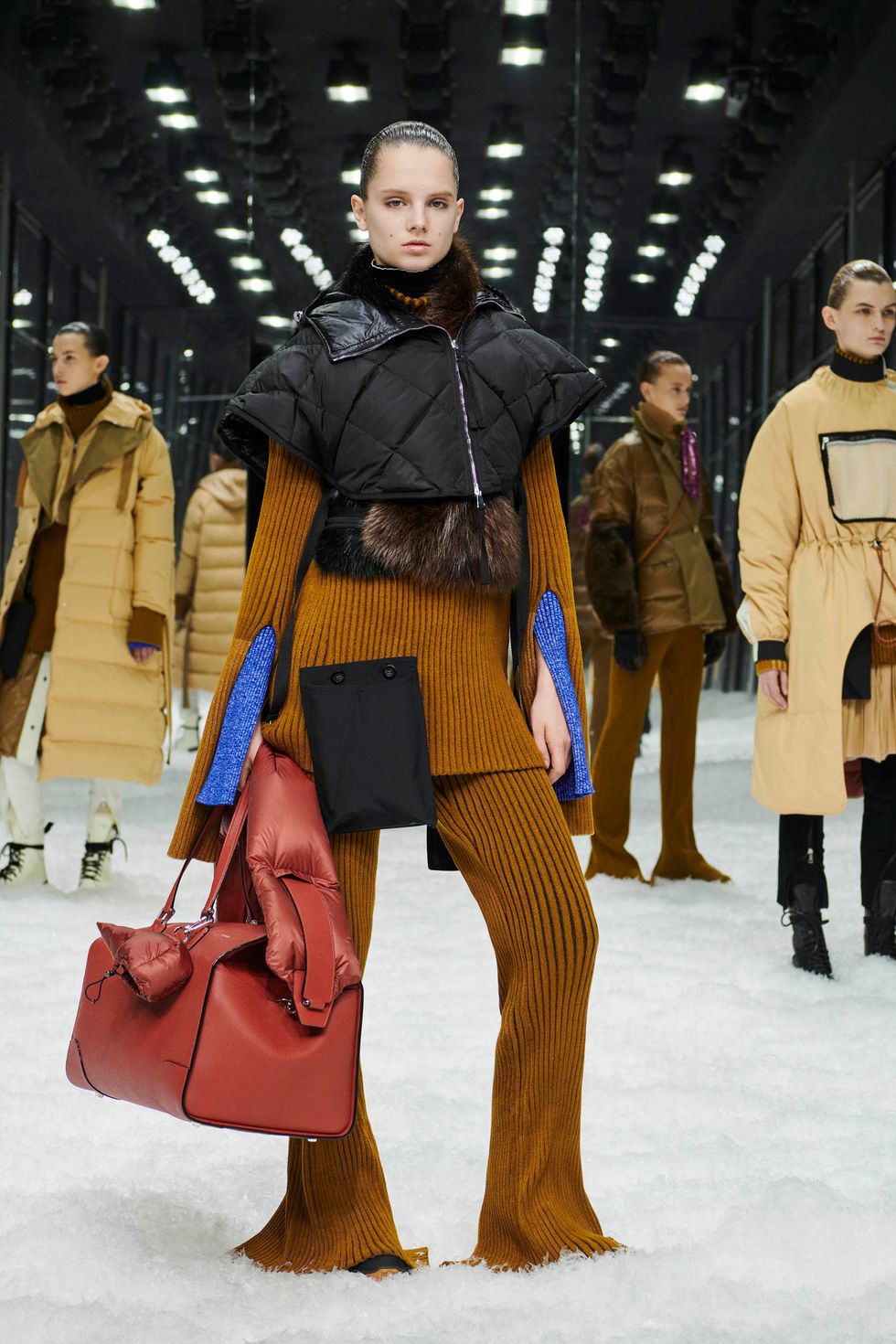 For the accessories, Moncler teamed up with Valextra, a discreet Italian luxury brand known for their refined and understated accessories with no heavy logos or branding. After Valextra CEO Sara Ferrero had a conversation with Ruffini (who's been a longtime customer of Valextra), they decided to two brands would utilize each other's strengths in creating a modern, high-quality range of bags. "The idea was to create something with small and large proportions, which creates a certain attitude that a symptom of both brands' personalities," she said. "We used the same luxurious leathers and treatments we use at Valextra and incorporated some of the unique Moncler elements. This collaboration made sense for us because it was an opportunity to attract a bigger audience," she added, noting that both brands rely on a curation of strong design talent rather than one creative director.
The final result includes oversize totes, cross bodies and weekend bags with Moncler's tone-on-tone signature down that contrast Valextra's minimal, pared down aesthetic. Many of the totes and bum bags sold out in just a few hours on the Valextra website, according to Ferrero, signaling that the desire for limited-edition, highly covetable accessories are still a lucrative opportunity for brands in the luxury space.
Photos Courtesy of Moncler