The 'Mean Girls' Remake Is a Gen Z Fashion Paradox
Mean Girls is coming back to the big screen in 2024. The long-awaited sequel-remake-revival will adapt the popular broadway musical based on the original teen flick, both penned by former funny lady Tina Fey. If the popularity of the musical is anything to go by, the film is sure to make something akin to a splash with modern audiences, even if the fashions have landed with an uncomfortable thud.
The trailer below sees up-and-comer Reneé Rapp star as Regina George opposite Angourie Rice as Cady Heron, with familiar faces like Tim Meadows, Jenna Fischer, Busy Phillips, Jon Hamm and even Ashley Park in supporting roles. Music from the musical, which hews closely to the 2004 comedy, is absent from the trailer — a choice by the studio I won't think very long or hard about. (My guess? It's bad.)
As for the fashion seen in the trailer, it's obvious Fey worked with her longtime costume collaborator, Tom Broecker. His work can be seen on nearly 20 years of SNL sketches, most of 30 Rock and prior to that, the original season of TheComeback. He's clearly a pro in the field, even if his designs feel somewhat frozen in time. Likewise, Fey has not necessarily built her career on fashion acumen, which became something of a running gag in her various projects, from the original Mean Girls to 30 Rock and even Unbreakable Kimmy Schmidt.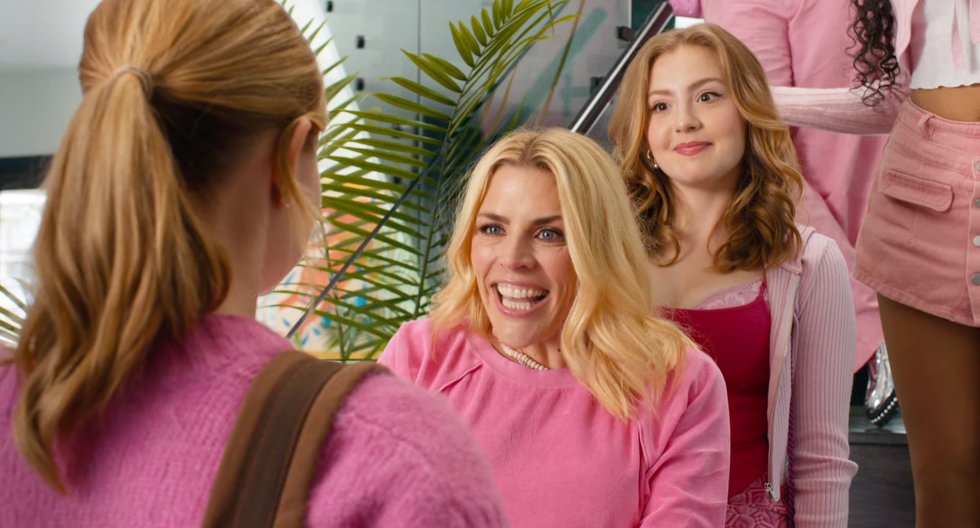 Still, MeanGirls has endured as the quintessential parody of suburban American high schools in the aughts precisely because of how preserved in amber its fashions felt at the time, and still do, even amongst younger audiences. Cardigans, miniskirts, pink and purple exposed bra straps under camisoles, Converse, flannels, velour tracksuits: the de facto iconography of the time.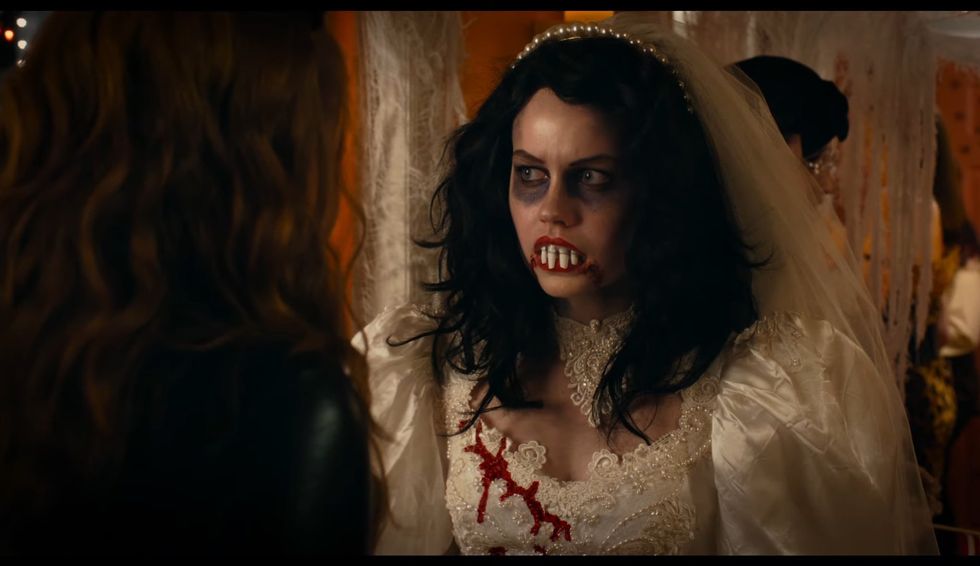 By comparison, the trailer is chock full of references to prior outfits from the original and the costumes worn in the musical. Sure, Regina George's pink miniskirt and cardigan combo is downright legendary. At times, Rapp's Regina edges close to dazzling like the original — particularly the Gaultier-inspired mesh top and exposed corset — but the cast around her fails to make a similar impression. Jaquel Spivey and Auli'i Cravalho's costumes as alt duo Janis and Damian are almost direct parallels to what those characters wore in the original. Cady even revives the exact same spooky "ex-wife" costume from the Halloween party, fake teeth and all.
There are a few clever updates, like swapping the boob cutout gag for a TikTok filter that looks like runny mascara and fluorescent eyeshadow. Props to department head Shannon Thompson for pulling on Gen Z's quintessential beauty look accessory: questionable eye makeup. Damian also quips how a prank gone wrong — dousing Regina in water — "accidentally revived the wet look," another nod to a trend to circle back around in recent years, for better or worse.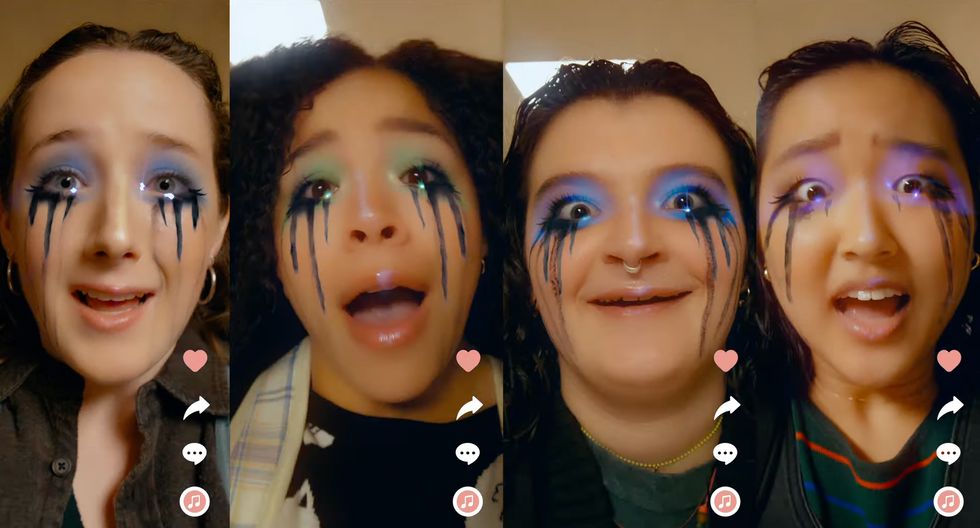 Still, the trailer's costuming does nothing much to crawl out from under the shadow of the original's monumental legacy. Jokes about TikTok filters and Busy Phillips' phenomenal bimbo character acting are simply not enough to paper over that lack of ingenuity. Rather than a cutting examination of young people's fashion trends via Fey's snarky sensibilities, the trailer reads like an Aerie Black Friday ad from 2015 that was edited together with a 5-Minute Crafts tutorial on "How to Create the Regina George Look" for Halloween.
If anything, the Mean Girls revival's fashion proves that some things are better left in the past, or those parody TikTok videos about what we wore to Jason's homecoming party in his parent's basement circa 2007. Let's leave the Gen Z fashions to people likePAPER star Baby Storme.
Photos courtesy of Paramount Pictures
From Your Site Articles
Related Articles Around the Web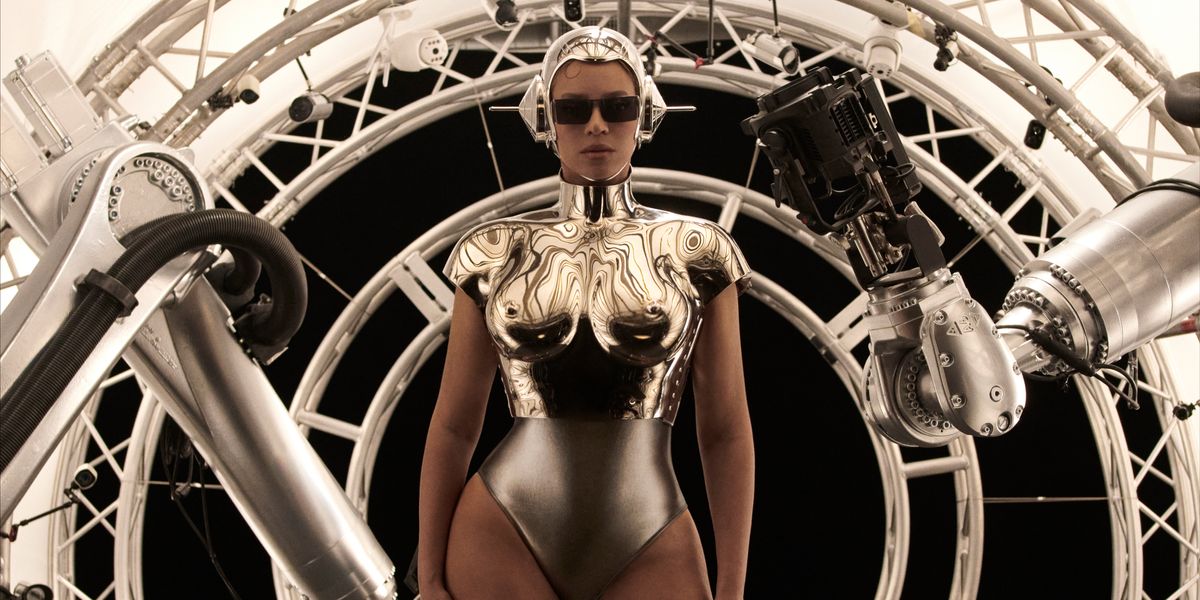 Music
Story by George M. Johnson / Photography by Mason Poole / Styling by Shiona Turini / Hair by Nakia Rachon / Make-up by Rokael Lizama / Creative direction by Andrew Makadsi
Story by George M. Johnson / Photography by Mason Poole / Styling by Shiona Turini / Hair by Nakia Rachon / Make-up by Rokael Lizama / Creative direction by Andrew Makadsi
01 December