Dinge Factor
Maryam Nassir Zadeh has a thing for derelict venues. In February, the designer presented her fall collection inside a crumbling gallery space in Midtown Manhattan. This season, Zadeh took over both floors of an old bank building with half-painted walls and imprints of old signage from its days as a Duane Reade. "We did a huge demo at my store and we found something really beautiful underneath," she explains backstage referring to her multi-brand boutique on the Lower East Side. "Some of the best spaces are undone and a bit raw."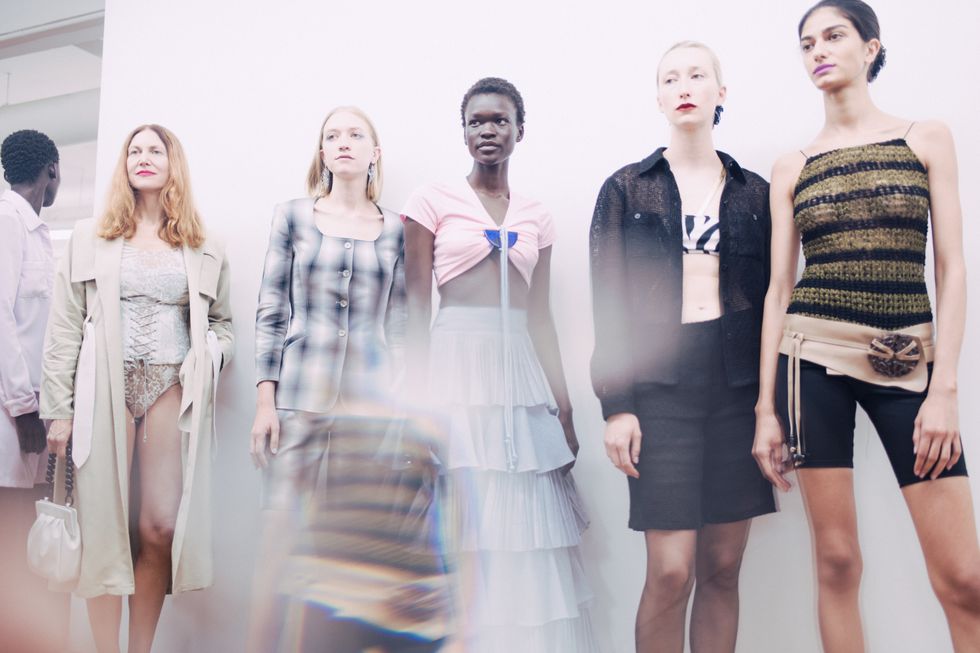 Live Music
L.A.-based violinist and vocalist Sudan Archives performed during the show. "She draws inspiration from West African music and R&B," Zadeh explains. "There's lots of layers in her music and I feel like that reflects my collection." Impromptu concerts aren't new for Zadeh's shows. Last September, Solange Knowles made unexpected performance at the brand's show held on a race track in Lower Manhattan.
Deep Dive
Zadeh has spent the past summer vacationing along the Mediterranean, all the while mixing swimsuits with daywear. That beach-ready look appeared in the collection courtesy of her runway stylist Haley Wollens: bikini tops and one-piece swimsuits were styled with trench coats, under loose button-downs, over t-shirts, and with maxi skirts.
Rare Finds
Wide, hip-hugging belts with donut-shaped glass buckles (an extension of Zadeh's signature glass jewelry that stood out among the accessories) sensually contoured bike shorts, blazers, and gathered skirts. "I was inspired by seventies belts which are kind of hard to find," Zadeh says. "When these [belts] came in, they sat a little lower, which felt like a new proportion."
Photography: Kohl Murdock