This June will mark 20 years since the start of Beyoncé's solo superstardom with the release of her first studio album, Dangerously in Love. Featuring collaborations with Missy Elliott, Sean Paul, Big Boi, Sleepy Brown, Luther Vandross and a hit lead single with Jay-Z, it's safe to say that the album flourished, foreshadowing the star's future success.
The flashy cover of Renaissance, which features metallic disco horse "Reneigh," isn't Beyoncé's first time donning a bedazzling outfit for her album's artwork. In the infamous cover art for Dangerously in Love, the 21-year-old's striking pose, combined with the diamond-covered garment, was inspired by a web-like portrait of French model Laetitia Casta. And the brilliant mind behind both of these photos is photographer Markus Klinko, who had previously met Beyoncé on the set of a photoshoot.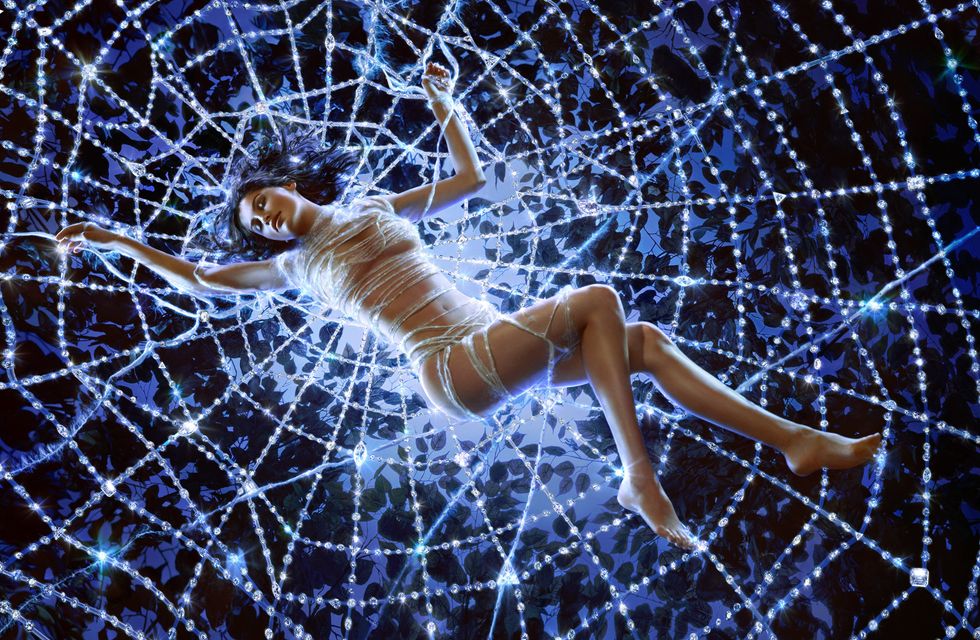 For Vibe Magazine's October 1999 issue, Klinko captured the essence of popular R&B girl groups Destiny's Child and 702; he recalls meeting Miss Tina, Beyoncé's mother, and immediately knowing that this was only the beginning of Queen Bey's stardom.
"I remember shooting them and her mom was standing next to me," he tells PAPER. "I was turning around her and said that one in the middle there — that one is going to be very famous. She has huge potential. She's very charismatic, and to be honest, her mom just kind of looked at me and said, 'Yeah, we know.'"
Fortunately, the two kept in touch, and Beyoncé requested Klinko's skill for Dangerously in Love. She ended up receiving more than just photos from him. According to Klinko, the star's first choice of outfits included a "red carpet-like, long skirt," but he suggested a denim bottom to complement the shimmering diamonds. So, as anyone would do for Beyoncé, he improvised and offered his pair of jeans, which completed the look.
You can tell Klinko never tires of telling this story and others about his well-deserved accomplishments. With an endless celebrity portfolio of stars like Lady Gaga, Billie Eilish, Lil' Kim, Britney Spears, Naomi Campbell, Christina Aguilera and Anne Hathaway, it's not surprising that his work has resulted in some of pop culture's most recognizable portraits. Aside from setting the standard for celebrity images in the 2000s, Klinko has been recognized for shooting other exceptional album covers like David Bowie's Heathen, Mariah Carey's The Emancipation of Mimi and Kelis' Tasty.
On February 4, his solo exhibition "ICONS KLINKO" opened for viewing at the Nicole Longnecker Gallery in Houston, Texas. After leaving Texas on March 25, the exhibit will be making its way to Paris and New York later this year. Throughout the hallways of the traveling gallery, visitors can find portraits of Bowie, Gaga, Mary J. Blige, Iman and Spears alongside Klinko's latest collection, The Angel Factory. Inspired by his role model Andy Warhol, the digital collection is a commentary on pop culture and cosmetic surgery.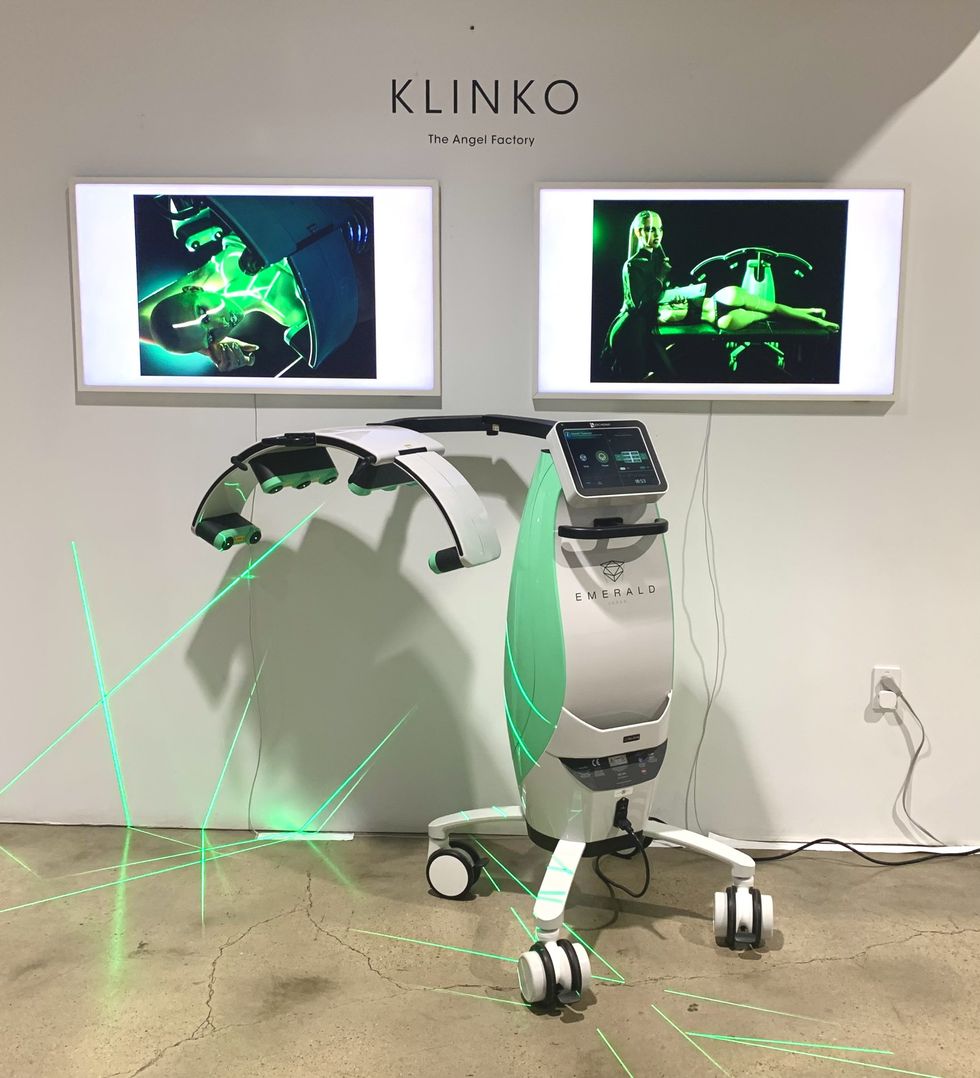 "It's a collaboration between various companies in the medical beauty and wellness industry, so this company Erchonia is supplying me with these ultra-high-tech lasers," he says. "I'm shooting these models, and it's almost creating a futuristic clinic environment, as if they were halfway robots. When you look at celebrities and how they are so into keeping themselves perfect with plastic surgery and fitness, it is a very big deal in our society right now."
Although his defining title is a photographer, Klinko views himself as a "pop culture documentarian" and is fortunate that he's interacted with stars of the 2000s and 2010s that define pop culture. Even though his work reflects a nostalgic Y2K moodboard, Klinko says his mindset is inspired by the '70s.
"I really reminisced about the '70s — the whole disco ball, Studio 54-type of lighting," he says. "So all I was really trying to do is bring the current 2000s artists into that '70s bling, glam kind of atmosphere. Little did I know, the cameras and lighting that I used were very advanced, compared to the equipment that was available in the '70s."
Klinko agreed that the aforementioned album artwork for Carey, Blige and Bowie were incredibly detailed and received praise for capturing minor details like eyelashes, skin texture, jewelry and fabric. This level of detail is, of course, best-viewed in-person.
ICONS KLINKO has been open for a few weeks now, and Klinko notes that its presence and engaging crowd is a "defining Texas moment." As he references the joke about everything being bigger in Texas, he mentions that the love her hometown shows is proof that Houston is "really proud of Beyoncé" and that the exhibit will probably return in late September during the Renaissance tour.
In the meantime, Klinko is keeping an eye out for his artwork of Bowie on The Weeknd's new show for HBO Max, The Idol, since the artist gave permission to license the image for the show.
"To me, that's pop culture that goes full circle. That's sort of really, really fun," he says.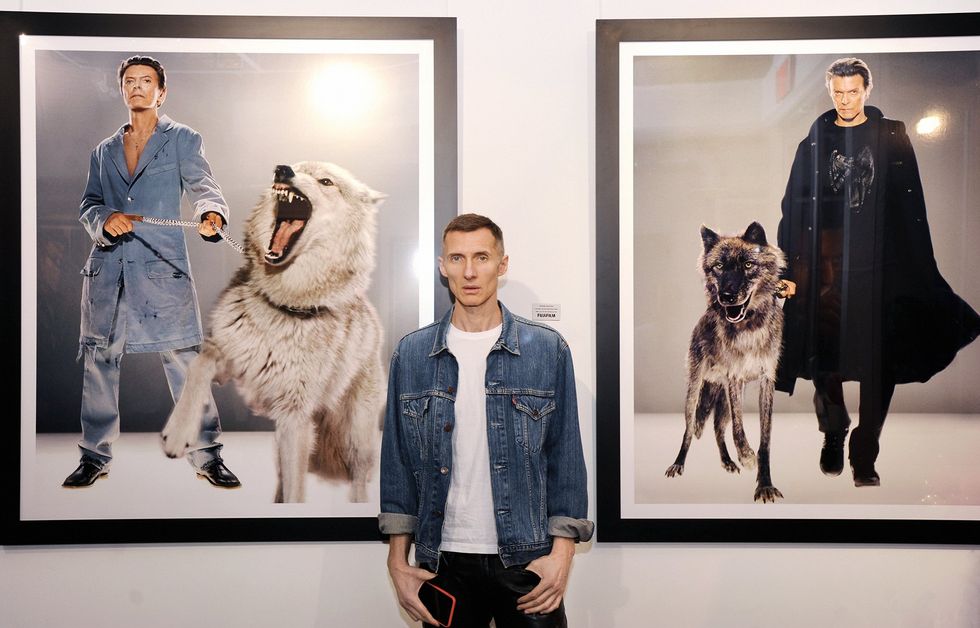 Photos courtesy of Markus Klinko
From Your Site Articles
Related Articles Around the Web
Sign Up for the Morning PAPER