Loyal Lobos Is Thirsty for Poison
Loyal Lobos , the Colombian-born, Los Angeles-based singer, is no stranger to contradiction. What's less loyal, after all, than the famously lone and cunning wolf? It's this spirit of contradiction that seems to color her new video for "Tengo Sed," a moody piece that interpolates a classical waltz over a wash of booming bass and reggaeton. Moving through a sunny Paris, the video features Loyal Lobos singing a song of desire and self-sabotage. Drawings of crows and crosses appear atop famous sights — the Louvre, the Eiffel Tower — as she looks knowingly at the camera. "I'm thirsty/ Of the poison of your lips/ The drinks don't help me/ Makes me want more," she sings in Spanish, her voice crystalline. One can't help but gawk at the gorgeous city around her but feel, too, a pang of strange foreboding — the push and pull of pain and pleasure.
"Tengo Sed" is the fourth video from her newest EP, LOBA Vol. 1 . A display of Loyal Lobos's agile vocals and surreal lyricism, LOBA Vol. 1 is another achievement for the up-and-coming artist. Recently featured as a special presenter at Rolling Stone Español's inaugural award show and as the cover of Spotify's "El Nuevo Indie" playlist, Loyal Lobos is marking herself as one to watch. PAPER talked to Loyal Lobos for the release of the "Tengo Sed" music video to chat about the feelings behind the song, her visual influences and what's next for the rising star.
The song explores many of the themes of the EP, namely desire and self-sabotage. Tell me more about the ideas and feelings behind "Tengo Sed."
"Tengo Sed" is a calling to desire. My relationship with my own desire has been very volatile. When I was a teenager, I was feral and able to explore my sexuality in a very wild and fun way but it also made me feel vulnerable and confused which brought me to the opposite side of the spectrum sometimes. I think as you go through life your own desire changes, and I wanted to make an homage to that side of me.
All of your videos are really striking, with a lot of careful symbolism and a powerful visual POV. How do you approach making music videos generally?
Every video has been a different experience and a lot of it has happened through "mistakes," which in the end is exploration. I've always felt music in a very visual way so a lot of times even while writing a song I'll close my eyes and see the scene of the situation I'm narrating or constructing. I really appreciate beauty and the power of mysticism so I try to always find it in my videos.
The video for "Tengo Sed" feels very improvisational, featuring you walking around and exploring Paris. But it also has a really distinct aesthetic. What was the process for making this video?
It definitely was very improvised [ laughs] . But it was also planned that way because I wanted to make something in the moment and be spontaneous. Walking through Paris blasting the song on my phone speaker and singing it in different corners with my friends Ethan and Elizabeth who helped me shoot it was so fun. The style was also happening as we got inspired by the city and some of the outfits that we got at local vintage shops in Paris and Madrid.
Relatedly, what's your relationship with Paris? Why film there?
Paris is such an inspiring city. The aesthetic is unmatchable and I have a lot of love for the city. My mom's best friend is a Colombian documentarian that lives there and the first time that I went there my family took us on a backpacking trip and we crashed in her little apartment. It was nine of us in a little two bed apartment and I remember it opened my eyes to a lot of beauty and romanticism. I decided to go there with my friends to make the video and to explore it from a different angle, finding little markets that were inspiring, trash bags in the streets, the gardens, the pigeons, the street sellers. It's just such a vibe.
This is the fourth video from a six-song EP. Can we expect a whole visual album? What's next for Loyal Lobos?
I would love to make a visual album but that's not in the cards for this project. Each one of the videos for the EP happened as I went with the flow because I also had a lot of music to put out this year but I'm proud that each one has its own little world. We actually also shot the video for "El Rio" on that trip but in a little French town that was an hour south of Paris. It was a whole different world of haunted forest. I always want to continue to be able to execute images that are a companion to the songs and the story.
From Your Site Articles
Related Articles Around the Web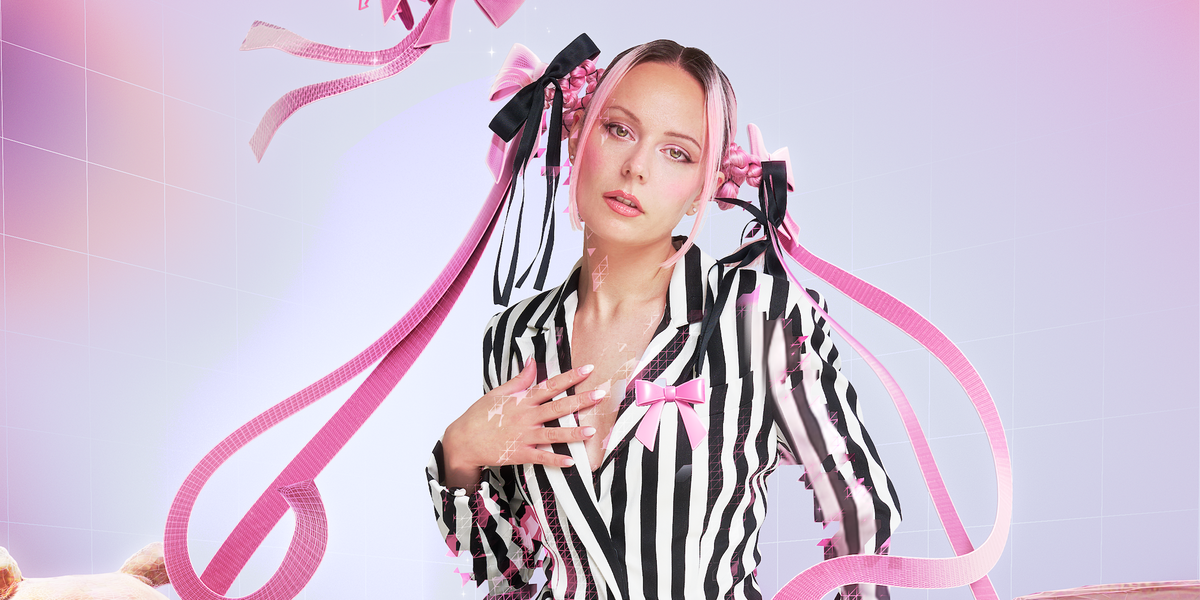 Music
Story by Harry Tafoya / Creative direction & VFX by Andy Rolfes / Photography by Nicholas Needham / Styling by Erik Ziemba / Hair by Davey Matthew / Makeup by Frostie Delite
Story by Harry Tafoya / Creative direction & VFX by Andy Rolfes / Photography by Nicholas Needham / Styling by Erik Ziemba / Hair by Davey Matthew / Makeup by Frostie Delite
07 November