For our new digital cover series Takeover, we chose five of our favorite women who're making a significant impact on the music industry right now. Teddy Geiger, the songwriter behind some of Shawn Mendes' biggest hits, is relaunching her solo music career as Teddy<3. Today, she'll be taking over PAPER with guest edited pieces and appearing on our Instagram.
At her home in Los Angeles, Teddy Geiger's dogs, Paco and Georgie, run joyous laps around a sprawling aquamarine pool. Occasionally they scramble off into the bordering garden in pursuit of a bird or squirrel, prompting a half-hearted chiding from the spectacled singer/songwriter. The hair and makeup team are packing up the last vestiges of the day-long shoot while Geiger chats with her girlfriend, Schitt's Creek actress Emily Hampshire. Geiger feels good about the photos, shot by Jacob Bixenman — she's happy with the styling and has picked up a few new makeup tips throughout the day. "I don't do much," she confessed of her burgeoning routine. "It's basically what I have on now, but less. Just blush, eyeliner and a little foundation sometimes. I also do anti-contouring. Most people contour to make it seem like they have more cheekbones but I feel super masculine in that area so I like to round out my face."
Last October, while holed up in a Malibu studio working on close friend Shawn Mendes' album — the duo had already collaborated on major chart-toppers like "Stitches," "Mercy," and "Treat You Better" — Geiger publicly addressed a question from a fan who was curious about her metamorphosing look. "Okay... because u asked nicely... I am transitioning," she wrote on Instagram. "I started talking about it with a couple of my close friends and family about a month ago and it's given me the courage to start the process. I feel like the next step is to tell all y'all. So here goes. Love it or hate this is who I have been for a looooong time. I love u guys. Talk sooooon byeeee."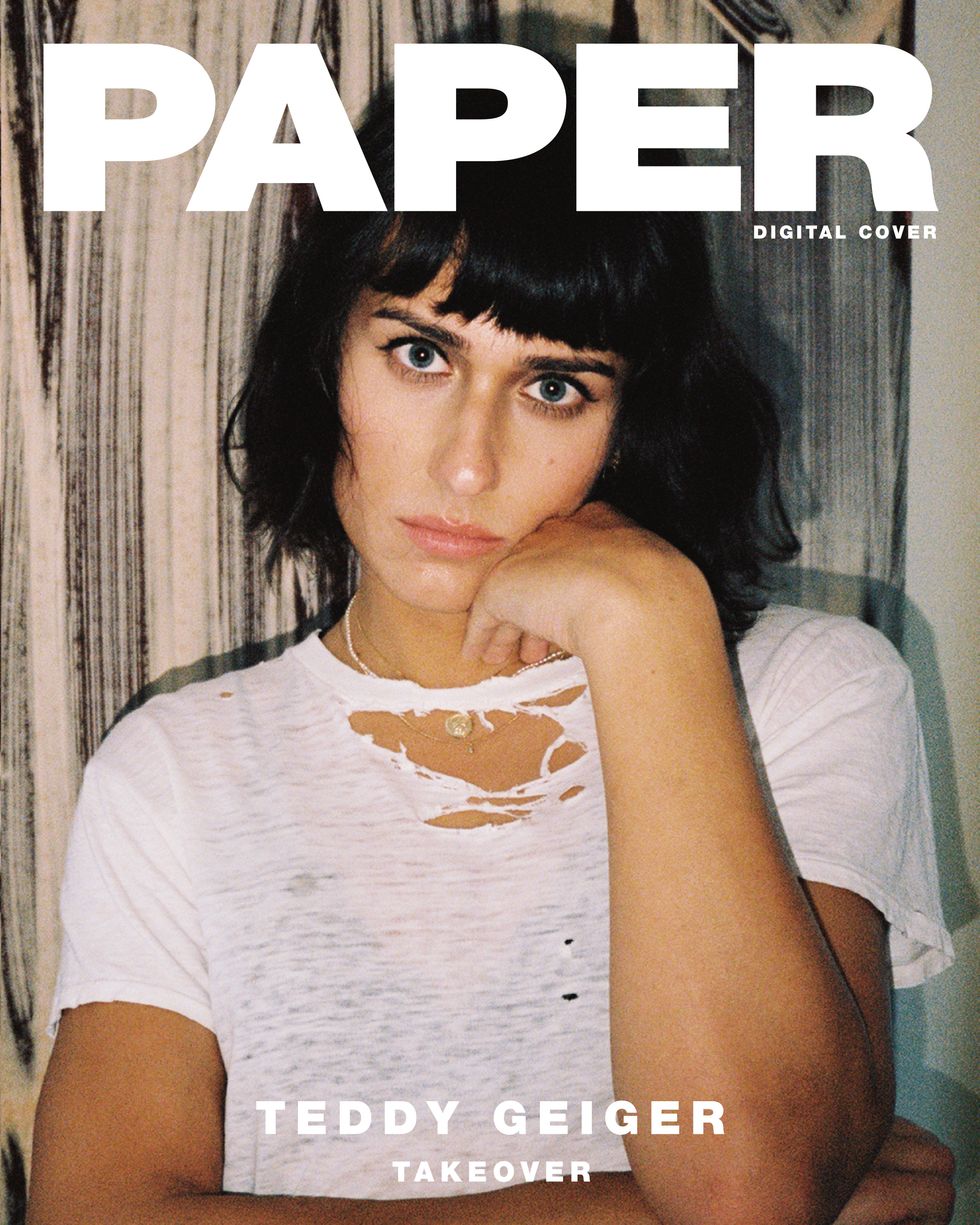 T-Shirt: Billy, Skirt: Sacai, Chain Necklaces: Loren Stewart
A year later, Geiger, 30, is happier, healthier and more her than ever before; her reemergence as a solo artist is an extension of this newfound peace. In July she released "I Was in a Cult," the first solo single since her days as a floppy-haired pre-teen heart throb crooning 2009's "For You I Will" (Remember that music video with Kristin Cavallari?) "Whether it's family, friends, work place, partner, country, etc., these little systems of thought/belief can sneak in and it's easy to lose ourselves in the whole. The song is about thinking for yourself and acting from a place of freedom," Geiger told Billboard of the inspiration behind "I Was in a Cult."
These days, she's going by the stage name teddy<3, and the grunge-inflected track is the first offering from her forthcoming album, LillyAnna, which is comprised of songs recorded between 2011 and 2017. "It's from this phase where I was coming to the end of smoking a lot of weed, smoking a lot of cigarettes and just doing a lot to cover up the anxiety, and also a lot of the gender dysphoria and the compulsions that surrounded all of that," she said. "I was reaching the breaking point and the stuff I was writing came out of that."
A month before announcing that she was transitioning, Geiger, with the encouragement of her mother and therapist, checked into an in-patient treatment center in Mar Vista. The program proved to be instrumental in helping her work through the mass of unexplored emotions, some of which was manifesting in compulsions and unhealthy habits. A more confident Geiger left treatment and jumped right back into working with Mendes, this time, wearing women's clothes and makeup to studio sessions more openly.
Though at the time Mendes wasn't aware of Geiger's transition — he found out the day she shared the news on Instagram — he was supportive of the changes. "Once I finished with Shawn's records I started listening to a bunch of my old stuff and a few things jumped out at me because they sounded like one story that kind of surrounded the same theme." The cathartic element inherent in a project like LillyAnna, which is a collection of years worth of thoughts isn't lost on Geiger, who admits transitioning has made it easier to be around people, and to be more expressive of personal truths in songwriting.
"In subtle ways I used to feel very much like I had to be a certain person or I was going to get in trouble," she said, reflecting on her time as a rising teen pop star. "I spent a number of years working on becoming a writer and producer, and once that version of myself happened I didn't really have a public image to uphold, which was good. I started painting my nails and started wearing some women's clothing, but that whole side of me always caused problems in my intimate relationships. There was a lot of shame attached to it. I'd talk to people I was dating about it but still feel ashamed. Generally it would be fine at first, but then as time went on they'd maybe not be as cool with it as they thought they were. Whereas now I'm dating Emily and from the beginning this is who she met. It's very different when you're being yourself and your friends know who you are. I'm not carrying this weight around anymore. I'm not ashamed of myself. I'm not angry at myself for being this way. I'm not taking it out on other people, or not feeling like I can be all there with them."
"I'm not carrying this weight around anymore. I'm not ashamed of myself. I'm not angry at myself for being this way."
Geiger partly credits having the support of a close knit group of friends-turned-family for helping usher in a new outlook, and a new, more open chapter in her personal life. For an artist whose love of creating saw her recording demo tapes in the basement for fun at 11, the common language in many of these relationships is music.
"I love working with an artist like Shawn because we're friends, and so much of our friendship is based around doing what we love," Geiger said. "A lot of my friendships are like that. My best friend from high school, John Ryan, is also a songwriter; he's done a bunch for Maroon 5 and One Direction. We've been friends since we were like 11, so I grew up being really collaborative. My relationship with Shawn is just like that, it's always very easy. I pitch in on lyrics and melody and then Scott Harris, who writes with us, is also heavily involved on lyrics and melody. Shawn also plays some guitar and is also very involved on lyrics and melody. [Mendes and Harris] have a very special bond in terms of writing. I kind of push the idea in different areas and suggest trying different things in different parts. Most of the time it's just a really fun environment where we're just writing and going. We're working really hard from like 11 AM to 4 or 5 in the morning, and then we wake up at 11 the next day and go back and do it again."
Geiger's comfortable working relationships and the satisfying sense of community she's found in Los Angeles over the past five years are a far cry from her initial introduction to the city. "The first time I moved I was 18," she said. "I was doing a lot of acting stuff because my manager thought it would be a great way for me to break back into having a music career. All of it was too much and I just wanted to be making stuff. I was just frustrated. I didn't know too many people and I'd moved partly because of my girlfriend at the time. We broke up and then I was alone out here. I think I knew like one other person. This time it's way better... I have a support group of so many people who are talented. I like what they do and they like what I do and we're all working together and it's not like competitive in any sort of ugly way. We're all a bit competitive but also extremely supportive. It reminds me of growing up and being with my friends like John where we're all pushing each other, but also all lean on each other."
As for the future? Geiger is simply looking forward to spending a little more time with herself.