After 6 years in business, London-based latex label MEAT has decided to end its operations. For decades, latex was a material overtly associated with fetish-wear — rarely fashion — and MEAT was one of the first brands to push it into a new, uncharted context.
Co-founding partners Alis Pelleschi and Boadicea Claridge successfully created nine collections, all of which elevated latex with high concept themes (Mutant, Miss Sexxy, Toxic) and 200+ street-cast models. They've also garnered a significant celebrity following, with everyone from Little Mix to Charli XCX and Brooke Candy sporting MEAT.
On Instagram this week, the designers announced their departure from MEAT, reflecting on how they wanted their clothes to ignite change and keep production local with a London-based studio and British suppliers. But "it is time for us to focus on ourselves," they said, "and explore our individual creative voices."
PAPER caught up with the brains behind MEAT to talk about their legacy and the state of fashion.
What do you hope is the lasting legacy of MEAT?

One of our main objectives with MEAT was to create a brand that was about empowering people to be whoever they want to be: Intelligent, weird, strong, daring, powerful and sexy — and that we are remembered as the fun MEAT babes that made latex fantasy worlds come true.
How do you think MEAT transformed the fashion conversation?
When we started MEAT, no one was using latex in the context that we were, and we wanted to show that latex could transcend the normal fetish-wear clichés. We wanted to create a brand that was fun and inclusive, while pushing the craftsmanship to create latex clothing that was wearable. We utilized social media and content made for the Internet in order to broaden our audience from being just the usual latex wearers.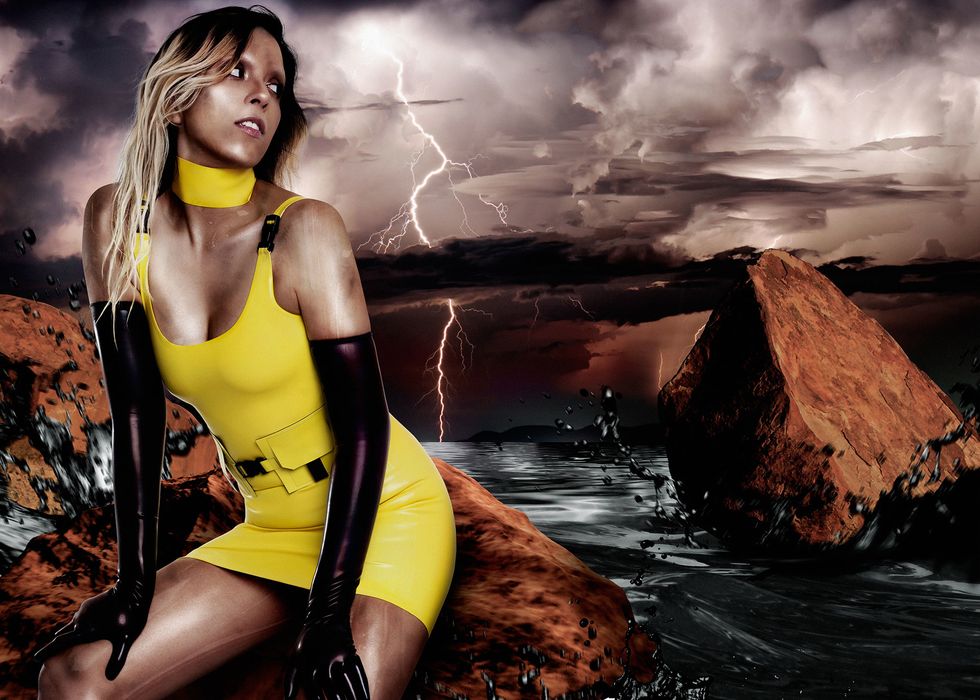 Toxic by MEAT
How has the fashion landscape changed since you entered the industry with MEAT?

It's a hard industry to get into and maintain for sure. Coming from non-privileged backgrounds, self-funding and with no fashion or business knowledge to enter a fiercely competitive industry, it was tough. But I'd say it's even harder now. The rising cost of living in London has definitely pushed the opportunities away from creative people.
Related | Will Diet Prada Save Fashion From Itself?
We were lucky that we manufactured all our clothing in our own studio, but once you start dealing with fashion schedules, factory minimums, wholesaler demands, you quickly realize the standard template doesn't really help brands. I think it's meant other designers like Nasir Mazhar and Mary Benson are realizing the weaknesses in these formats, and taking back those controls to create their own schedules and shops. So we are seeing a new rise in designers being able to dictate when and how they sell their products.
Photography: Hannah Diamond

Model: Astrid Gnosis

Makeup: Gavin Pickle