Lately, the best way to wear denim is in disguise — at Diesel's Fall 2022 show in Milan, the most raved-about looks were those that made denim appear like faux fur or leather, and according to Business of Fashion, it is specifically knitwear, not cotton, that is denim's "best kept secret." It's no surprise, then, that LA-based fashion label Knorts is having its moment.
Designer Eleanore Guthrie launched her knit denim label in 2014, and has been using sustainable technology to produce cruelty free knit denim, handmade with dyed yarn. Guthrie is trailblazing the era of revamped denim with pieces that look not like the structured, hard fabric the word denim invites to mind (really, her creative design is a focal point to the relaunch of Fred Segal's denim bar), but instead, soft, chic, trendy styles, fit for the likes of Kendall Jenner and Lori Harvey.
Closet essentials — halters, the label's signature crocodile skin pants, bralettes, and dresses — turn denim yarn into pieces with dynamic silhouettes, sharp cuts, flirty crops; Knorts is giving denim a makeover, to the point where it's impossible to tell a subversive white cut-out top or sheer dress even is denim, and does the impossible task of making garments that are at once sleek, sexy, and soft.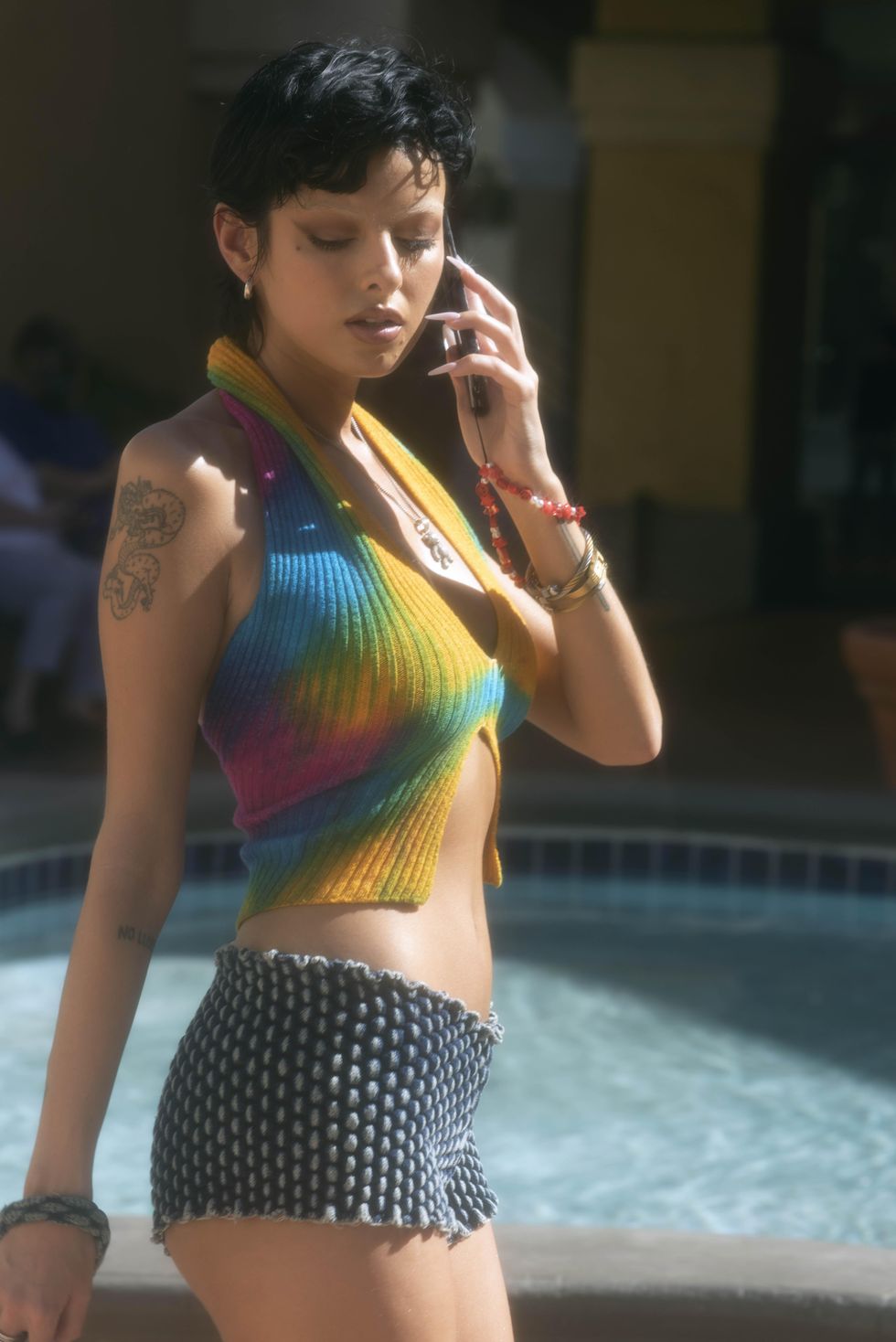 Newest to the label's repertoire is Guthrie's first ever capsule collection, Optically Illusioned, a series of hand tie-dyed knits making a "peaceful protest" against "the status quo where war and violence have seemingly become commonplace," according to Guthrie.
The 7-piece capsule collection has a vibrant tie-dye motif repeating across each garment, ranging from a bikini top and halter to a pair of crocodile skin pants and a corset. It sparks to mind California's festival culture, the lackadaisical hippie aesthetic of the '60s, the ever-impending arrival of Coachella, where the Optically Illusioned Knorts are so certain to be seen in their element that they should have their own headline on the event's setlist.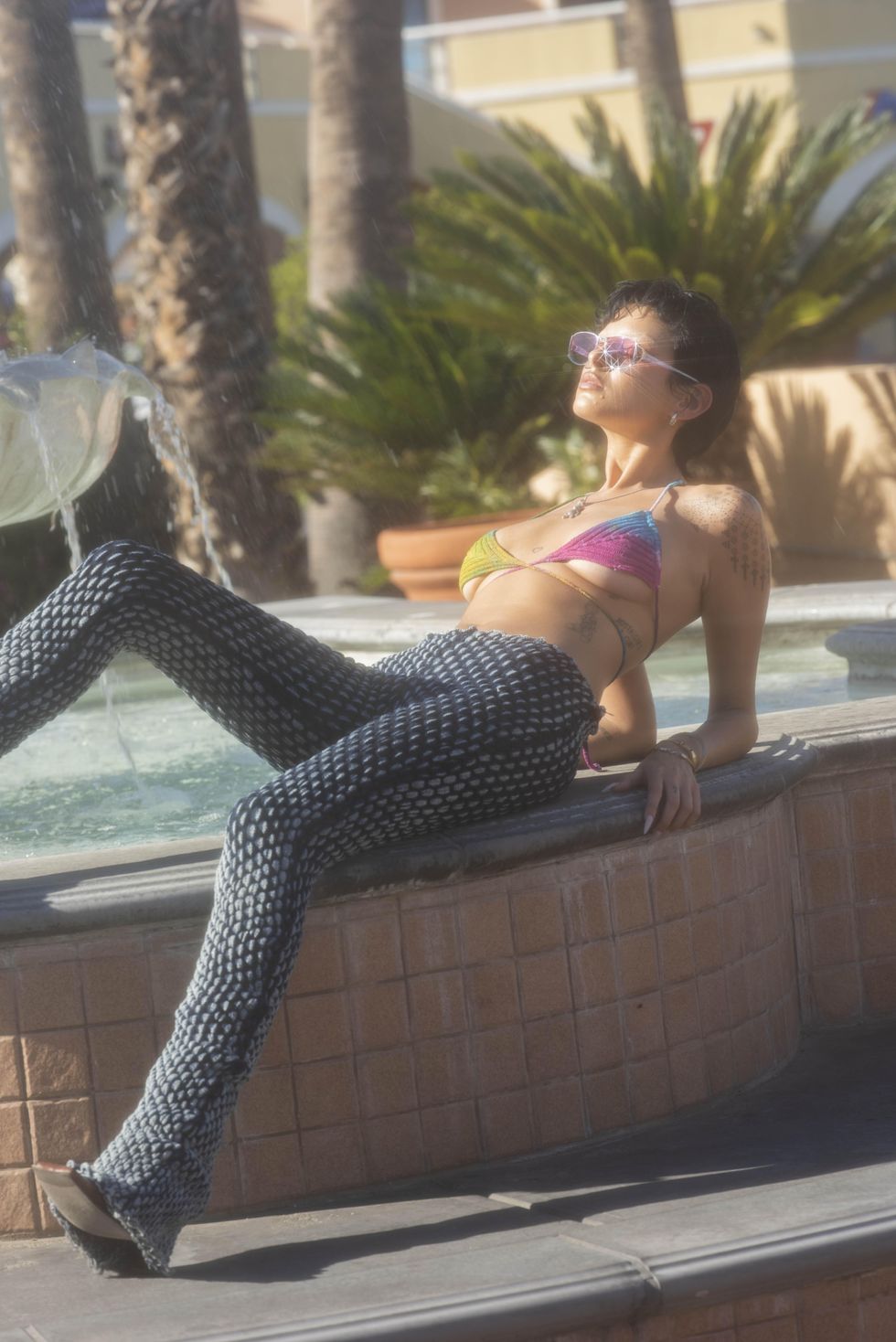 "As a nod to the popular way to protest the Vietnam War in the 1960s, this capsule collection leads us out of reality and into complete color vision further enhancing the vibrant indigo from which our knit denim is traditionally made," Guthrie said.
Bringing texture to denim and tie-dye to texture is a feat in and of itself indeed, and the Optically Illusioned capsule collection does, as its name suggests, play tricks on the eye, redefining what we think of as denim — it's out with the most uncomfortable jeans in your wardrobe, in with the dyed yarn pants that mimic denim to a tee.
A subversion of convention is, at its core, what Knorts is made of. Denim is looking less and less like itself, sure, but the innovative Knorts are coming more and more into their own.
Shop the Optically Illusioned capsule collection now at Knorts.com.
Photos courtesy of Knorts
From Your Site Articles
Related Articles Around the Web
Sign Up For The Morning PAPER