In July, Justin Bieber issued an "apology" to Taylor Swift for a past hurtful Instagram post when the Lover singer expressed the pain she felt after being bullied by Scooter Braun and his clients. Still, it was clear where Bieber stood in terms of Swift's feud with Braun over her masters recordings, and it's clear where he stands now.
In Swift's long message to the public explaining her dilemma, she sent out a plea to fans to also urge other artists under Big Machine — including Ariana Grande, Demi Lovato, and Bieber — to join her cause.
"Scooter also manages several artists who I really believe care about other artists and their work," she wrote. "Please ask them for help with this — I'm hoping that maybe they can talk some sense into the men who are exercising tyrannical control over someone who just wants to play the music she wrote."
Bieber then addressed the issue with a screenshot of a TMZ article with a headline that reads, "TAYLOR SWIFT FREE TO PLAY ALL HER HITS DURING AMAS...Big Machine Can't Stop Her." The article quotes the label saying that Swift is free to perform her any of her songs at any time, echoing the label's official statement.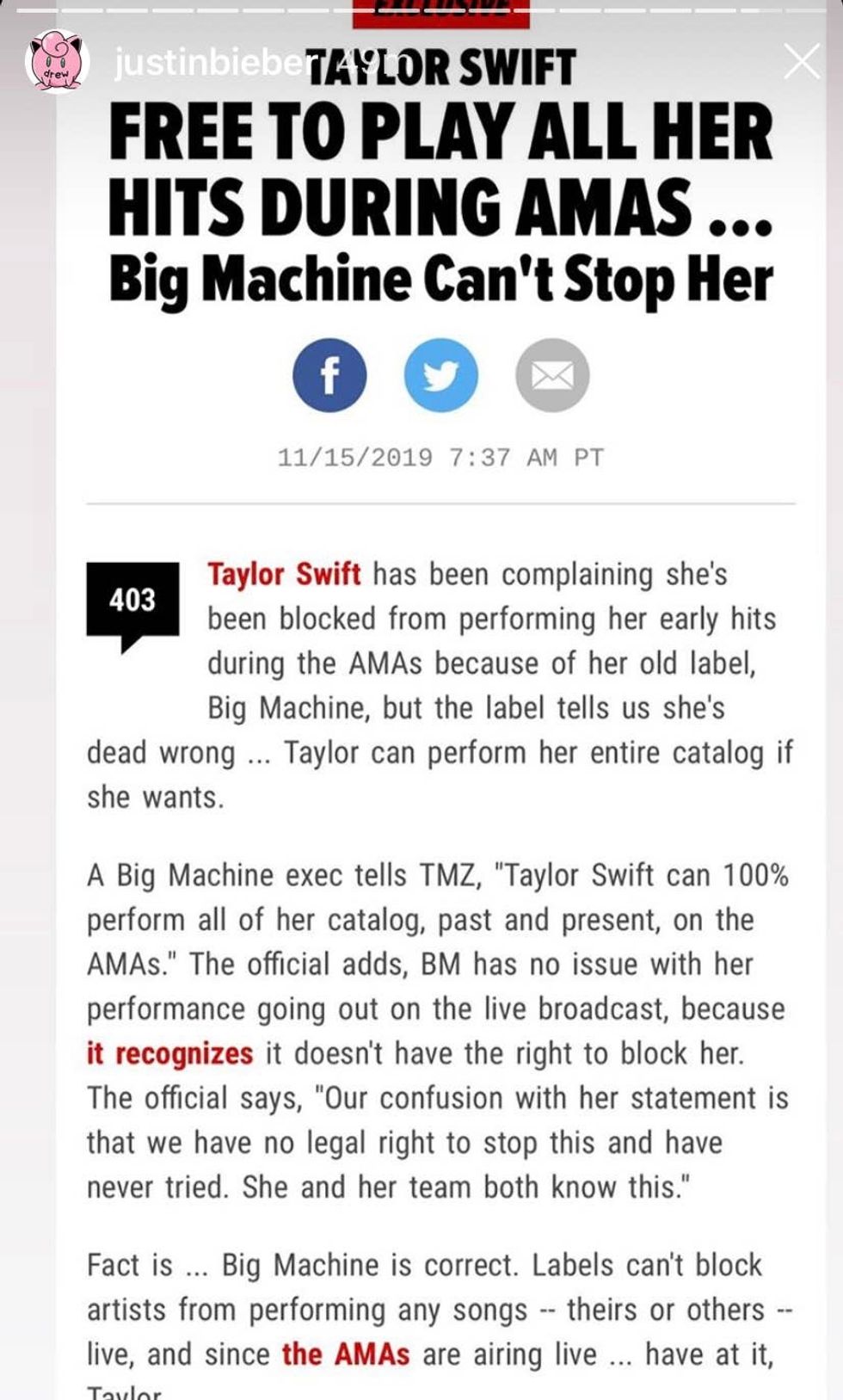 ​But as Taylor's publicist, Tree Paine, has pointed out, "Scott Borchetta, CEO and founder of Big Machine Label Group, flatly denied the request for both American Music Awards and Netflix." She continued, "Please notice in Big Machine's statement, they never actually deny either claim Taylor said last night in her post."
Other artists under Braun's management, Grande and Lovato, have remained silent regarding the issue so far. However, Swift's 1989 collaborator Ryan Tedder Has spoken on the matter, saying that the problem between the two parties has to do with "misinformation."