One Republic frontman Ryan Tedder, who has collaborated with Taylor Swift in the past, says that the "Lover" singer's battle against Big Machine Records was probably the result of miscommunication. Tedder told The Rolling Stone, "I think there's a lot of misinformation."
He continued, "I can verify that having talked to both parties that there is misinformation." Rolling Stone also reports that Tedder was "bummed out" by the back-and-forth between Swift and her former label, especially since he also knows both Scott Borchetta and Scooter Braun personally.
"Taylor is one of the single most talented people I've ever worked with in my life and I absolutely want the best for her. And I've known Scott Borchetta since 2000 when I was an intern at Dreamworks… before Big Machine was even a thought," he said. "I've known Scooter for almost a decade and our kids are in preschool together, so I'm way too close to all of that to have any type of accurate perspective."
Tedder isn't taking any sides, but he said, "I want nothing but the best obviously for [Taylor], and I really hope it all gets sorted out."
​Aside from Tedder, another artist who has expressed his opinions on the matter — albeit indirectly — is Justin Bieber.
Part of Swift's revealing post was a plea to fans to contact the other artists under the Big Machine Label Group, and ask that they advocate for her cause and "talk some sense" into Borchetta and Braun. Among these artists, though unnamed in the post, are Bieber, Demi Lovato, and Ariana Grande. Bieber has chosen to respond via Instagram Story..
The "Sorry" singer posted a screenshot of a TMZ article with the headline, "Taylor Swift Free To Play All Her Hits During AMAs...Big Machine Can't Stop Her."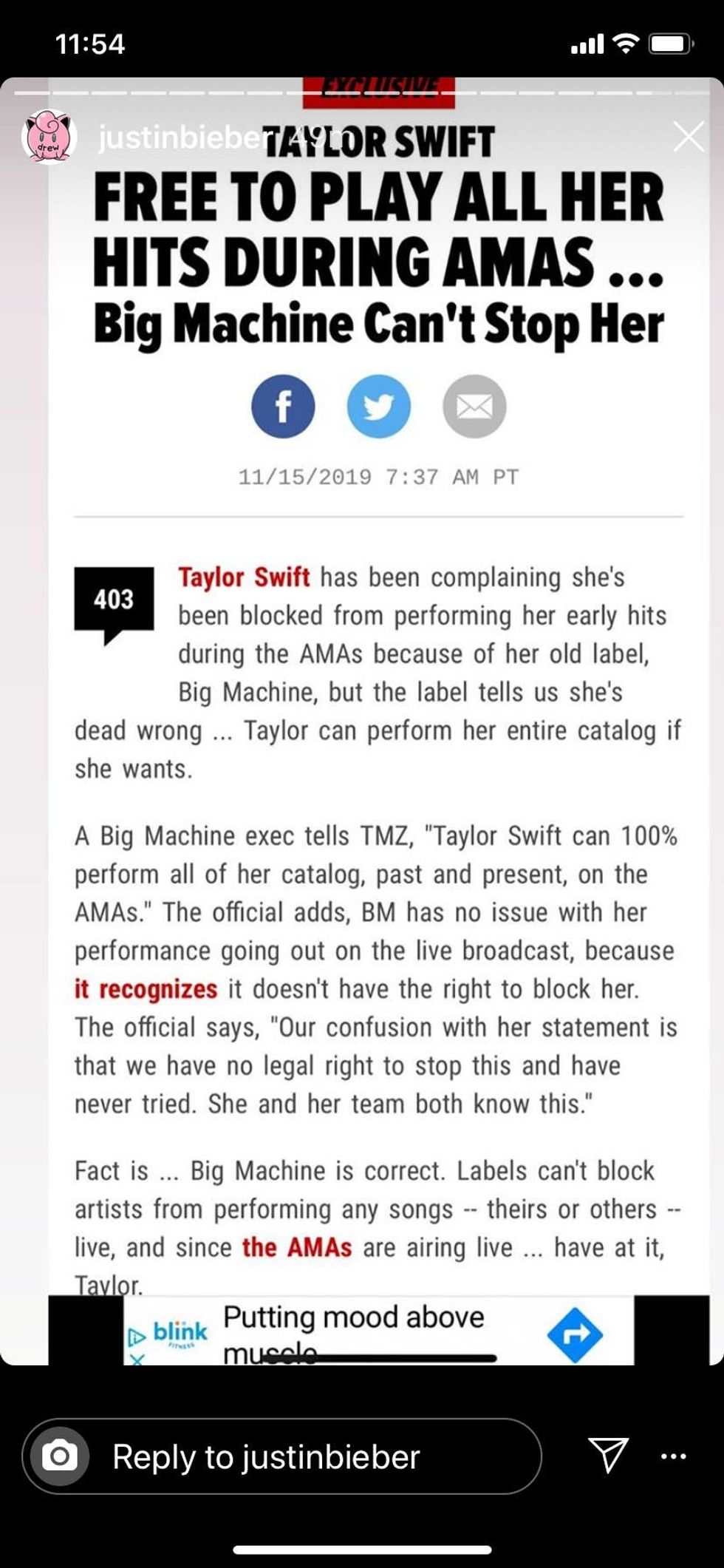 Lovato and Grande have been silent regarding this matter.