All Introductions by: Know Your Rights Camp members Miabelle Bocicault, Dr. Ameer Hasan Loggins, Dr. Christopher Petrella
In the midst of their thrilling rise in entertainment and fashion, model and Pose star Indya Moore hasn't wavered in their mission to protect the Black and Brown transgender community living under constant attack. In 2018, there were at least 26 confirmed cases of trans women killed in violent encounters, and so far this year, there have already been at least 12 women who have lost their lives. The vast majority of those killed are Black. Moore's activism — and the epidemic of homicides they are fighting against — embodies the intersectional nature of combating systemic oppression and the necessity of believing that everyone has the right to be alive and exist in their fullest form without any detriment, targeting or backlash.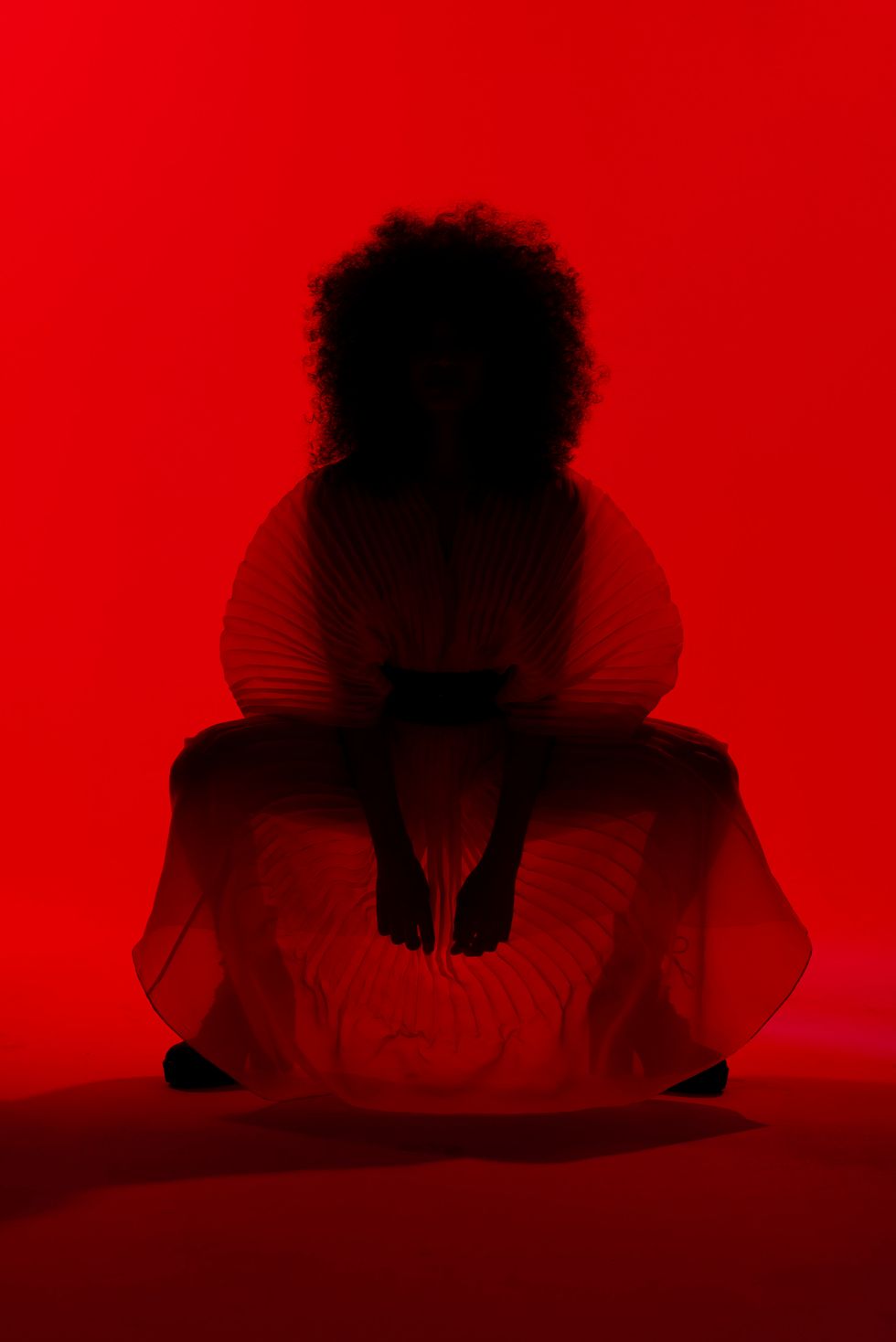 Dress: J'Amemme, Belt: Hyke, Shoes: Giuseppe Zanotti
In what ways have you felt your life being threatened simply for being who you are?
Indya Moore: Being rejected by my family and my community. I mean this in context to me being trans while Black. Our first allies should be our families. So I think one of the things that would help [prevent] trans and queer youth from experiencing violence and cut down the risk of the violence they experience is parenting needs to change to benefit the child's life and not the parental ego. Black trans femmes and women, especially those who are darker skin, experience so much harm and existential risk because there are higher rates of rejection from your family. You're exiled from your family and your home. Then you're exiled from your own community.
How important is the inclusion of the entire Black community in fighting for our lives and liberation?
IM: Inclusivity in liberation is holistic revolution. It's whole. It's inclusive. It's intersectional. When you're Black and trans, one of the things that is really complicated when existing in the intersections of Blackness and queerness/transness is when you're coming into a space as a Black person that is about Black liberation, your queerness and transness does not get to be a part of that liberation. When you're Black queer/trans and we go into a queer liberation space, oftentimes these spaces are led by White majorities or non-Black majorities, so now your Blackness is left out of the liberation in these spaces. So I think when you're talking about Black Liberation, it has to be feminist. It has to be queer. It has to be Black, because that's the only way liberation is going to benefit everybody.
"When you're talking about Black Liberation, it has to be feminist. It has to be queer. It has to be Black, because that's the only way liberation is going to benefit everybody."
What does being alive feel like?
IM: We're not alive to constantly face death. You don't live to be in proximity to death all the time. That's not what I think life is about... When I hear the phrase "being alive," it just sounds like peacefully existing.
What does the phrase "You have the right to be alive" mean to you?
IM: The phrase "I have the right to be alive" means nobody can take my life from me. Nobody can take my life from me. You don't get to make me feel like I don't deserve life. "You have the right to be alive" also means I get equal access to everything that I need to be alive. That I need to thrive.
For more resources related to You Have the Right to Be Alive, visit: www.nbjc.org.
Artist's Statement by Shawn Theodore:
My style of silhouette photography is a direct acknowledgement of philosopher Alain Locke, the "Dean" of the Harlem Renaissance. His intellectual contributions to the artists and scholars of the Black Arts revolution gave a new sense of pride and advocated dignity in African American culture. His writings impacted painter Aaron Douglas, who created works in stylized silhouettes, which connected the aesthetics of the Motherland to the newly minted agency of the "New Negro." These depictions of Black life and spirituality are at the root of my pride, process and practice, and are evident in this portfolio.