Diana Gordon is something of a music-industry miracle. The shape-shifting singer-songwriter from New York first got her start penning tunes for Mary J. Blige while working in a strip club, signed to Atlantic Records as Wynter Gordon, and for years made music across genres from EDM (2011's "Dirty Talk") to experimental soul (her 2012 color-themed Human ConditionEPs and 2015's Five Needle). The results were mixed; fans responded more to her vibrant dance tracks than her artier R&B leanings, which were truer to her restless creative spirit.
With today's release of her first complete project in five years, Pure, Gordon, now independent, stands away from the machine that once propped her up (and tore her down) to honor the truth of her own story. The five-song self-produced project is a beautiful exploration of her troubled childhood and the lessons she's learned as a black woman navigating a sexist music industry, and of course, the personal reunion with her brother, who she describes as having gone "missing for sixteen years." The cathartic songs, which are constructed with great care, utilize minimal acoustic arrangements and beats allow Gordon's voice, fluttery, velvety, and powerful to flourish center stage.
Read on as Gordon gets candid with PAPER about her varied creative journey, overcoming crippling self-doubt, and her desire to be your friend.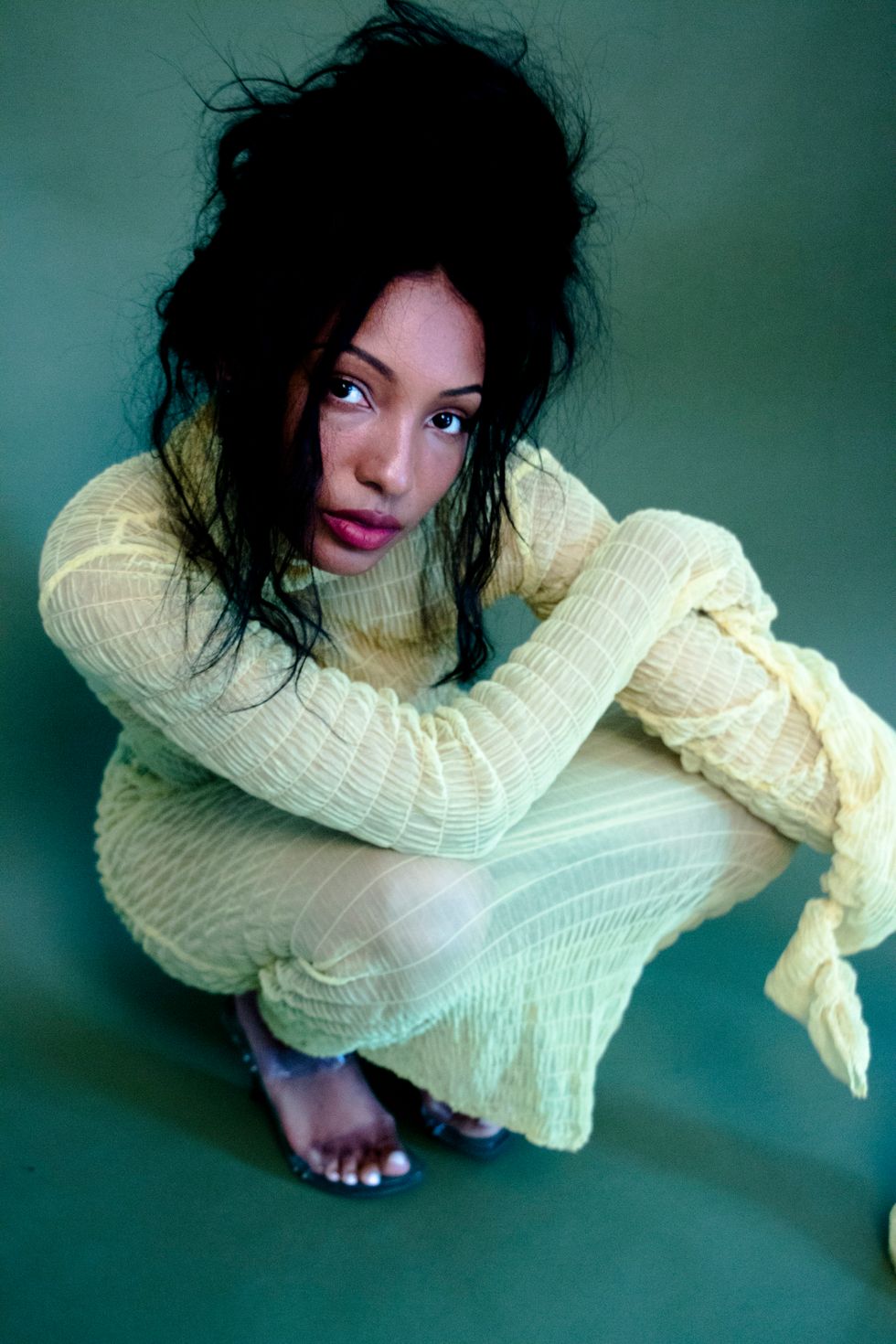 You had always been known as Wynter. Now going by your birth name, Diana, would you say your music is like a return to your roots?
I think that as Wynter, I was making music that wasn't really me. I was good at singing dance music, I did a lot of EDM and gained a lot of fans in that genre, but sometimes fans don't want to hear anything else from you other than what they know. When I started music, I was really young. When I began thinking about recording as Diana, I feared that it was too personal and I was in my head, but I felt that if I wanted to tell my story and get people to know me , then I had to do the music that I liked, and really write about my life.
Tell me about where that brings you with Pure.
I wrote Pure when I found my brother, who was missing for sixteen years; this project has been done for almost two years. It's a dark story, so I wanted to make it lighter. I wanted to pull from things like old '90s movies that kept me sane going through the dark things that I went through. Pure was meant to be a conversation starter about the darkness we all transcend, and to explore who I am as a person. I'm still figuring out my sound and still coming to terms with it all and wondering if I made a mistake with using my real name but I just felt like I needed to do something else.
I had no idea that any of that was going on with your family. It's so good that you're giving yourself permission and space to tell your story.
I never knew how to talk about it. I felt like, with the music, I could begin to talk about it cause I have an important story to tell and it might help a lot of people, a lot of kids. But I was like "How do I even start? How do I open this conversation? Number one, nobody cares." Most artists think that no one cares.
It's been a climb for you.
Miley Cyrus, you know? [Laughs] But, I think I needed to anchor myself as well in this process. I had to tell myself it was going to be okay and to find some consistency and balance in my life and focus enough to show and tell people who I truly am. To keep it a hundred percent real, no more sugar coating. That's really the only goal with Pure. Maybe becoming, not even just a musician or artist, not even just a singer but kind of like a therapist or somebody that these kids, these friends, these peers, these other artists can relate to as a human being. To find the human in the artist, in the singer. Pure explores my childhood. It explores my mother-child relationship, it explores when she had kids really young with a really evil man that did some really horrible things, it explores growing up in a Christian cult, thinking about my relationships, my biological father who I only met once. Just the roots.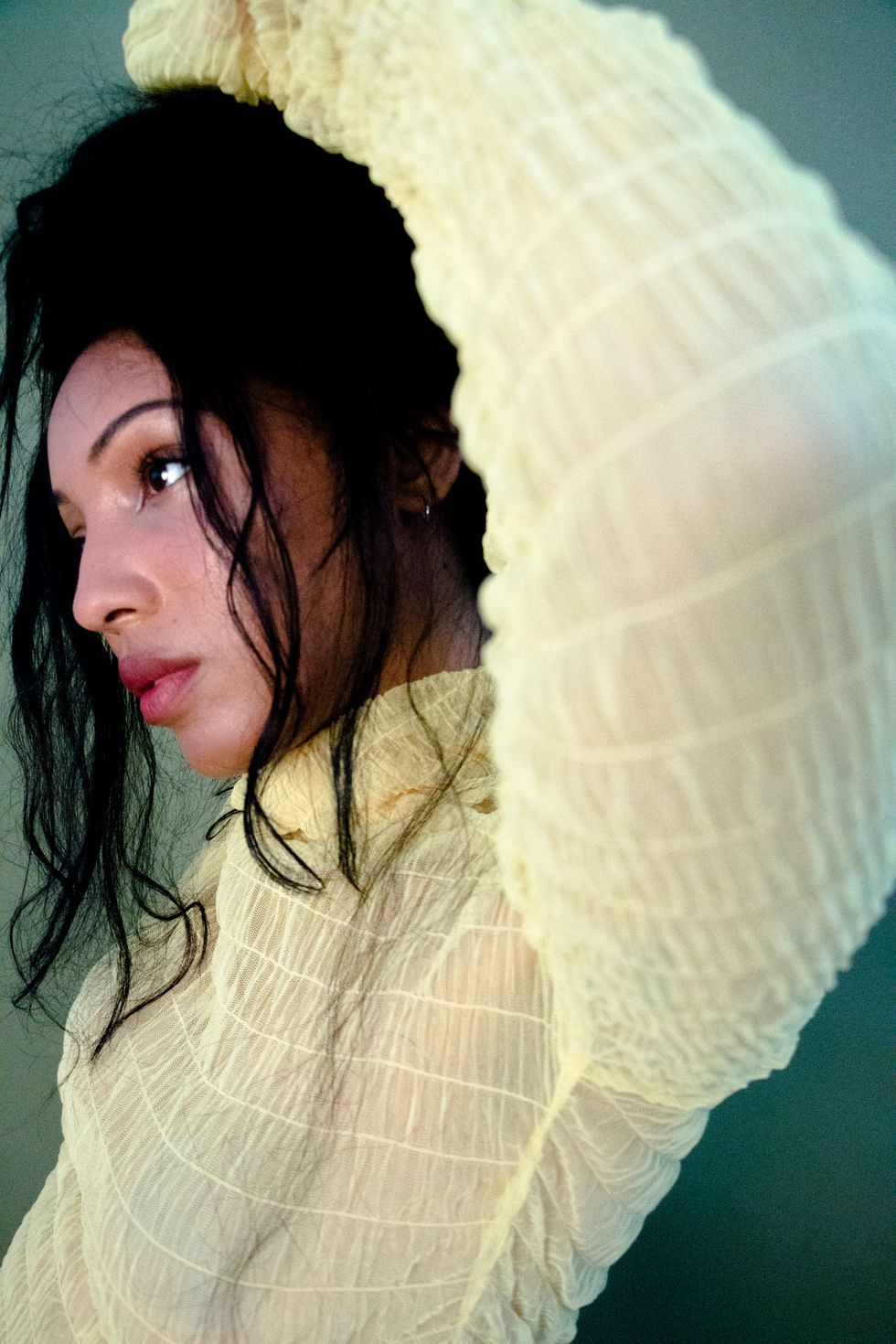 It took two years to get this out.
It's about finding support. I'm an independent artist as well so you know, you push things back because you think you'll find support here or there, and I had to find a good team. I have some good people around me now that really support me and show care but you know, it's just life. I've learned in this process though, that when you have art you need to release it at the time it's important to you, because otherwise you start to doubt it.
As an independent artist, is it hard it is to manage your own career? I would imagine that it's freeing in a way, because you can say whatever you want to say and there's no one to tell you differently. Do you feel like that's your experience?
It's a double-edged sword. As artists, we don't think about the business side even though we are running it. It's hard and it takes so much of your time, and if you want to be serious and get out there and shake hands, you also need other people around you. But sometimes, our visions are so strong that no one else knows it and when someone else touches it you're like "You're doing it wrong!" Because I started out doing something I didn't love — I did it cause it was good and cool, you know? — I became hyper protective of everything that I did, every word that I said. I became judgmental of myself if I didn't think it was good enough. It's just this inner fight.
I remember you had a string of EPs around 2012 as Wynter, The Human Condition and 2015's Five Needle. What happened there?
I left my label, which I had been on for eight years. They were doing dance music, and for me, I didn't dream of doing that. I wanted to be like Whitney, like Mariah. I was touring the world with Skrillex and Deadmau5 and I was very drug free, but I was in an environment where drugs were very heavily promoted. But there I was, doing these shows at like 5 a.m. and eventually I just got tired. At the time, I was making so much money. It was the first time in my life making money, and I didn't know what to do with myself, almost as if I didn't earn it, which depressed me. I told myself that it wasn't what I dreamed of doing, making money doing something that wasn't making the world better. I wasn't saying anything, not telling stories, no one's getting close to me. I felt like if I didn't have a hit dance record, that everyone would forget about me.
"I wanted to be like Whitney, like Mariah... I felt like if I didn't have a hit dance record, that everyone would forget about me."
"Dirty Talk" was one of your biggest records. Does that feel odd to you now, looking back?
As Wynter, "Dirty Talk" was my biggest song. I'm amazed at the streaming numbers, but I'm like, "Why? Why are you guys listening to that song?" [Laughs] At the time that song came out, I was like an un-fresh virgin. Like I had just lost it. And I grew up in a house that was super modest. So for me, the song that I got signed to for the label were songs about black power and pride, and songs about my dad, and yet, this is what gets the most attention. I didn't want that because I feared it becoming all people would know about me as an artist. I was a very young girl who was super Christian, like I wasn't even comfortable with my boobs. I wasn't comfortable wearing tight clothes yet. They set me up with a video wearing leotards, and lots of wigs, and makeup and every time I had an interview, it was these grown ass men, a lot of them white men, asking me "Can you talk dirty to me?" because that's what they thought I was giving.
I'm so sorry that happened. What did you learn from the experience of producing your own music after you left your label?
You know, I didn't have any contacts, so I was like "I'm gonna do these EPs and just put them on YouTube," not knowing the process of getting them to Apple and Spotify. I had no idea. I was using my own money to put things on YouTube and Bandcamp, and that's no way to promote yourself. I didn't know what I liked. I didn't know what makeup I liked. I didn't know what to wear. I was just a baby, but I was trying to be a real artist. It was my first attempt at doing something real without a huge machine. I was proud of it, but I expected more.
Did it feel like everyone else had something figured out that you didn't?
It was like other more successful artists had some secret sauce that I wasn't aware of and I was very self-conscious about it. When I did leave Atlantic [Records], the label president told me like "You got in your own way, you're being difficult, you're gonna ruin your career." And all those things got in my head.
And you just wanted to have one job.
Listen, I went to LaGuardia High School, so I've been making music since I was thirteen. I know in my heart of hearts that I wasn't doing it for the views, or for the money, because then I wouldn't have left Atlantic [Records]. But, being that I came from a place where I didn't have too much family support, I depended on that, you know? I needed to make money and have a real career at this, I needed to have a go at this. There was a real pressure for me to succeed. Yes, it was all about the art. Definitely. But I didn't want to work at McDonald's [Laughs].
That's so real.
I still had jobs before I got signed you know, I was working at a fitness center, and I was a waitress. I did a lot of jobs and then before I got my first record deal, I was working at a night club in Brooklyn. A ratchet night club that was next to a strip club that Mary J. [Blige] and Eve would go, 'cause you know, they're real!
That's how you started writing for Mary?
The guy that owned the club would do the after parties for her shows and she would be there and he was able to get her a CD of mine. She took one of my songs "The Breakthrough," and used it. That was my first song as a songwriter. I was 19.
Tell me about the creation of the "Kool-Aid" video.
I directed, styled, dreamed it up, made the props and everything, so I just like to create and I just want to keep being as consistent as I can be for the people who like it and let the blessings come in when they come in. I'm just letting the universe work.
You're a Virgo, right? There's a tendency to do everything but let go.
Yes. I'm trying to let go. [Laughs]
Trying!
Key word: trying. I think you have to be conscious of that, you know what I mean? Like I'm telling the story of my family and like I said, it's already been two years in the works, so Pure is just like a conversation starter for me. It's taking me back to my beginning where I can just let people in on who I am as a person, and grow from there, you know what I mean? Because when people don't really get you or know you, then they can't be sure where your coming from. It's very hard for them to connect and I would love to be more than just a song to my fans. I would like to be friends, I would like to be family, I would like to be an inspiration. I'm not making music just to make it; it has to mean something to me. I've learned that about myself. If it doesn't mean something then I don't want it. That's why I have to write all my own music.
Do you feel more liberated now?
Yes, because I'm truly independent now. I'm also in a place where musicians that I've loved my whole entire life and have wished to work with are reaching out to me to collaborate. I just did a song with Florence [and the Machine] and The XX, and I feel like I can do anything after this. This might not be the end-all, be-all of what the fans like, but they'll have some understanding of who I am as a person.
It sounds like a new beginning.
It is. In this course of time, I'm experimenting. My full story is a bit like the movie Precious. I've contemplated giving up, and I've thought nobody wants me. But then, I'll get a DM of a long text saying something like, "Oh we need you, you inspire me." And this was during the EDM era, so I would think, "if you knew the real story, then maybe I'd really inspire you." And I'm just continuing on, working up the courage to someday tell the nitty-gritty and go full Precious. [Laughs] I'm becoming who I'm supposed to be. It's good. I may not have millions and millions of followers, but I think the people that I do have are with me.
Photography: Aijani Payne