"Why is everything wrong right now?" DeathbyRomy asks on the chorus of her song "I Feel Like a God." She continues, disconcertingly, "I feel so alive right now."
The lyric, off the 19-year-old Los Angeles artist's new EP Love u — to Death, is a perfect encapsulation of the particular current of Gen Z music, that's been nicknamed "terror pop." When chaos and upheaval are all you've ever known, life is lived at extremes, the grim reaper is daddy, and escapism is a way of life.
In monstrous times, Romy is one of many young artists — alongside peers like Ashnikko and Billie Eilish (they're mutuals) — who've found power and security in styling themselves as a monsters. Romy first attracted a following on Instagram and Tumblr with her hip-hop-infused pop and goth-BDSM-streetwear looks. Her signature look includes Alice Cooper-inspired make-up, which makes her look like she's bleeding from the eyes. Her videos, lyrics and and photo shoots are full of similarly spooky themes.
Love u — to Death is a window into Romy's macabre universe and diverse influences. Thematically and emotionally, it's perched on the edge of the abyss. Romy toggles between despair and euphoria, narrating personal turmoil with epic lyrics about death, darkness, eternity and salvation.
On the stormy, clashing "I Feel Like a God," Romy invites listeners into the turbulence of her mind, split between panic and godlike confidence. But she simply begs for few hours of peace on "Sleep at Night," and gives herself over to heartbreak on "Diamond Tears." Love is a matter of life and death on "Let Me Fall," where Romy asks a lover to "If you like/ Just take my life/ Rather die than hurt you all my life."
She nods to the depression that's marked her adolescence on the title track. In one of the EP's most touching moments, she sings clear-voiced: "I've been at war with myself since I was a kid/ You'll never put the fires out in my head," before masochistically vowing to love someone who's broken her heart "to death."
Love u — to Death's closer, the catchy, pop-forward "Problems," is a Gen Z escapist anthem. Ostensibly it's a party song, but Romy's clearly not having a good time. She sings about drinking Jack and Coke, but requests: "Put it in my cup then hand me the smoke/ I ain't tryina think about the world/ I got too many problems."
The video is a teenager's fisheye view of 2019: Romy fruitlessly tries to get the attention of her parents whose eyes are glued to political tragedies on TV. Unable to connect with family or each other, she and gang of teens puff mouthfuls of cigarillos, play video games at the dinner table, and fall asleep together in a pile.
While she's undeniably zeitgeisty, you can't fully lump Romy in with her generation. "Diamond Tears" and "Problems" listen solidly in the realm of contemporary pop. However, the rest of the EP sounds out of an era when Rihanna and Kanye dominated the charts, not Post Malone and Eilish. In particular, Yeezus' gnarled vocals, sawtooth synths, and clashing drums can be spotted all over the record. Other moments of dissonant instrumentation — eerie strings, injections of electric guitar — recall the likes of Grimes and Björk. The EP's sounds are as captivating and unsettling as the portrait of herself that Romy paints.
On her EP's release day, PAPER caught up with Romy to talk about Los Angeles, Kanye, Instagram and her aesthetic.
You have such a distinct aesthetic. How and when did you develop it?
My parents raised me on a lot of different art that not only inspired my taste in music, but my overall aesthetic. From Marilyn Manson to Björk to a lot classic rock stars like Bowie, Zeppelin, AC/DC. I got into fashion from a very early age. My favorite designer when I was younger and to this day is Alexander McQueen. I love how he meshed the dark and beautiful and I love those two in contrast. So I think my whole aesthetic comes from my inspirations from childhood.
What was growing up in Los Angeles like? How do you think it shaped you?
Being raised in the city, I got to experience a really diverse mix of all different families of all different income levels. My parents have been caterers since I was a little girl. I was born in a pretty working class area, but as my parents' business grew we moved to nicer houses over time. I love growing up in this area because I've been exposed to a lot of culture. I like how real it feels. It's gritty, I suppose.
When did you start making music, and when did you realize it could be your career?
I started writing when I was five years old. As I mentioned, my parents played me a ton of diverse artists. From an early age, music really moved me, and I loved singing, I loved how different songs made me feel different ways. So I started writing songs on the school bus, and continued writing all through my freshman year of high school. I went to an arts school for theater. I tried to get in for vocals, but that just didn't work out.
I was so unhappy being in school and I wasn't happy doing anything else. So I dropped out of high school when I was 16, got my GED and recorded my first song. That's when I realized that this is all I want to do and absolutely all I want to chase. I started working a bunch of restaurant jobs and making music in my spare time.
Was that a tough decision? Or were you sure, you just knew that you had to.
No, I was really certain. I was really going through it at the time. I was quite a bit depressed, I supposed. Music was the only thing that made me happy: that made me feel like I had talent and something to offer. Once I got my manager, I started thinking, Oh, I can really take this seriously. There are people who actually really, really want to hear my stuff. I started singing in the studio almost every single day. The last couple of years I've been in the studio pretty much every couple of days, even the weekends. I only signed a record deal about two months ago now. Before that, I was mixing and releasing music independently.
"Music was the only thing that made me happy: that made me feel like I had talent and something to offer."
How did Love u — to Death feel like a follow-up to your first EP?
Love u — to Death in comparison to Monsters.. .I think, definitely this is the first time I can really showcase something I consider to be uniquely and authentically my sound. It's a melting pot of my favorite influences, and I worked really closely with the producers. It's very high energy. It's been a really exciting process. I'm pretty much just freely creating with no goal in mind, no sound in mind, just definitely trying to figure out what is my sound. I think that with this project I've pretty much nailed that, for sure.
I can hear so much Kanye on the EP, especially on "Sleep at Night" and "I Feel Like A God." Where does the hip-hop influence on your music come from?
Definitely. Me and my manager both love hip-hop. We work together really closely as creative partners, so we love pulling influence from "I Feel like a God," to "Sleep at Night" with heavy bass and crazy drum patterns, and things you generally hear in hip-hop music and mixing elements of rock 'n' roll. Large, electric guitar sounds that you then chop up and make more electronic. It's a really mixed medley of hip-hop, rock, electronic and industrial.
There's sound artists and lyrics artists, do you gravitate to one or the other? The EP's a mix of the personal, and sort of fun, shoutable party-song stuff.
I'm a lyrics-first person. That's where it all started for me. I would hear melodies in my head, but often I'd write lyrics to no music at all. I feel like if you come up with a concept, whether it's deep and personal or simple and relatable, if you have really strong lyrics then everything else will figure itself out. I'm by no means not a sound person. As I mentioned, I really liked directing the production for most of my songs. I'm not very hands on with the production but I'll suggest melodies for the violin or drum patterns or visa-versa. My process about it is, honestly, very all over the place. I can be very spontaneous, and just seeing a movie or just sitting in a cafe and something I overhear inspires a thought that I think is worth writing about or worth singing about. Bring Me to the Horizon, Kanye, probably Lana, I've been listening to a lot of her again.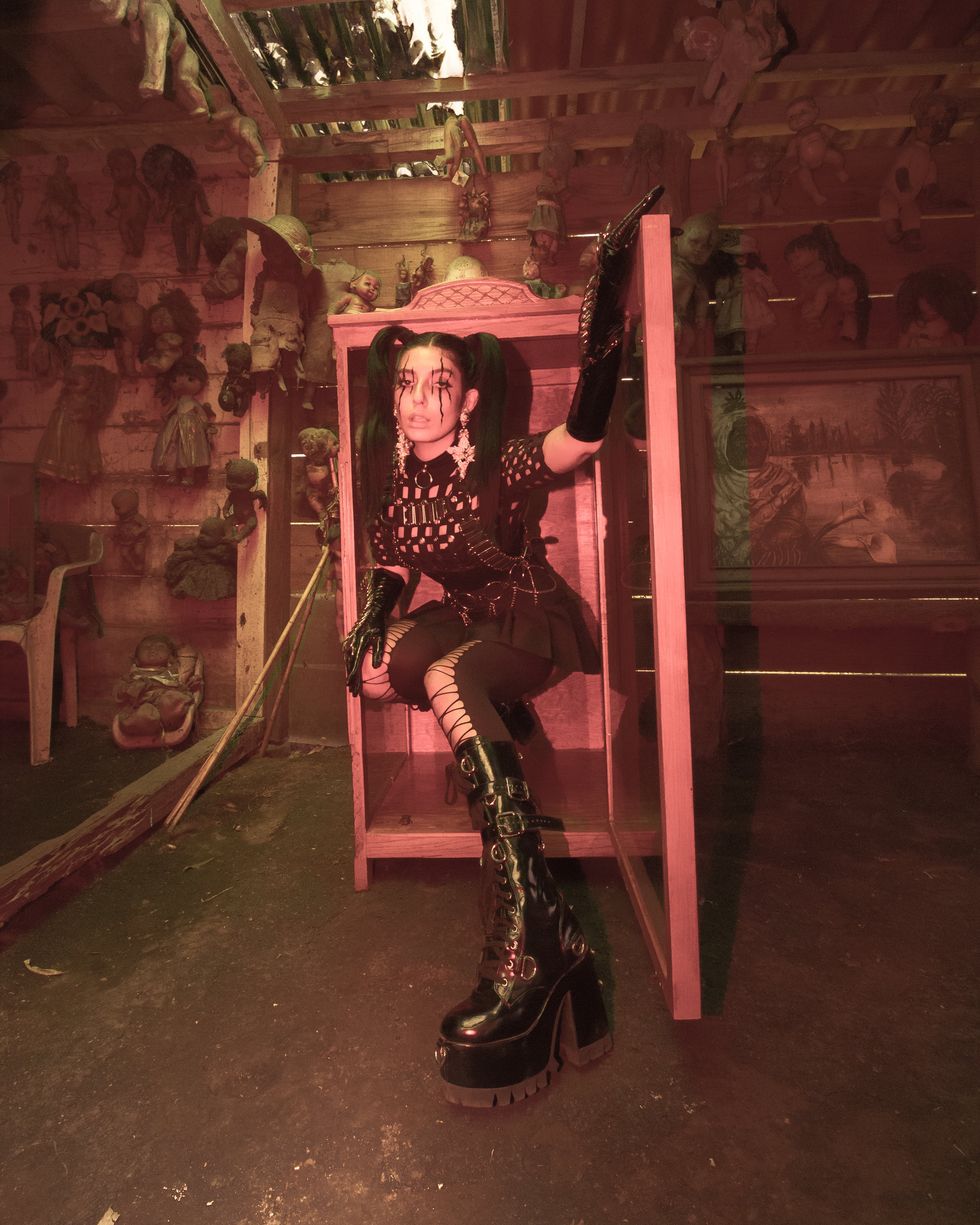 Do you get the Lana comparison a lot, or do people ask you if she's an influence?
No, actually. Not a ton, a few times. I don't mind the comparison to Lana, she's an incredible dark pop lyricist.
It also feels like you and Billie Eilish are kindred spirits.
I think she's incredibly talented, actually. I can't say that I listen to her all the time, but I think she's an incredibly talented young woman, and me and her have met once which was really cool. We had both been following each other online. We both like each other's aesthetics, and we definitely have similar fanbases. I think she's definitely more hip-hop-leaning influence in terms of her style of clothing, not really her music. I think I'm more hip-hop-leaning in my music. Her and her brother are an incredibly talented duo.
You have cultivated a lot of your fan base online. What is your relationship to social media and having this sort of online persona as an artist?
I first created Instagram when I didn't really have friends in the real world. Tumblr and Instagram were where I first started to gain traction. People gravitated towards the way I dressed and I got positive feedback for my attention to detail and aesthetics. I definitely have some sort of touch with connecting with people online. I don't quite know the secret, but I think I have the kind of presence that people feel like they can connect to just through the screen. My style has developed over time, since that was years ago, but it always seems to attract people. I'm against the grain in the way I choose to dress and do my makeup. I think people love that, it inspires them to experiment themselves.
"I first created Instagram when I didn't really have friends in the real world."
So you'd say you have a positive relationship, then, to that public side of being an artist?
Yeah, which is incredible! In this day and age you need to have an internet presence to survive or make any sort of impact at all. Luckily, I think I'm pretty good at using my platform for what it's intended for, like promoting myself, connecting with fans and giving them something to indulge and connect in digital space, which is really important. I don't find myself scrolling and comparing myself, and avoiding the negative side of it.
Tell me about your signature eye make-up.

I've been wearing the look probably a little over a year now. I experimented with a lot of different eye looks, and I realized that my eyes are my favorite feature to accentuate on my face. I created that look spontaneously the day of a show I had here in L.A. I realized, "Wow, this is the most unique look I've created yet, and I really like it on myself." It was inspired by some of my influences and feels very mine with the red and the black, I think it's very bold and dark yet sexy.
There's no particular reference for it, but definitely similar to Alice Cooper, or looks from Marilyn Manson — those artists that my parents introduced me to. They've definitely subconsciously influenced my metal makeup styles.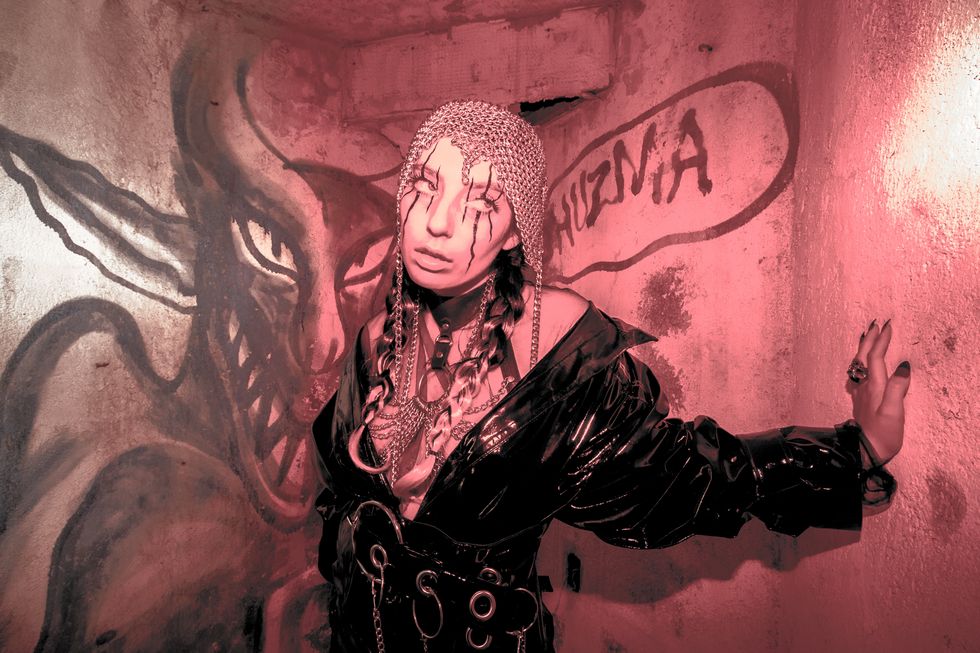 Do you feel like you have an alter ego? Do you write from a character?

Definitely not a character. I'm very emotional, just as all people are and I go through all different emotions and sides of myself. I tap into a much more confident side of me that may not be my reality at all times, but that I definitely feel in moments and at times I can tap into a much more vulnerable side, which, we all struggle with as well. That's why, for me, music has been a necessity — not just for my own life, but for what I think I have to offer the world.
It's like the make-up helps you access confidence when you need it?
Definitely. I'm aware of the stares I'm getting, sometimes I love it. I think I look good in it, so it's become a comfortable mask.
"I'm aware of the stares I'm getting, sometimes I love it. I think I look good in it, so it's become a comfortable mask."

Do you have a favorite song or a song you're most excited to share?
I'm most proud of "Let me Fall." I think that song is the perfect blend of all of my influences. It includes all of my favorite instruments, and I think are perfectly blended and curated. For example, there's inspiration from Björk in the strings, inspiration from Kanye in the drums. Definitely inspiration from The White Stripes and Sleigh Bells in terms of sounds like from my voice. It just feels so me it feels like the most perfect blend of what I love to hear and it's great energy.
Photography: Eugenio Schulz