Daniel R. Day, better known and beloved as Dapper Dan, is fashion's original influencer.
In the '80s, the renowned style icon and inventor of what we now call Logomania pioneered the high-end streetwear that is ubiquitous today. Dan first showcased his inimitable mix of classic luxury-brand logos and original, forward-thinking designs in his namesake Harlem store. As his store became more popular, and his name recognition grew, Dan morphed into a world-class couturier, styling cultural icons from Naomi Campbell to Jay-Z, and developing a partnership with Gucci, for which he has produced several collections based on his archives.
In his first-ever memoir, Dapper Dan: Made In Harlem, which is out now, the now 75-year-old designer spells out his story, documenting the cinematic highs and lows along the way. The book came out in July, and has since received high praise by everyone from Ava DuVernay to Taraji P. Henson. Judging from Dan's fearless, essential observations of his life, fashion, and culture at large, it's easy to understand why.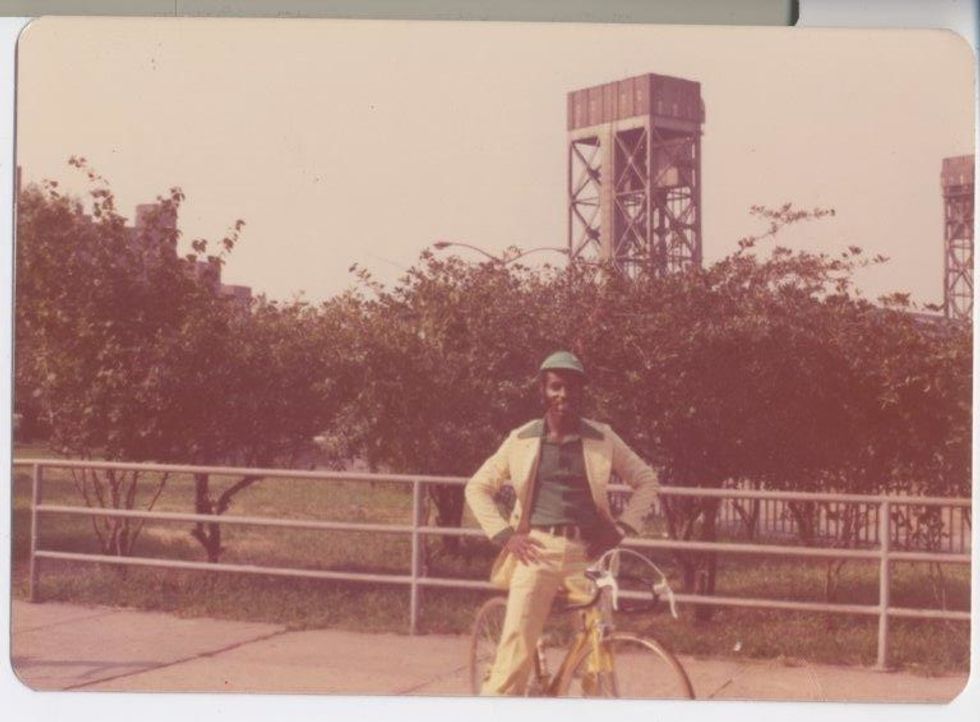 Dapper Dan in Harlem, 1971 (Photo courtesy of Dapper Dan)
As a Black man who grew up on the Harlem streets playing dice games, Dan chronicles the ways he had to get creative to survive and thrive within systems not meant for him to succeed. With searing honesty, he outlines how, as a young hustler, he both benefited from and hated the drug epidemics poisoning the Black community. He details the credit card scams he pulled to travel the world, that helped shape his aesthetic point of view. When he focused on fashion, he taught himself how to treat fur when no one would sell finished furs to a Black man. He writes about his family life; what he learned the first time his father bought a suit; how trips to Africa fine-tuned his views of fashion and of the world; what it felt like to sell in his first showroom; when he knew he'd made a name for himself. And fueling each chapter is Dan's documentation of the restless creative ambition that kept him fresh and ahead of the curve.
In one passage, Dan writes, "Before you knew it, word got around in the neighborhood, and the Andrew Marc leather jackets with possum lining started flying off my racks. I was killin em with this jacket. But knowing my clientele and the high-end luxury game, I also knew I couldn't rest of my success for too long. The key to staying relevant was to always come out with something different and new."
When I go to visit Dan at his Harlem studio atelier on 125th Street, I am first led behind a velvet curtain by a security guard. Then, I'm escorted upstairs to where Dan holds client appointments, a decadent living room with high ceilings and stately furniture. Dan, clad head to toe in one of his signature, brightly colored tailored suits outfitted with Gucci's logo and giant Gucci frames, rises to greet me. His daughter is nearby and his (very chic) assistant brings us sparkling water. We talk about some of his formative moments, Black culture, and what it takes to stay original.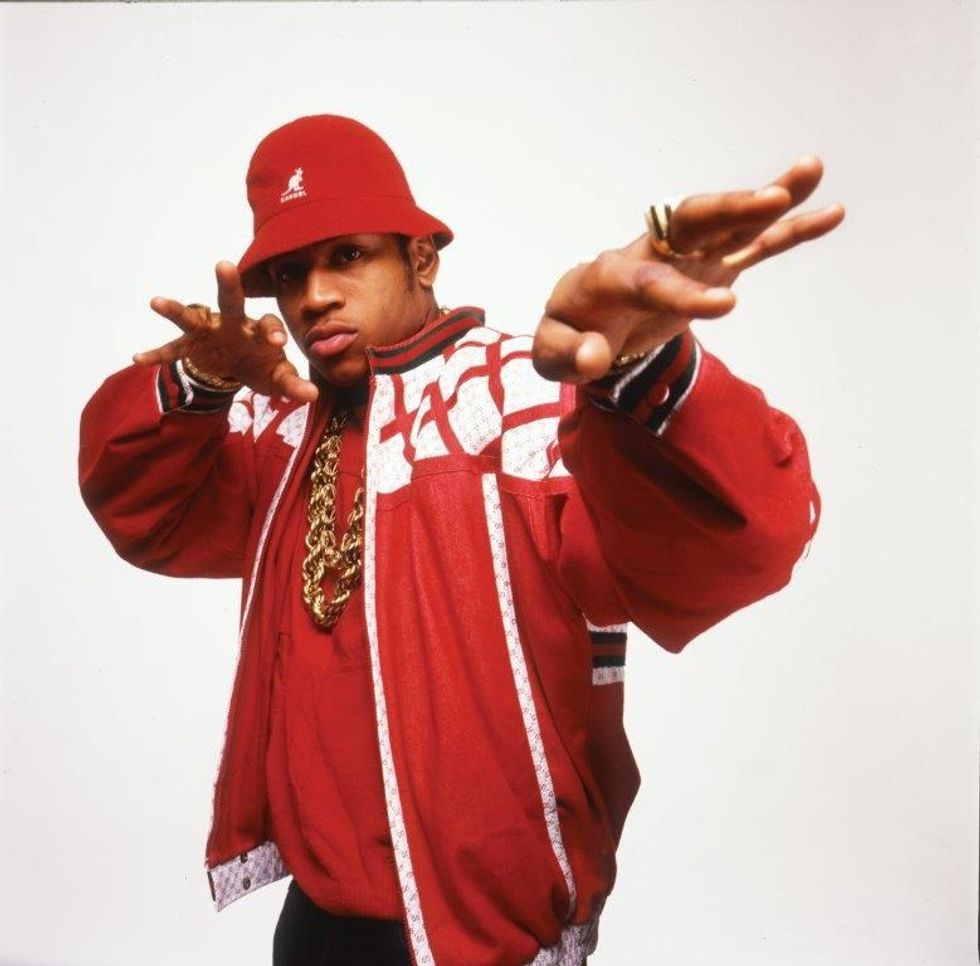 LL Cool J in Dapper Dan's Gucci crisscross jacket, 1987 (Photo courtesy of Dapper Dan)
What does it mean to be "Made In Harlem"?
Let's talk about pride first. Growing up in church, in a religious home, and in a very poor house, I learned emotional sustainability. The message you get is that you'll be rewarded when you die, so why worry about this life? My parents came here from the South, and were the first generation of being born here in America after the great migration. I remember being conscious of how that felt [for them]. I was more fortunate than Black generations born behind me in the sense that I'm part of the last generation who exceeded our parents' accomplishments. If you can keep that in mind, it's clear why young guys these days might struggle so much; it's hard for them to exceed our accomplishments, but back then, it was easy for me to see that I was doing better than they were. That accelerated something in me. Learning so much from so many different people in a group home, I learned how to survive. I learned from the strongest people from the South. How do I feel about that now? I feel so blessed, though I often tell people I would've liked to start life at 23. From the time I was born till I was 15, it was okay, but from ages 15 to 23, it was hell.
What was so difficult about that period of your life?
The more you know, the more empowered you feel. My darkest hour was the first time I was locked up in the '60s with one of the guys that assassinated Malcolm X, and I said: "If Jesus Christ appears to me right now, I will never do nothing wrong again." I was deeply reaching before I got into the true grit of what I really wanted to do, but just saying that to myself put me on the right path to get back. That kind of emotional pain is like zero, because I had lost a sense of dignity, especially after seeing what became of some of my friends. Maybe some came out [of prison] in 20, 30 years, but most never came back — some go under. So to see that I could overcome that experience, it gave me a lot of power.
One of the earlier, formative experiences you talked about was going suit shopping with your dad. How did that experience deepen your connection to him?
That was empowering too. I love my dad so much, that I didn't want to see him get played and spend that money on that suit. When I read him that [layaway] contract, I knew he had only gone through the third grade and had to teach himself to read, but when he saw me read that contract, and he was coming downstairs, he said: "Boy, you could read." The expression on his face? That never left me. If I could paint it on a canvas, I could capture every emotion, because I love my father. That was one of the most powerful moments of my life.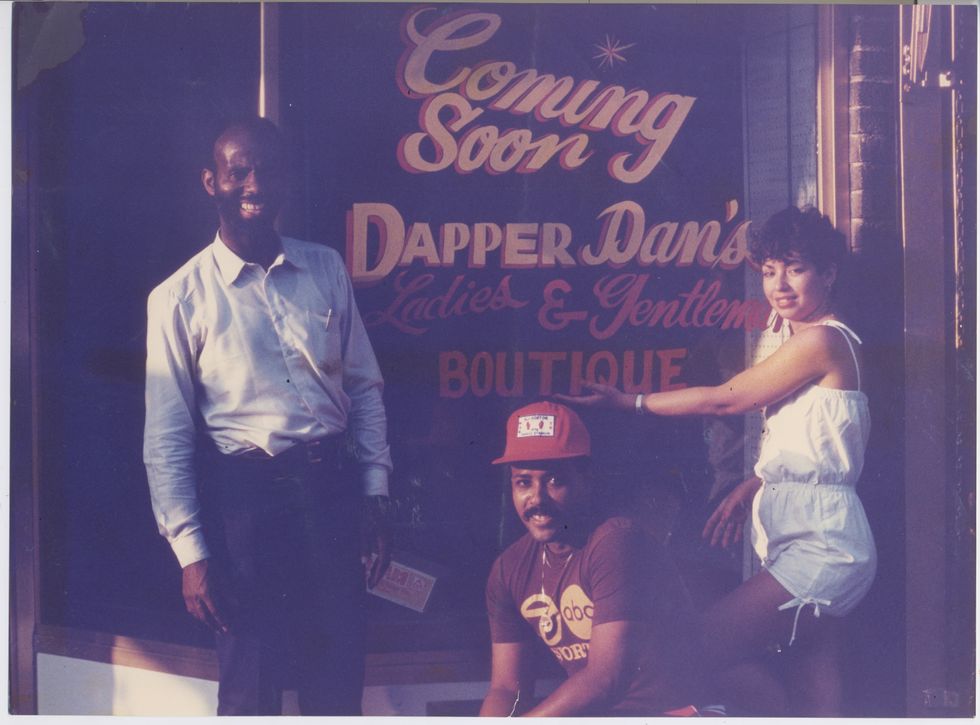 Dapper Dan outside his first store with friends Walter and Mimi Peterson, 1983 (Photo courtesy of Dapper Dan)
What else did picking out that suit teach you?
When I'm picking it out, I'm reaching for something that's going to transform me. People reading might think that the suit was for my father, but the suit was really for me. I was reaching for something that was gonna transform me, but I sacrificed that transformation for him, and what it was going to cost us. That moment created something way more important than a suit. A garment like that would probably be like your cell phone today. You know the relief you get when you could pick up your cell phone? And all the things that you can do, all the contacts that you have? The reach is amazing, right? Well, that's what the suit was. It was the image of Superman, the power it gave you when you put it on. It's an honor to hold that image. And I guess that's why all the Black people back in those days loved dressing like that. Now you see people dressing sporty, but back in those days, you put on a shirt and tie and blended in with all the power structure, because that's how you wanted to be seen, especially if you were a Black man.
Is there a moment in your career when you pinched yourself?
It was a lot of doubt involved initially. I grew up in the '50s. It would've been unheard of for me to be associated with an international brand back then. When that moment came, I didn't know what to expect. And I never thought it would blossom like it is now. When was the moment that it felt good? I think the realization hit partially when I was in Italy, to be sitting with Alessandro [Michele] and the creative team and all of them tell me: "We believe in you." More than that moment, where I really pinched myself, was probably seeing the Dapper Dan billboard advertising my shop. It was on 125th Street, in the community I grew up in, right downstairs where I used to break laws and gamble.
Having been such a trailblazer for emerging Black designers and fashion lovers, I imagine you're asked to mentor young designers often. What bits of wisdom do you share with them?
I'm a firm believer in fashion tech. if you look at the new developments and what I did with textile printing, you're always looking for a different angle. Everybody is born with some cultural traits. You have to take those cultural traits, go to tech shows and see what they're doing at the tech shows and then apply your culture to them... that is what expands one's palette. Technology is the what keeps things new. When you see that for your generation, you're adding something new. I'm big on that advice. And the movement takes place through music.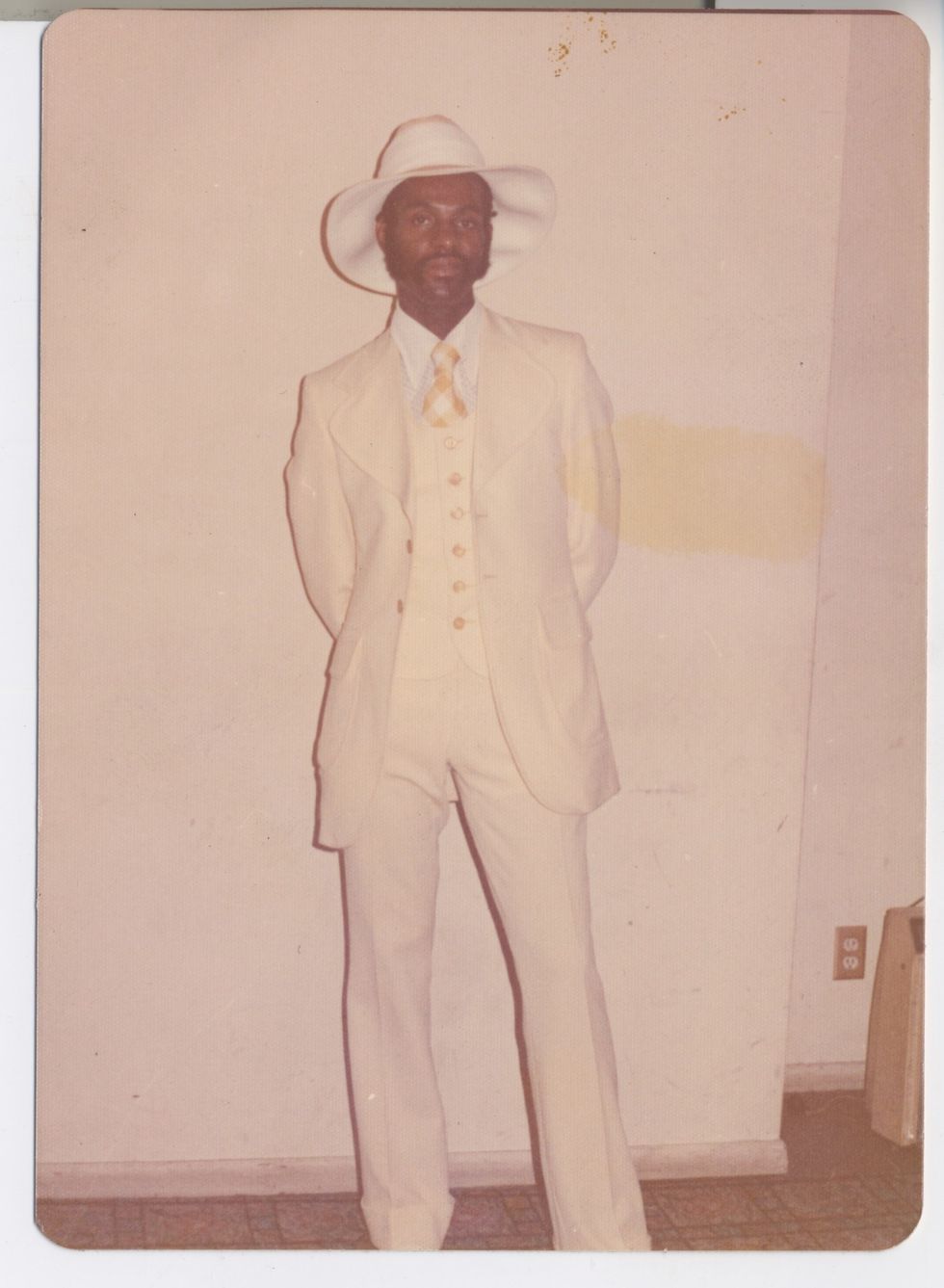 Dapper Dan in a pastel suit he wore on a trip to Africa, 1974 (Photo courtesy of Dapper Dan)
When you say the movement, what do you mean?
The movement is like no matter what we do, no matter what tech takes place, or no matter what you can grasp culturally. If you don't have that movement that can go global, then you can't ride. You have take advantage of what's in front of you. So as I deal with hip-hop, there's a bridge in hip-hop. So where is the wisdom? What is the movement right now? You'll be the first to spot the movement and that's when you get your other two tools together. And knowledge and tech. And in that analogy, culture. And you apply that to the movement if you know all that together. That's the package. But it's a basic trait that you would need to realize whether it works for you or not because today, as we are moving forward, these brands acquire influences. But I made myself an influencer.
You were one of the first influencers, before that term was popular.
I always tell young people to generate an influence in your circle. If you call yourself something, say, a stage name, and everyone around you begins to notice and call you your new name, it's like the birth of an influence. Then, whether it's right away or over time, you believe who that person believes themselves to be, and they've made an impact on you. That's what I did when I started selling clothes — made an impact, based on my own movement.
What are your thoughts on social media? Do you think it makes it harder to maintain originality?

Hip-hop is the first generation that truly said, "This is ours. We started this. We nurtured this. We grew this." Straight across the board, all around the world, everybody is conscious to that because of social media. But when you look back, before hip-hop, when you look at rock 'n' roll, every generation thinks that was white music. We didn't have the vehicle to do the work, but now we do. Social media can help us get the information out from where it started.
However, we have to institutionalize our creative structure so that when things happen, we are already set up for it. What I'm really upset about is that everybody who I talk to, like when Gucci made the mistake with the fur jacket, everybody was up in arms because they didn't pay me homage. But what they didn't realize is that Louis Vuitton at the same time had the collaboration with Supreme. At the initiation of the collection, they issued letters to everybody attending that show that this whole collection was inspired by Dapper Dan. So here they are, they launched this big thing. Supreme became super without people being up in arms with the fact that all this is inspired by me. So, if we had the intellectual structure in place, then social media should have been flooded with that fact, as well. We need to know that all of this is us. As Black people, we need to know that all of rock 'n' roll started with us, all of rap is us. We need to be able to have ownership of our intellectual ideas and of our place in culture.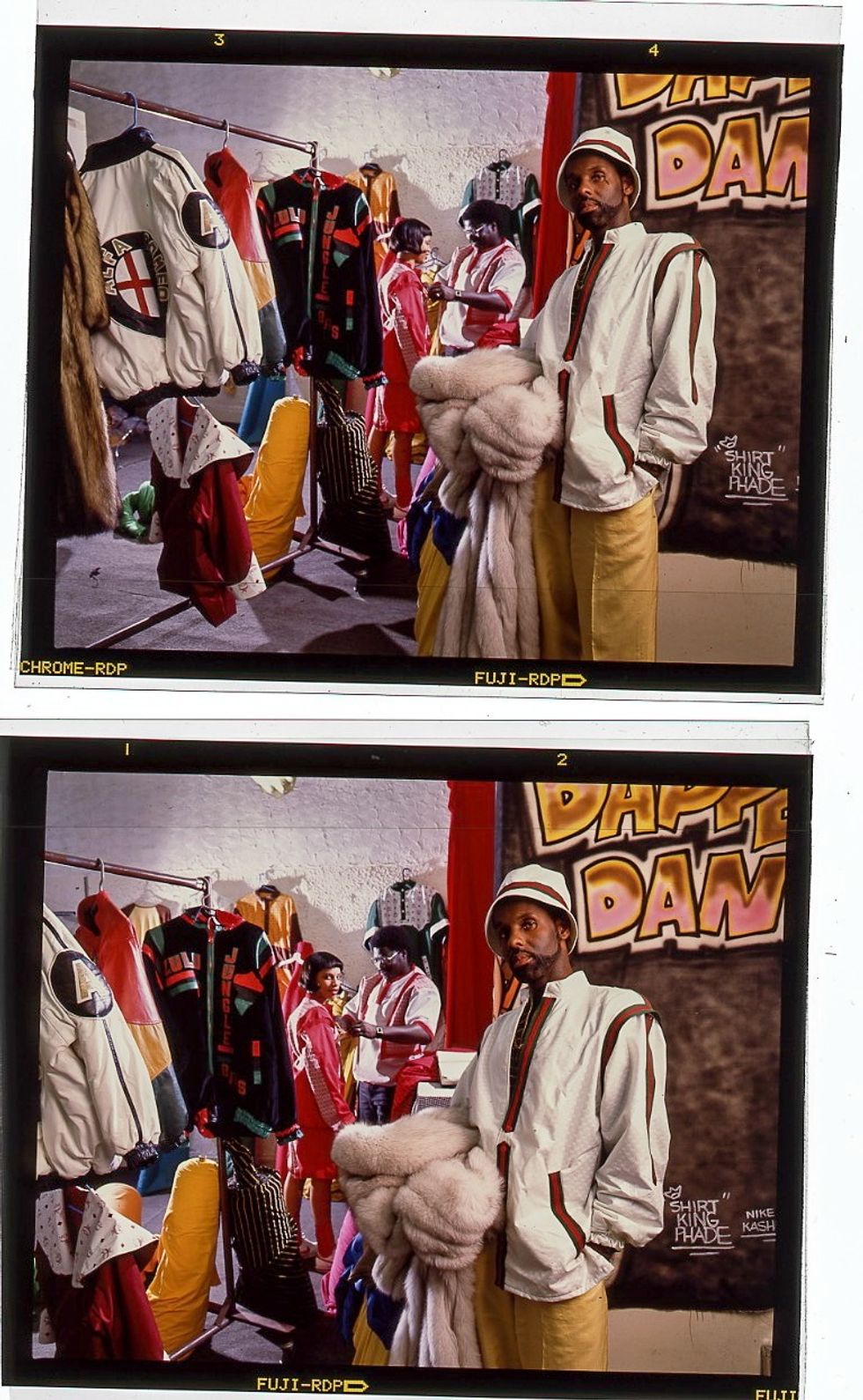 Dapper Dan at a shoot for MTV (Photo courtesy of Wyatt Counts)
What else are you paying attention to culturally right now?

There are two things happening now that I am trying to figure out. One is when we say "culture," there is a dark side of the culture. We're doing great things in music, and we're beginning to do super great things in fashion, but there's this bulk of who we are that's suffering. I just came back from Africa. With the way we are in the music, the way we are beginning to be in fashion, why are 70% of Nigerian women bleaching their skin? Why are Asians bleaching their skin? This is what I want to talk about going forward. Culture as a vehicle gives dignity, pride, and self-assurance to an ethnic community. So, if that's not happening, then something is wrong.
When you look at the Greek or Roman culture that swept through Europe and instilled dignity and pride, they still are feeding off that and teaching that to us. That is so powerful that we are struggling internally on that level, and that is what the bleaching is about. We're not trying to seem like them. We're not trying to dress like them, so what is the big missing factor that makes us want to bleach our skin to want to be like that? We have to build on the cultural platform and we have to attack the darker elements within the platform. We don't have the aspirations in other aesthetic areas to make us equal to or greater than those we're competing against. There is something very big that's missing to make that happen. We have two powerful elements in the culture that's going global, but still we're bleaching? Still we want to be like them? There's something not coming together. It's like these two things yelling, "I'm somebody, I'm somebody," but the rest of the body is not catching up. When you look at that, that's really painful.
I think it's still that connection to history that you were just talking about, and the lack of a deeper connection.
The cream means pain. You don't want to be who this is. The music, sports, and fashion didn't give you enough identity to sustain your color, so you're changing it. Can you imagine that picture?
I can.
We're not thinking about that. We're not writing about that. We're not moving on that. Black people are the number one influencers in the world. People hire us to influence other people to buy their products, and we ain't even happy being ourselves. We ain't even influencing ourselves. Why would we make other people want to be like us? And we spend time to bleach ourselves. For us to be where we want, requires a certain amount of rebellion. If you let that escape you, if you go to sleep on yourself, you wake up tomorrow and you wanna know.
Don't sleep on yourself.
I'm not going to let that happen.
Photography: Janette Beckman