Has Bella Hadid seen It?
The supermodel was dressed as a clown at today's Moschino Spring 2020 show in Milan. A really fab clown. She wore a sparkling jumpsuit in a pink and blue harlequin pattern with pink ruffled trim, and carried a small violin as she strutted down the runway in stilettos.
Clowns have been something of a trend throughout the past few fashion seasons. Christopher John Rogers cited pierrots, the French pantomime clowns, as an inspiration for his Spring 2020 show, and back in 2016, Undercover designer Jun Takahashi used the figure as the basis for his spring collection. Maria Grazia Chiuri Spring 2019 couture collection for Dior was entirely circus themed, and she even showed in big top tent. Giorgio Armani's fall Privé couture collection included a few clowns. Last September, LRS designer Raul Solis dressed a model as a punk clown; at Puppets and Puppets' debut season, they included a clown-inspired look.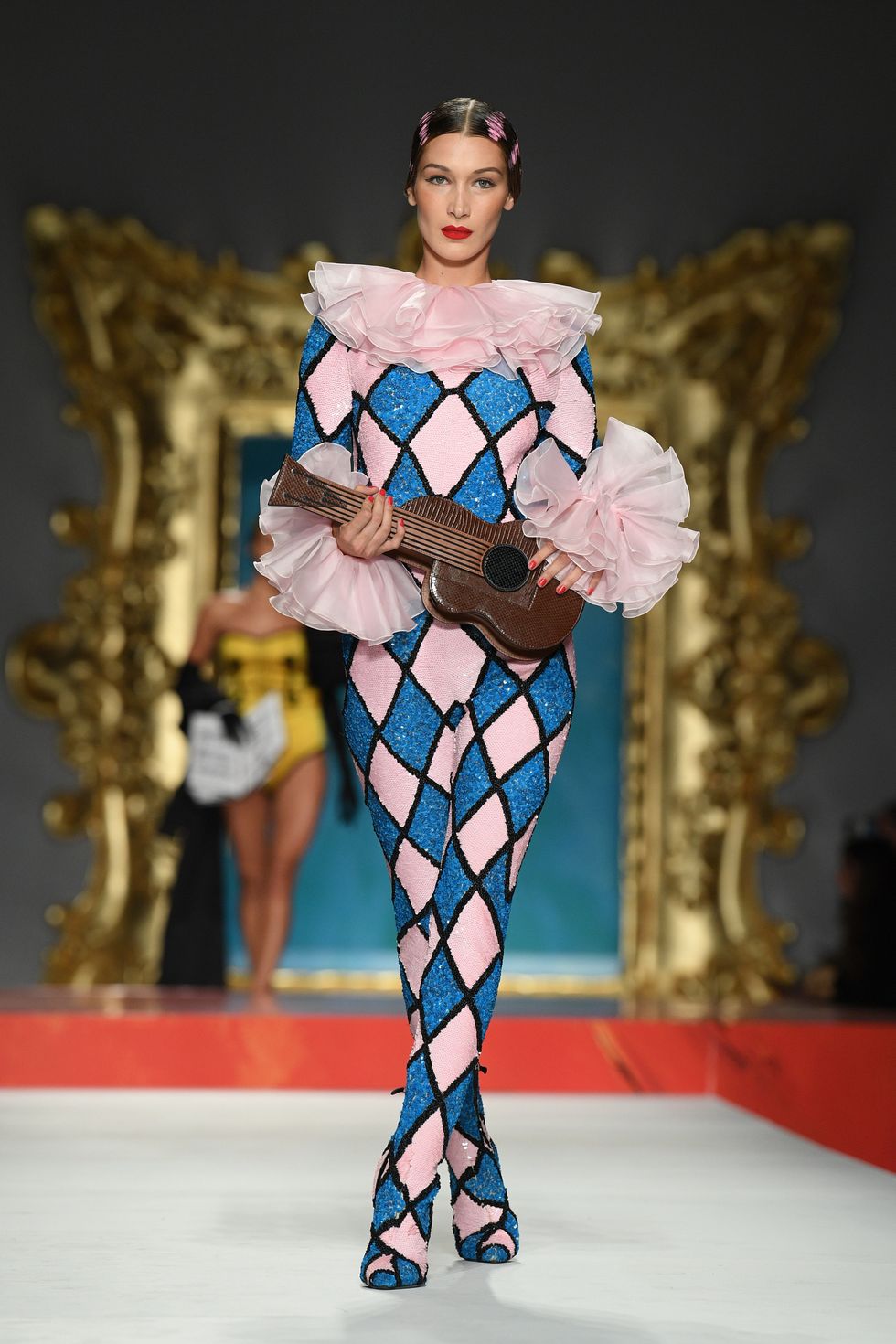 The late 2010s clown trend in fashion surely got started as a response to political clownery; Donald Trump is, after all, the world's most famous clown (though this week Canada gets to be embarrassed too, which is slightly refreshing). But it's been here before; there was Elsa Schiaparelli's famed 1938 circus collection, clowns from Karl Lagerfeld and Alexander McQueen. And back in 2015, PAPER's Justin Moran reported on "clowncore," a gleeful trend centered on clown-themed parties in Brooklyn.
Remember all the clown murders in 2016? A clown was reportedly luring children into the woods in South Carolina, clowns "chased children" in multiple states, a clown attempted to kidnap a child, people wore clown masks when committing robberies and violent crimes, and a 13-year-old girl hired a clown to murder her teacher (the clown did not succeed). Hopefully Bella is steering clear of violent crime.
Sign Up For The Morning PAPER