After a horrific video emerged of A$AP Bari apparently terrorizing a young woman (he initially denied, then apologized for his behavior depicted in the "misleading" footage), the VLONE and A$AP Mob co-founder is now facing a million-dollar lawsuit for sexual assault.
In what appeared to be a saved Instagram story, Bari could be seen ripping the covers off a clearly distressed naked young woman in bed, before chasing her out of frame saying, "You fucked my assistant, now you're going to suck my dick." The video was captioned "what that mouth do." The woman in the video, who chose to remain anonymous, alleged that on July 9 in a London hotel Bari burst into the room where she slept and pulled off her bedsheets exposing her. She ran to the bathroom for cover and soon after Bari threw her naked into the hotel hallway, after which she requested hotel management call the police.
The video first appeared on Instagram via @soledout, before moving over to Twitter. "A misleading video clip featuring adult content and activity has been released to the public without my knowledge or consent," Bari said in a statement after it surfaced. "Comments about myself or anyone being detained or arrested are false."
He continued: "We have resolved this issue amicably among all parties as adults. We were friends before this and will remain friends afterwards. Being raised by strong women who taught me to respect everyone, I'm disappointed in the situation as well as myself and will reflect on the situation appropriately."
This was of course after he tweeted and deleted the below: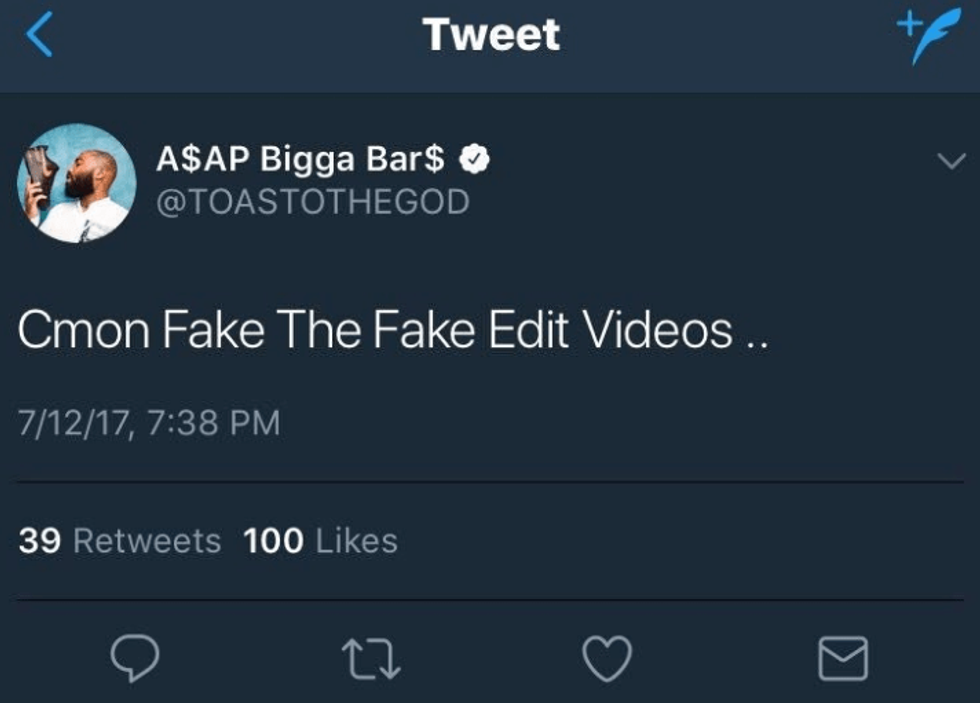 A$AP Mob member A$AP Rocky and affiliate Playboi Carti both later denounced Bari. Rocky was heard by the crowd on stage at Agenda rapping "Telephone calls from Young Carti said it's lit/ called the Yung Lord A$AP Bari he a bitch," while Carti condemned Bari's behavior at his own show at the Observatory in July.

"I don't support none of that rape shit. Fuck all that shit," he said. "Man look, that shit wack. I love women, that sh*i wack," Carti told fans. "But at the end of the day, that's my muthafuckin' brother…Ain't no 'Fuck Bari,' that's my brother, but that nigga — he did wrong bro."
You can watch below.
Image via Getty