The old Burt Reynolds can't come to the phone right now. Why? Because the Cosmo centerfold is dead, reborn an octogenarian giving the most Oscar-worthy performance of his career. In The Last Movie Star, the 82-year-old actor is Vic Edwards, a screen legend misled into accepting a dowdy millennial film festival's Lifetime Achievement award. Chauffeured around Nashville by Lil (played by Modern Family's Ariel Winter), Vic detours into east Tennessee, where he takes a trip down memory lane.
A genre bending tale, The Last Movie Star isn't a comedy, drama, dramedy or satire. It's life. Reynold's life. Vic was a stuntman who became a film star. Vic romanced Hollywood's most eligible bachelorettes. Vic made a series of flops between striking box office gold. Vic. Burt. One syllable names. He visits a nursing home to meet the love he gave up for a life of womanizing, visits his childhood home and visits the old college football field where he was a rising star jock. And as Vic befriends an unlikely younger woman coming into adulthood, we learn a second revelation: 20-year-old Winter can really act, starring in her very first grown-up role.
"I've been on Modern Family for 9 years now. Next year will be our 10th," Winter said. "It's been an incredible show, and I love my character and the people I work with. It is nice though to have that little departure where I get to play something different and be somewhere different. That's what we do as actors. We want to portray as many different things as possible. We want to have many different experiences and do our jobs. Hopefully, it will lead to more, and I'll play different roles."
In the most experimental film since Get Out, cult favorite screenwriter-director Adam Rifkin wrote a fan fiction screenplay having never talked to Reynolds, and sent him an unsolicited copy. Winter headlines as Lil, "A character dependent on a rainbow coalition of psycho pharmaceuticals," he said. "She's anxious, depressed and suicidal. And the last thing she wants to do is spend a weekend with some crabby old dude."
Winter described Lil as an independent character, who "doesn't have a lot of people supporting her. She is able to do everything on her own, and she is supporting herself, learning how to become a strong woman. I think it's a nice character for young women because we have a lot of action heroes that are women kicking butt and fighting, but there's also normal young women who aren't doing that, living their lives and learning to overcome struggles. [Lil] starts off confident, but a little insecure. She's got that terrible boyfriend who doesn't treat her very well. She's struggling, trying to better herself, but she doesn't know how. I think it's an accurate depiction of real people."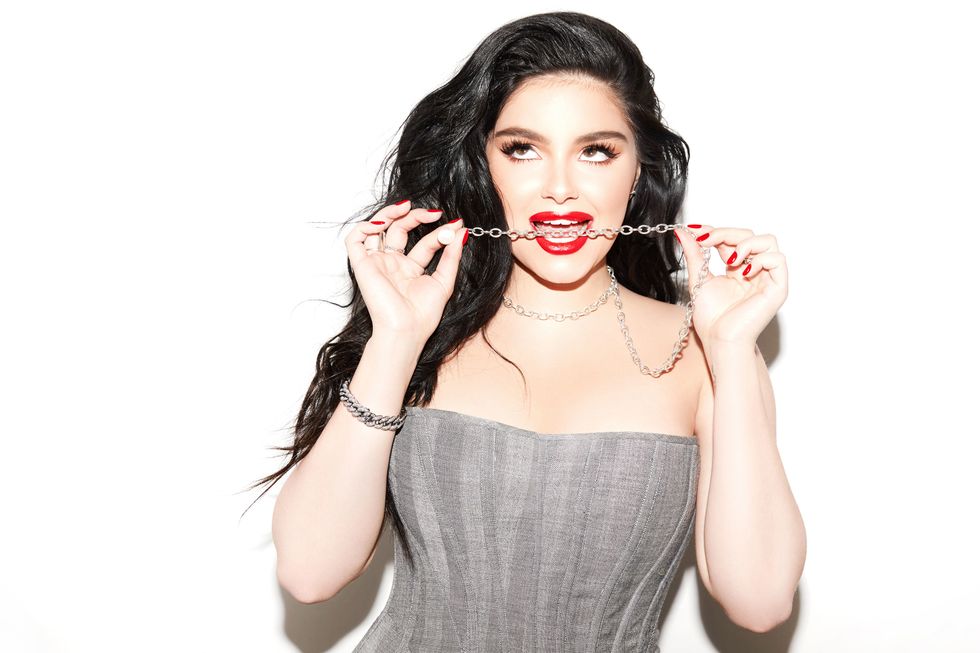 Bustier: Norisol Ferrari, Necklace and Earrings: Irini Design, Chain Ring: Sydney Evan, Diamond Ring: Jen Hansen Jewelry, Pearl Ring: DeForest Jewelry
Throughout his career, Rifkin's work has been performed by names like Kirsten Dunst, Nathan Lane, Amy Adams, Lara Flynn Boyle, Rob Lowe, and Titanic's Bill Paxton, but the director said he's still "star struck" by Reynolds. "I often had to keep pinching myself to believe that I was actually making a movie with my childhood hero," he said. "I've met many famous people in my time in Hollywood and have made many movies with many successful actors, but Burt Reynolds is in a different category."
Because Reynolds is famous for being a "macho sex symbol" in his youth, Rifkin said The Last Movie Star shines a spotlight on the aging process more than if he weren't known for his sultry appeal. "Much more is being made in the press out of Burt being old than would be the case with other actors," he said. "Nobody focuses any attention on Christopher Plummer's age when they write articles about his performance in All The Money in the World."
The director cast Winter to run the show as Reynolds' sidekick without a formal audition because he was particularly blown away by her body positivity. "Ariel has carried the torch against body shaming more than anybody else her age," Rifkin said. "I think it's incredible that Ariel embraces exactly who she is and is so vocal about speaking out against body shamers. It was important to me that the role of Lil be a strong representation of powerful young women everywhere. She's definitely a product of her generation. Like many, she is addicted to her phone and she suffers from depression. But she's also a brilliant artist, [and is] very comfortable with her body and her sexuality."
Related | Hayley Law Is Hollywood's Unlikely Action Hero
Reynolds walked away from the set impressed by Winter, too. "I love Ariel. She's got a great future in this business," the actor said before his Today Show interview for The Last Movie Star. "I really think she grew up on the set. She graduated high school while we were filming and is set to go to college."
And Winter is equally fond of the Hollywood icon. "I love Burt," she said over-the-phone from Los Angeles. "He is the sweetest, coolest, most wonderful person you can work with. It's really cool when you work with someone who's an absolute legend in the industry and they're so nice and lovely to everybody. I loved the script when I first read it. It's hard when you're a younger actor and work with older actors worried like, 'What if they hate me? What if they're stuck up?' But Burt is a lovely person."
As the director behind Detroit Rock City, it's no surprise Rifkin found himself in a chance meeting with hit songwriter Diane Warren, who penned a track for the soundtrack performed by Willie Nelson. "Diane was having dinner a table away from a couple of our other producers, Brian Cavallero and Brett Thomason," Rifkin said. "Someone at Brian and Brett's table knew Diane, and the two groups got to talking. We showed her a rough cut [of the film], and when it was over she was in tears. Literally, sobbing. Burt's heartfelt performance touched her so deeply. She asked if she could write a song for the end credits — a song about regrets and redemption. We enthusiastically said 'Yes, of course.' Turns out, she wrote the song 'To Get Here' within 24 hours. None of us knew that Burt and Willie were old pals, and Willie was thrilled to be a part of it as a result."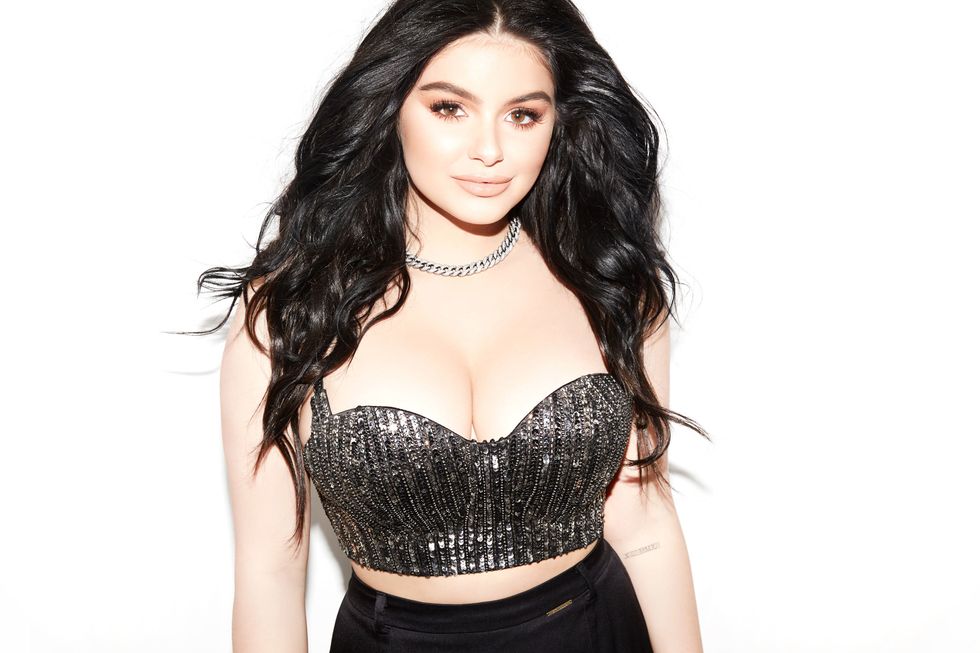 Top: Lavanya Coodly, Necklace: Sydney Evan, Trousers: Styland
For The Last Movie Star, which they shot across five weeks with 18-hour days, Rifkin said he wanted to focus on mental health. The director is vocally in support of championing positive messages for youth culture, having waited years for an opportunity to sneak it in. Before this film, he wrote scripts like Mouse Hunt that were pretty cute family friendly fodder, but couldn't reach his search for inspiring people.

"[Lil] learns that allowing yourself to be vulnerable doesn't diminish your strength," Rifkin said. "If anything, it enhances it. It's a sign of true inner confidence. And Ariel crafted her character's arc brilliantly. She never played any one scene as a 'light bulb' moment, which would have been the easy thing to do. She evolved Lil subtly and gradually, which is way much more difficult to play convincingly. And it requires a lot of trust in yourself as a performer."
Winter said she has not experienced an abusive romantic relationship like Lil, but she still "found a connection with her. She's a young girl who has had some troubling experiences in her life, and she's kind of struggling with depression and anxiety, and those are all things that I've struggled with in my life."
Related | Olive Gray Follows a Predestined Path to Greatness
Rifkin said he also wanted to de-Notebook mental health for the elderly. Alzheimer's isn't romantic, it's a cruel existence. "Vic reconnecting with his first love, both now in their eighties, and having to accept that she can't remember who he is anymore due to Alzheimer's Disease, is a painful pill for Vic to swallow. And Burt plays the reunion with his first wife Claudia (Kathleen Nolan) with such heartfelt honesty and sweetness. The whole crew was in tears when we were shooting that scene. It was so moving."
In addition to older folks, Winter said "a lot of young people suffer from mental illness. There is a generational gap. Burt's character is totally against medication and the idea that mental illness is real, and then you see my character, who's really suffering from mental illness — who is trying to explain to somebody what it's like. A lot of young people fear getting help because there's a stigma. You're 'broken' when you're depressed or have anxiety."
While some of the film's subject matter is particularly serious, the actors still had fun together behind the scenes, forming intimate relationships that helped make their performances stronger. Reynolds said his relationship with Winter blossomed almost like their characters. "Just like Vic and Lil in the film, it took a while to get to know her, but once we bonded it was great," he said.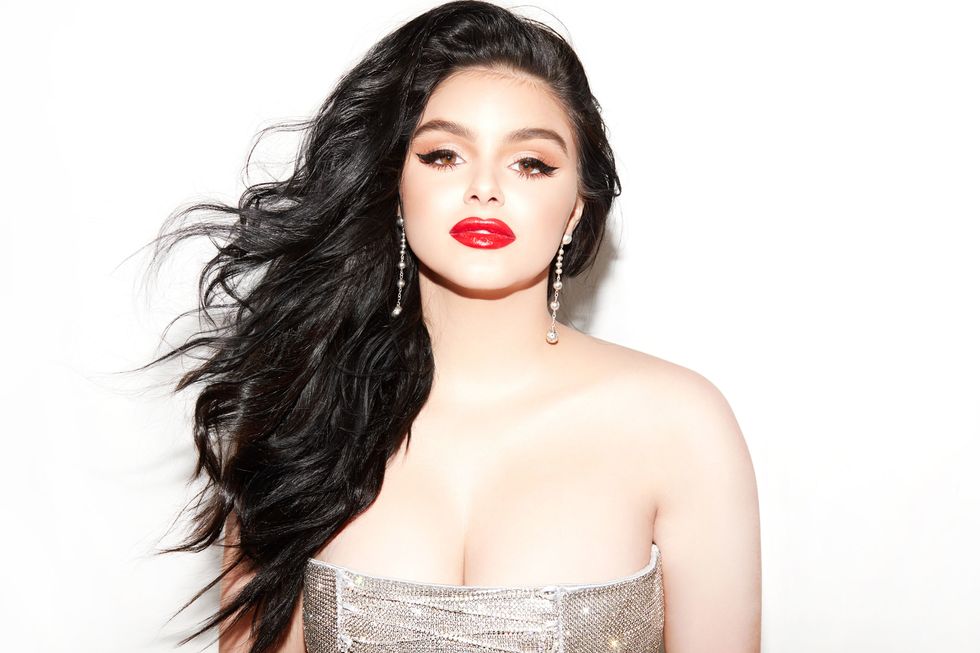 Bustier: Death by Dolls, Earrings: Armature
On set, Winter even taught the former sex symbol how to take his first selfie using her iPhone. "I tried to get both of our faces in it and both our smiles. Burt was still a little confused when I was taking the selfie," Winter said, laughing.

Much like Vic gave Lil love advice throughout The Last Movie Star, Winter said Reynolds was protective over her. "[He] told me not to spend my time with assholes. He has no filter. He's pretty honest. That was something he definitely told me too many times. I was 'too good of a girl' for somebody."
Rifkin said he saw this growing chemistry on set and worked overtime to transfer it into the film process, scaling back at the last moment. "I wanted to create a simple and elegant canvas for the actors to work upon," he said. "No camera tricks, no fancy angles, no lighting gags. Exercising directorial restraint was my biggest personal challenge. It's so easy to want to show off with a nifty camera move." The only CGI used is when old and young Burt act alongside each other in statements on lessons one learns when it's too late.
Related | In-Conversation: Discount Universe and Bria Vinaite of 'The Florida Project'
"Adam's script was incredible and so true to Burt," Winter said. "But there were times when instead of doing exactly what the script said, Burt kind of went off into his own world and told real stories that happened in his life. My role was mainly to react to those experiences he had and be there in the moment with him."
Catching the difference between improv and script is a losing battle in The Last Movie Star. Was it when he joked about his past romantic life? When he startled a nursing home employee striking the glass with his real life cane? The quick wit delivery a young Burt might now be spitting on Instagram Stories? Or his remorse for neglecting his first love?
We could find out soon. "I would love to do another picture with her," Reynolds responded when asked if he would ever team up again with Winter. The Modern Family star exclaimed: a grandfather-granddaughter comedy concept like Melissa McCarthy's Spy is the ticket. "He's the experienced older spy, and I'm like the new rookie who's not learning the ropes so quickly," she said.
Before his
Today
interview formally began, host Hoda Kotb gave Reynolds a hug with stars in her eyes. "Burt may have aged, but his charm is still 30 years old," Rifkin said of the fangirling Reynolds receives. "Even in the body of an eighty-something-year-old man, all of the women on the set were completely enamored by him." If the Academy of Motion Pictures Arts and Sciences does the right thing, it's giving Hollywood's last movie star the only thing he has never been blessed with: an Oscar.
Cover photo: Gown by House of CB. Earrings by Joanna Laura Constantine.
Photography: Robin Black (Beauty Is Boring)
Styling: Christina Pacelli
Hair: Clyde Haygood
Makeup: Ashley Kholm
Styling Assistants: Cesar Hess, Sydnee Thrasher
Location: Forge