Arca is a magnetic performer, at one moment skittering across stage coyly meowing atop horse-light stilts and in the next barreling through a crowd, bathing herself in red spray paint. Having produced for the likes of Kanye West, FKA Twigs, and Björk early on in her career, she has also built a body of solo work across three studio albums that has consistently challenged our existing understanding of music. Over the years, Arca has evolved from just ad-libbing with DJ sets to producing increasingly more elaborate stage shows that blend theater with technology and unapologetically queer intentions. She is nothing short of an absolute force.
Mutant;Faith, Arca's recent four-night New York residency at The Shed, in many ways felt like a culmination of her artistic genesis. Each night of the run was its own bespoke show, eschewing a traditional setlist in favor of a more free form, improvisational format with a stage specifically designed for experimentation.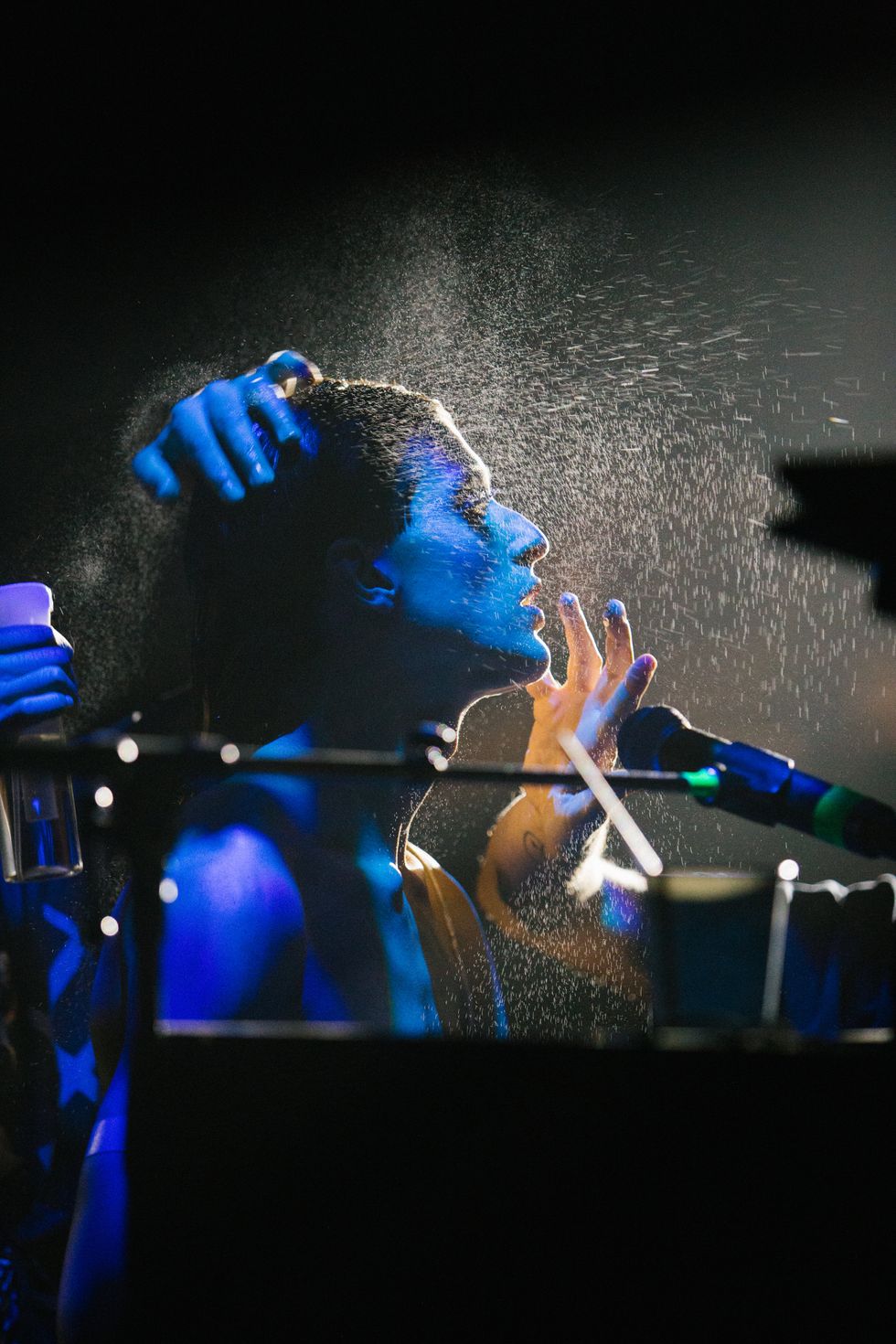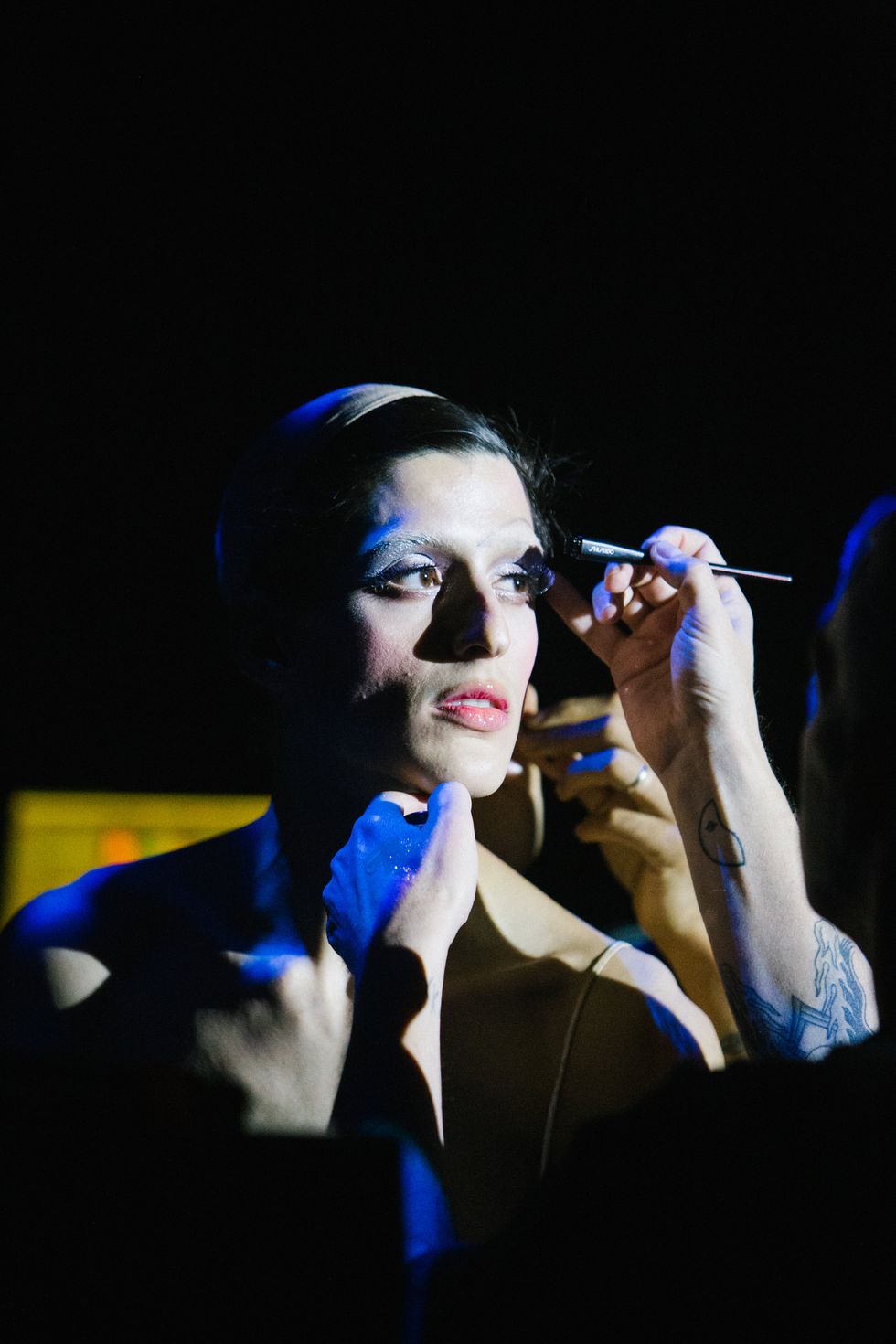 Divided into roughly five interconnected sections on stage, the first night, "Gestation," saw Arca introduce the various tools at her disposal, many of which were customized specifically for Mutant;Faith. There was a 9-foot stripper pole that could be danced on and played like a synthesizer, a baby grand piano hooked up so that it could be looped on the fly, a set of acrobatics rings rigged in a similar manner as the pole, a mechanical bull decorated with bows and hair extensions, a station for Arca to produce songs in real time using Ableton, and a dirt-covered stage at the center of it all.
Excitedly working her way around this playground, Arca took the beginning of her residency to explore the full capabilities of each attraction, pulling out long earsplitting drones, tenderly crooned lullabies, and picked-apart beats from all of the tools at her disposal.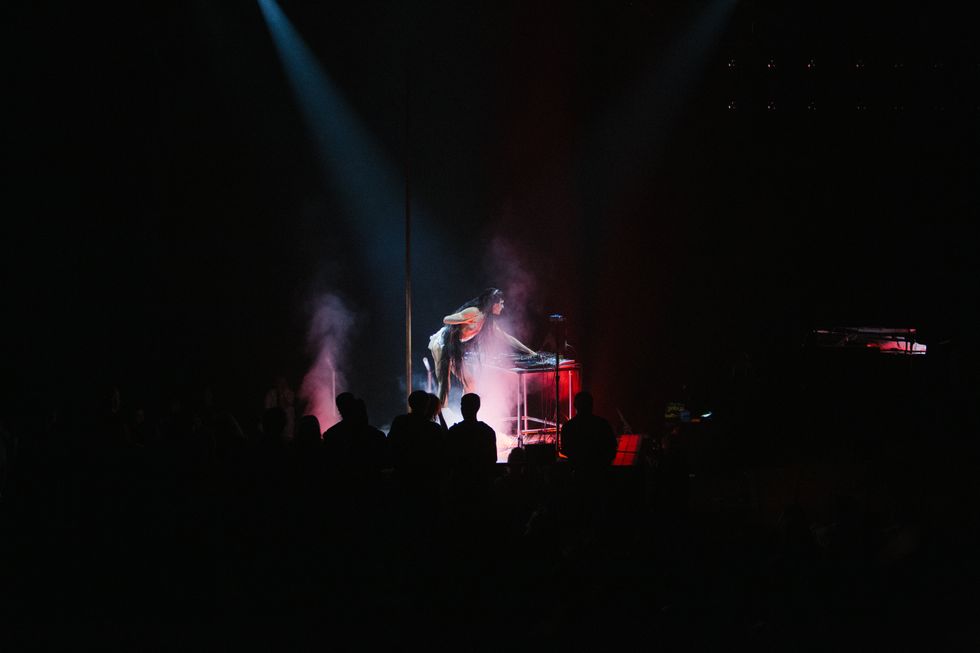 If anyone came to Mutant;Faith's premiere night with hopes of hearing Arca's studio hits, they would have likely walked away feeling unsatisfied. It was an exercise of patience and self-indulgence, watching Arca do exactly as she pleased for hours on end. Stripped of our phones, time dilated in strange ways that made it seem as if minutes were being stretched into hours and hours collapsed into minutes. Each night began with the audience staring into the dark, as an ambient score of birds chirping, knives scraping, and disembodied death metal vocals filled the room with no clear way to tell how long this had been going on. Severed from anything connecting us to the outside world, Arca held our complete, undivided attention in the palm of her hand.
Night two, titled "Aftercare," saw Arca perform three cuts off her self-titled album, "Piel," "Reverie," and "Desafio," respectively, before premiering a new pillowy pop ballad, "Time," while luxuriating atop the bull. When the track began, she expected it to be the studio cut, but went along with an instrumental, singing the material live for the first time. It sounded far from perfect, but Mutant;Faith was a show where errors became highlights.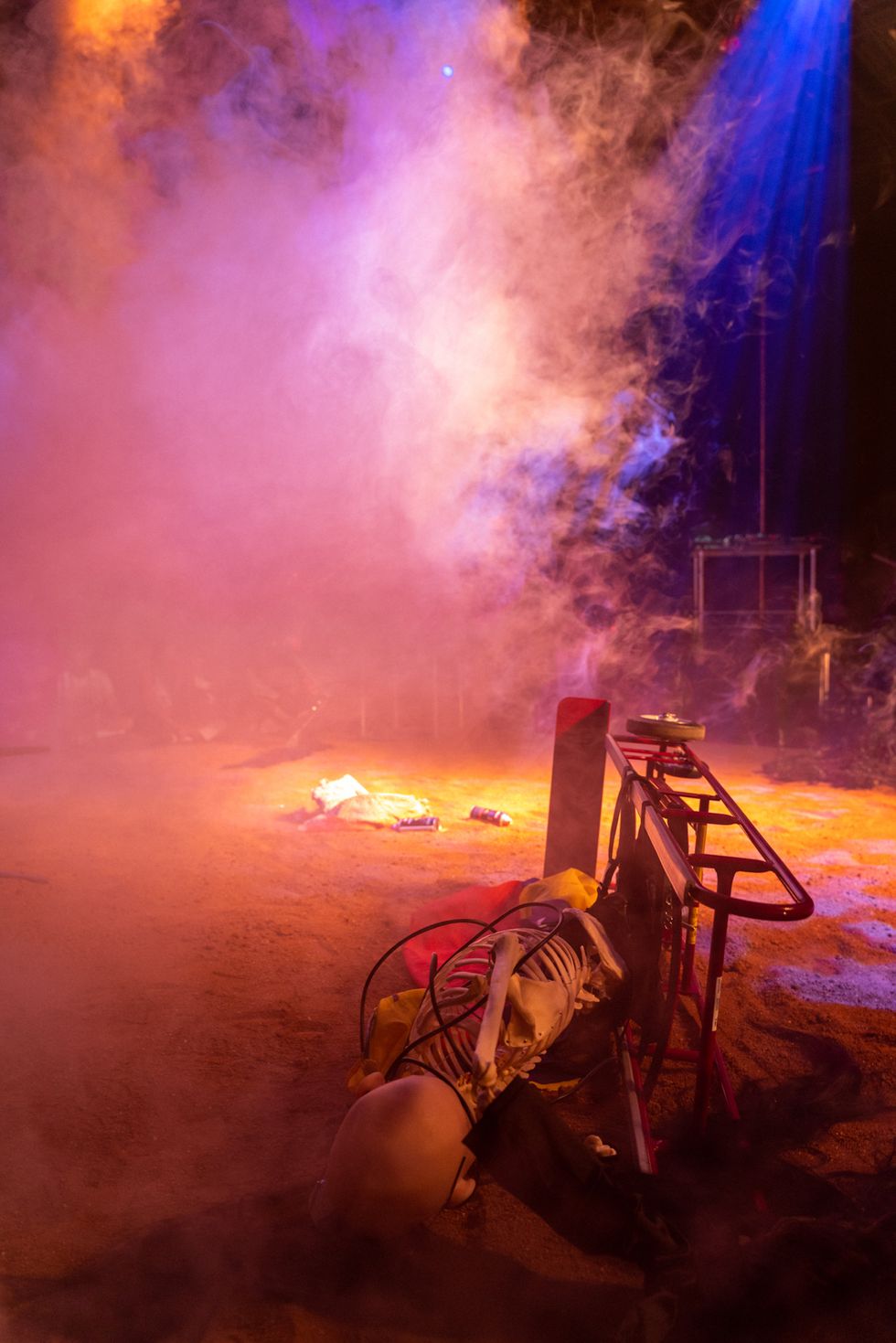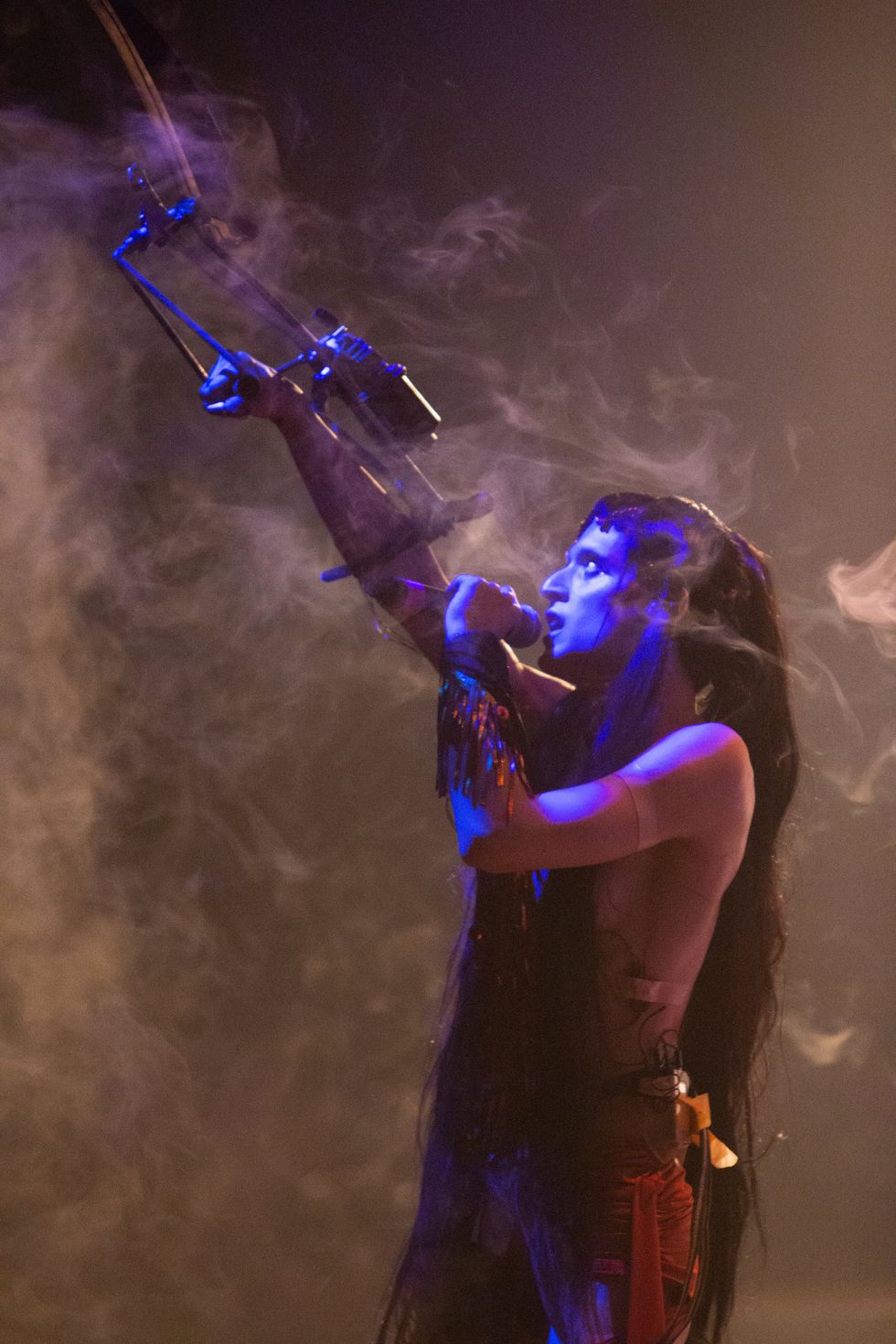 This informality gave the shows a sense of intimacy, as if peeking over Arca's shoulder while she was on a creative tear through her studio, calling out instructions to members of the crew that followed her gravitational orbit around the set. All costume and makeup changes happened in real time on stage, adding another dimension of transparency to the whole performance.
One minute Daito Manabe would be running out to tweak a myoelectric sensor hooked up to her arm and the next Juan Alvear would be applying a new set of otherworldly nails, Evanie Frausto brushed Arca's wig as often as possible, but the way she performs — spinning, crashing, and terrorizing the stage — made it impossible to keep the mane in tact. Styled by Natacha Voranger, Arca wore looks from many independent designers like a blue and brown bandage dress from Gauntlett Cheng or a silver silk dress with exaggerated shoulders by Wesley Berryman. The performer/character Arca would repeatedly get stripped down and carefully rebuilt before our very eyes over the course of each show, only to be dusted with sand almost immediately afterward.
Nights one and two both ended with Arca leading the crowd directly from her stage, out of the theater, down the street, and onto the Highline for an even more intimate hangout that further broke down any final barriers between artist and audience. One fan told her that Mutant helped him feel beautiful being HIV+, and another gifted her a custom tiara. Arca made everyone carefully listen to the sounds of a helicopter landing nearby. "Feel it through your body," she said, ever the fan of unconventional sounds and how they impact us.
By night three, "Ripples," this informal rapport between performer and viewer had spilled over into the show itself with Arca adding elements of audience participation throughout. She invited people on stage to dance with her, share their dreams into microphones that warped their vocals to cartoonish proportions, and even play around with one of the same electronic sensors she used to control the surrounding soundscape. There was so much going on that it was almost easy to overlook the fact that Björk, enveloped in a avant-garde dress that somewhat resembled a coffee filter, made a surprise appearance that same night to perform a new collaboration between the two.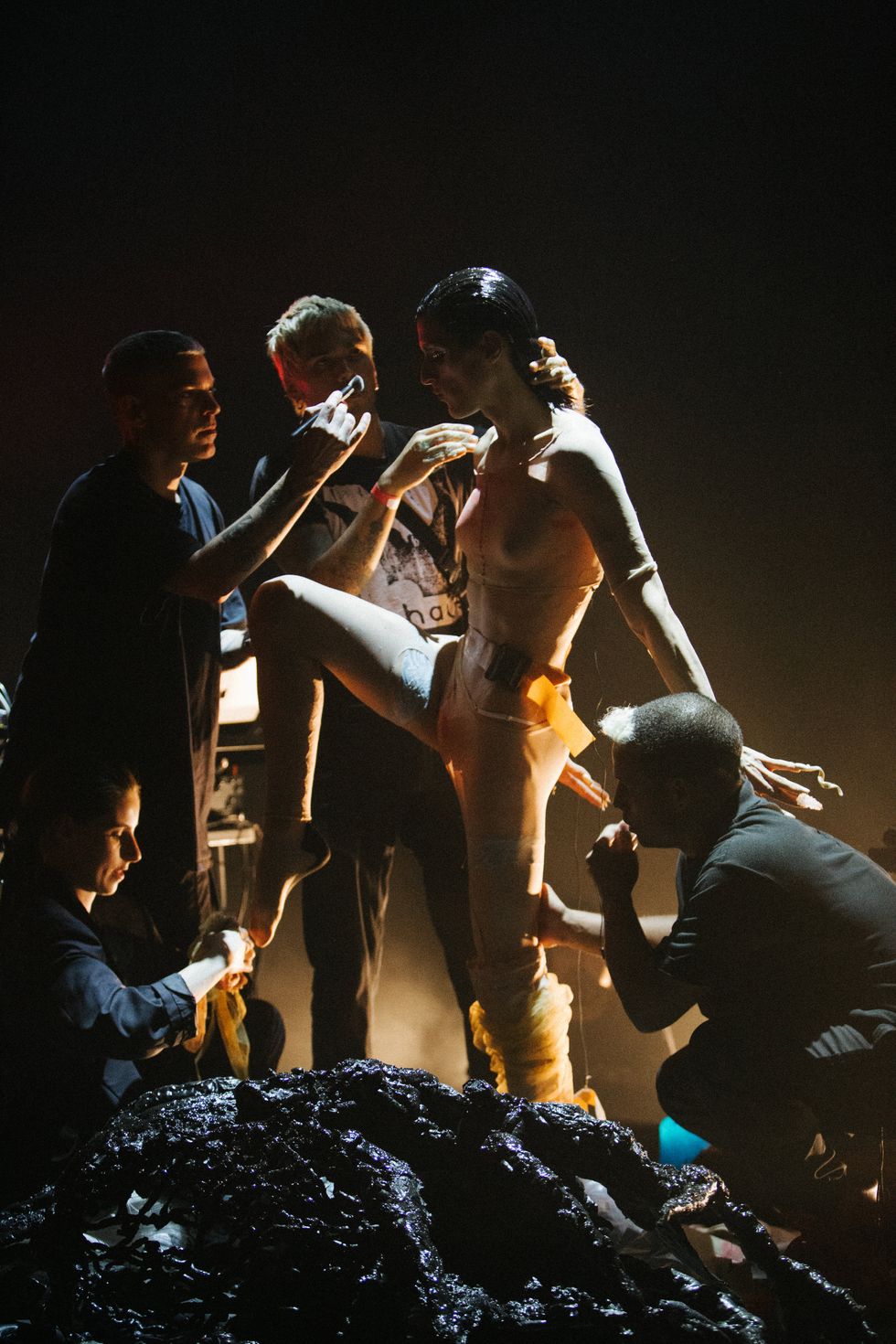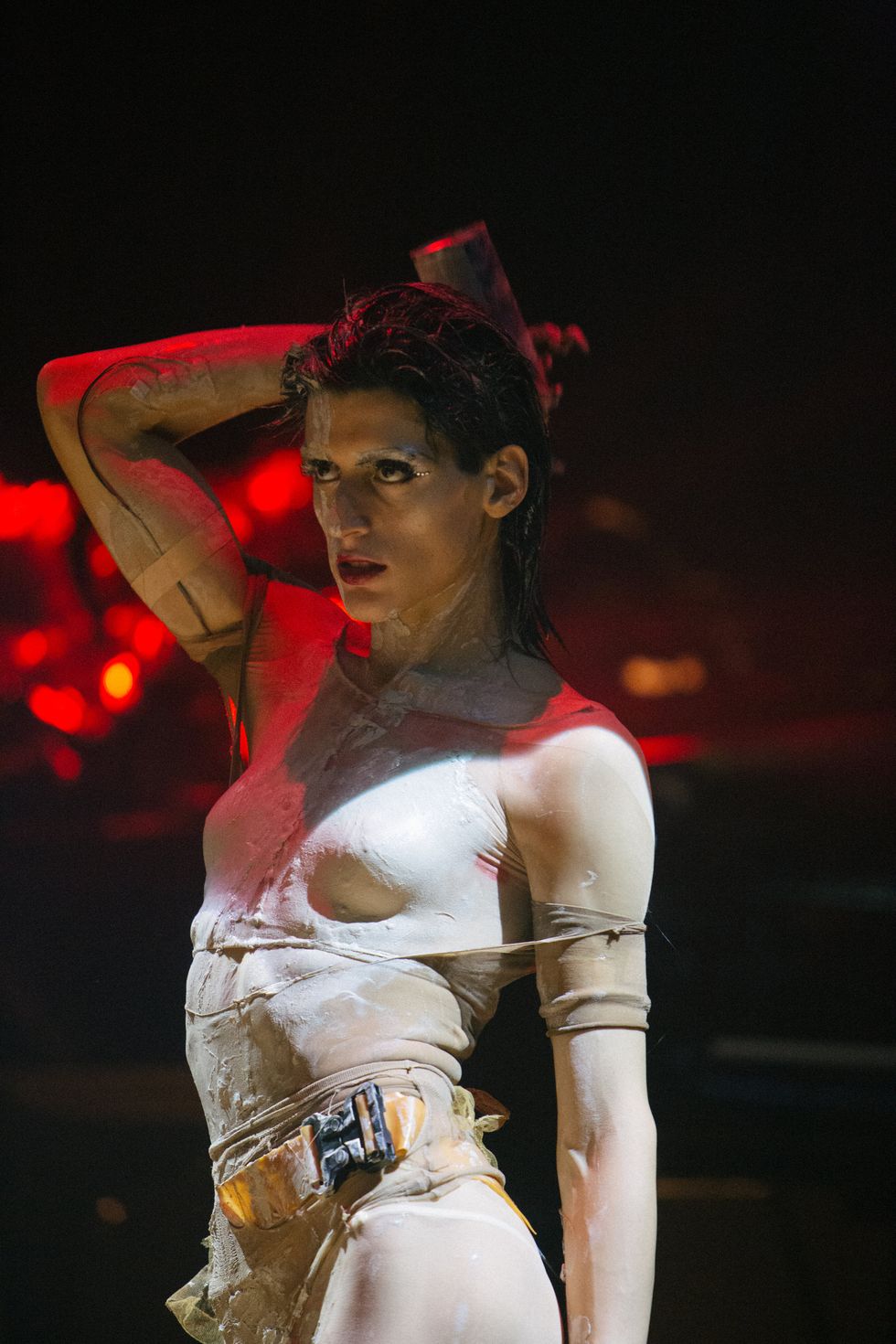 The final day of the residency was devoted to a music video shoot for the aforementioned new track, "Time," and felt like a distillation of the previous three nights' work. Over the course of five hours, each station on Arca's stage became a scene in her video. Still phoneless, the audience watched as camera operators changed lenses, makeup was touched up, and outfits were slowly changed. Still, there were dramatic moments; while shooting a scene on the pole, Arca's long spear-like fingernails got tangled in her massive extensions and were ripped out, leaving them dangling like a macabre wind chime from a single finger. It wasn't until the director yelled cut that the pain would register across Arca's face as crew members rushed in to tend to the eviscerated nail bed.
As the session moved along, the piped in audio of "Time" would in turn be replaced by freestyle sonic collages of dembow rhythms spliced with the sounds of glass shattering, bombs exploding, and garbled YouTube audio rips from Total Freedom, who throughout the whole performance series was never too far from a pair of CDJs. "Just shred something," Arca frequently invited all four days. As the shoot winded down, the energy in the room was deftly transmuted into an impromptu dance party with members of the audience gleefully being whisked onstage to dance with an actor dressed as a devil who had minutes before been passionately making out with Arca on camera.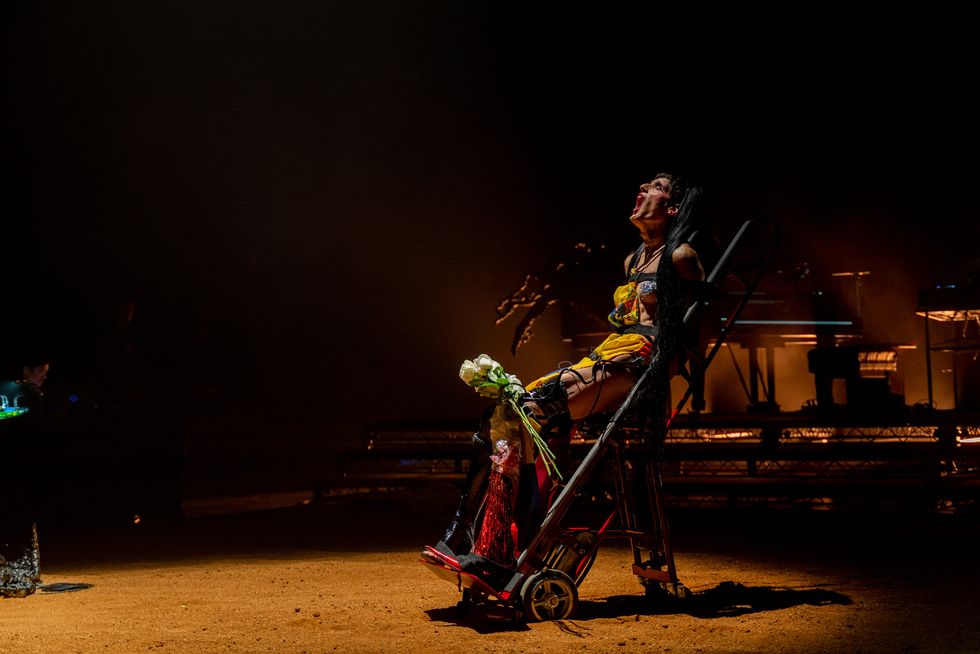 At last the distinction of performance had been dissolved; the audience and Arca had finally come to meet each other on the same level (or as close as security would let that be). Across four days of performances, Arca had worked to break down her process, her inner machinations, bring others into her world, get them to inhabit that space, and feed off one another's energy until the relationship between the two felt symbiotic.
As the audience dispersed each night of Mutant;Faith, critical rumblings inevitably arose. Everyone had their own specific qualms — it dragged on too long, it didn't commit enough to one thing or another — but whether they said it outright or not, their polarized takes betrayed the fact that the performance had made an impact on them. Today, the onslaught of spectacle too often gives way to fatigued apathy, and so merit is deserved for an artist who is able to construct a product that falls outside the tidy binary of "good" and "bad."
A once-in-a-generation talent, Arca pushes us to reexamine our relationship to these false binaries — to pry at the edges of the boxes we had unwittingly cozied up inside and dare to look beyond them. There are maybe a handful of artists at best that could mount a show of the same scale and scope as Mutant;Faith, and even fewer that could actually pull it off. Arca has a clear vision for where she wants to go, but her vision is broad and malleable enough to allow other artists, each with their own distinctive point of view, into the fold. Arca is charging forward, but she's not doing it alone.
Mutant;Faith is a manifesto in progress — ever-evolving, adjusting, dissecting, and reconstructing a mode of performance that is by design ephemeral with lasting implications. The show was held together by delicious contradictions that left those who were lucky enough to bear witness irrevocably transformed and ultimately haunted.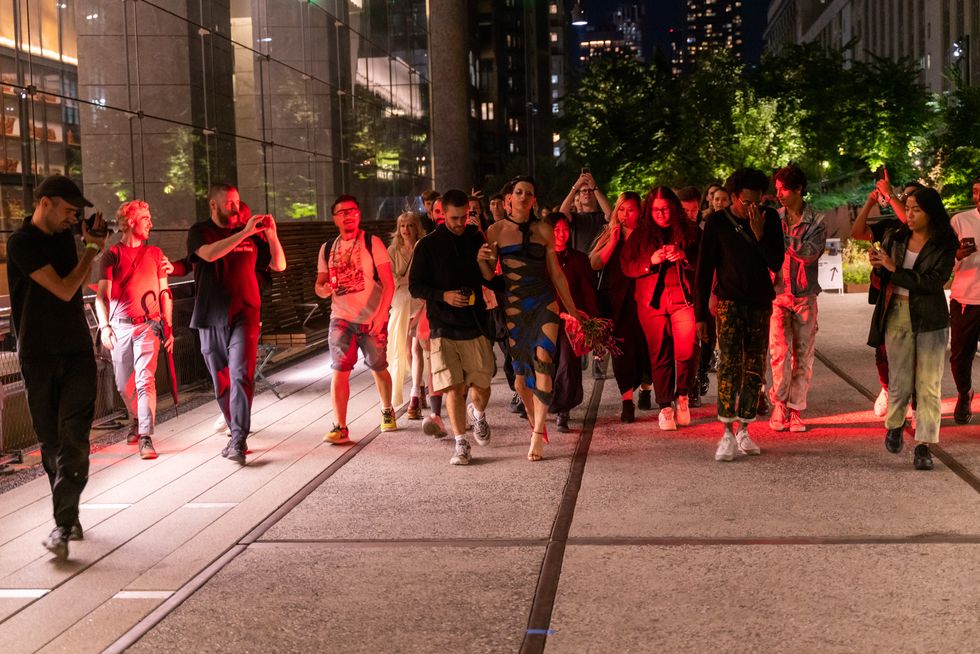 Arca, Mutant;Faith. September 27, 2019. Photos: Ahad Subzwari/Annie Forrest. Courtesy of The Shed.
Sign Up For The Morning PAPER