Ansel Elgort's favorite smells are your favorite smells: the scents of a bakery, of a chicken roasting in the oven, a grill, charcoal, fresh-mowed grass, the beach. And when we spoke, the actor had just gotten out of the shower, so we presume he was smelling quite nicely himself. Although he said he probably just smelled like nothing. Or skin.
Olfaction was on the menu due to Elgort's new job; he's now the Global Ambassador for Polo Red and recently debuted Polo Red Rush by Ralph Lauren, a crisp scent with top notes of mandarin, grapefruit and pineapple, middle notes of fresh mint, orange flower and saffron, and a base of cedarwood, musk and red coffee. Elgort said that it smells "fresh and energizing and youthful." He assured us that he never likes to go overboard with cologne. "Two sprays," he emphasized. "Two sprays max."

In addition to the campaign imagery, Elgort went back into Baby Driver-mode for a slick Polo short film. In the clip, he picks up a beautiful DJ (played by model Alanna Arrington) at a Hollywood Hills party, shot in one of those classic glass houses with killer views. They get into vintage cars and race through the streets of LA, ending up in the California salt flats. Both leap into a bracing river.
It was important to Elgort for his female co-star to have agency and an occupation, even in a 95 second-long short. "I just didn't want her to be some pretty girl at the party," he said. It's a concern that comes up in his film work, as well.
"Bad scripts have one dimensional characters," he continued. "Good scripts have great characters for both men and women. I think Hollywood still has a long way to go — as does America and the rest of the world — in terms of not being sexist or racist. But I think it's good that everyone is always talking about it and we're trying to change things."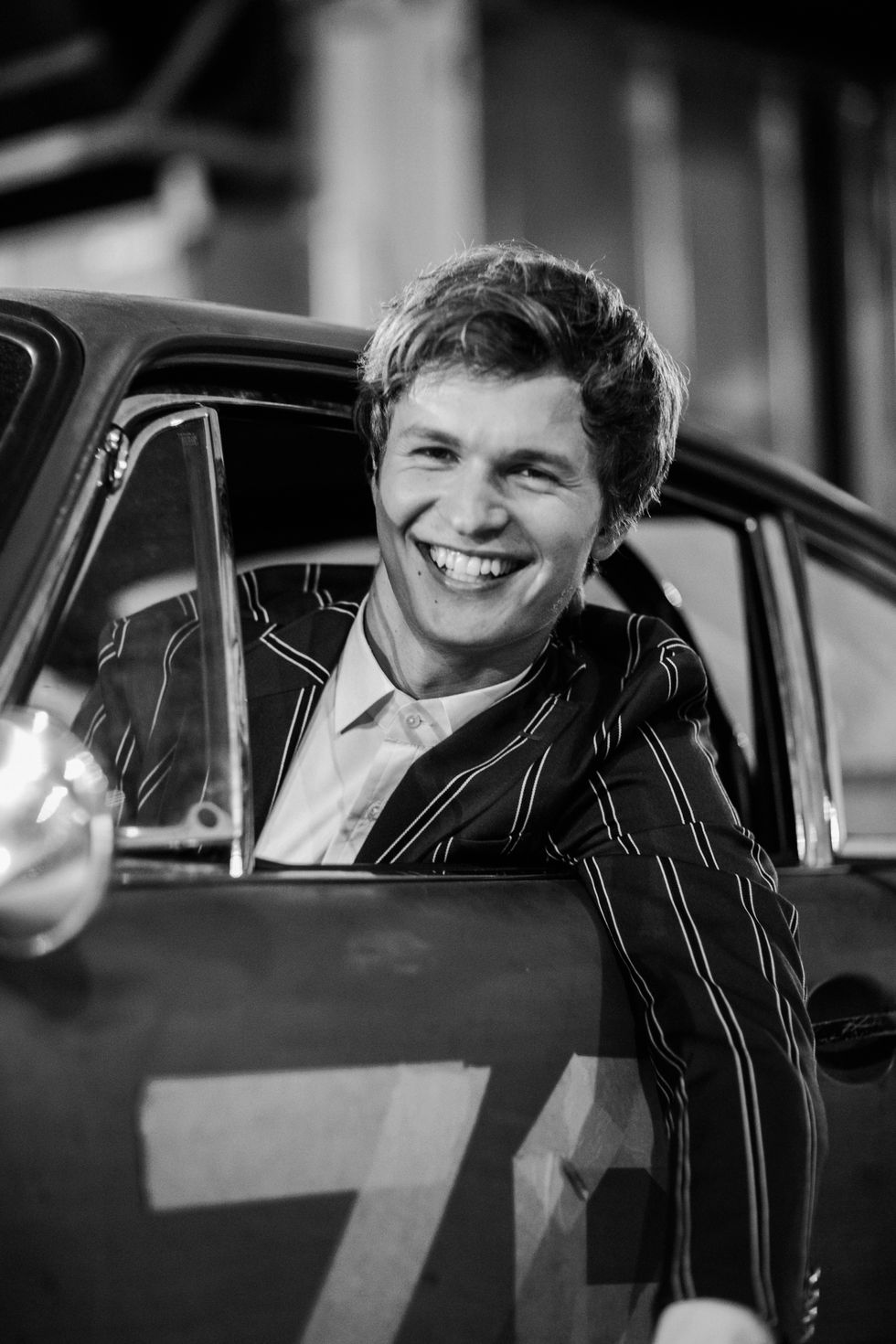 Elgort scored the Polo film as well, using "Home Alone," the first song he's released under his own name (he normally performs under the moniker DJ Ansolo). And while the actor was raised in New York City, only driving on trips to the Hamptons, he's gotten closer to his Baby character IRL. A stunt driver was hired for the racing scenes, but Elgort ended up doing most of the driving himself. He loves Jaguars and Porsches, and laughs that he wants a Bentley.
And we're sure to see the star in more fashion campaigns. "One of my biggest heroes is Bowie and he was always pushing things with fashion," said Elgort. "Fashion was always the center of his characters, and as an actor, it helps you transform. So clothes have always interested me." We're sure they smell good, too.
Photography: Katie Levine
Sign Up for the Morning PAPER