A ravenous Amy Winehouse tears apart the two large pieces of fried chicken in front of her. "Hold on," she says, interrupting our interview, "I need mayonnaise." Getting up to look for the condiment, she explains, "I actually need to eat fried food right now 'cause my hangover is really bad today." And in a sentence, Winehouse casually confronts the anorexia and alcohol-abuse rumors that have both dogged her and propelled her recent rise to fame (and delighted the British tabloids in the process). Armed with a devil-may-care attitude about the press surrounding her personal life, Winehouse has masterfully turned the lad-tab grist into creative fuel, and she shows no signs of clamming up about her life, messy and wild as it may appear. "I don't hide anything," she says. The London-based 23-year-old singer, whose album Back to Black (Island) drops in March, may have "Technicolor yawned" onstage at a recent London gig (the expression was used by a British tabloid to describe her getting sick), but when she's gone and made one of the best records of 2007, who are we to judge?
Born to a taxi-driver father and pharmacist mother, Winehouse spent her early days in South London, listening and singing to her parents' extensive jazz records. When her school buddy, who happens to be British pop star Tyler James, passed her demo along to an A&R rep, then-16-year-old Winehouse was signed to her current label, Island/Universal. Her first album, Frank, released in 2003, featured the cheeky hit "Fuck Me Pumps" and generated a good amount of U.K. buzz. She was short-listed for the Mercury Prize in 2004, but Winehouse never quite made her way across the pond. Now, with her second album, she's about to have the American-music-listening public in the palm of her hand. Back to Black is more '60s soul than her jazzy, Norah Jones-y debut. Mark Ronson and Salaam Remi produced the record. Two of its songs have already been remixed by Hot Chip and Ghostface Killah.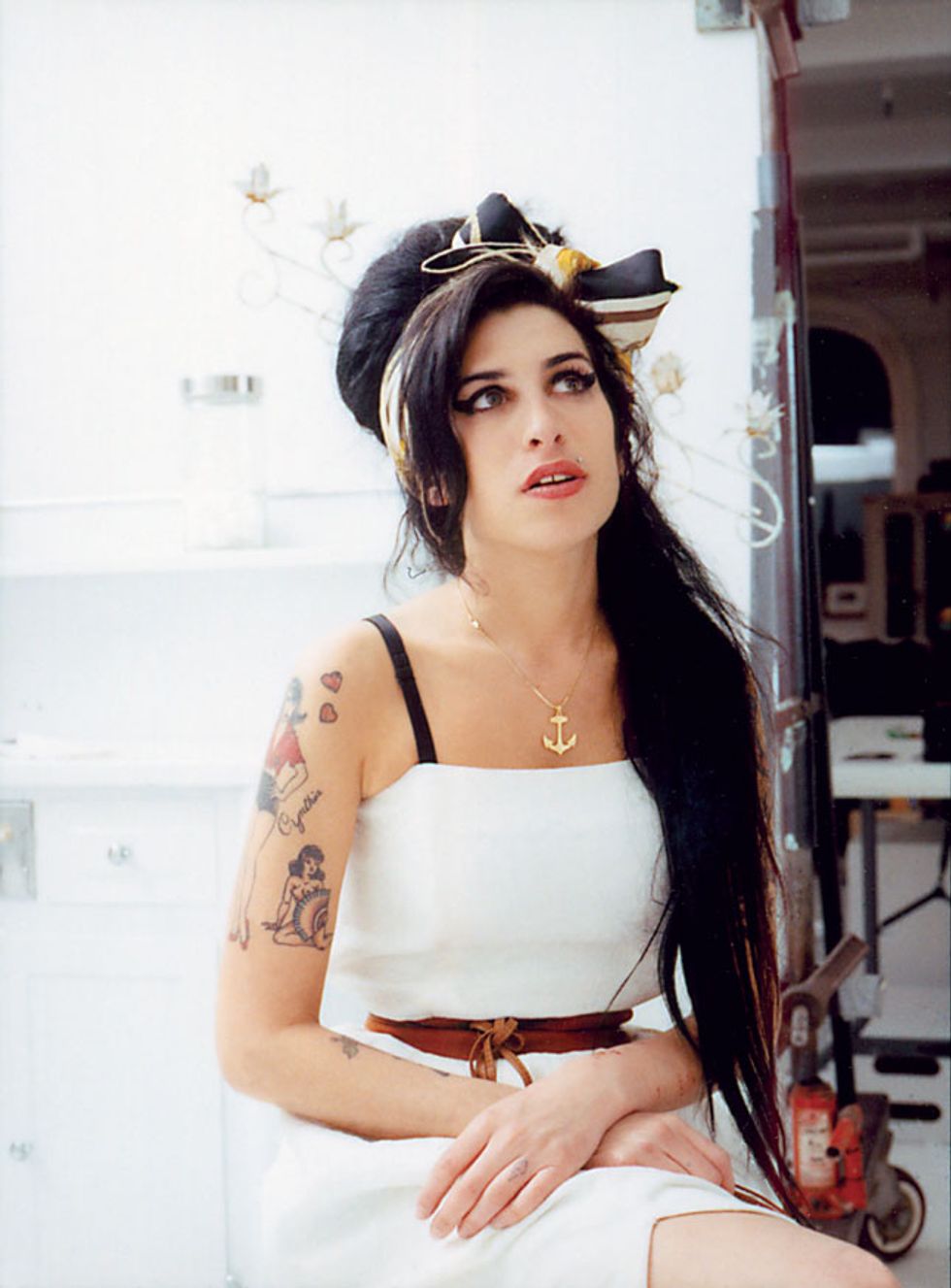 At her first official U.S. appearance, two back-to-back sold-out shows at Joe's Pub in New York in mid-January, Winehouse played to a crowd that included Jay-Z, Mos Def and Moby. She made for a startling sight. Clad in a black strapless cocktail number, she stood onstage, her tattoos of sexy ladies (one of which is her grandmother) glistening under the neon lights. She wore her hair Dreamgirls-style, piled a foot above her head. And this tiny-boned Jewish girl from Southgate belted out her '60s-style ballads with the power of a Motown legend. Think Mayim Bialik meets Lauryn Hill. In the middle of one song, she crouched down to take a sip of her Amaretto sour. Before standing up, she popped a Maraschino cherry into her mouth. Chewing on the cherry, she finished the song.

Though she exudes a balls-to-the-wall coolness on her records or when singing onstage, Winehouse breaks into an uneasy stutter during our interview. "I think I need my hair to be big," she says of her impressive mop. "It gives me confidence; it's like a big woven security blanket." But Winehouse has little to be insecure about. Her single "Rehab," which climbed to the top of the U.K. charts in late 2006, has the potential to roll with big boys like "Irreplaceable," "Crazy" or "Hey Ya!" "They try to make me go to rehab/ I say, 'No, no, no,'" Winehouse bellows matter-of-factly, deftly turning an uncomfortable topic into something you want to dance and sing along to.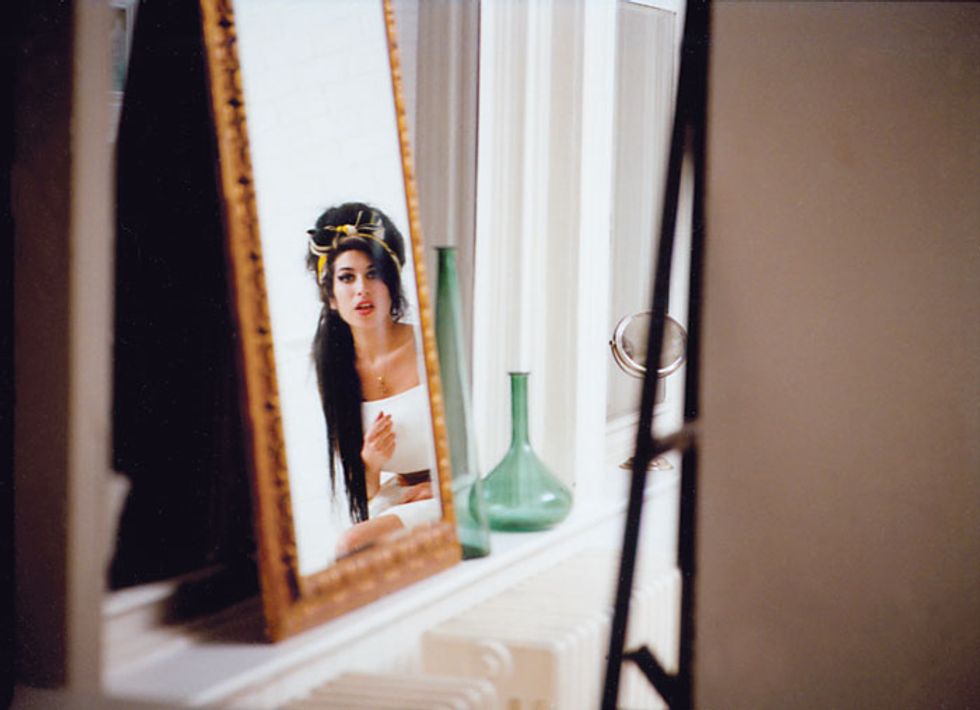 As the story goes, in 2006, Winehouse's management company encouraged her to go to an alcohol-rehabilitation center. Instead, she refused, got a new management company and wrote "Rehab." "Me and Mark Ronson were just walking down the street in SoHo," Winehouse recalls, "and I sang the hook. I sang it as a joke. Mark started laughing, saying, 'That's so funny. That's so funny, Amy. Whose song is that, man?' I told him, 'I just wrote it off the top of my head. I was just joking.' And he said, 'It would be so cool if you had a whole song about rehab.' I said, 'Well, I could write it right now. Let's go to the studio.' And that was it." (Lindsay Lohan's decision to enter rehab, which happened to be on the day of our interview, had Winehouse concerned. Of the fallen actress, she says, "I'd like to cuddle her, actually. I'd like to give her a big hug.")

The other songs on the record are modern-day takes on soul-jazz standards. "What kind of fuckery is this?" she asks on the loungey, "Me and Mr. Jones." On "Addicted," Winehouse croons, "When you smoke all my weed, man/ You gotta call the green man/ So I can get mine/ And you get yours." One can almost feel Martha & the Vandellas blushing.
With titles like "Tears Dry on Their Own," "You Know I'm No Good" and "Just Friends," most of the songs on the album have to do with the pain and heartbreak from her breakup with an ex-boyfriend named Blake. Winehouse describes his reaction to seeing her sing the album live. "The first time he saw me play — obviously the songs are all about him — he just kind of sat there. I said, 'You all right, Blake?' And he goes, 'Yeah, sorry, it's all a bit much.' The thing is, though, on my last record, I was singing all these songs that were like, 'Yeah, fuck you, that's right.' With this album, my attitude has changed. This time it's not like, 'You broke my heart; I hate you.' It's more like, 'It's a shame it didn't work out.'" But now that she's in a good, stable relationship — her boyfriend's initial, A for Alex, is tattooed on her ring finger — what is she going to write songs about? "Oh, I always find something to fuck myself up with."
Styling: Angela Barrow
Styling Assistant: Marche Wyche
Dress: Octopi, Necklace: White Trash Charms, Scarf: Hermes