On August 8th, 1969, 26-year-old actress Sharon Tate and her friends — Wojciech Frykowski, Abigail Folger, and gifted hairstylist Jay Sebring — had dinner at the historic El Coyote restaurant on Beverly Boulevard in Los Angeles. The cuisine at El Coyote is the sort of loosely Mexican stuff you find in tourist traps across Southern California: quesadillas with neon cheese, fajitas on sizzling platters. Tate had the chiles rellenos. After dinner, the group returned to the house on Cielo Drive that she shared with her husband, the director Roman Polanski, and then they were murdered by members of the Manson Family. Tate was stabbed 16 times. She was eight months pregnant; an X was cut into her stomach.
In January, I also had dinner and cheap margaritas with friends at El Coyote, which is covered in Christmas lights and fluffy fake flowers, the walls decorated with pieces of broken mirrors. And then in May, I was driven by the restaurant as a recording of an interview with Charles Manson played through a chunky black iPod. "Maybe I should have killed four or five hundred people," he snarled. "Then I would have felt better. Then I would have really offered society something."
"You may have heard that Manson died last November," quipped the driver, a former child actor named Richard. "Yay!"

Manson's death seemed to bring my fellow passengers a lot of joy, as did a number of other pieces of grotesque trivia. We came together, comrades in amputated arms, as part of the Tragical History Tour, a comprehensive trip across the locations of Los Angeles' grisliest celebrity scandals: murders, overdoses, stalkings. Literal hatchet jobs. Richard, rather appropriately, drove us around in an actual white van. His keys featured a logo for the Bates Motel, and he gave us binders full of photos — both glam shots and crime scenes — for a full multimedia experience.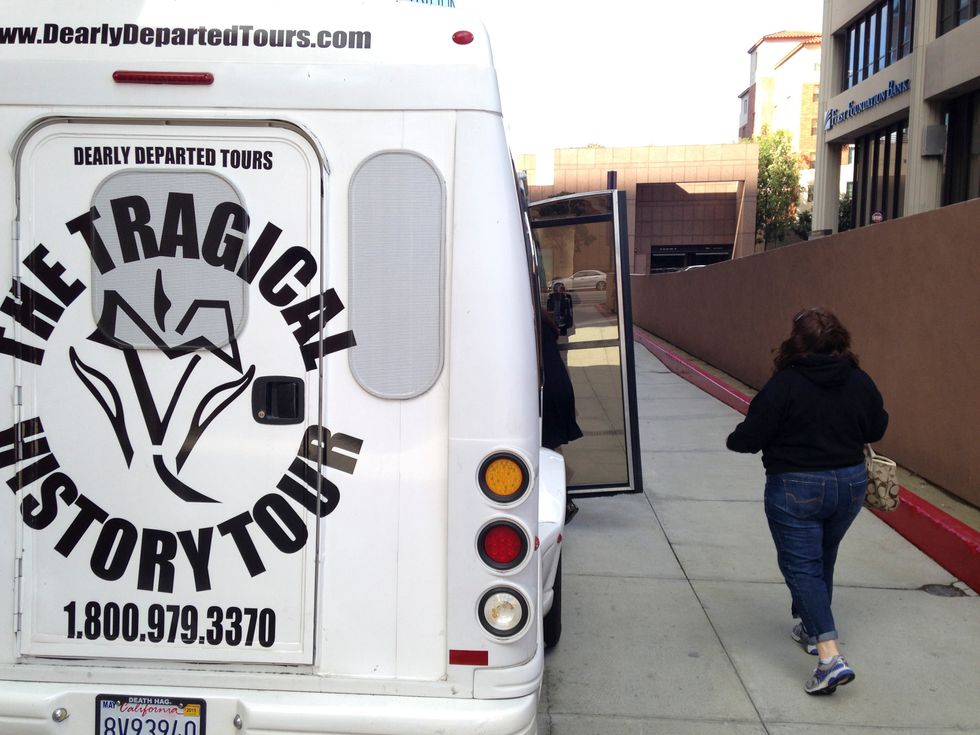 The Tragical History Tour (which costs $60 and lasts for about three hours) is part of a larger company, The Dearly Departed Tours & Artifact Museum, founded by one Scott Michaels (according to his website, he is "the authority on the Dark Side of Hollywood"). Michaels and his guides lead multiple tours across LA, visiting horror movie film locations and the homes of rock stars and "Marilyn Monroe's Hollywood." Their headquarters and museum are located across the street from the famed Hollywood Forever Cemetery, where Johnny Ramone and Cecil B. DeMille are buried and Cinespia hosts enormously popular nighttime movie screenings; in July, you'll be able to fulfill a very specific kind of fantasy and watch Austin Powers in a graveyard.
But somehow, despite the lack of actual corpses, the museum feels far more morbid than Hollywood Forever. It is filled with macabre trophies like Mae West's teeth, Jayne Mansfield's "death car," and a piece of Sharon Tate's fireplace. A sticker at the front desk advertises Marsy's Law, a 2008 amendment to California's constitution that expands the rights of crime victims. There is caution tape from the scene of Glee star Mark Salling's January suicide, committed before he was to be sentenced on child pornography charges. The souvenirs available for purchase include tokens of the famously deceased in little plastic baggies: a tiny piece of Rock Hudson's deathbed, tufts from JFK's grassy knoll. In the corner, a zombie bride dressed as Monroe lunges from a coffin; above her, there is a sign with the Instagram logo reading "#DearlyDepartedTours." Above all else, they are very thorough. The company's actual phone number is 1-855-600-DEAD.
The tour started with a drive by Mae West's old apartment building, The Ravenswood, but it really kicked off at 333 North June Street in Hancock Park, where in the early morning hours of February 8th, 2009, Chris Brown beat a 19-year-old Rihanna so badly she nearly lost consciousness. A chipper audio recording provided details of the attack — Brown trying to force the singer out of his moving car, the way he shoved her face against the window and punched her, the blood. The iPod blared Rihanna's "SOS" at the same time.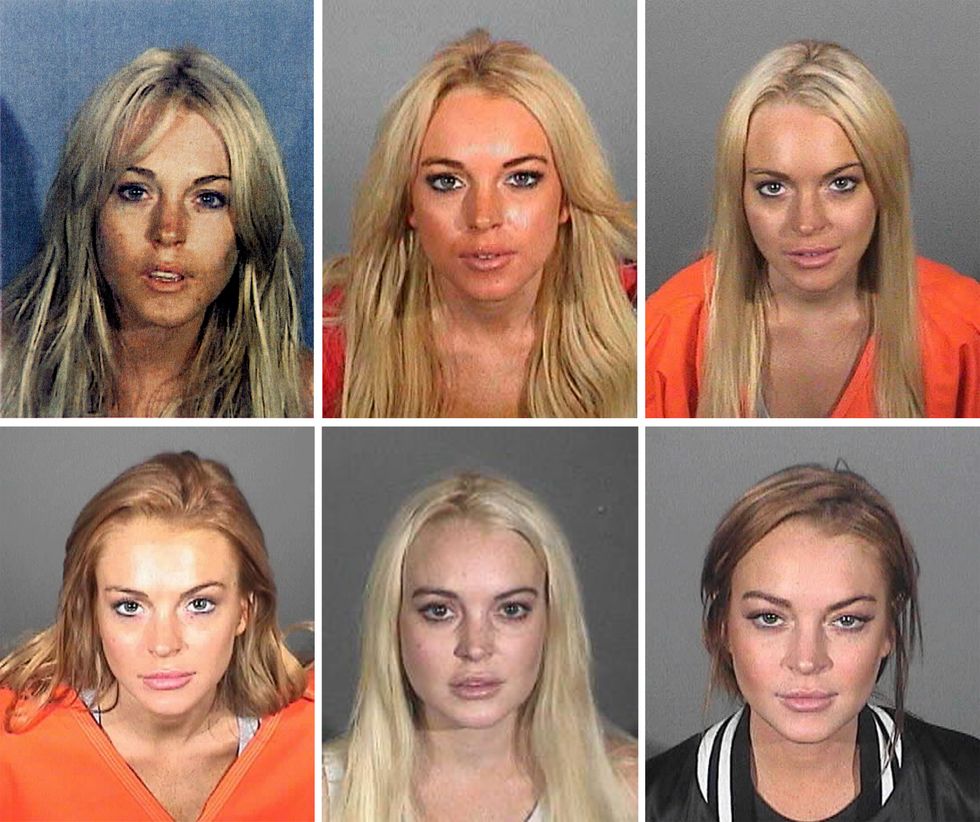 As we drove into Beverly Grove, cruising by a dog groomer's called Chateau Marmutt, Richard provided details on the death of actress Rebecca Schaeffer, whose murder by a crazed fan changed national stalking laws forever. He joked about Casey Anthony when we turned right on Orlando Avenue. We passed Cedars-Sinai, "the hospital to die in," and the Beverly Hills courthouse, where we laughed about the DUIs of Pop Culture Died in 2009 favorites, the Nicoles and Lindsays who made an art out of white girls going to jail for 45 minutes. We listened to a 911 call in which Lyle Menendez, who murdered his parents with his brother, Erik, said it was "unfortunate" that his mother had been shot in the face. Richard interrupted to say that we were passing Rodeo Drive.
We stopped at the Beverly Hilton, where Whitney Houston receded into the still waters of her bathtub. In the middle of listening to hotel security's panicked 911 call, our guide told us to look over at the fountain where Cher realized she loved her ex-step brother Paul Rudd in Clueless. We then peered into the Holmby Hills bedroom where Michael Jackson overdosed on anesthetic; on the corner of the street, there was a huge yellow sign reading "HOT STAR MAPS." The jacaranda trees were in full lavender bloom on the block where radio host Dr. Laura's mother died alone, her body left to rot in a condo for nearly two months.
Related | Mona May Dresses Dorian Electra In Iconic Movie Costumes
Richard — perpetually unfazed by gore — and my fellow passengers enjoyed the ride. A batch of spackled blondes from Orange County giggled consistently. A kindly couple in their sixties from Montana loved the whole tour, saying they had a thing for "macabre humor," and an unassuming Australian woman said she liked it because of her penchant for the "ghoulish." A Midwestern mother and daughter in khaki had recently visited Lucille Ball's grave in New York, and saw the tour as the natural extension of a hobby. The only time anyone seemed to feel true horror was when Richard showed us crime scene photos of aspiring actress Elizabeth Short, the Black Dahlia, her body mutilated and severed in two. As he elaborated on her possible killer, a homeless man stumbled across Franklin Avenue, his neck covered in dried blood.
At this point, it is a well-worn cliché to discuss the way our culture eats celebrities alive. You can just imagine some Bogart-like figure in black-and-white, puffing on a Lucky Strike and muttering about how we chew them up and spit them out. It is common knowledge that we watched the likes of Michael and Whitney and Amy and Anna Nicole die in real time as we made fun of their dazed expressions, the filth in their houses. Paparazzi lead Princess Diana to her death, the fortune of America's most famous family was built off the backs of Nicole Brown Simpson and Ron Goldman, and you can pay $60 to listen to Richard pontificate on the drowning death of Natalie Wood while an outdated piece of technology blasts "Octopus's Garden" ("I'd like to be/ Under the sea").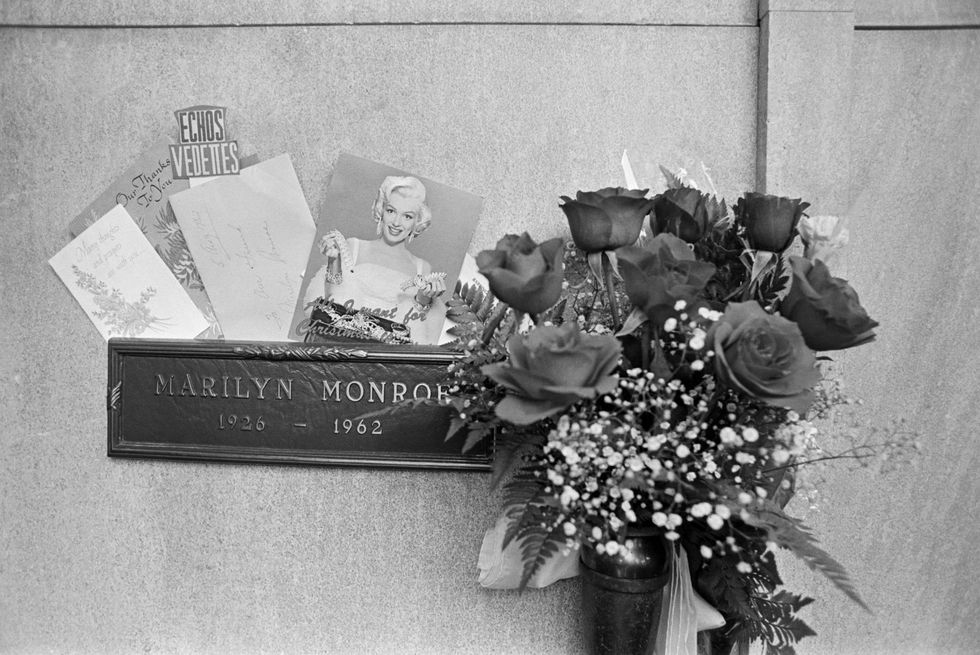 But we do feel real grief for celebrities, who are our constant companions and occasionally artistic heroes. Lord Byron may have said that fame "is the advantage of being known by people of whom you yourself know nothing, and for whom you care as little," yet we, the great unwashed, do feel as though we actually know stars. We care for them and we weep for them, and while that can verge on the pitiful, isn't it also reflective of base compassion? I sobbed for Anthony Bourdain, who was ("was" is the most awful) a curious, ravenous, earnest person. Sometimes these things just get to you.
At the midpoint of our tour — before a drive by the bar where Janis Joplin had her last Southern Comfort and the payphone where Joaquin Phoenix pleaded with the authorities to come save his seizing, sinking brother, River — Richard had us get out at Westwood Village Memorial Park Cemetery, a tiny, elite resting place for the acclaimed deceased (including a tomb for the original Armand Hammer: Elio, Elio, Elio). He gave us a map, but I lack a sense of direction, and so a sprightly 75-year-old named Jim helped me find my way around. Jim's wife worked at the cemetery, and he pointed out the plots for Bettie Page and Natalie Wood, the headstones for Billy Wilder and Rodney Dangerfield, who gets no respect even in death.
"Whenever I travel I like to see graves," Jim said. "I went to Jim Morrison's, the Buddy Holly crash site. It's a way of honoring people, remembering them."
Jim spent some time directing everybody to the money grave: the slight vault that holds the remains of Marilyn Monroe. Monroe, forever a pin-up, was already a star when Hugh Hefner published her nude photos in Playboy in 1953 — she had posed for them when destitute years earlier, and while they did raise her profile, their publication, done without her initial knowledge or consent, was a boon for Hef's then-small magazine. In 1992, Hefner purchased the plot next to Monroe's in Westwood, saying he was a "sucker for blondes, and she is the ultimate blonde." He was laid to rest there last fall, and so Marilyn, so frequently prey to the whims of men who saw her as a "just an ornament," is now stuck next to him for eternity.
Shortly after his funeral, TMZ reported that "Hugh Hefner's got game, even in death," when a fan "made out" with his crypt, leaving lipstick kisses everywhere. There are now blush-colored kisses covering both tombs for Hefner and Monroe, invasive marks of affection for two sexual icons. My tourmates took selfies, lips pursed. And then it was time to get back in the van.
Photos via Getty


Sign Up For The Morning PAPER