From beach-ready styles at Chanel and Michael Kors to experimental accessories by Erika Cavallini and Y/Project's Glenn Martens, these are the bags that caught our eye during spring 2019 fashion month. See more of our favorite styles from the season, below.
Michael Kors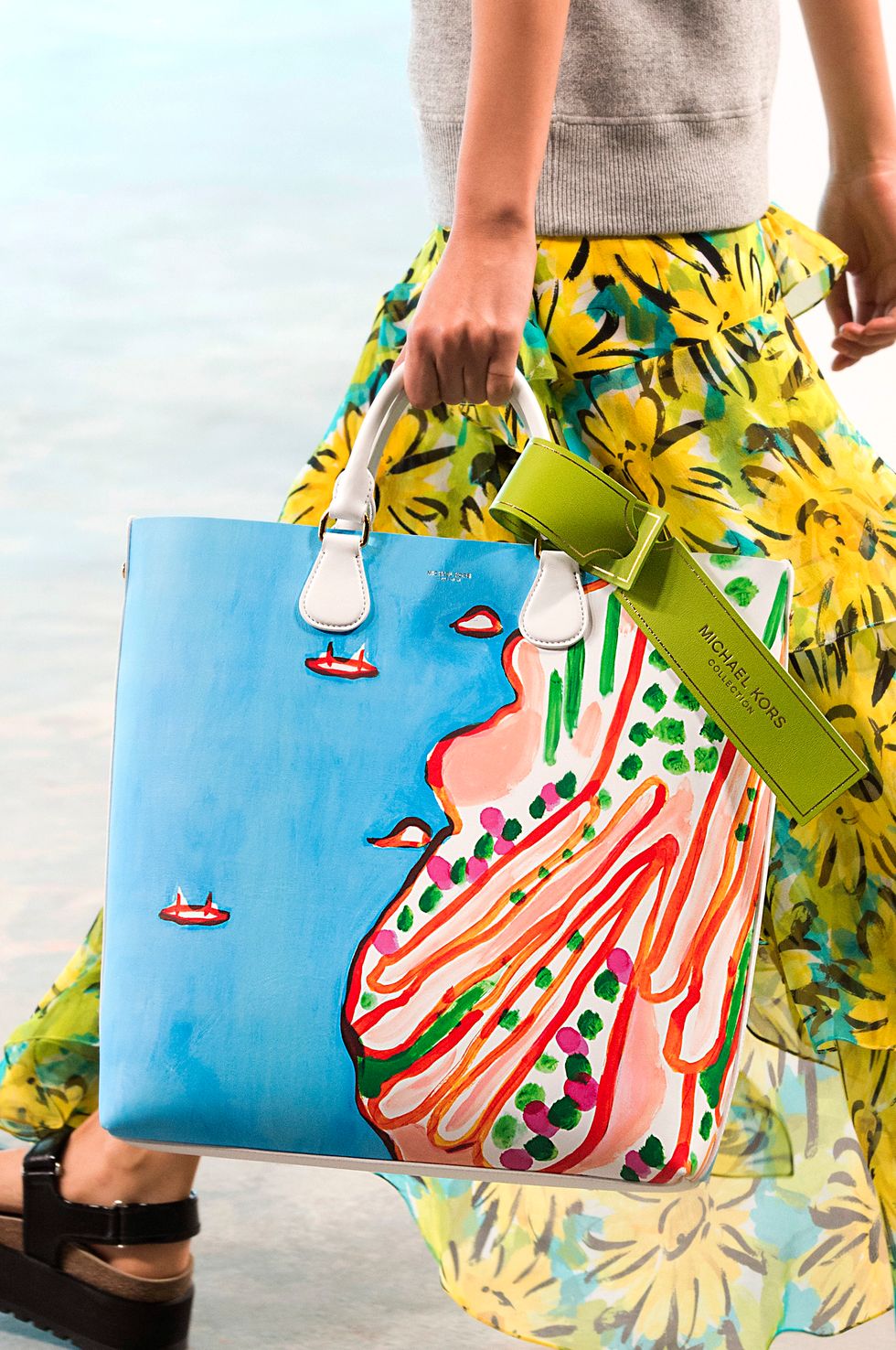 Christina Zimpel the Perth-born, Brooklyn-based artist who's also served as art director of American and Australian Vogue, created a series of paintings for Michael Kors's spring collection. In addition to enlivening the designer's set for the show, The artist's exuberant coastal scenes graced leather tote bags punctuated with luggage tag charms.
Marco de Vincenzo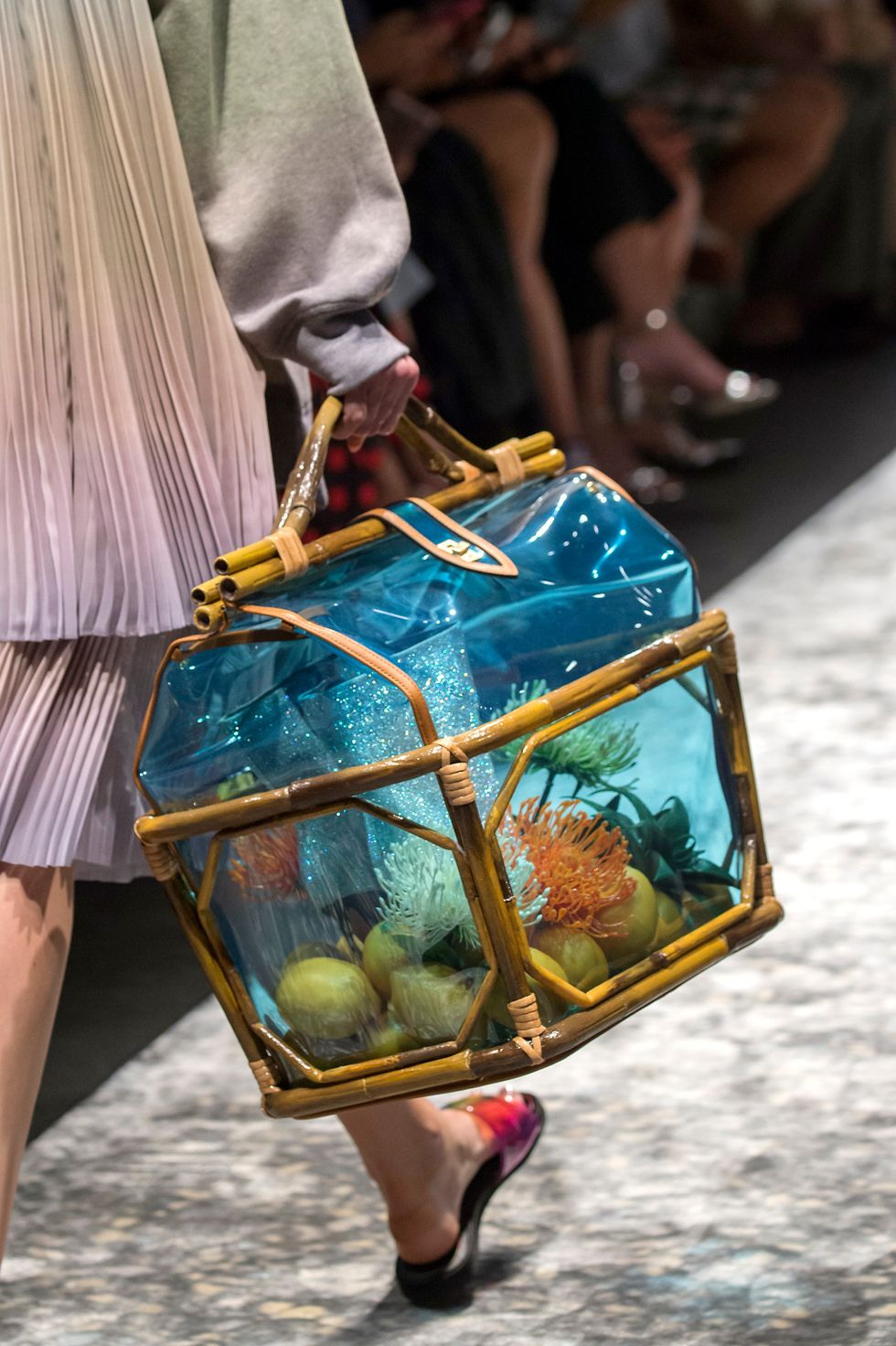 Marco de Vincenzo has been looking back on his Sicilian upbringing for the past three seasons. For spring 2019, the designer was inspired by his aunt Santina, a Californian whose mannerism, curiosity, and wardrobe perplexed locals when she visited in the southern Italian state in the 1980s. Her "trashy taste" as de Vincenzo described it, reflected in a fabulously garish, bamboo and PVC carryall filled with lemons and flowers.
Burberry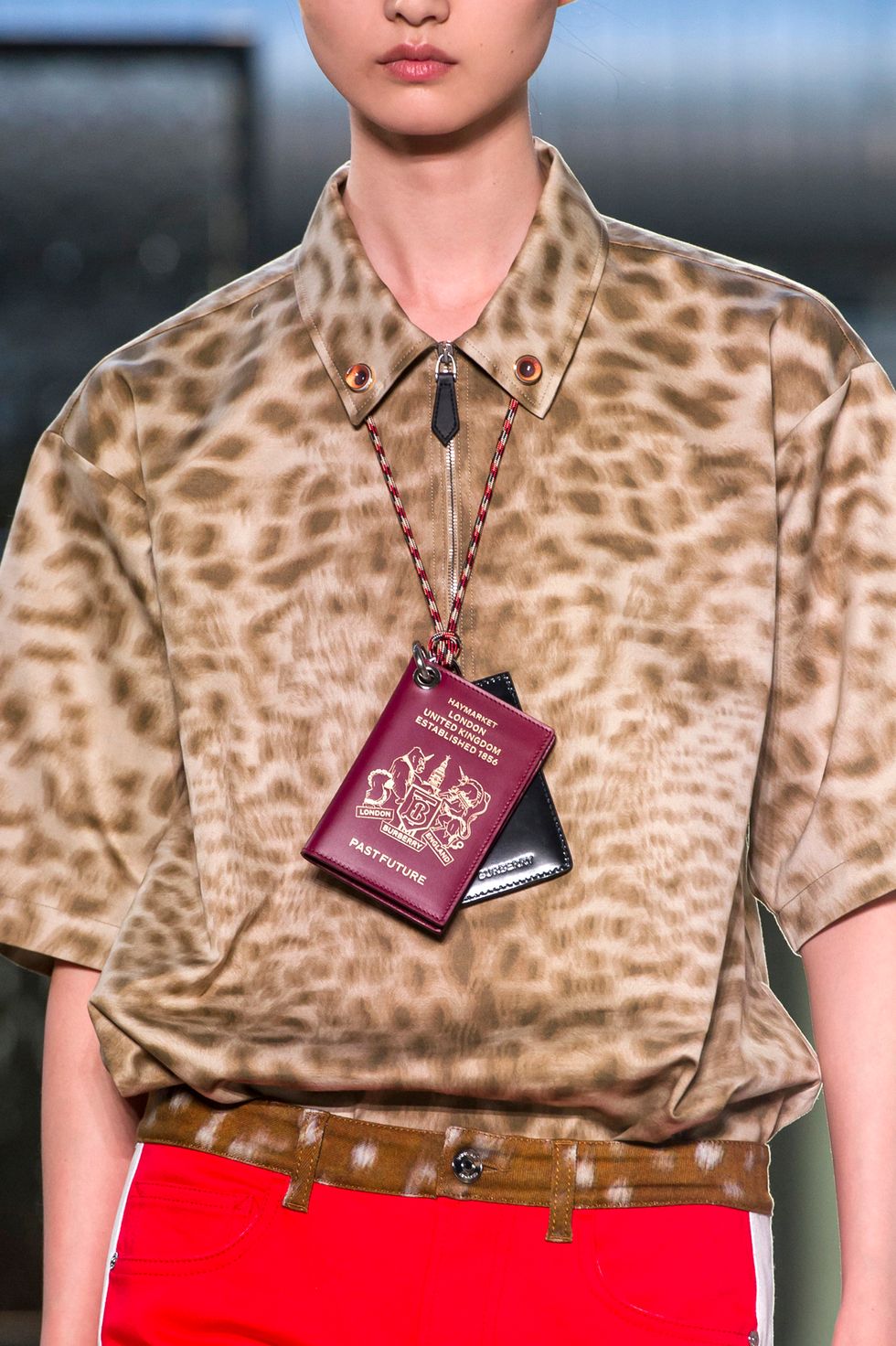 In his debut collection at Burberry, titled "Kingdom," Riccardo Tisci made a subtle political statement with accessories. A maroon billfold wallet that resembles the U.K. passport was attached to a lanyard and worn as a necklace. Now that the U.K. has left the European Union, its passports have turned navy. The incisive touch made the Italian designer's stance on Brexit crystal clear.
Erika Cavallini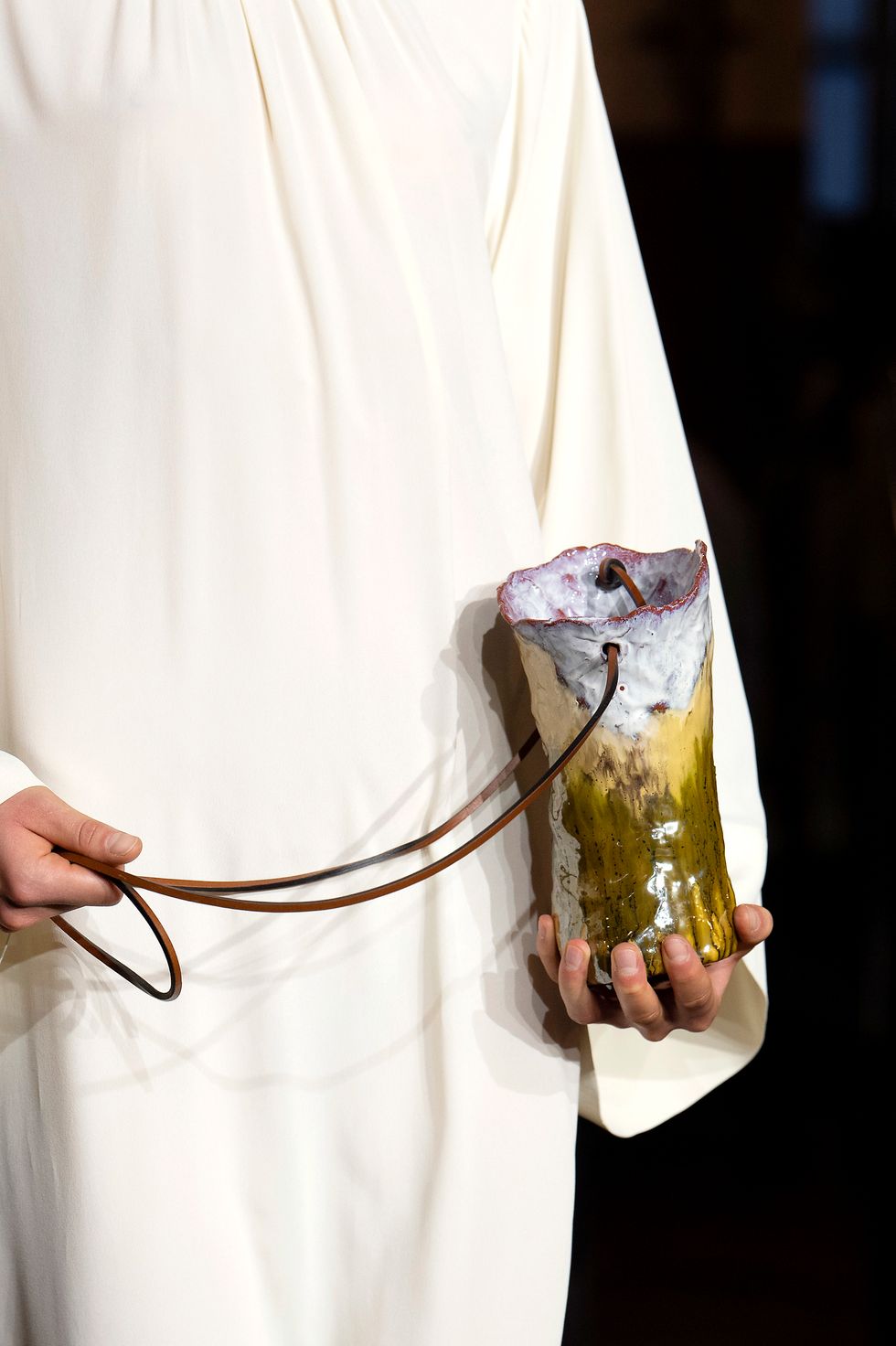 Milan-based designer Erika Cavallini took a sculptural approach to her bags this season, quite literally. Hand-formed, raku-fired vessels in rust, ocher, moss green were attached to leather straps and styled as cross-bodies and belt-bags. A limited series of these porcelain pieces, signed by Cavallini, are currently available at the designer's Via della Spiga boutique. ​
Prada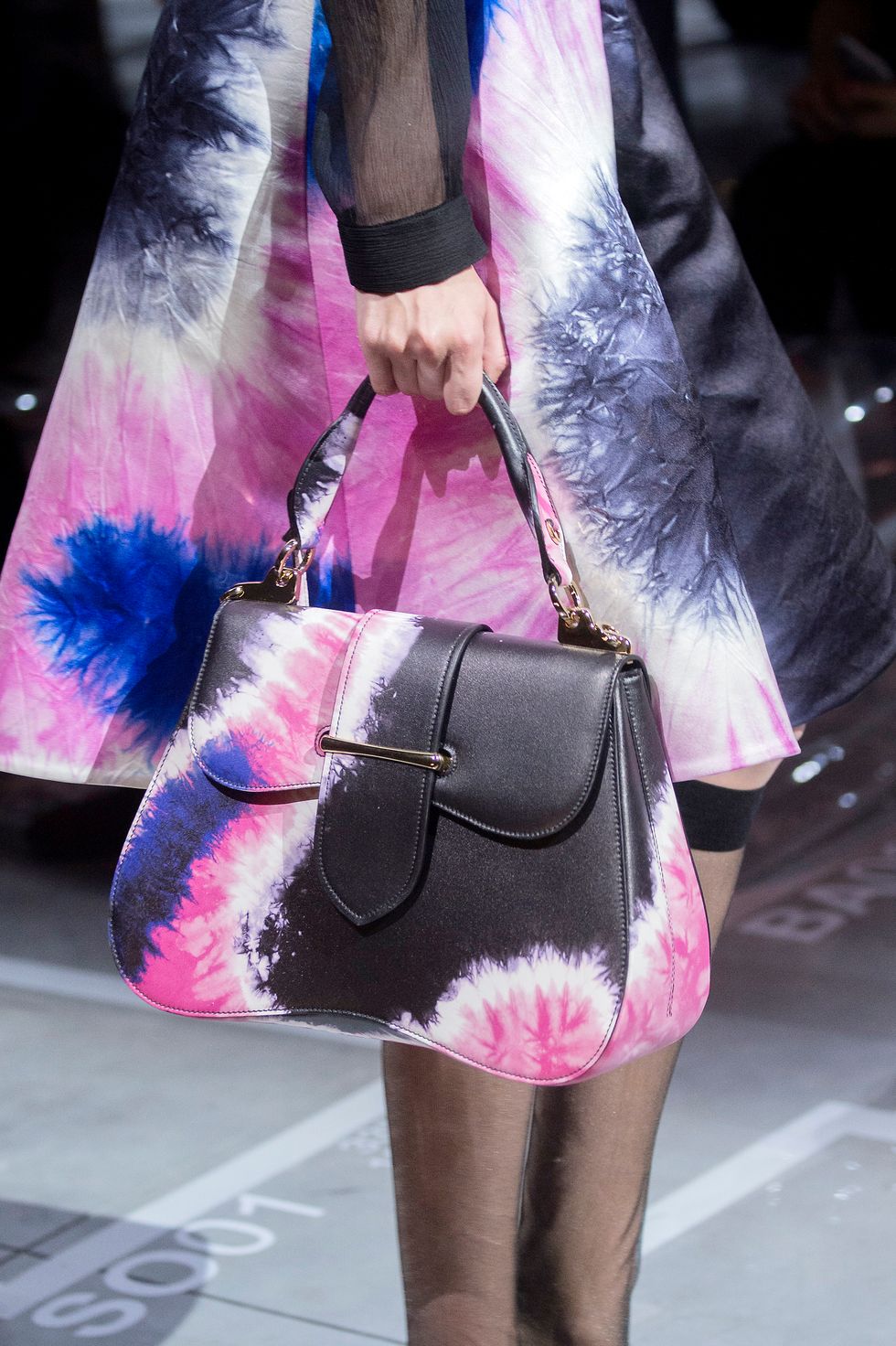 Miuccia Prada brought Swinging Sixties whimsy to her otherwise prim collection with vibrant tie dye prints. Lady-like leather handbags were transformed into bold statement pieces with whirls of bright pink and deep blue.
Chloé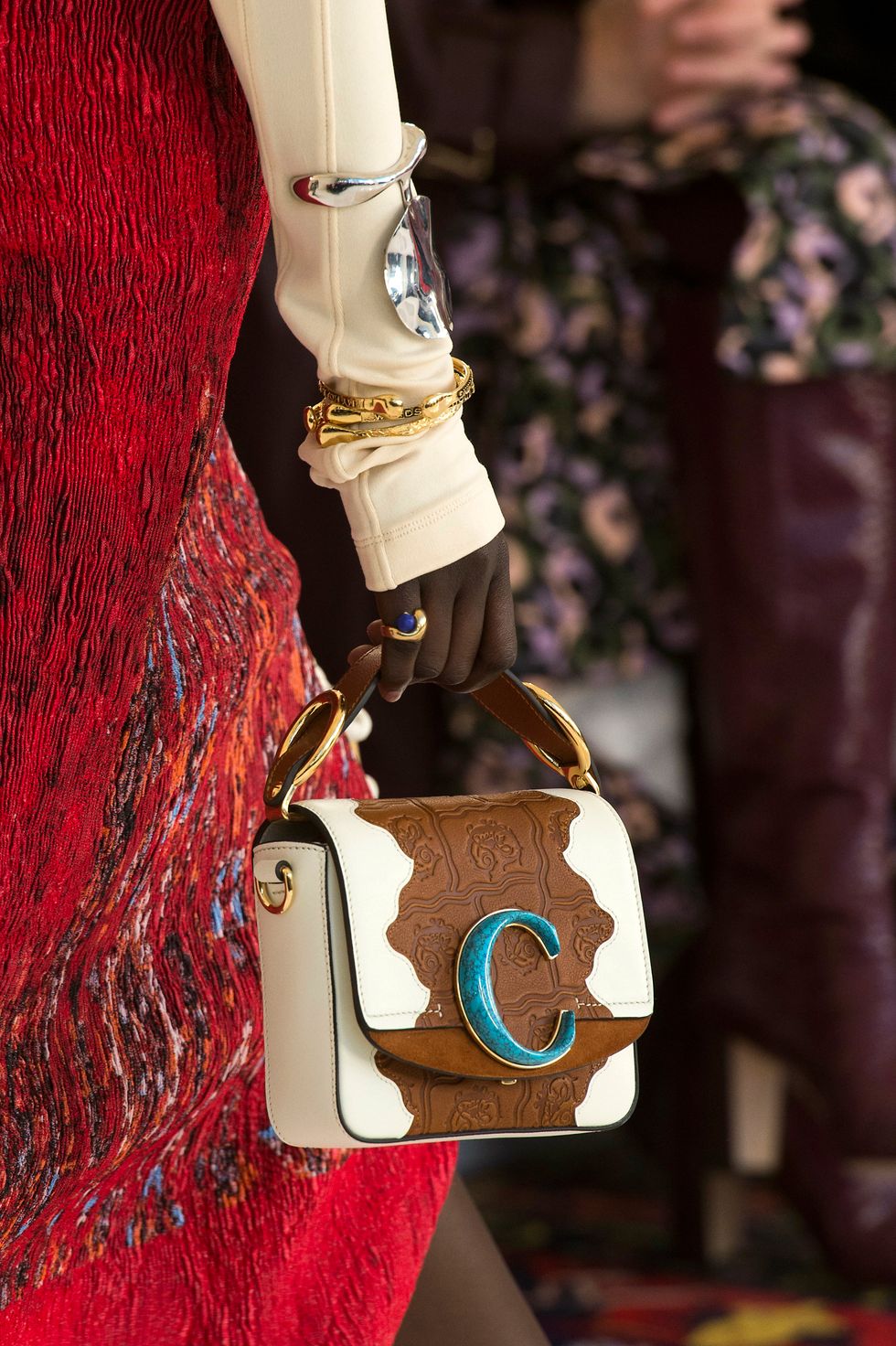 Natacha Ramsay-Levi introduced a new range of accessories — rather work-ready for a collection rooted in fluid Grecian dressing — at Chloé's spring 2019 show. On this bag, punctuated by calligraphic C's, a turquoise stone carved into the house's first initial pops against crisp white and rich chocolate leather.
Y/Project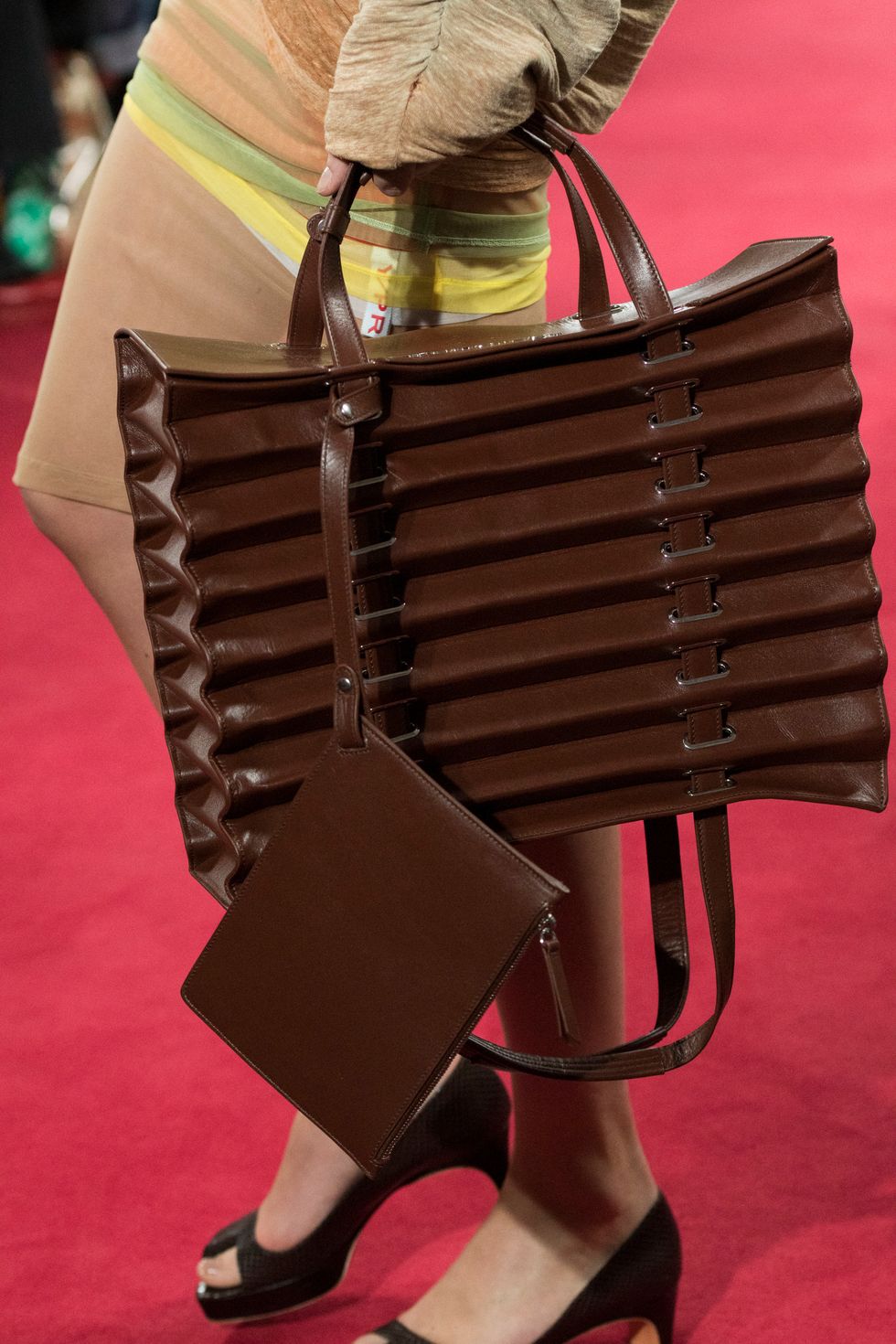 Glenn Martins, the Dutch designer at the helm of the Parisian label Y/Project, presented rectangular accordion pleated bags alongside one of his most versatile collections to date (there was everything from an emerald green silk evening gown to drawstring sweat pants and acid wash denim jackets). With adjustable straps and a detachable wallet, the geometric style touches on Martens's desire to create an adaptable, diverse collection.
Maison Margiela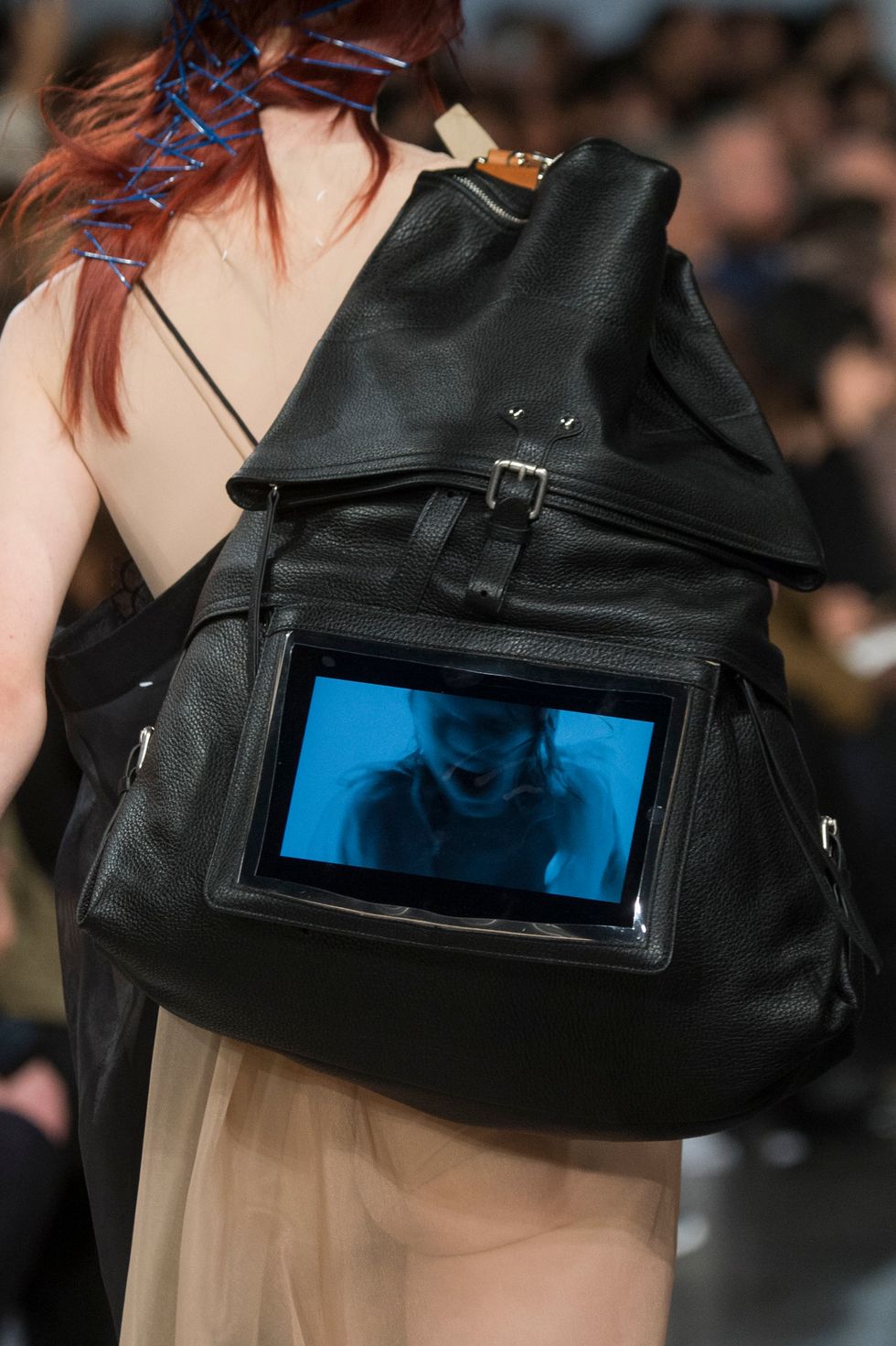 Chanel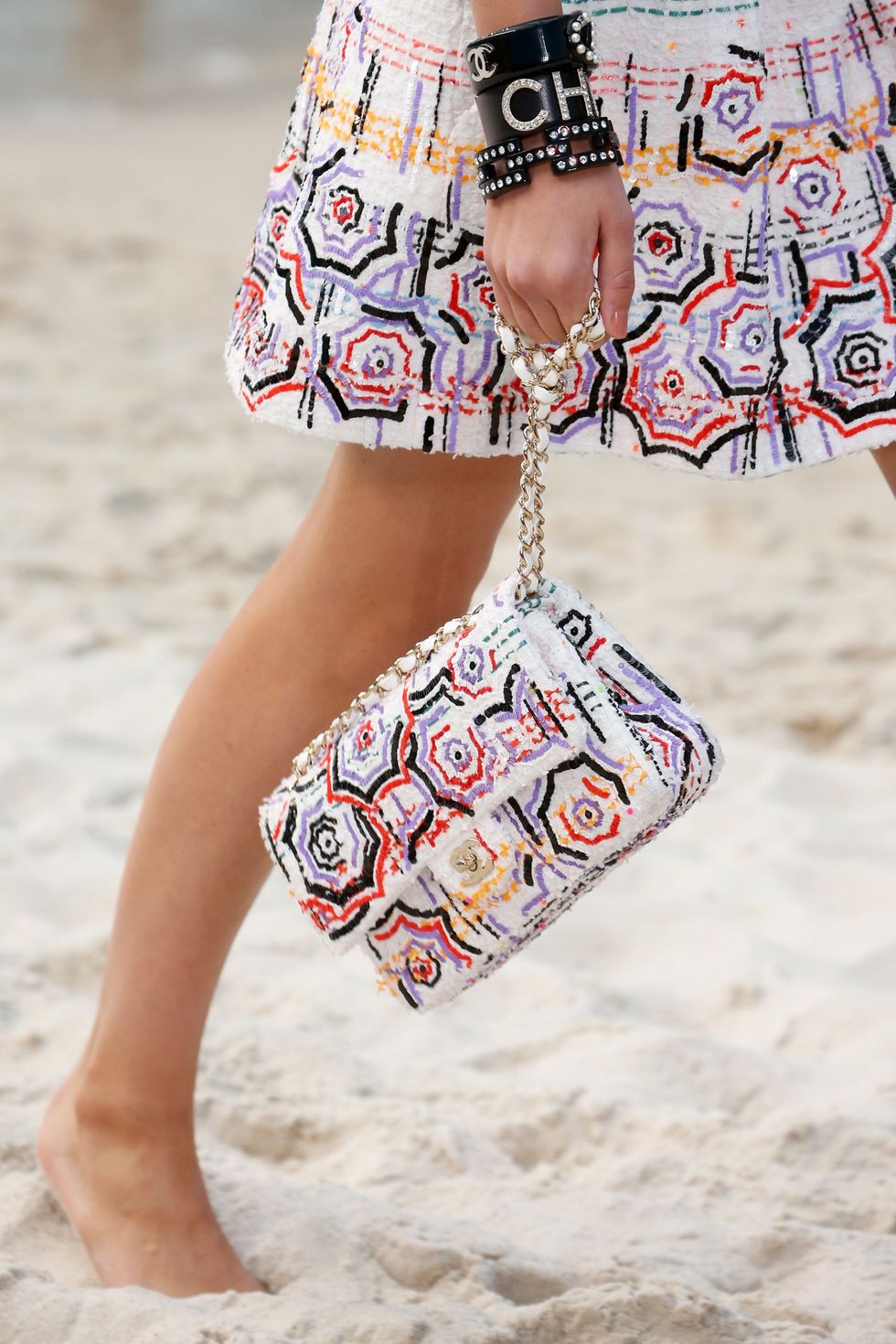 Karl Lagerfeld's beach-themed Chanel collection — shown on a set complete with rippling waves, a sandy shore, and a functioning bamboo hut — was full of subtle, coastal motifs. Here, the house's iconic flap bag is reinterpreted in white bouclé tweed and covered in embroidery at resembles a bird's-eye view of colorful umbrellas.
Tod's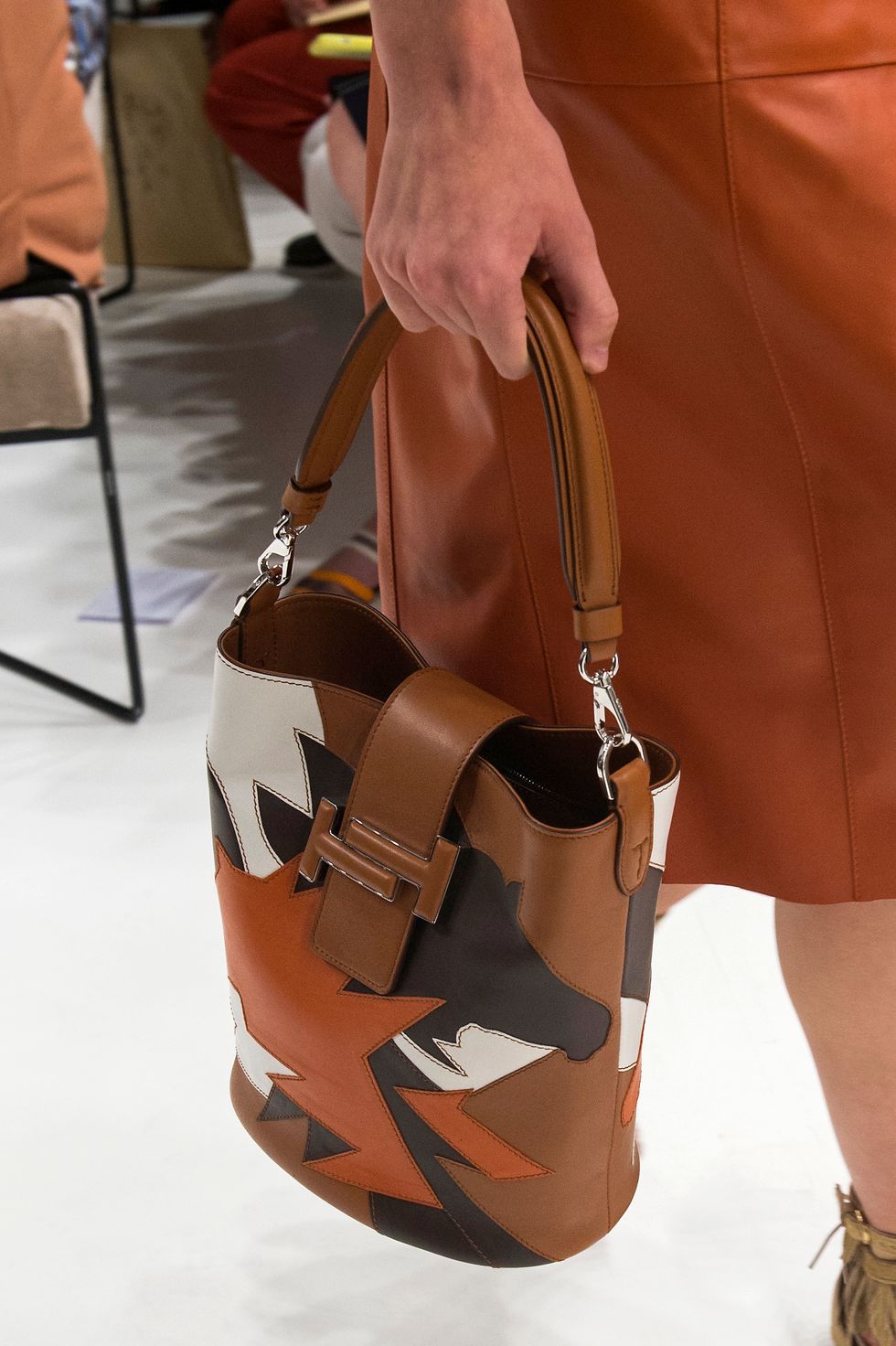 At Tod's — one of the few fashion houses that operates without a creative director — the design team gave the classic bucket bag an equestrian bent. Rich leather cutouts in egg shell, caramel, and chocolate brown were stitched together to create the profile of a running horse.