If Tony Bennett ran his own Instagram, his bio might read "musician, painter, writer, content creator," alongside "NYC -> California" and the microphone, piano and jazz hands emojis. At 93, the show biz legend is what we today call a multi-hyphenate. On top of 19 Grammys, two Emmys and a dozen books, Bennett has been quietly and successfully painting on the side for most of his career, under his birth name Anthony Benedetto.
This past week, Bennett's legacy as a visual artist was honored when a retrospective of his work opened at the Art Students League of New York, where he was a student for years under the tutelage of instructor Frank Porcu. The League is an independent all-ages art school, and a century-old New York art world institution, where legends like Georgia O'Keeffe, Jackson Pollock, Mark Rothko, Louise Nevelson and Ai Weiwei have all studied.
Porcu first met Bennett at a Metropolitan Museum of Art reception. "We just migrated towards one work of art and started talking. I was shocked to hear his knowledge of color theory and line, of anatomy, of history," Porcu says. He quickly became Bennett's mentor, instructing him in his first ever bust — of his friend and peer Harry Belafonte.
The piece is a rough ink pen sketch of Gaga leaning cozily on his piano, with her hair up, wearing dangly earrings and sharp fake nails. It's drawn with the loving eye of someone who's seen her from that angle up close many times (as he did on the Cheek to Cheek Tour) distinguishing it from fan art you might see when scrolling through Instagram. Gaga has said that she was in love with Bennett as a kid, so the drawing is surely the cherry on top of making an album with her hero-cum-celebrity crush.
In turn, Bennett paid homage to his own heroes in his artwork. The exhibit also includes an uncanny pencil drawing of Stevie Wonder, a watercolor of Duke Ellington (which resides in the National Portrait gallery's permanent collection), an oil painting of Ellington with Billy Strayhorn — all recognizably depicted with the admiration of a fan and care of a friend.
Bennett looked to his adventures touring the globe as inspiration. The exhibit includes watercolors of the Persian Gulf, Manila Bay, Brazil, Puerto Rico, Nice, Rome, Kyoto, Tuscan and Venice. His hometown of New York City is also a muse, showing up in his repeated depictions of Central Park, the Statue of Liberty and the Metropolitan Museum of Art.
"Tony's very cerebral when he works. It's just like his music, it's not just reading notes on the page," says Porcu. "It's interpreting the notes on the page, this time interpreting them as brush strokes. I think that music fed his painting, and painting, in turn, fed his music. That multi-disciplinary connection is very rare."
Porcu says working with Bennett "changed his life," waxing poetic about his humility and talent. "He had this the humble connection with other artists. It doesn't matter who you are or what your station is, Tony wants to be around artists. He wants to be around youth, he wants to be around what's going on, and around people who are doing things in a progressive way."
While the Gaga is a treat, the exhibition's crown jewel might be Bennett's oil painting self portrait. Bennett captures himself as we know him: swarthy, salt and peppered, adorned in a classic Italian gentleman's athletic tracksuit, tight-lipped but giving a sharp showman's smize.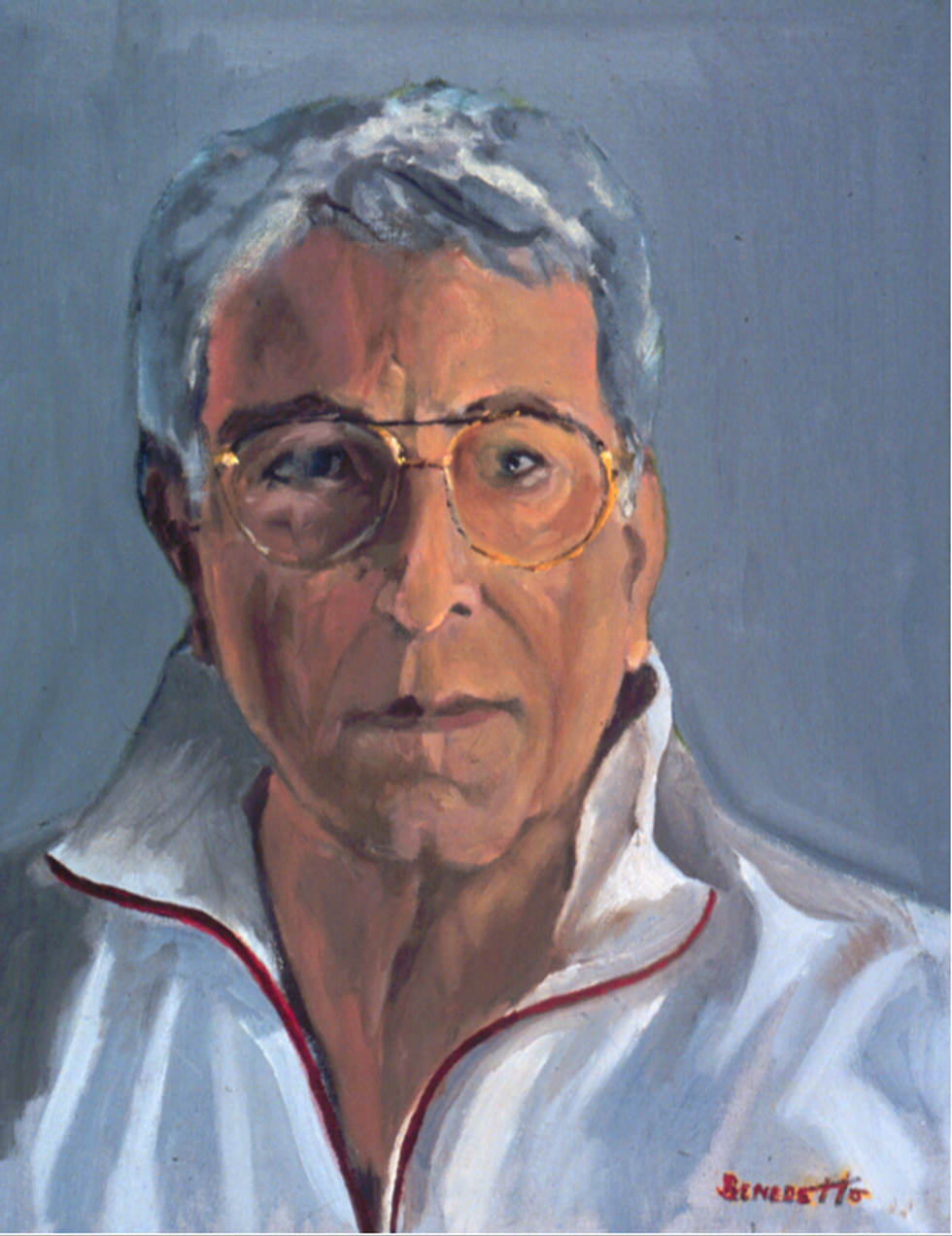 Photos Courtesy of Art Students League of New York