There's a storied literary tradition of male gatekeepers doing their very best to keep women from attaining certain levels of success. In The Wife, you see the consequences. The film, based on a novel by Meg Wolitzer, centers on titular wife Joan Castleman (Glenn Close, in a career-best performance), whose husband, Joe (Jonathan Pryce), has just been awarded the Nobel Prize for Literature. Joan serves as a combination of Joe's manager and support system. But when a biographer (Christian Slater) starts poking around, old wounds resurface.
Joan, a writer herself, was discouraged at every turn by Joe and the male-dominated literary establishment, and so the film explores her frustration at what might have been. But while it hits a few beats you'd expect (Joe is, of course, a cheater), it's never cliché. "Don't make me a victim," Joan spits. "I'm much more interesting than that."

Flashbacks reveal how the couple met in the 1950s (the film is set in 1992). He was a professor, she was a student, there was an affair. And young Joan is played beautifully by Annie Starke, Close's real-life daughter. Mother and daughter worked together to form a captivating character, made all the more relevant by the recent wide-ranging movements against sexual harassment and gender discrimination. But someone like Joan is always relevant. The Wife is a thorny, funny, fascinating movie.
So Starke, a new wife herself, spoke to PAPER about working with her mother, #MeToo, and "the power of your own truth."
This project has been very well received. What's it like to earn those accolades?
Honestly, it never gets old. Especially because of how hard we worked on this beautiful little movie. Of course, it was something that we poured our hearts and souls into developing, and it's quite nerve-wracking when the public gets to see it. But it's good to know that our blood, sweat, and tears were not for naught, you know what I mean?
Your mother is an incredibly accomplished actor. Is it challenging to work in the same field as her?
Yeah, it definitely is. But I am very independent in all aspects of my life, especially about my profession. Within any industry, but especially in this industry, you should be able to stand on your own two feet. It is difficult, because I think people tend to have assumptions about you. I'm not quite sure what those assumptions are, but I'm told that generally, people have assumptions about me. Whatever they are, I'll prove them wrong.
It's definitely a unique position to be in, it's very complex. I certainly knew what I was getting myself into when I got into this profession, so I came prepared with guns locked and loaded.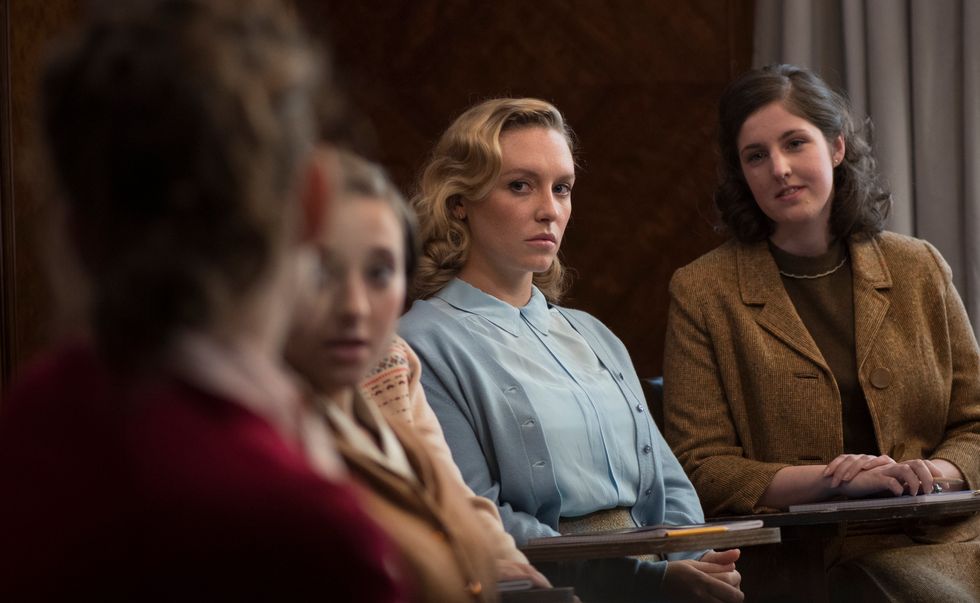 Annie Starke as Joan Castleman in The Wife
What was it like working with her on this film?
It was awesome, it really was. It was kind of a beautiful, wonderful thing for the both of us. It gave us an opportunity to work together on our craft, especially on a character that we love tremendously to this day.
These characters were really made in honor to my grandmothers, my mom's mom and also my dad's mom. Both were incredibly, unbelievably intelligible women, with seemingly limitless potential, but again, they married quite young, and they didn't live their lives how they wanted to. They lead their lives according to their spouses.
If they were here, they would say that they made a choice and they stuck by it for the family, but in my private conversations with them, I questioned what could've been. My dad's mom was actually a chemist in the 1940's, which, as I'm sure you could imagine, is pretty unheard of. She's truly a brilliant woman, but she had to make a choice, and it was incredibly obvious that she would only be able to make it so far as a woman in that profession. It kind of made the choice a little easier to become a mother and a family woman, just because she knew that her efforts would possibly go un-respected. So, in a huge sense, this character is a real homage to who they were.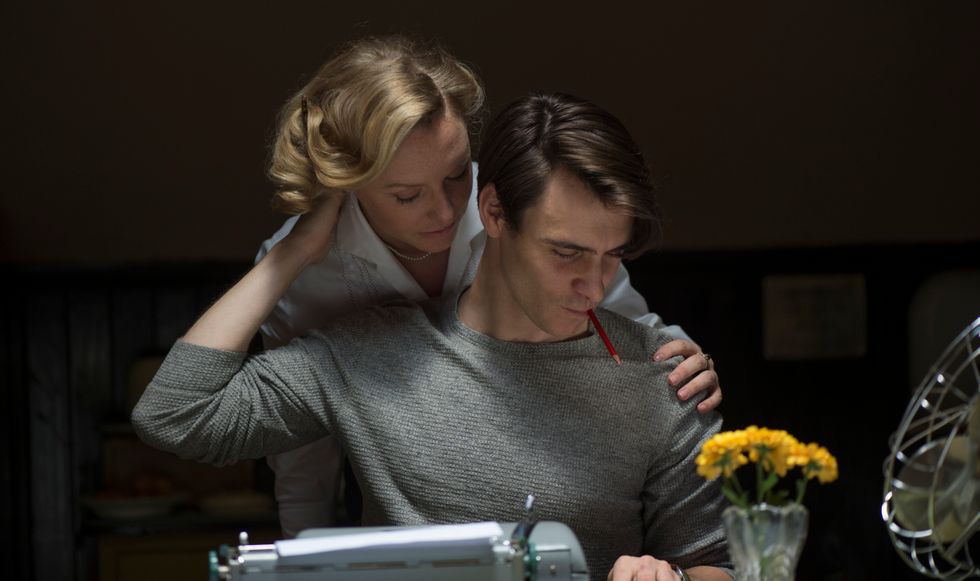 Annie Starke and Max Irons as young Joan and John Castleman
It must have made you think about your own opportunities and choices.
Yeah, absolutely. I feel like this is also just the universe working in its weird way—this movie, it was just the time. Today is the day. The #MeToo movement really put some wind under our wings. It's really an incredible thing to be a part of something so relevant. It certainly makes me think about my own life and how lucky I am in comparison to what they had to deal with, career-wise. I have a choice, and they really didn't have a choice back then. I am just very blessed to be apart of a pioneering generation. It's really cool and very humbling—what they had to do back then, I don't know if I would have had the guts.
If you wanted audiences to take away one thing from The Wife, what would that message be?
Well, I think the power of your own truth. To deny what you're good at, your passion and your craft, is truly to deny a huge part of what makes you unique and what makes you yourself. I think to deny that is terrible for your soul and the universe around you. I think the power of your own truth should always be glorified.
Photos courtesy of Sony Pictures Classics
Sign Up for the Morning PAPER