In a canonical season three episode of Sex and the City, Miranda and the girls journey to LA for sun, fun, and invasive Brazilian bikini waxes administered by a severe Russian woman. Upon arrival on the West Coast, they glide into the Standard's West Hollywood hotel and come face to face with a spray tanned man in white briefs, reading Variety while lying in a large glass rectangle. Samantha Jones wiggles and plays with her hair; the man, slick with a new millennium spikey haircut and Atkins diet muscles, softly kisses his fingers and waves. But the model can't get Samantha Jones' number or underwear or whatever she normally likes to hand out, because he, like Gwen Stefani and Schrödinger's cat, is trapped in a box.
"Wait, that's his job?" Miranda exclaims. "To sit in a fake fish tank, in underwear?"
Yes, it is. The Standard, Hollywood, has played host to an installation called "The Box" since its opening in 1999, in which models, once called "box girls," lounge in a glass enclosure (The Standard says that the models are not specific to any gender). The box, which is located directly behind the reception desk, always contains a mattress, freshly starched sheets, and a pillow, occasionally two. Artists will take over its décor for residencies, papering the space with their works.
Occupiers include the poet Jacqueline Suskin, who used the space to take requests for personalized poems; photographer and counterculture figure Roger Steffens; and photographer Shaniqwa Jarvis, whose installation "This Charming Guest" featured portraits of artists and writers in rooms at the hotel. "Having to always feel at home in these temporary dwellings while living out of a suitcase is quite difficult and at times soul destroying," she told Dazed at the time. "I wanted to work on something that would help me explore more about personal space and what the things you hold dear say about you."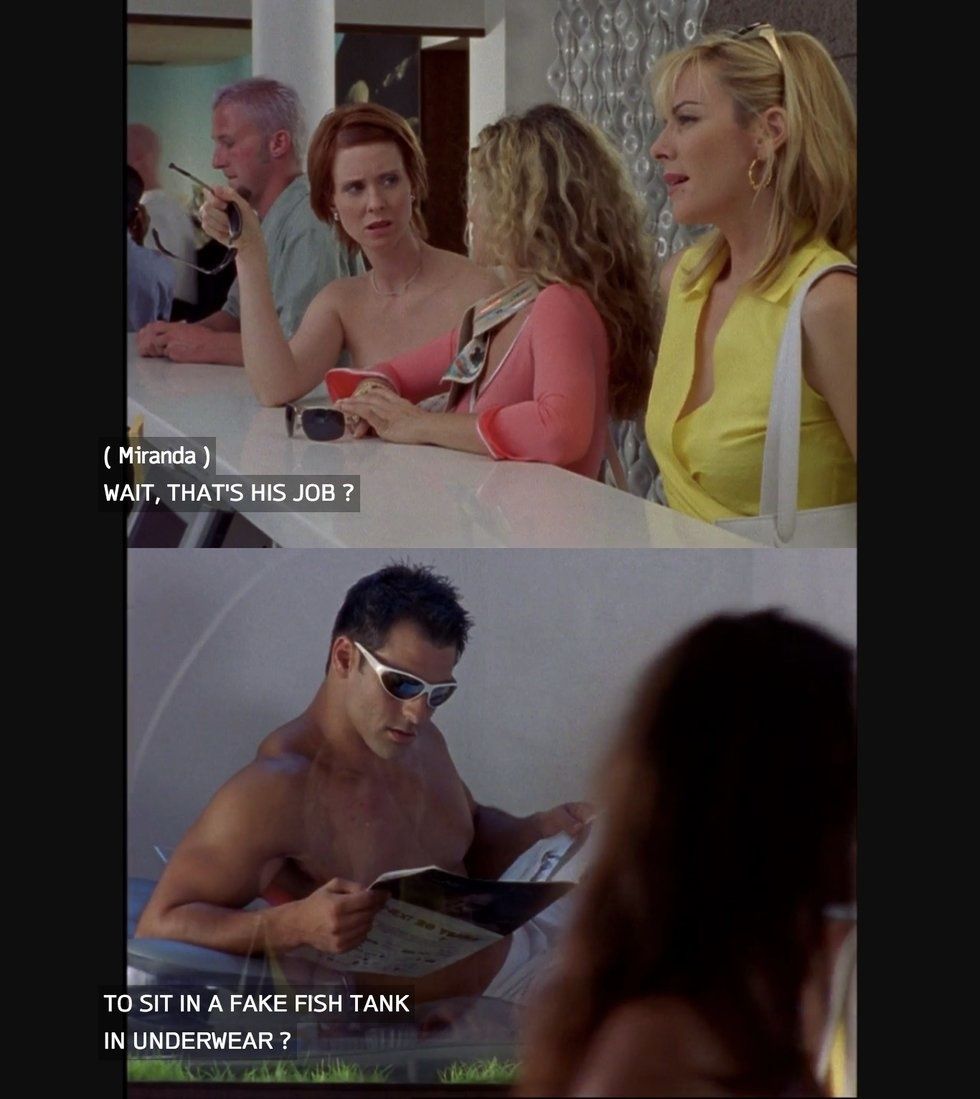 The box models wear white tank tops and boy shorts; during their weekly shifts they are allowed to read, sleep, go online, watch tv (with headphones) — anything really, so long as they stay within the confines of the 15 feet long, 4 feet wide, 5 feet tall box, like an aquarium for struggling actresses. They are allowed bathroom breaks. People stare, but unlike on SATC, they aren't supposed to make eye contact. The idea is to replicate some kind of Rear Window scenario, to make literal the voyeurism inherent in a hotel stay. Has Gay Talese has seen the box girls?

In 2014, writer Lilibet Snellings released a memoir,Box Girl: My Part Time Job as an Art Installation, which contains countless priceless anecdotes about her time inside the box, where she worked on and off from 2007 to 2011. People speak freely in front of the box, assuming the glass is soundproof; it is heaven for a writer looking for material. "By far the most horrifying thing was when a man thought it was like the Red Light district in Amsterdam, so he thought he could rent me and take me up to his hotel room," Snellings told me. "People would place bets on if they thought I was going to fall asleep. People asked if I was real. They wondered if I could breathe ok. And they constantly asked if I was allowed to go to the bathroom. It was always the first thing everyone wondered about."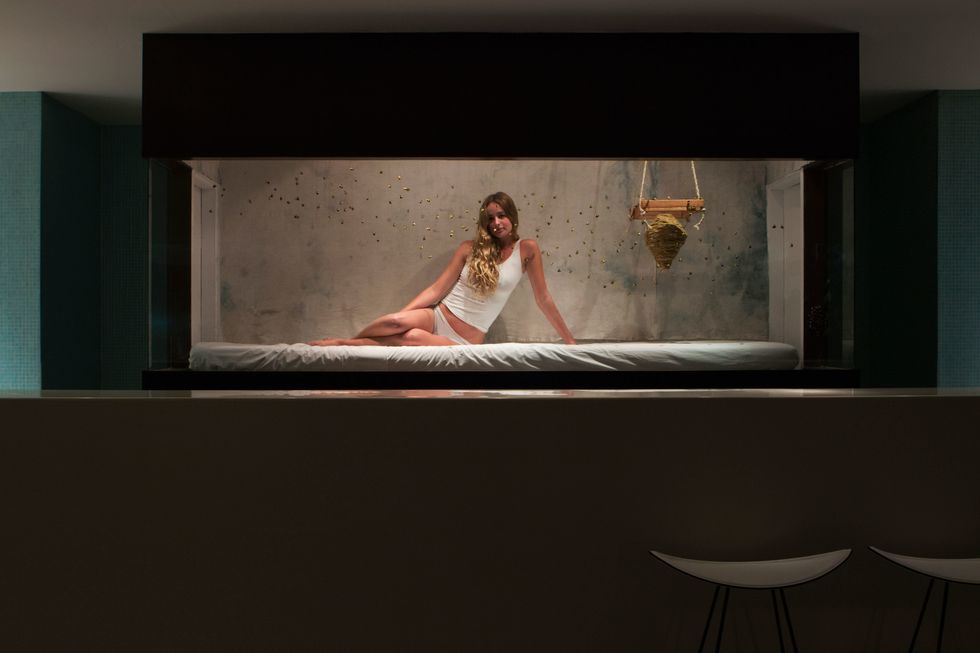 Snellings generally enjoyed the box experience (besides what sounds to me like the worst part: constantly shifting position to ensure the most flattering view of one's thighs). "I loved the fact that I got to be both the observed and the observer," she said. "People were watching me, but I was watching them, too." In a 2001Los Angeles Times article, actress-slash-model and niece of Andie MacDowell Alice Rogers also spoke fondly of her time in the box. "I feel like I'm a fly on the wall. You would think you would feel exposed, but I feel like I get to sit there and watch people and I don't have to say anything," she said. "I can be very antsy and anxious so the box is meditative for me."

The Times piece opens with a man hitting on Rogers, insulting her when, as per Standard policy, she doesn't look his way. It closes with this quote: "Hollywood can make you feel so ugly because there are so many beautiful women here. But in the box, I feel so pretty. I don't know if it's the pink lighting or what, but I feel special. I love my time in the box." Dark.
The Standard, Hollywood was the very first of the Standard hotel empire. It is located in a midcentury building on the Sunset Strip, originally constructed in 1962 as the Thunderbird Motel. The décor feels like '60s retrofuturism as imagined by the '90s; the gleaming white lobby has a shag rug and bubble chairs hanging from the ceiling, and rooms feature silver bean bag chairs and curtains printed with Andy Warhol's Flowers. There are balconies where you can smoke that overlook the Strip, which you will like if you're a slightly embarrassing romantic for rock n' roll. At night neon light skips across the pool. I pray they never, ever renovate it.
The hotel caters to artists. There's art in the box. Box models are gleefully Instagrammed as they lounge around piles of photography books or a collection of hanging bells or teddy bears compiled into a sign spelling "LOVE." And Snellings frequently found herself asking if she was "a piece of art, or a piece of ass?"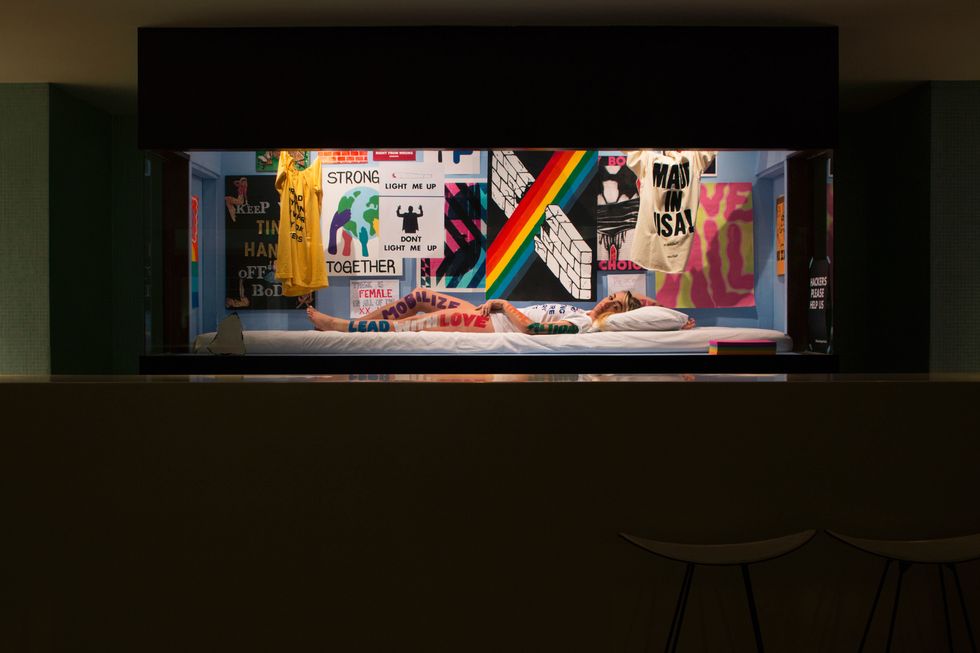 She ultimately came to the conclusion that she was a mix of both. "I'd like to think that I was contributing to some larger artistic endeavor, but at the same time, I also think it's kind of a gimmick to get people into the hotel. It's an art installation. It's supposed to be voyeuristic. It's a peek inside. It's an interesting experiment."

The box was created by interior designer Shawn Hausman, and it was inspired by a theme night at the fabled New York City nightclub he co-founded, Area. The club would get completely revamped every six weeks depending on the motif; art director Jennifer Goode created burning crosses and a confessional booth for "Religion," a swimming pool of alphabet soup for "Food." Representatives from The Standard say that when it comes to the box, the themes that garner the biggest responses come from when they, somewhat similarly, attempt to turn the space into "living environments;" growing indigo plants, recreations of overgrown forest floors and arid desert landscapes.
And yet. "I don't think it's intentional," Snellings said over the phone. "But the ridiculous metaphor here is that it's literally a woman trapped below a glass ceiling."
You know that episode of The Twilight Zone where an astronaut crash lands on Mars? He finds friendly locals who provide an Earth-like place to stay. The astronaut then discovers that his room is actually an exhibition in a Martian zoo, labeled "Earth creature in his natural habitat." The box models are placed in the most contrived of habitats, and are then tasked with making them seem unaffected. It is very Hollywood.
Photos Courtesy of The Standard, Hollywood