Since 2011, some of the coolest, most thoughtfully-produced dance parties in New York City have been thrown by the folks over at MATTE Projects, a self-described "creative agency and production company focused on culture and content creation." Even before the agency formally came together, founders Brett Kincaid and Max Pollack made a name for themselves with their Full Moon Festival, an immersive two-day music and arts festival that nails the balance between a large-scale party and an intimate cultural experience. On the success of Full Moon, they launched BLACK, an elevated take on a warehouse rave that, like Full Moon, merges music and art in unexpected ways. Both parties have hopscotched locations (though Full Moon has been on Governors Island several times) and this spring sees MATTE expanding abroad. Along with their partner Matthew Rowean, they're hosting the first-ever international edition of BLACK in Mexico City this Saturday, March 4th, with an all night rager curated, in part, with help from Mexico's Sicario music label. It'll feature a headlining set by Seth Troxler along with sets by Thugfucker and local Mexican acts. True to their brand, there will also be impressive light installations and other commissioned art projects throughout the space by artists like Paolo Montiel, Ivan Abreu and Aldo Chaparro, all curated by Peana Projects. A month later, they'll be throwing down back in New York City with a rager at the Brooklyn Hangar in Sunset Park. Days before they head over the border, we caught up with Max and Brett to hear more about their plans for Mexico City, how they try to set BLACK and Full Moon apart from other parties and festivals and what's next for them.
Tell me more about the relationship between MATTE and BLACK -- where does one end and the other begin?

Max: Me and Brett started working together five and a half years ago and we first came together as concert promoters / producers. Our first client was Kitsuné and we worked to bring them to the US and do concerts with them. And while we were doing that, we were also creating our own festivals. The first one we did was Full Moon, and then about two years later we started BLACK. It's darker, more minimal and very much our aesthetic whereas Full Moon is kind of like summer love and fun stuff. And now we're a full creative agency [with MATTE], which really came out of us starting in this music world and creating content for our concerts and bringing in brands for our shows and producing for other brands. And then as BLACK has evolved, we have evolved as a company as curators and creators. It's taken on more of an art and music and design experience and it's really trying to bring all of these different worlds together in a cohesive experience where people can really explore and learn and see new things with a very fine, high-level edge to it.
Brett: In doing the concerts and the content [for them], aesthetics and ambiance were so important to us. And so in doing that, we started working with all different creatives and that was really the birth of the service side of things.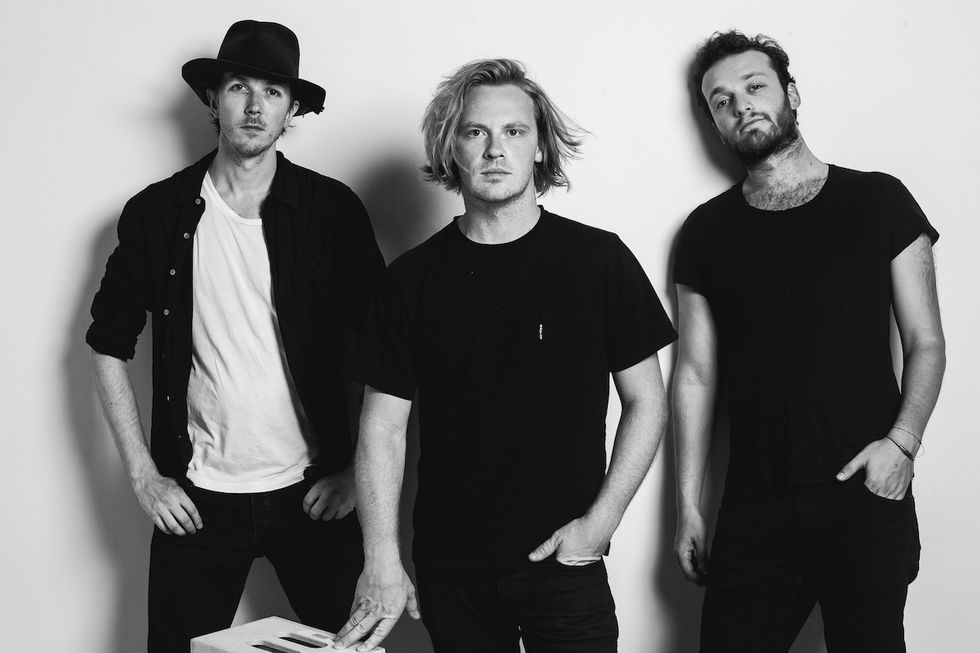 Brett Kincaid (center) and Max Pollack (right) with their MATTE Projects partner Matthew Rowean (left); photo courtesy of MATTE Projects

There are a lot of dance parties in New York City (and creative agencies for that matter). What do you think makes MATTE and BLACK stand out in the scene?

Brett: Basically the high level of touch and the attention to detail on the music side of things is really what makes it different. There's other people that are doing amazing things but I think that bringing a high level of production to a niche body of people is kind of really the differentiating factor. When people go to BLACK you might first think to yourself "warehouse rave." And most of the raves that I've been to I'm like, "This is kind of whatever" but people come into BLACK and it's like there's a 100-foot tunnel of lighting and other crazy lighting systems. So in your mind you're like, "Oh it's a rave" but this high-low thing and this high level of production is something people don't expect in a way.
Max: And our events are very much about intimacy and authenticity.
Brett: It's realer -- it's a real culture. The people that are there make sense. For example, you could make BLACK sell 20,000 [tickets] or have Full Moon festival for two days with 20,000 people by booking the Artic Monkeys or whoever, and all of a sudden it's that size. But Full Moon has grown organically. We never really go huge with the lineup, so the body of people that come are probably going to see familiar faces and people they want to meet, that kind of thing.
Max: We hate the word community but... [laughing]
BLACK has two parties this spring -- one in Mexico City, your first party internationally, and the other here in New York. How do you decide which music acts to book and which artists to work with for installations?

Max: Each event has its own kind of palette. Full Moon has evolved with our tastes I think. It's outdoors,so there's a live stage, which is a mix between indie and R&B and some electronically-inspired acts that kind of all work. This year it's very sexy, a lot of R&B, a lot of funk and also some classic old school house music people that haven't played here in 10 years. BLACK is a little different though. For New York, we're breaking it into two different acts. The first act is grime, a little more hip-hop beats, a little rawer -- that's one part of BLACK. And then we'll have an intermission with a light show and then the second half will be techno, house. Very deep and dark, which will be fun at night. And then for Mexico City, it's a mix. BLACK is very electronic music-focused and we'll have Seth Troxler and he's obviously a very intellectual electronic producer and he's just amazing. And then we'll have Thugfucker, which is kind of a balance to that. And the rest of the lineup is made up of local Mexico City producers, which is cool.
How did you decide to throw your first international party in Mexico City?

Brett: We both love Mexico City. We had been toying with the idea [of throwing an international edition] and talking to different people from Paris to London and the real reason we chose Mexico City is because it's fucking sick and it's not obvious. And there's a mysteriousness to it, but there's still amazing restaurants, there's still cool culture. It's inexpensive. I'd say like 90% of the people joining us from New York City have never been there so it's like this exotic but attainable thing. So we're not saying, like, "Meet us on a remote beach in Brazil that's $4,000 to do." The long and short of it is there's a mysterious element to the city and the culture there is genuinely interested in this kind of thing.

Max: I think of BLACK also as a platform, and the other stuff that we do is trying to push discovery and new experiences at the actual event. So I think that Mexico City is a place that a lot of people are interested in but haven't gone to for whatever reason, and this is almost an excuse. It's like, come and have an amazing week in Mexico City and, by the way, there's going to be this insane party right in the middle of it.
From your previous visits to Mexico City, what is your impression of their music and creative scenes?
Max: The art scene is super vibrant and we're actually working with a curator who is based in New York but is from Mexico City. She's helping us curate the visual art for both the Mexico City and New York BLACK parties. There's a huge youth population and a big nightlife scene. There's also a big grungier, dark, electronic scene -- almost more like punk.
I've heard there's also a pretty big metal community down there.
Brett: Yeah, I think it's pretty big. Metallica is the biggest band. I almost think of Mexico City as Latin America's Berlin. There's this juxtaposition of the gallery world that's a little posher but then also this hard partying, late night young scene. And there are a lot of international people. The first time I went, I went out to dinner with four or five people and met lots of Brazilians, Argentinians...there's a lot of French people. There's a weird relationship between France and Mexico City...I don't know why but there is.
Max: It's a super cultural, enlightened, interesting place. It's also really beautiful -- there are huge boulevards and tree-lined streets. It's gorgeous.
Tell me more about the visual artists you're working with down there.
Max: We're working with this lighting designer who is James Turrell's only installer in Mexico. He has his own creative collective as well as his own work and he's doing all of the light design for the main space. And then we're working with a Mexican artist named Aldo Chaparro and he has two different installations in the space.
And what about the venue, Hotel Reforma? It's an old, abandoned hotel?
Brett: It's on the boulevard where the Senate is -- it's the government area / city central. It's this really sick building and it's basically like an empty warehouse.
Max: But there's an old atrium with windows on top -- blacked out, obviously.
Very cool. On this visit down to Mexico City, where are you going to be sure to hit up when you're not running around planning last minute things for the party?
Brett: For food, El Parnita is the number one spot. It's a cool vibe taco shop. Lardo is also really good. Máximo Bistrot.
Max: The last time we were there, we went to the Coyoacán area and it was amazing. A very different vibe -- kind of voodoo-y. It's where Frida Kahlo's house is.
Brett: The parks are amazing, too. Chapultepec Park has a castle at the top and you hike up and look down. Mexico City is one of the highest altitude mega cities in the world.
Having planned BLACK down in Mexico City, does it make you want to start thinking about the next international edition?
Brett: Yeah, we gotta put a second pin on the map. We're not sure where that will be quite yet but we're searching.
Max: We need some time to get it right.
For tickets to BLACK Mexico City (March 4th), go HERE and for tickets to BLACK New York City (April 8th), go HERE.

Splash photo from 2016 iteration of BLACK in NYC. Image courtesy of MATTE Projects.

You May Also Like