In less than 30 minutes, The Boyz will perform for the first time ever on American soil. For their first performance, Madison Square Garden is a pretty iconic place to start.
Clad in black leather jackets, skinny jeans, and sporting varying hair colors of blonde, pink, purple, and brown, The Boyz look like bad boys. Their personalities, however, are a complete 180. From the moment we sit down, The Boyz feel more like old friends than anything, their camaraderie on display as they roast one another, scream, laugh, and excitedly blurt out answers, often times interrupting one another as a result. It's this refreshing authenticity, in addition to their bright music, that has captured the hearts of fans waiting outside to see them.
The members are, admittedly, a little nervous. "It's our first experience performing outside of Asia, so we're obviously very nervous and excited at the same time, because we have lots of new performances," vocalist Kevin reveals. "We're exploring genres that we've never really done before. The energy seems to be great and I can't wait to perform in front of the energetic crowd."
They need not be worried. From their first steps on stage, the 12-member group — consisting of Sangyeon, Juyeon, Ju Haknyeon, Kevin, Eric, Jacob, Younghoon, Sunwoo, Q, New, Hwall and Hyunjae — has the entirety of Madison Square Garden wrapped around their fingers. And if their stellar medley of chart-topping hits wasn't enough, they later perform high-octane covers of Billie Eilish's "Bad Guy" and BTS' "Fire" that whip the crowd into a frenzy.
But the covers don't end with just Billie Eilish and BTS; The Boyz are also inspired by the artists they share the stage with at KCON NY too. Eric wants to cover ATEEZ's "Hala Hala" because he "likes the dance," Sangyeon selects SEVENTEEN's "Adore U", and Hyunjae picks NU'EST's "Bet Bet" because "they are a very sexy group and their concept is very sexy, which is different from [ours], which is a very boyish charm."
Boyish charm is an integral part of The Boyz's appeal. Since their debut in 2017, they've have shown a flair for the adorable, with music videos that blend cute visuals like dancing in a pinball machine with uptempo pop and R&B that easily gets stuck in your head. Despite that, the group isn't pigeonholing itself into being just the Boyz next door.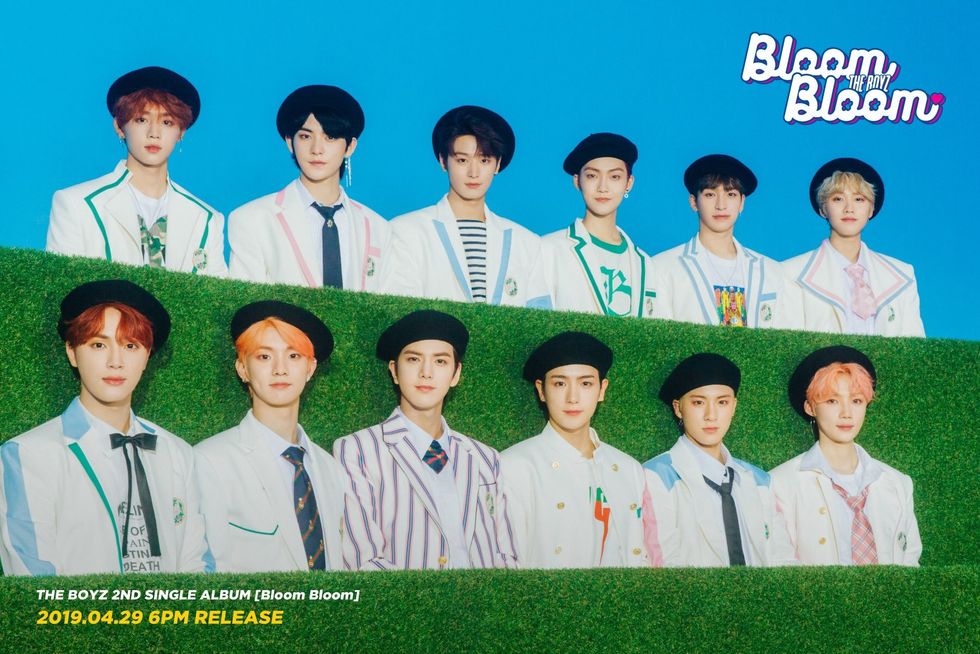 "The Boyz have done a lot of songs that have a lot of energy, but we're not going to be [just] doing these high-energy pieces," Ju Haknyeon replies. "In the future, we're also going to be doing concepts that are sexy and powerful, so please continue to look forward to them and show us a lot of love and support." As he finishes the sentence he begins to run out of breath, pushing out an exasperated, "thank you!" The rest of The Boyz applaud his answer as he bashfully laughs. "He's nervous," Kevin says, kindly.
In April, The Boyz released a three-track album that featured songs written and composed by the group, including its eponymous comeback single "Bloom Bloom". An upbeat electronic track, the song's lyrics compare the giddiness of a new relationship to a newly-bloomed flower. Its music video, however, had a slightly different approach, which saw The Boyz become a baseball team who accidentally strike UFO from the sky and gain superpowers.
So, who is the best at sports in The Boyz? "Everyone is good at sports, but if we're talking about baseball," Eric begins. The group groans. "Okay, sorry, most of us are good at sports. If we're talking about baseball, I can say it's me because I've been a baseball player since elementary school. I've actually played in California — Los Angeles — because that's where I'm from."
A gasp of excitement rings out among the members when asked about their favorite superheroes. "I love Iron Man!" Hyunjae answers. Yes, he's seen Avengers: Endgame, but swears that he only shed one tear. "Just one drop!"
From the chair next to him, Sangyeon leans closer as he conspiratorially whispers, "He's dead." He then points at Hyunjae, as if to suggest that the vocalist is dead inside for not crying more at the loss of his hero. The members who catch his comment cackle loudly.
Kevin is "obsessed with the X-Men franchise," so it's no surprise when he picks Mystique. His reasoning? "So I can fool our members," he replies deviously. Sunwoo's favorite is Hulk, and to prove his point he flexes and lets out a loud shout that sends The Boyz into uproarious laughter and applause.
Prior to their performance at KCON NY tonight, the group just finished their first tour, The Castle, with dates in Hong Kong, Singapore, Bangkok, Jakarta, Taipei, and Manila. According to Jacob, it was a very "special" time getting to meet their fans.
"We went to a lot of countries and the way they expressed their love for us was all very different, but it was just amazing to us," Jacob answers. "We are always very surprised that they [are] able to memorize our lyrics even though it's in Korean, and they were able to always just keep on giving us more energy. We hope that we can go back to those countries not just a fan concert, [but as] an actual concert and be able to show more of our music."
And a North American tour sometime soon? "Yes, hopefully!" He chirps. "That's the dream."
When they're not traveling across Asia on tour, preparing for a comeback, or performing on television, The Boyz live a low-key lifestyle; when asked what their favorite things to do on a day without any schedule, the top three answers are: eating, sleeping, and going back home to see their families.
"Eat delicious food. For me, I like samgyeopsal," Juyeon happily replies. Hyunjae shouts out his hometown, Incheon, and the group lets out a collective "awww" over the idea of sleeping in.
One member, however, is wistfully commiserating in the corner. "It's so far... it's a 13 hour flight," Eric complains, referencing the flight time from Seoul to Los Angeles. "But for me, since my parents live far away, other members take me with them when they go back to their hometown, which is pretty nice."
Which of the members has the best house? "I say Juyeon's house, because when he took me with him once we went swimming, and then we cooked together, and then we had a Korean BBQ party. It was pretty nice," Eric says as Juyeon nods. "Oh! We also went fishing, too."

From their first tour to their first win with "Bloom Bloom" on South Korean television to their first performance stateside, The Boyz are riding on a wave of success paved by their hard work, talent, and passion for the music they create. Still, Sangyeon has a few dreams that he'd like to see the group to accomplish in the future.
"First, it's my wish to see all The B [their fanclub] around the world," he says. "If we have the opportunity to do so from working hard, [we'd like to] to go up on Billboard chart, and to get more awards for our music."
Kevin replies, "It's such a dream come true that we're performing in the States, let alone Madison Square Garden, [which is] such a prestigious stage. We can't wait to promote more in the States and meet with more fans. Hopefully we'll make more fans in the future. Watch out world!"
Watch out world, here comes The Boyz.
Photos courtesy of Cre.ker Entertainment