Bryndon Cook has been going through an artistic journey for his entire life. As a child, his family bounced around from Mississippi to Maryland to Georgia, which exposed him to a diverse range of Black cultures. All the while, music maintained a strong presence in the background, but Cook never viewed it as his destiny. During high school, he explored the journalism track as a staff member of the student-run newspaper and went on to graduate from SUNY Purchase with a BFA in acting in 2015.
"Where I come from, my family and the families before my family, there were a lot of people who just kinda have a lot of things," Cook explains. "Always kind of excelling in a myriad of things at the same time, like juggling dishes. It just so happened I think that these days it's gotten a little more fine tuned for me and people have responded to certain aspects, to the certain dishes spinning."
Since then, he's been out on the road touring across the world with Solange and performing with her everywhere from the Marfa desert to the Guggenheim Museum. Cook also counts Dev Hynes (a.k.a. Blood Orange) as a longtime friend and collaborator, someone he managed to connect with back when he was 17 years old. (This summer, they emerged as a musical duo called VeilHymn.) Soon, Cook will be known for his own projects under the name Starchild & The New Romantic though.
Related | Dev Hynes On Pop, Politics and His Favorite Memes
The 24-year-old is set to release his debut album LanguageLanguage on February 23 via Ghostly. According to Cook, the base concepts for the project came from a "very specific heartbreak and break up" toward the end of his college days when he first started working on the record. Many of the songs are homages written with specific people in mind like the late Bernie Worrell who served as a teacher of sorts for Cook as a musician. Today, PAPER is premiering the official title track which Cook describes as a declaration of independence.
"I felt like I left a relationship where someone never knew who I was or cared who I was," he says. "In this song and in the information in the music it's like 'This is who I am musically, this is who I am, I'm letting you know.'"
Stream the funky single and learn more about Starchild & The New Romantic in the interview below.
You grew up in a household surrounded by instruments. Can you remember your earliest memory of music?

It's kind of hard to remember because like you said, I've always had a family of music fans and music practitioners. I grew up with my mother's piano in the house and her piano in my grandma's house, so there was always a space to tinker on things. I do remember having piano lessons when I was very, very young, but my finest memory was in Atlanta. I was born in D.C., raised in Prince George's County, relocated to Atlanta for my elementary school up until the beginning of high school, and then we came back to Maryland in a different county.
What was your experience in Atlanta like?
When I was down in Atlanta, I was singing in honors chorus and this was right before I got involved in doing musicals. The choir used to travel around greater Atlanta to these big malls. We would sing really amazing carols and arrangements. The best thing about going to sing at the mall, of course, is it's like a mini field trip. At a certain point you get to go out, and the teacher is like, "Okay, you can go shop." There was a certain amount of chaperones, so we had squads, but people trusted me. I was very responsible and told them I had two places I was trying to go — the food court and the CD store. So I went to the CD store and I was just getting into Prince; he was still pretty profane and foreign to me. I was very much raised under the Stevie Wonder, Michael Jackson tradition, so Prince was kind of an outsider. It was like outsider information. I bought that 1999 album when I was like 10 and it was snowing. I remember because it doesn't snow very often in Atlanta. If it snows in Atlanta, everything shuts down.
Related | Our 1999 Photo Shoot With Prince was a Hilarious Disaster
How did 1999 impact you?
I remember buying this album and having two snow days on the heel of this field trip on like a Wednesday and just immersing myself in that album and looking at the snowfall. That was maybe the first time that I... It's really hard to describe, it just kind of changed my life. From that point on, I started to adopt my language of music and sensibility of music, which is a very self-taught, ear driven, spiritual thing. My ability to read music is limited to the tenor saxophone, piano, and choir sheets, but I'm able to conduct string sessions like I did on Solange's run this year... That all comes from a very self-taught place. I started to adopt that from Prince and that was the first time, going from fifth grade, that I started picking up the guitar... I had this thing that I would do where I would come home and do a full performance of an album by myself — like perform full on sweating... that was my exercise and creative release. Then when it was pertaining to instruments, I would set myself on a task like if a day ever came where I was in a room with James Brown or Natalie Cole or Aretha Franklin, I could accompany them. I don't know why. Now that I actually do that for a living, I don't know why I actually created such a specific task, but that was kind of the world that I created for myself. That's kind of when all of that started to be born.
How do you go about navigating your career?
I'm very connected to historical significance and being on the right side of history in everything I do. I'm very much about honesty, truth and learning in a lot of different aspects of my life. I think when it pertains to this, I feel like I'm so connected to the fact that my parents were born without the right to vote. Like man and woman, and their parents, they're the kids of sharecroppers and they're the kids of slaves. My grandma is still here and I grew up with my great grandma. All of that's really, really close to me so the way that I go about life is constantly envisioning a better tomorrow for myself.
I'm wired in a way of survival where I'm always thinking about where do I want to see myself? because there's so many things around me that either want to see me six feet under the ground or in prison or give up on a daily basis. So I almost don't even know another way of living than from what a good friend of mine calls "go mode." I make it sound a lot more intense because I'm much more laid back than it seems, but when I talk about these things it does come to the surface that it is very much like life or death. Whether you like it or not or whether the snitchfork rating is gonna be a whatever .2 outta who cares, I know that no matter what I do, if I died the next day I would die happy. That's a very important thing to me. I don't like to talk too much about my family and I don't like to be too specific about that, but that's kind of my gift to them and to my lineage.
Do you remember when you came up with the name Starchild & The New Romantic?

I was in my dorm room with my best friend Lord RAJA (his name's Chester Anand). I knew the feeling — I could understand what I could tap into maybe to communicate to people and the potential of ideas. It's weird. As opposed to releasing music under just my government name, there was an idea that was paramount to me about creating something to live up to simultaneously. So that the thing is never just like "Oh, yeah, well here it is" — that there's always a mission and a rising to the occasion that I needed to do to be my best self to make this music as best as it could be. So that was the first idea, that I would like to have something to live up to.
What is the name's relationship to your music?
I'm really addicted to juxtaposition, I like the camaraderie of certain things. That's very much how my relationship to music has always been. I spend just as much time listening to everybody in G-Unit as I did listening to everybody who was in Led Zeppelin. That's always been part of my relationship to music, but being like that and being a Black boy, and in particular not the idea of what a masculine Black boy is supposed to be... I learned to embrace that that is who I am — that I am everything. A lot of Black people always have been everything. This idea of genres and all that stuff, I mean that's why the album's called Language. It's a language that stretches further than the kind of things people have just created to keep certain kinds of people in certain kinds of boxes.
What's the story behind Starchild?
The idea of Starchild comes from P-Funk and George Clinton. It comes from that world that stretched into Prince's world, that stretched into the Talking Heads world, that stretched into hip-hop. That's Starchild. The New Romantic is about like, I mean I could write a ballad everyday until the cows come home. Part of the reason that I like that this album is so uptempo is because I was really challenging myself to write 'cause I love to dance and I wanted to write more songs that I could dance to. But new romanticism, especially where that comes from in Britain, that time for queer kids and also Black women like Sade, that has always spoken to me since I was very, very young. In that time, it was probably like 2010 when I came up with it — Starchild and the New Romantic was, and is, the thing I can always live up to. It also speaks to my core.
I really relate to not being Black enough in certain spaces. I remember the first time I saw Solange when I was in college — I felt like something had awakened in me, and to see someone like you speaking your truth too is really inspiring.
To be honest, that's part of the reason I think she and I get along so well, and why we're such close friends, is 'cause like I remember when we first met I found out that she like loves Incubus and "Drive" was one of the first songs I taught myself on the guitar. You know, it's things like that. It's really simple, but not easy. It's not easy because people really misconstrue a lot, but when you get down it, like the conversation we just had, it's so simple. It makes so much sense, but there's so many things that get in the way of that just being a simple reality. It's crazy.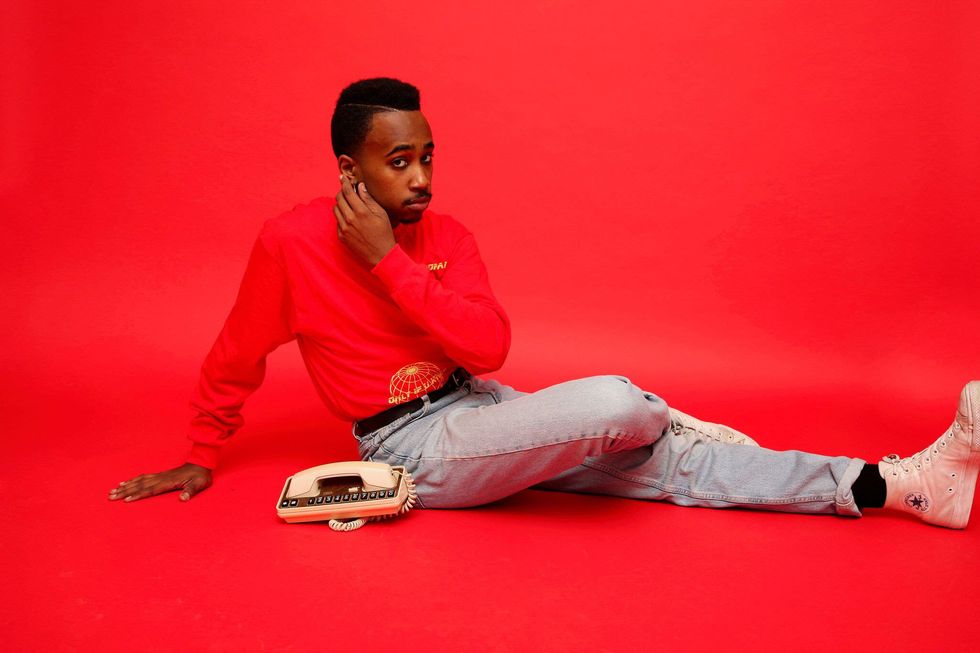 This record is your big debut. What was the process of putting it together?

It's a very transient record; I wrote in a lot of different spaces 'cause I was traveling so often. There's different eras of its development. I recorded a lot of the demos in Chester's home upstate — we have a thing where I'll help Rick Rubin with whatever he's trying to do and he helps me co-produce a lot of the songs. I wrote when I was on the road with Kindness in 2014 and some things came to me when I was washing dishes at a Taiwanese restaurant and then I got back on the road with Solange... So in a nutshell, it's very much like a journeyman kind of album. It's been pieced together with a lot of different experiences from the end of college and stepping into adulthood, but trying to maintain what makes you truly yourself.
Thematically, what are some of the concepts behind Language?
A lot of the record has to do symbolically with the telephone because I was just away from a lot of people. Certain people that I [know] were dealing with a lot of crazy life experiences, and the phone was like an organ to me, it was like attached to me. I had two ideas for what the cover was gonna be and the first idea was an aerial shot of me in the bed staring at my phone, and the second idea was gonna be me dressed as an astronaut landed on earth. I realized that Bobby Womack kind of did that, so I was like "Alright, nah." It has a lot to do with communication.
It has a lot to do with, I don't know what the word is, but like before you can be honest with someone, you have to be honest with yourself and you have to get right about what the facts are and what the things are that you can control. I had a lot of different things going on in my life where that was important for me and for people involved. I was really angry about a lot of things and I tried to channel that frustration and that anger and that red into passion, purpose and playing again. Hopefully that's what the album tells the story as, as you work your way through the collage of different pop and Black musical tropes. [Laughs]
You've collaborated with very notable artists like Solange, Dev Hynes, Kindness and Porches. What are some of the most valuable things you've learned from those experiences?

I'm self-taught, so I've been learning how to work in different spaces with different people and where to see yourself in the music, what you can give and things like that. That nature is something I feel like I'm always learning, but aside from that extremely selfish thing, each of those people don't make a record that sounds like the one before it. I just think that the reasons that they do that are all very different. None of them do it for marketing reasons or anything. They're all very pure reasons, but they're all very different. That's something that I've learned — your truth and sound can look different than you imagine it. It can look different, and it can sound different, than it did the previous time as long as you always have a core of what you're trying to do, as long as you're trying to be honest… I feel like I've learned about evolution and grace from all of them.
What are you looking forward to this year?
I gotta introduce a new website pretty soon where people can get clothes, and bootlegs, and different things that I'd like to offer. What else... A few more videos. I'm doing some more acting and I'm doing some more dancing with some friends, so that's kinda nice. I'm just looking forward to seeing more New York, honestly.
...Can we expect to hear anymore music from the VeilHymn project?
Let me see, how should I answer this... I don't know. [Laughs] I'm sure you'll hear Devonte and myself doing more things together in the future.
Photography: Olivia Locher
Sign Up For The Morning PAPER