While most 17-year-olds are busy worrying about math tests or sports games, LA-based high schooler and artist Skyler Grey has been building a buzzed-about street art practice. With graphic, pop-y street paintings that often take inspiration from classic cartoons or musicians he's inspired by, Skyler has caught the attention of the art and media worlds and was named to Forbes' annual "30 Under 30" this year and featured on BET and CNN. Currently represented by Avant Gallery in Miami, he's seen his work exhibited everywhere from Graffik Gallery in London to The Four Seasons Jumeirah in Dubai. We had the chance to chat with the artist and hear about how he got his start, his creative process and his dream collab.

When did you start creating art?
I've been drawing all my life, and at the age of 8 I was going to school 6 days a week -- 5 days of regular school and art school on Saturdays. Weekends I would wake up early and my dad would play different art documentaries for me to watch all day so at 8 I was exploring different art forms, galleries, and museums. By 11, I was creating art professionally. My first painting was of the Queen -- Amy Winehouse.
Did you think that you would have a budding career before graduating high school?
Art has been my focus since childhood, so this has been coming for a while.
Who or what inspires your art?
My art is inspired by a couple of things, music firstly. When I create I play anything from hip-hop to old school funk. Kanye West, Travis Scott, The Funkadelics, James Brown and a couple of more people are among my favorites. I am also inspired by the world -- from the homeless man on the corner to the way the trees move. I am inspired by our every day things.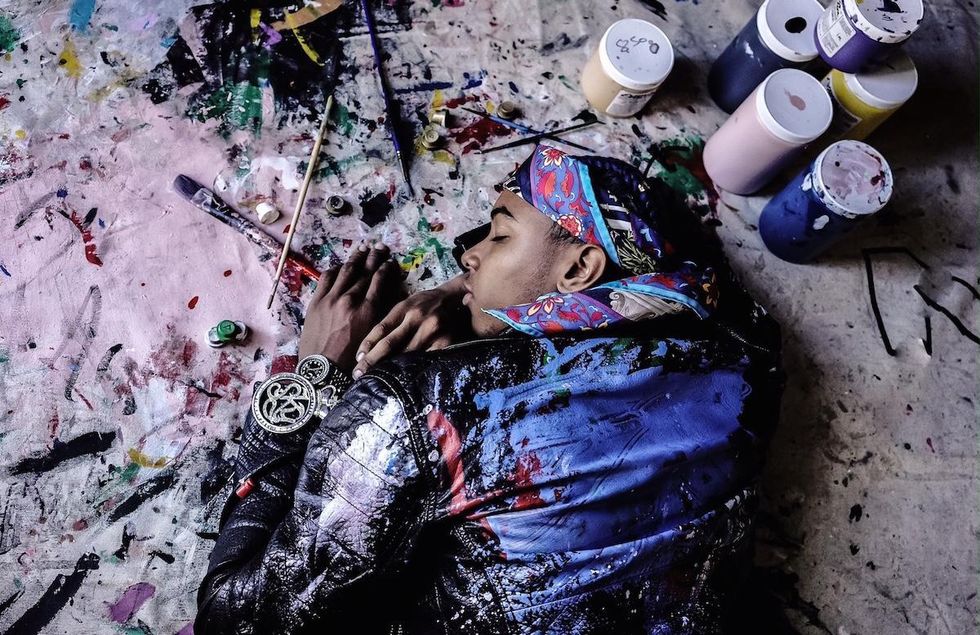 What is your creative process like?
My creative process involves a lot of Kanye West and Chance the Rapper, and Kid Cudi blaring out of speakers, a couple of friends around (because I feed off of energy), and a bunch of spray paints, and shrimp alfredo so when I get tired I can get re-energized.
Some people have called you the modern day Basquiat -- do you feel added pressure from the comparison?
I don't feel added pressure because the only reason people compare me to him is because of ethnicity and age range. But really, he started at 19 and expressed himself differently, so I feel I'm actually writing a new storyline, instead of filling his shoes.
How does it feel to be the youngest person to ever be on the Forbes list in the Art & Style section?
It feels good! It feels that I've arrived -- just happens to come at a time I'm getting international recognition for my art, so I feel overjoyed and proud.
How do you navigate high school? Do you ever get treated differently because of your art career?
Sometimes, because I get kids asking me for Instagram shoutouts all day long, which can be a little annoying when I just want to fit in like the other kids and get an education.
Your recent artwork incorporates the Chanel and Hermes logos, are you influenced by fashion?
It's all art to me, fashion, music, painting, it's all an art form that works together. I express myself through my clothes and I'm fortunate enough to wear brands that inspire me to incorporate them in my art.
What is your dream collaboration?
Dream collaboration would be to do something with Andy Warhol or Jeff Koons -- these guys were and are the biggest of the past and present.
On your instagram it states you are a painter, rapper, actor are there any upcoming projects that you would like to share with us?
I'm coming out with an album this year, entitled The Fresh Prince of Street Art that I will have a bunch of big features I'll reveal closer to the project's release.
Photos by Levitucis

Sign Up For The Morning PAPER