This weekend, thanks to Shaquille O'Neal, I forgot about everything stressful going on in my life and the world — work deadlines, the election, coronavirus, my Screen Time report — for one glorious hour.
High up in Aspen's immaculate mountains, I capped off a day spent skiing with a dance party soundtracked by DJ Diesel himself (AKA Shaq AKA the Big Shamrock AKA the 7'1" NBA legend). The basketball great headlined Sunday's iteration of the Snow Lodge X Bumble Winter Concert Series, a collaboration between the dating app and a pop-up venue from The Surf Lodge's Jayma Cardoso and her team. The Montauk favorite had escaped to the Rockies this winter and set up camp at the base of Aspen Mountain, right around the corner from the resort town's famed Little Nell. Amidst a cozy, retro-looking ski lodge and an outdoor patio with primo views of the peaks, the Surf Lodge-turned-Snow Lodge crew brought their same knack for programming and fun parties to shake up the après ski scene.
Shaq was only the latest in the concert series' long list of DJs and performers this season — previous headliners included Diplo, Noah Cyrus, The Chainsmokers, St. Lucia, Sofi Tukker, Thomas Jack, Monolink and others — but undoubtedly among the most memorable. In this crazy, fractured time, where politics manages to wind its way through everything (even conversations on a chairlift), there are very few people who can bring a disparate crowd together like a beloved championship-winning athlete.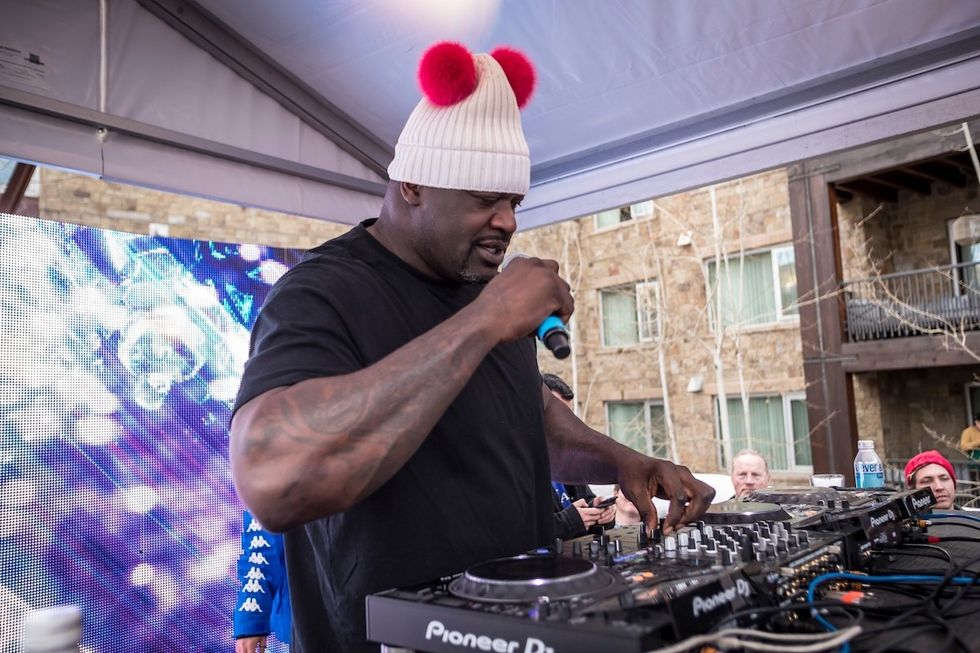 A few hundred people, from twentysomething ski bums to fiftysomething hedge fund managers and everyone in between, gathered inside the Snow Lodge and right outside its walls to hear Shaq's DJ set, which was an uptempo mix of everything from mid-00s Missy Elliott to a remix of Oasis' "Wonderwall." The already surreal experience took on an even headier tinge when various well-coiffed ladies-who-lunch types started dancing on the stage in front of the DJ booth alongside Shaq's hype man as other guests waved around massive cut-outs of Shaq's face.
The raucous set wrapped on a contemplative note, when Shaq paid tribute to Kobe Bryant by playing Kanye's "All of the Lights" while the whole crowd lifted up their phones, flashlights beaming. In a buoyant mood, the crowd dispersed after he left the booth, making their way inside for more cocktails, snacks and music from DJ May Kwok.
In a town famous for its party scene — and the bold-faced names who have partaken over the years — the Snow Lodge and Bumble are shaking things up, combining the glamour and excitement of big-name talent with the casual, fresh-off-a-run afternoon drinking vibes that makes après ski so fun. Before the team picks back up and head to the Hamptons for the summer season, they'll be throwing down a few more weekend concerts with Bumble, including the Allah-Las (this Saturday) and Phantogram (March 14th), among others. (You can see the full line-up HERE.)
So if you do make it out to Aspen before the month is over, try not to tire out all of your muscles skiing or snowboarding — you'll need them for dancing.