Last week, Solange was honored at the 70th annual Parsons benefit for her contributions to the fashion world. The star-studded event included not only the Grammy Award-winning singer, but also Marco Bizzarri, the President and CEO of Gucci, José Nevers, the CEO and Founder of Farfetched, Vince Staples, Kelela, and Dev Hynes.
At such a fashion-focused event, there was no question that Solange was going to show up in style. She wore a deconstructed black jumper that was designed by Parsons design student Shanel Campbell, who graduated with an MFA last year and is now a professor and a designer. The outfit was part of Campbell's final MFA collection, which was inspired by her father, who was a construction worker. It paired industrial materials, grommet, and buckles with fine tailoring and feminine silhouettes. The pieces can be mixed and matched, and Solange wore articles from various different looks to put together her final ensemble.
We caught up with Shanel Campbell to chat about meeting and dressing Solange, designing work the represents the strength of black women, and the necessity of diversity in every step of a creative process.
Are you based in New York City?
Yes, I'm in New York, I'm actually at school right now getting some patterns. I'm in school almost everyday.
I saw your piece at the Parsons event last week. I just loved it and I wanted to chat with you about creating it and how the night went.
Well, I graduated from Parsons with an MFA last year, and made that piece. Let me break me down from the top: Solange didn't wear a full look by me but most of the components were mine. My whole MFA collection was broken down into parts. Say you had a full suited look, I broke it down to sleeves and then a body bag on the front and then the trousers that were broken down into underwear that strapped onto a cuff that strapped on over another cuff.
Basically, my last MFA collection was inspired by my dad who did construction to put himself through law school and that's why it's a bunch of tailored pieces combined with industrial materials and industrial-like detail like grommet and buckles. There is also wool suiting and fine tailoring techniques that complete the pieces. It's all lined the way you would a tailored piece but using these hard, heavy industrial materials that are not expected for women.
My whole ethos is about strong women, especially strong women of color, especially especially strong black women of color, so that's why I used rugged materials. Solange wore a couple pieces from my MFA collection — the triple strap double sleeve, which is a two-piece sleeve that's broken at the seem. You strap the two pieces together, and there's this hidden elastic inside that you slide onto your arm. Then there was a bandeau and a body bag that her stylist Kyle Luu, who is amazing, flipped upside down and buckled in a different way. Basically all of my pieces are interchangeable. They combined three different looks, and then the pants she had on already.
I saw Solange shouted you out on Instagram and Twitter! What was the event like? What was it like meeting her?
First when I arrived I was super shy because I got there was so last minute. I was late because me and my student were sewing my outfit together 30 minutes after the event started! I was nervous because I was like, "I know I have to meet her tonight. I don't know if I look good enough to meet her. I don't know if I'm ready," because this is my idol right now. There's always that one person that you fangirl over, you can't help it.
So we got seated and then the dean of fashion, Burak [Camak] came over. He's my homie, he's very much a yes man. Any idea you send this man he's like, "Yes, let's make it happen, Shanel." He's like, "Oh you want to dress Solange? Whatever you need, let's make it happen." He's a very supportive guy. Burak found me and was like, "You have to meet her now!" So he grabbed my hand and kind of pulled me towards her. We had a quick conversation and I'm looking at her and the table next to her is her squad. I was surrounded by black creativity and I was trying not to lose my mind!
Everyone at her table was fanning over me, they were like, "Everything you did was amazing. We love you. We told her to pick your stuff." She was like, "I love your stuff. Everything is dope." Then she gave me a hug. She gave me like five hugs. She took a selfie with me on her phone and I was just like, "I love what you do. You are the reason I feel comfortable being the weird black girl that I am."
Because sometimes, you're living your life as a creative black person and you don't know what space you exist in. You're like, "Uh, I'm kind of too weird for this crowd, and too black for this crowd." You just don't know where you are, so when you see people paving the way and being themselves like Solange does, it's life changing. She was the catalyst that said, "You know what, you can do what you want." She kept at it and kept at it. Solange has been doing her thing for years, and she blew up because she kept doing it.
And she's so sweet. Sometimes in the fashion industry, if someone is wearing your piece, you have to pay them a certain amount of money to even say that you made it because at the end of the day, that's publicity. You have to pay an influencer 10K to say that they wore your garment. But with Solange, I didn't ask her and I didn't even know she was going to say my name in the speech. I think it was just a testament to the fact that when black people see black people in spaces they are not used to seeing themselves in, it's like, "If I'm up, I'm going to bring you up too." And that's what I did. I went, Solange shouted me out, and then I was telling everyone I was wearing my student's work. People of color, we love art. We just want to see more of us.
Wow it sounds like an amazing night.
Super great. And then she did a post on Instagram and made sure to put my name in everything. It was a really great moment. I didn't even know she knew what my full name was or what my Instagram handle was. She made sure she covered everything, which was really nice of her.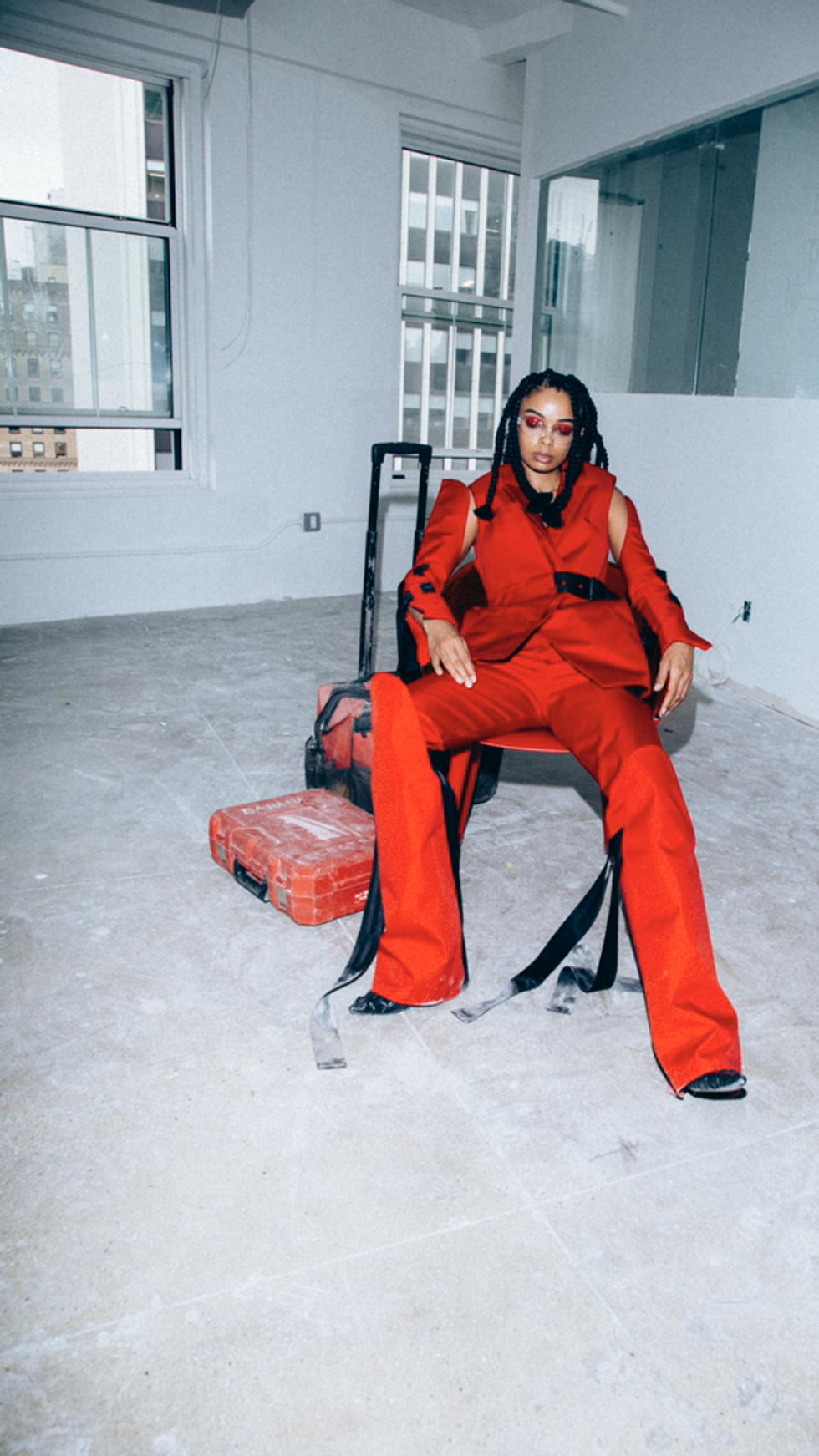 How did you find out Solange was going to be wearing your designs?
A while before, I knew she was coming because I'm a professor at The New School as well. I teach seniors and sophomores. I had the inside scoop that she was coming and I started freaking out because the one person I've always said I wanted to dress is Solange. So this moment was bigger for me than anyone else in New York City. Then a couple weeks later I found out she was coming and I was like, "I don't know who's going to dress her," but I didn't want to put myself forward too early or anything. Maybe a week before the event, her stylist and assistant reached out to pull a couple pieces from the Parsons MFA runway archive on the Vogue Runway app. They pulled five looks of mine, maybe three from another designer, three from another, and one look from a designer that Zendaya has worn. They ended up going with my piece. I didn't learn that until 8:00 am the morning of the event.
When you dress the person who's being honored, you get to go, so I had to make my outfit in a day. One of my students made my outfit for me. My student Jonathan Lee made the outfit in one day. He was amazing. It was Parsons people supporting Parsons people. I know I could have worn my own work, but I wanted to wear a student to just pass on that luck and publicity.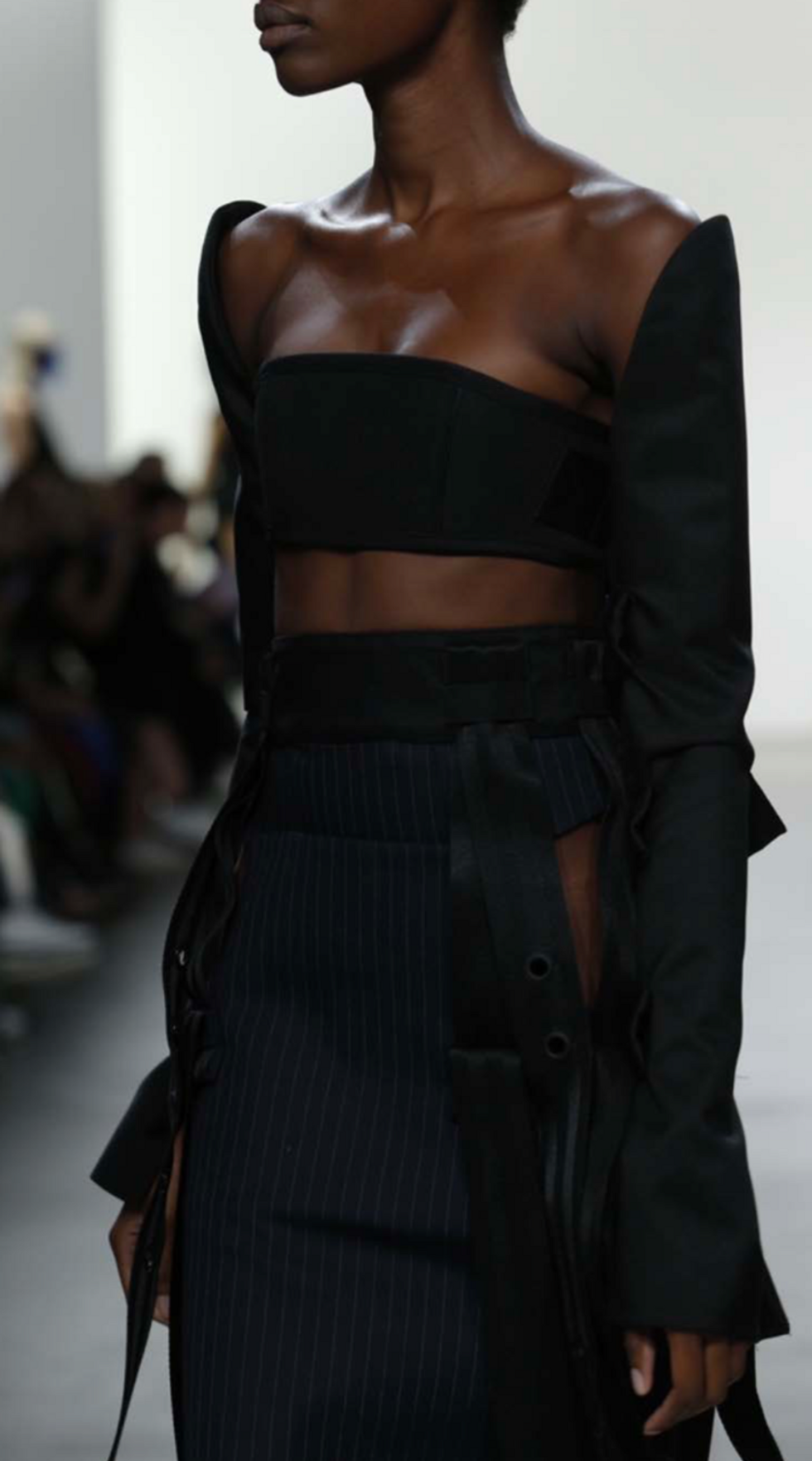 How did you pick the person who made your look?
I chose my student Jon because his thesis project was about cross- racial conversation. He did podcasts with different people about racial issues. It's called Fuck your Westpectations and it's a phenomenal podcast where you can come in and speak about whatever. Usually every week they discuss a topic involving race. For his garments, he did three looks and each look represented a racial stereotype. There was an Asian layer, a white layer, and a black layer. I wore the black layer which was a bullet proof vest to represent violence against the black community and a Carhartt denim skirt that we made for me. Before, he had made sagged Carhartt pants, and the bullet proof vest and Carhartt pants with liquor store boxes because of the liquor store stereotype.
What were the Asian and white stereotypes?
For the Asian stereotype, he made this long cloak that was phenomenal and two sided. One side is the female Asian layer, one side is the male. The female side has a choker because it's about how the West over-sexualizes Asian women and the male side has a pocket on the crotch with a three inch ruler it, and we all know what that means. The white layer was inspired by the Comme De Garçon snap jacket because it's very exclusive, so he's talking about how certain white people in power have exclusive societies that people of color don't have access to. And then he put a property code on the back in the same way that Come De Garçon puts their code. And then you know how you sometimes have a hoodie that comes out of your collar? He put a KKK hoodie that represents internalized racism. So there's all these little details and by putting all of these stereotypes in his work, he dismantles them.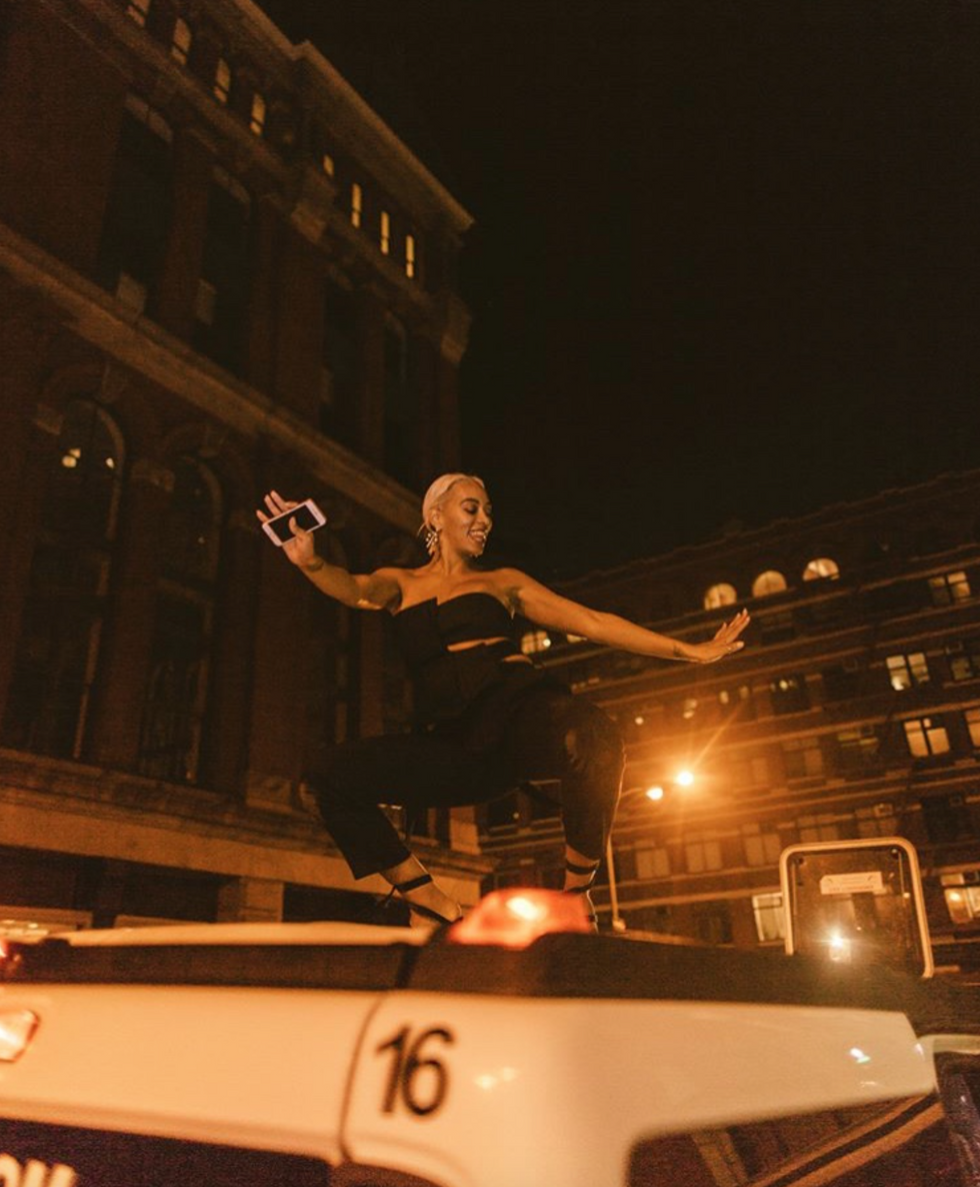 Going back to your designs: Is the strength of black women a constant theme throughout your other work?
I think anyone can wear my work. If you take the piece and have it hanging in the store, it's just a well-made, nicely-constructed garment made out of construction materials. When my dad was doing construction, he took me with him everywhere he went, so even as a baby, I was always in these very dangerous spaces, playing with his tools and using my imagination to have fun. That informs in my tomboy nature and my decision to use industrial materials to make sophisticated and feminine shapes. So that's just the piece itself.
The way that I bring black women into it is if I am ever shooting something or putting a video out there or doing a presentation and using hair and make up, I try to bring black people in, especially black women.
I'm working on a textile for my next fashion presentation where I'm using hair braiding to create graphics. I want to employ black braiders throughout New York City because I think braiding is more than a technique, it's an art. If you really look at the layout and geometry of hair braiding, it's crazy. My collection is for everyone, but more than just using black models, I want to employ black photographers, black artist, black dancers to have a whole community that everyone can access. I want what I put out to be very representational of the black experience.
Yeah it's great when representation occurs at every step of a project.
I see that the fashion industry is trying to change the narrative by having a more diverse runway, but it needs to be behind the scenes as well. It can't just be a prop for my work. There need to be more people of color at the top.
Images courtesy of Shanel Campbell