Before RuPaul's Drag Race contestants were sitting front row at Paris Fashion Week, coveringNew York Magazine, scoring number one albums on the Billboard charts and starring alongside Lady Gaga in Oscar-winning films, there were the original nine contestants who quietly laid the foundation for the behemoth the show has become. Up until recently, Season 1 of the series was regarded even by its own network as "The Lost Season," unavailable for purchase or for viewing on streaming platforms, relegated to memory. Here, in a rare chat with Season 1 cast members and the show's executive producers, we're looking back to where it all began to help give Season 1 the due its long deserved.
There's something quite antique about revisiting RuPaul's Drag Race Season 1 a decade after the show's premiere. These days a bonafide cultural phenomenon that the zeitgeist is often scrambling to catch up to, its earliest episodes often feel like an entirely different show. Take, for instance, the show's early reviews. "Most reality contests... pump up backstage rivalries and campy hissing matches," wrote the New York Times in their 2009 review. "Drag Race however, is strangely benign and friendly. Everybody postures and vamps for the camera, but behind the scenes the competitors offer only pro forma cattiness. Melodrama is for show."
My how things have changed. For one, the show has gotten bigger, literally. There's the number of queens, which went from nine in Season 1 to fifteen on Season 11 (the latest season to air). The length of the episodes, too, have expanded from one hour to 90 minutes. And of course there's the cash prize, which increased from $20K in Season 1 to $100K (where it remains today) by Season 4. Recalling leaner times during early days on set, World of Wonder founders and Drag Race EPs Randy Barbato and Fenton Bailey said, "We couldn't laugh out loud or the girls would hear us on stage," "During deliberations, the safe queens sat in a hallway just outside the broom closet we were using as a control room. We became obsessed with watching the safe queens kick off their shoes, loosen their corsets and gossip about what just happened on the runway."
Season 1, which had its premiere on the Logo network on February 2, 2009, introduced the world to the first nine drag queens that today populate a queendom of 140 within its extended universe. It's not that there weren't famous drag queens before Drag Race — Lady Bunny, Joey Arias, Varla Jean Merman, Linda Simpson, and Jackie Beat, just to name a few — they just weren't on television. Before Drag Race, drag's largest stage was within the pageant circuit, which included the big three: Miss Gay America (started in 1973), Miss Continental (started in 1980), and National Entertainer of the Year (formally began in 1991). Outside of that, stigmas persisted around drag, even from within the LGBTQ+ community.
"We were going through such a bad stereotype at the time and drag was really not as popular as it is now," first season's contender Jade Sotomayor (real name David Sotomayor) recalls. "Drag was still taboo in many ways, Shannel (real name Bryan Watkins), who auditioned at the behest of his mother, says, adding that the general population of people in middle America knew only RuPaul and what they saw on Jerry Springer or Maury Povich, where drag entertainers were sometimes featured as carnival-like freaks on display. "Drag wasn't really something that you were paid a lot of money to go and do. If you made $100 or $150 for a booking you made great money." (Nowadays, he says, you're looking at up to $5K for a booking.)
Contributing to the stigma was general confusion as to what exactly the show would be. After all, there was no precedent for a drag competition series, let alone a reality TV series comprised of an entirely queer cast. Watkins, for instance, says he was told Drag Race would be a team competition featuring a drag queen and his fashion designer assistant. Sotomayor says he expected it to be something akin to America's Next Top Model, where contestants would share a living space and have photoshoots. "I didn't really think that we'd end up having to do everything ourselves. They just told us to bring all of our drag and that was it," he says. And then there's Tammie Brown (real name Keith Glen Schubert), who admits he didn't even know he would be competing at all. "I had a car and I thought, 'Oh we're going to be able to ride around together, go into the garment district and we're going to be able to make supplies and have a real kiki.'"
BeBe Zahara Benet (real name Nea Marshall Kudi Ngwa) was hesitant to audition, but finally conceded at the suggestion of RuPaul himself, who first saw the Cameroon-native perform "Circle of Life" at Minneapolis Pride months earlier. "I was mostly excited and curious about getting to know these different entertainers who do what I do and had been scouted from different parts of the country," Ngwa, who would end up winning Season 1, says. "You really didn't go thinking, 'Oh I'm going to murder this competition!' We were coming in there wanting to make it happen and wanting to know who our new sisters were."
And while Season 1 gave us a bit of rivalry in the workroom (a timid one, however, by today's standards which reward drama with airtime), it was very much centered around the creativity and scrappiness of its competitors. "It was rougher and much more raw," Brown says. "We actually had to do things on our own, design our own costumes," he says pointedly. "I kinda miss that aesthetic of the show," Sotomayor says. "At that time there were still a lot of people that were blind, that didn't understand drag. And so we were really excited to be pioneers in this movement to try and educate."
BeBe Zahara Benet at the 4th Annual RuPaul's DragCon
Photo via Getty
But soon after the show aired, all evidence of its existence was scrapped as it disappeared from view, unable to be purchased or streamed online and thus adopting the moniker of 'The Lost Season' as Logo renamed it during a 2013 re-airing on the network. That finally changed in 2018, when Ngwa competed on All Stars: Season 3 (a spin-off series that began in 2012), thus creating even greater renewed interest in the first season, which finally became available on streaming platforms. But what took so long? Corroborating a longstanding rumor, Barbato and Bailey said music clearance licenses, which were eventually renewed, were the main hold up.
This came at a cost for the original nine, who did not see their star status rise in the way even the first eliminated queen from the show does today. "It was heartbreaking to see the show continue and to kind-of leave us behind in the dust," Sotomayor says. "And I kinda felt like it was a little shady to bring us back only to name us 'The Lost Season.' It was almost as though we were being called 'The Forgotten Season.'"
"There were still a lot of people that didn't even know I was the winner of Season 1," Ngwa admits of his time after the show, saying he and his fellow contestants were not given a reason as to why the show had been pulled. "It's so funny because now there's already this blueprint for all of the artists on the show and all of these opportunities flood to them, but with us we had to create our own opportunities, even still to this day." But it's that very tenacity that helped give Season 1 its heart, which integrated personal stories and journeys into the narrative of the competition. Most memorably, Season 1 contestant Ongina revealed her HIV positive status during the show's fourth episode, which is still cited as one of the series's most impactful moments, 141 episodes later. "We became relatable as human beings and as people and then everything else was the icing on the cake," Ngwa said. "We didn't need the drama. Just the artistry alone is that entertaining."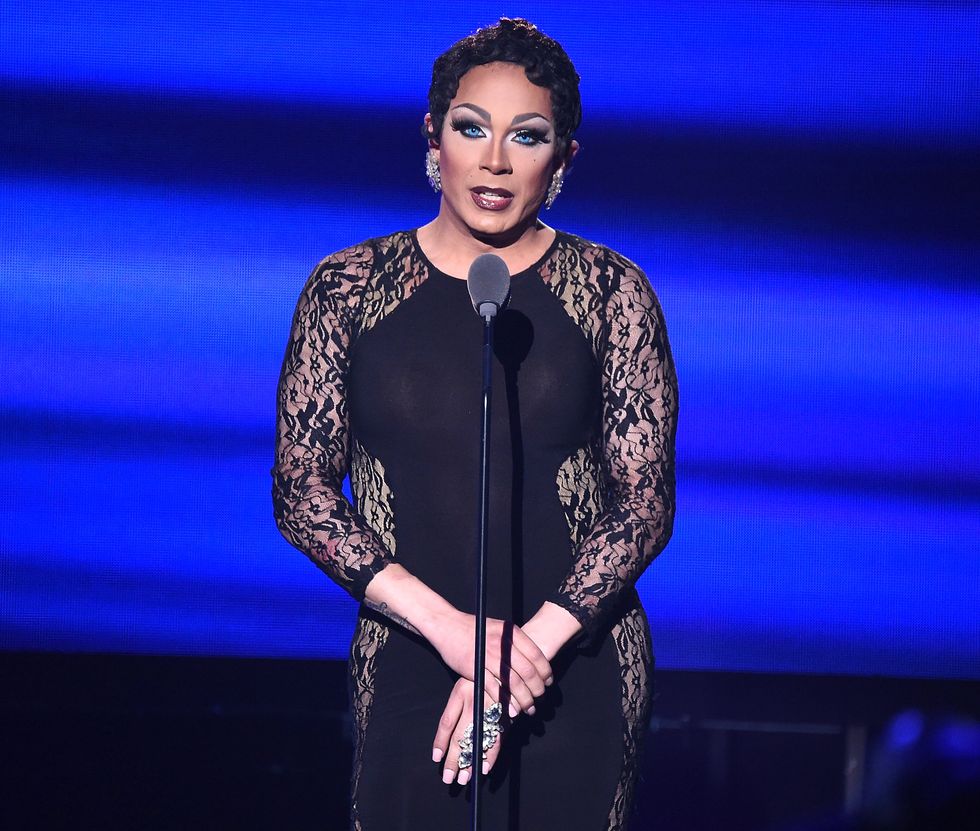 Jade Sotomayor at 2016 Logo's Trailblazer Honors
Photo via Getty
There's no denying that the show has changed from a 101 to a 201 in terms of pivoting from an introduction to drag to an embrace of its status as the chief purveyor of drag in the mainstream. "I think sometimes it's cheap; a lot of cheapness," Brown says. "Now they come in with ideas of catchphrases. They come in with this forced ideology of what they're going to do and what's expected of them. And then there's the ones now spending thousands of dollars for clothes and them allowing certain people to pass through the show just because of their looks."
But others love it for that very reason. "That's the beautiful thing about how the show has progressed," Shannel said. "As seasons have gone on, you've seen a much larger explosion of over the top wardrobe and really truly couture fashion that is being revered in a way that it didn't always used to." That said, he calls the current format of the show "very predictable." "Now it's become a social media phenomenon and so many of the girls that have these huge social media followings are the ones that are getting on. In many ways it's become a very bankable, profitable asset to both parties, and I get that because business is business, however I miss the mindset of just being an amazing queen, going in and going 110% of who you are what you are and competing."
Would they do it again? Schubert: "Sure, why not? For the fans." Ngwa: "Never say never." Sotomayor: "Absolutely. However it turned out, being a part of that first nine and going through the emotions of knowing what could possibly come out of this, I wouldn't change it for the world." But that's not the consensus for all. "No," says Watkins. "I believe that my time has come and passed. Do I want the world to see how far I've come and the differences in who I am? Sure, yes. But the idea of actually going through the entire competition, I think that that would be a lot on me."
"It's just turned into something totally different," Sotomayor says. "But I still enjoy it. It's awesome to see the way that these queens now are getting so much love. And it actually worked. We got people to see who we are, what we do and embrace us." And that right there, that legacy, might have been lost for a period but can never be erased. "Honestly I hope the format continues to change. I don't want it to get stagnant and for people to get bored of it. I want Drag Race to be here forever."
Photo via Logo