The short virtual reality film BattleScar is close to Rosario Dawson's heart, not because of the creative process itself, but rather because the film functions as a time machine. As a New York native, the film's dedication to punk invokes a deep nostalgia for the actress' Lower East Side youth. Its 3D rendered fire escapes, walls full of Patti Smith references, and stacks of freshly stapled DIY zines all hearken back to the energy of Dawson's childhood.
Set in NYC's late '70s punk scene, BattleScar marks the first installment of a three-part series created by illustrators Nico Casavecchia and Martin Allais. The nine-minute VR film is completely voiced by Dawson and centers on 16-year-old Puerto Rican runaway Lupe, who ends up getting arrested for vagrancy. Upon her arrest, she finds a kindred spirit in her cellmate and fellow runaway Debbie, who is actively plugged into the thriving Bowery punk scene. From there, the two begin a friendship and hedge plans to start a band, despite the fact that Lupe's musical experience is limited to her childhood church.
While the VR experience is too short to lay out an extensive plot, both the physical and cultural design of BattleScar successfully transport viewers to the world of CBGB and a booming DIY literary scene. Since Dawson was born during the tail-end of this movement, she vividly remembers witnessing the energetic aftermath of the LES punk scene as a child. So, understandably, narrating this project brought up complex feelings about what defines New York culturally — or, perhaps more accurately, what used to define NYC.
PAPER sat down with Dawson to discuss her experience working on BattleScar, her thoughts on VR as a medium, and what punk means to her on a personal level.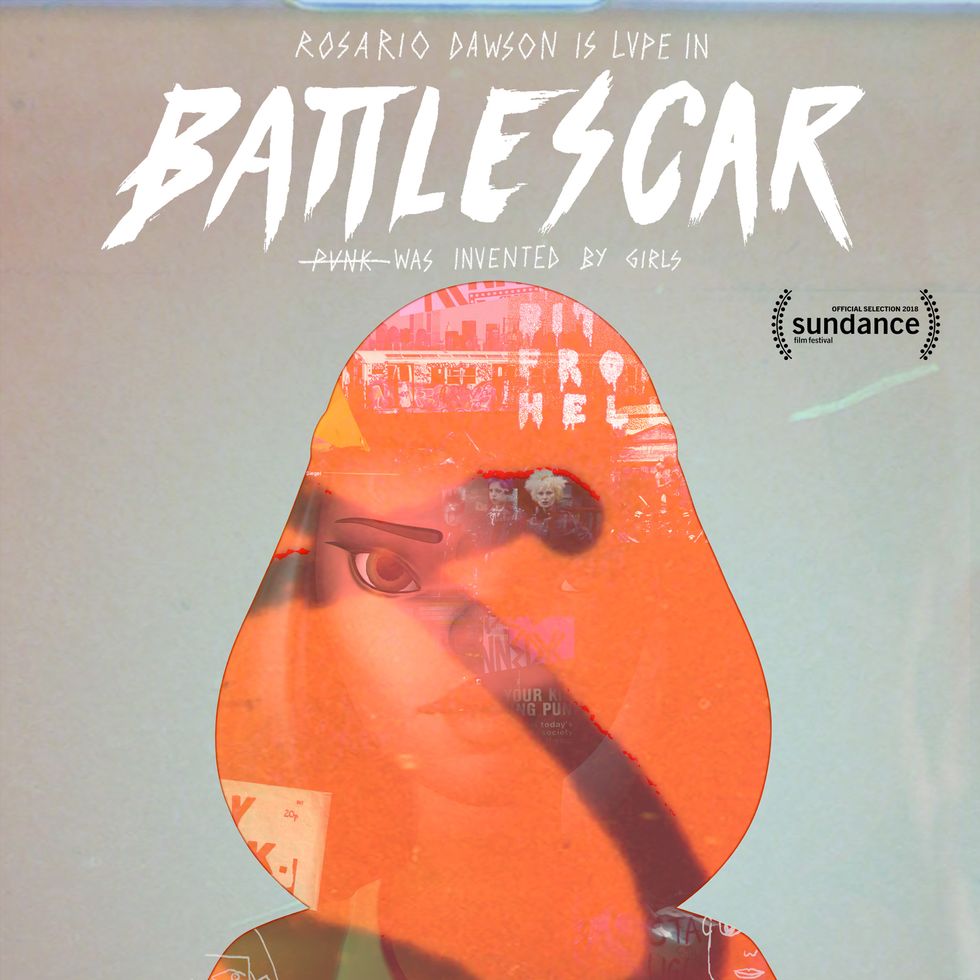 What's your personal relationship with the punk scene in NY?

I grew up in the LES, so the punk squatter culture informed my whole childhood. To look at it from the perspective of a teenager, as opposed to growing up there, was so amazing. The music took me back to when my uncle was in this band, underground music, and trying to get into digital. It was just such an incredible time; people were playing saxophones on their fire escapes and the neighborhood was just bursting with energy and culture. I miss that.
Would you say the LES feels a lot different now?
It's a very different experience now in NY. I had a hard time sleeping then, because there was always something going on. That's part of why I loved playing these hyped up characters in BattleScar. I was transported to this touchstone of memory that I miss, I have a hard time really explaining, it was a really dangerous and remarkable time. Some people will say, "I remember when I walked through Times Square to watch this movie and there were all these junkies and you felt like you survived something." Some of my strongest memories to this day are because of the danger element. People came from all over the world to be a part of it. Even as a little kid I totally didn't know it was going to be this remarkable of an experience. I wanna go back in. I wanna plug back in, it's so nice to know that we can use this kind of technology.
Because of the immersive nature, do you think VR will foster greater cultural exchange?
People are using it to go into refugee camps. It's being used to experience other cultures and realities which I think is really cool. When I was at Refinery 29's "29 Rooms" event in LA, there were these women who made this virtual reality experience of a hair salon. It was called the "NeuroSpeculative AfroFeminism," and it was really powerful and truly visually stimulating. Everything about the experience, the colors, the architecture, illustrated a new empowering interpretation of the future. A lot of our future landscapes and body shapes are envisioned by this white dominant male gaze, and this was really modern and really cool. Most of the comic book and VR world is very male dominated, and then you have these women and there's this different energy.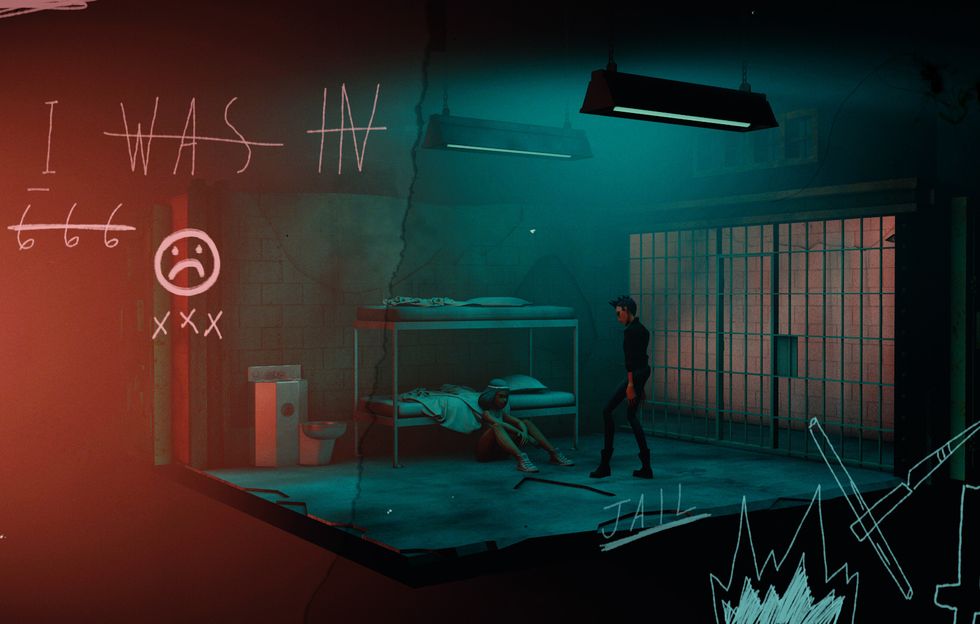 Would you say VR, much like the punk scene, presents an opportunity to counter mainstream dialogue?

I think there's a huge opportunity there. There are so many people and artists exposing young minds — black, white, brown, and female — to coding and robotics. I'm excited for that. I really hope there are other perspectives beyond the same patriarchal viewpoint. Because it's such a new medium, you're creating whole worlds. It's kind of like gaming, you don't necessarily have to go through the same studios or systems that have unfortunately left out a lot of voices. It's this new space with burgeoning voices. Like with the punk thing, there's this explosion of creativity. We're in a new century; that's one thing I think about all the time.
What are you hoping viewers take away from BattleScar?
For me personally, it was a nostalgia for that time. It was about taking things on, and playing, and risking things. It sounds cliché, but people are so stuck on our phones and our technology. It's easy to just skim through what everyone else is doing without really jumping in. Jumping in is what I remember about the punk scene; people would bring a little money and come to NY. They didn't have enough money to pay rent, they were just going to try to figure that out. Rather than just watching a movie, or scrolling through something on your phone, you have to pontificate and be present. I really like that aspect of VR; you have to physically participate.
While BattleScar might be a fictional story, people lived that experience. People are still living that experience, it was a real moment in time to get to. You couldn't just turn it off, you wanted to go see music with your friends, you wanted to go on a motorcycle ride, you wanted to experience something scary. I knew about that life. When you experience the feeling of being in someone's energy for real, exploring something new, it's contagious. It's addictive, you can't pull it off when you're back in the real world and in your real life. It's a challenge to get people in there. There's that one moment in the film where Debbie is like, "Let's feel the air from the train," and I think that sums it up.
BattleScar, produced by Atlas V and 1stAveMachine, will have its NYC premiere April 20th at the 2018 Tribeca Film Festival. The next two episodes are projected to be finished by the end of the year.
Sign Up for the Morning PAPER