Today, Reebok acknowledges basketball champion Allen Iverson's undeniable cultural influence with the announcement of its latest campaign, "Crossover U," an artist-led workshop series and shoe launch inspired by the star.
To understand Crossover U is to consider Iverson's triumphant story. He beat incredible odds upon becoming the first overall pick for the 1996 NBA draft after two years on Georgetown University's team. Then, once selected for the Philadelphia 76ers, he was named Rookie of the Year for the 1996-97 season. Iverson, a record-breaking point and shooting guard, would ultimately go on to lead the Sixers to astounding victories, play for three other NBA teams, win the bronze medal in the 2004 Summer Olympics, and much more. Before his 2011 retirement, Iverson would be named an NBA All-Star 11 times.
Iverson's career is one marked by constant versatility and crossovers. Literally, his most famous moves during games were his crossovers, which involves faking out his opponents on his way to the basket.
Commemorating this, Crossover U is a celebration of the release of Reebok's new Question Mid Double Cross sneaker. The shoe was designed with Iverson in mind, blending the red and blue-toe colorways he first debuted and wore during his rookie season. Reebok's new sneaker also "symbolizes Iverson's most memorable on-court 'crossover' moments that year and his ability to cross up basketball culture with the style and sounds of his everyday life." It will be available in select athletic retailers for $150 on October 11, and worldwide on October 23 on Reebok.com and Foot Locker stores.
To help bring this all to life, Reebok enlisted five artists to lead specialized, Iverson-inspired workshops on October 25 in New York. Stylist Matthew Henson will instruct a workshop on "pre-dress code styling;" artist/designer Gianni Lee will share the principles of "creative upcycling;" jewelry designer Martine Ali will guide guests in the art of custom jewelry design; hairstylist Guingui will lead an advanced braiding course inspired by Iverson's most famous hairstyles and the Question Mid Double Cross' detailing; and photographer Quil Lemons will teach the "creative and technical processes of street photography on film, capturing local athletes styled in the Question Mid Double Cross."

Below, Lemons, an artist known for expanding perceptions of Black people and dismantling toxic masculinity in his work (see his viral "Glitterboy" project), tells PAPER about Iverson's impact on his life and more.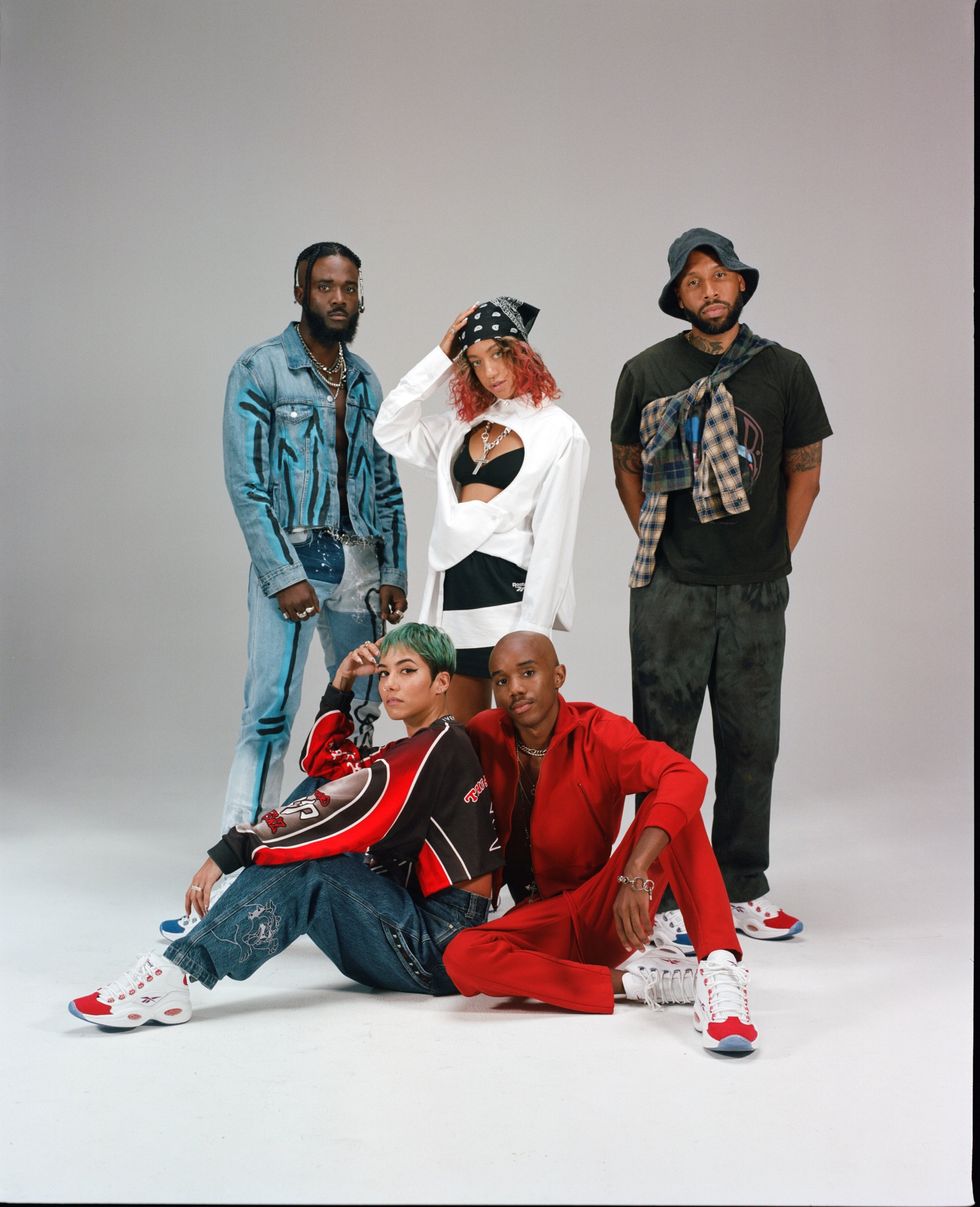 What inspires you most about Allen Iverson?
His fearlessness. Because of him, I try to embody a natural mentality of 'I'm going to do whatever I want.' He just did what he wanted to do. And I think that was my favorite thing about him. Now, I don't think I take no for an answer when I'm shooting. I go into rooms and I'm just like, 'This is what I do and this is what I got to offer. You can take it or leave it.' I think as a creative or just as anyone, you should just be authentically yourself no matter where you are.
How do think he and his story influences culture today?
I think he represents the beauty of being raised in the ghetto and overcoming every obstacle in his path. I think he's an example that you don't have to be a product of your environment. But also there is nothing wrong with taking pride in being from the hood.
"[Allen Iverson] represents the beauty of being raised in the ghetto and overcoming every obstacle in his path. There is nothing wrong with taking pride in being from the hood."
What's most significant to you about the Crossover U campaign?
Everyone needs a role model. I know Iverson had someone to teach him the crossover, so for me, it's very exciting to be a part of a program where I can give back and mentor the next generation of creatives. I know photography is a popular hobby and I'd love to help people take their hobby to the next level.
First-come, first-served enrollment in the October 25 Crossover U workshop occurs from now through October 17. Sign up, here.
Photography: Renell Medrano for Reebok
Sign Up For The Morning PAPER