A cavalcade of international heavy-hitters in the worlds of fashion, art and culture converged in Mumbai last weekend for the three-day opening of the Nita Mukesh Ambani Cultural Centre, a world-class space for art shows, fashion exhibits and theatrical performances.
For the exhibit India in Fashion: The Impact of Indian Dress and Textiles on the Fashionable Imagination,curator Hamish Bowles presented a stunning assortment of Indian and international fashion in a space about 10 times bigger than the Met's Costume Institute.
One of the standout designers featured was Rahul Mishra, the first Indian to present during Couture Week in Paris. Mishra is known for intricate and immaculate embroidery and, in addition to being part of the exhibit, he also dressed Zendaya, Law Roach and Gigi Hadid for the gala opening weekend.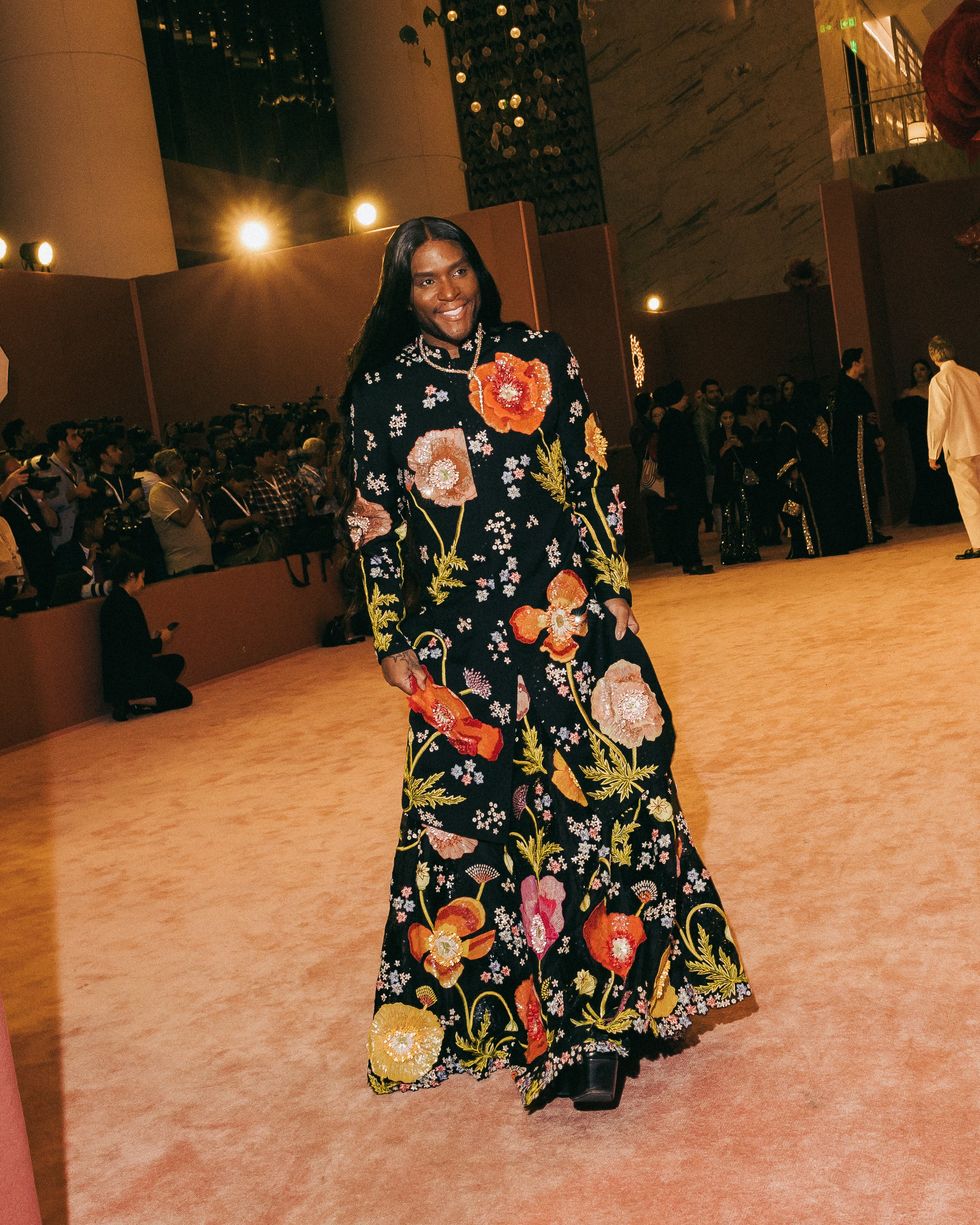 Law Roach wearing Rahul Mishra in Mumbai (Photo via BFA)
"I felt very regal and beautiful the first time I wore his clothes," Zendaya told PAPER. "So it felt like a natural fit. But what I admire the most is the detail. He spoke to me about the story of the gown, which I think is really special. Literally, everything represents something about India. There's tigers on here. It's gorgeous, the details. And then this is the night sky and then I have birds."
Roach said he let the designer choose what he wore. "You know what? You have to trust the creative. You have to trust the artist," Roach said. "And I'm coming to your country. I'm wearing your clothes. Dress us the way you see fit."
I talked to Law last night and I was surprised he said that for him and Zendaya, they just let you do whatever you wanted. They just said, "What do you want us to wear?"
I was very surprised. When I made these two outfits, I thought they would have quite a few options to choose from. It was her first time being in India and maybe experiencing this kind of dressing once in lifetime. I dressed Zendaya in 2020 in a beautiful jacket coat and usually most of the celebs I would dress in western clothes.
I realized this might be a great time to dress her in a sari. So I sent a few sketches, they both liked four, five. They said, "Whatever you like, you make." And actually I made one gown also in case the sari didn't work out. Maybe she can wear the gown, but this is the first look we tried and she just loved it instantly.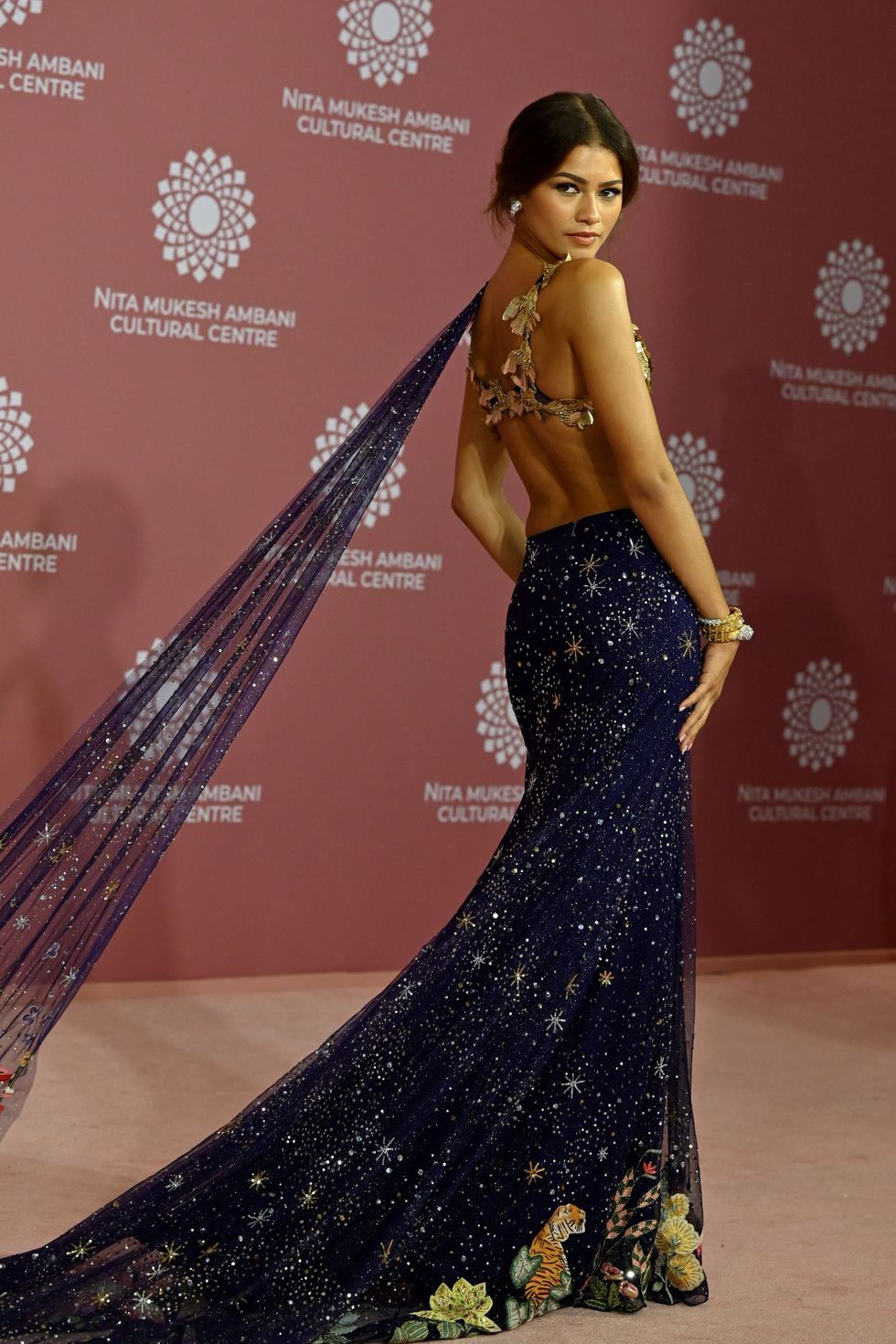 Zendaya wearing Rahul Mishra in Mumbai (Photo via Getty)
Gigi's look was also pretty major.
Gigi was very clear what she wanted. We sent over a few lookbooks and then had to customize the trousers and sky blue color. We made it pink to go with the hair. So I think in both occasions the freedom, the trust they've shown in us was incredible. And Gigi I was dressing for the first time and yet she had so much trust, there was no other option, apart from that look. Because of this, because they were just trying one look, for both of them I went to the fitting personally so that I can look at where the pinning is needed.
The day before they wore it?
Yeah, and just pinned it. I also actually, for Gigi's look, we tightened it by a couple of inches. I'm actually a tailor and a pattern maker, so I personally have marked all the pins where the seam has to run, so that everything is precise. It needed to be very precise and very, very well-fitted.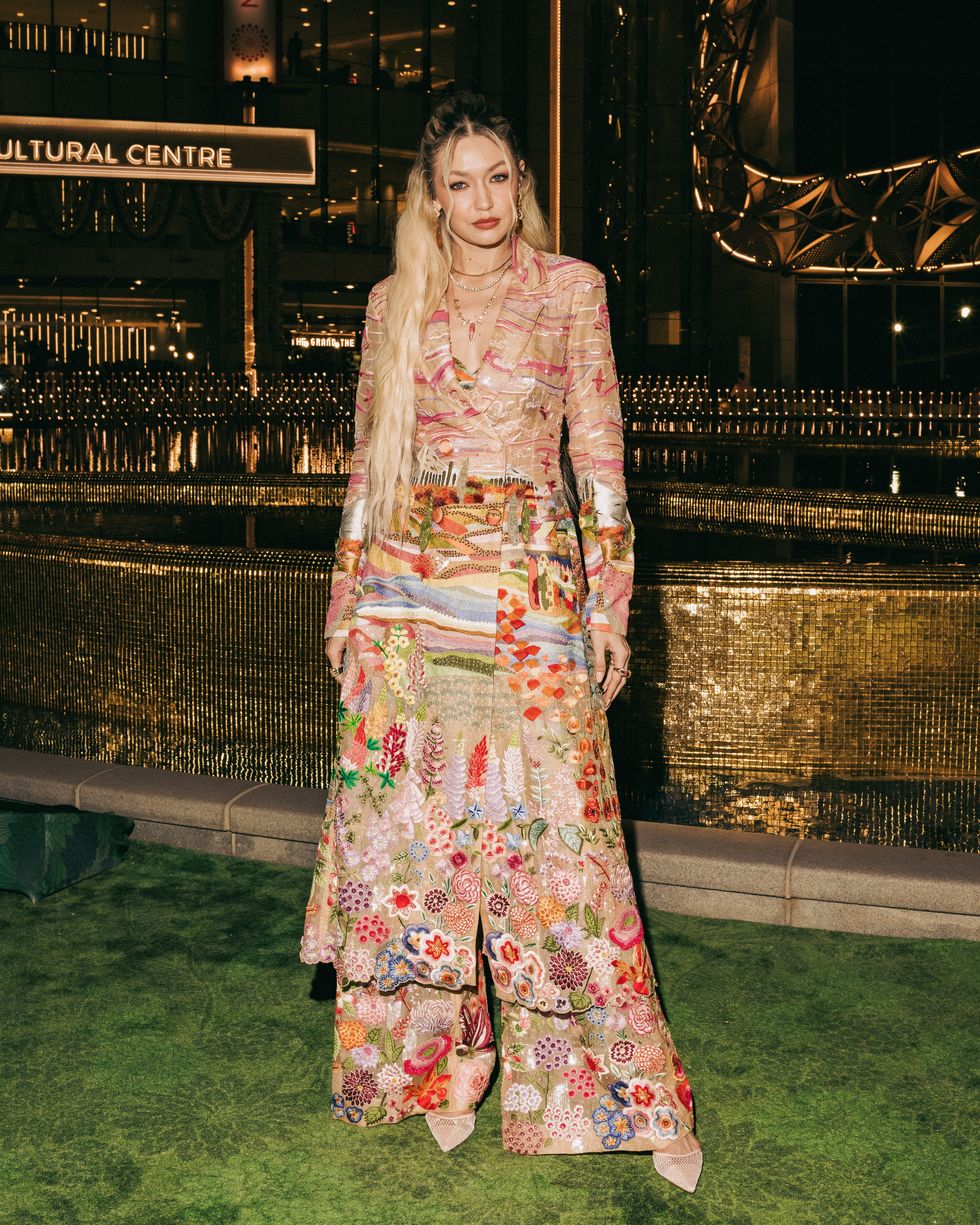 Gigi Hadid wearing Rahul Mishra in Mumbai
Gigi told me she loved her look and that couture is normal for India ... to think of Zendaya in such a sari that's so sexy. And then you also dressed Bjork, who is gorgeous and legendary but is not ... Her look is so different than Zendaya, but so what was that like?
I'm more like a designer because I got trained in design and then later on I studied fashion on a scholarship in Milan at Istituto Maringoni. And studying design somehow enables you to not fall in trap of a certain style of certain thing.
I think it also allows me to remain a bit original in my approach in what I want to project. I want to work like an artist right now. That is what I'm incredibly happy about and that's what haute couture in Paris is allowing me. A lot of people have been coming to the shop so we were getting feedback. A lot of them are buying looks (for the NMACC opening). So here, 50 to 100 odd people, if they're wearing in one night, it might be a problem that you walk into somebody who's wearing the same look. It's going to be such a bad moment for anybody. So I think yesterday I realized that's a big strength, which we have as a brand.
That you design a variety of styles?
Even a hundred people, they can still hold their individuality and they are not going to look the same. I think this is something which reflects when you look at Bjork's look or when you look at Zendaya's look, and you look at Zendaya's earlier look. I think as a designer, I'm very grateful to this idea that I'm sometimes a bit like a chameleon. So inspiration is as if, what is inspiring you, you become that. And actually a lot of celebs have worn us last week from China.
Fan Bingbing?
She wore us. Our Instagram account is not able to keep pace with it all.
That's a good problem to have. Do you see the difference for your business when celebrities wear things or is it more for just image?
Yes.
Do you think people will say, "I saw Zendaya wearing that sari, I want something like that."?
Definitely it helps business as well it helps image. What it does, which is most valuable, which you can't feel in real time is what it does to your creativity, your craftsmanship. It's a big validation for our work. It is also big acceptance because I always believe every product of mine should have a fragrance of the country where it comes from.
I don't want to create a poetry which can be found... For me, I don't like if somebody says, "Oh wow, you look so international. I can't believe this is made in India." I really feel like people should understand this is made in India. That's a distinct nature. That's beauty.
When you think about Chanel haute couture, it is French, or when you look at somebody like Issey Miyake, it shouts Japanese. So in the same way I really feel like a real strength would come when you showcase your Indianness in the best possible way and create something which is acceptable, which is approachable, where even somebody like Zendaya or Gigi, anybody can relate and wear it. I think this impacts our future collections.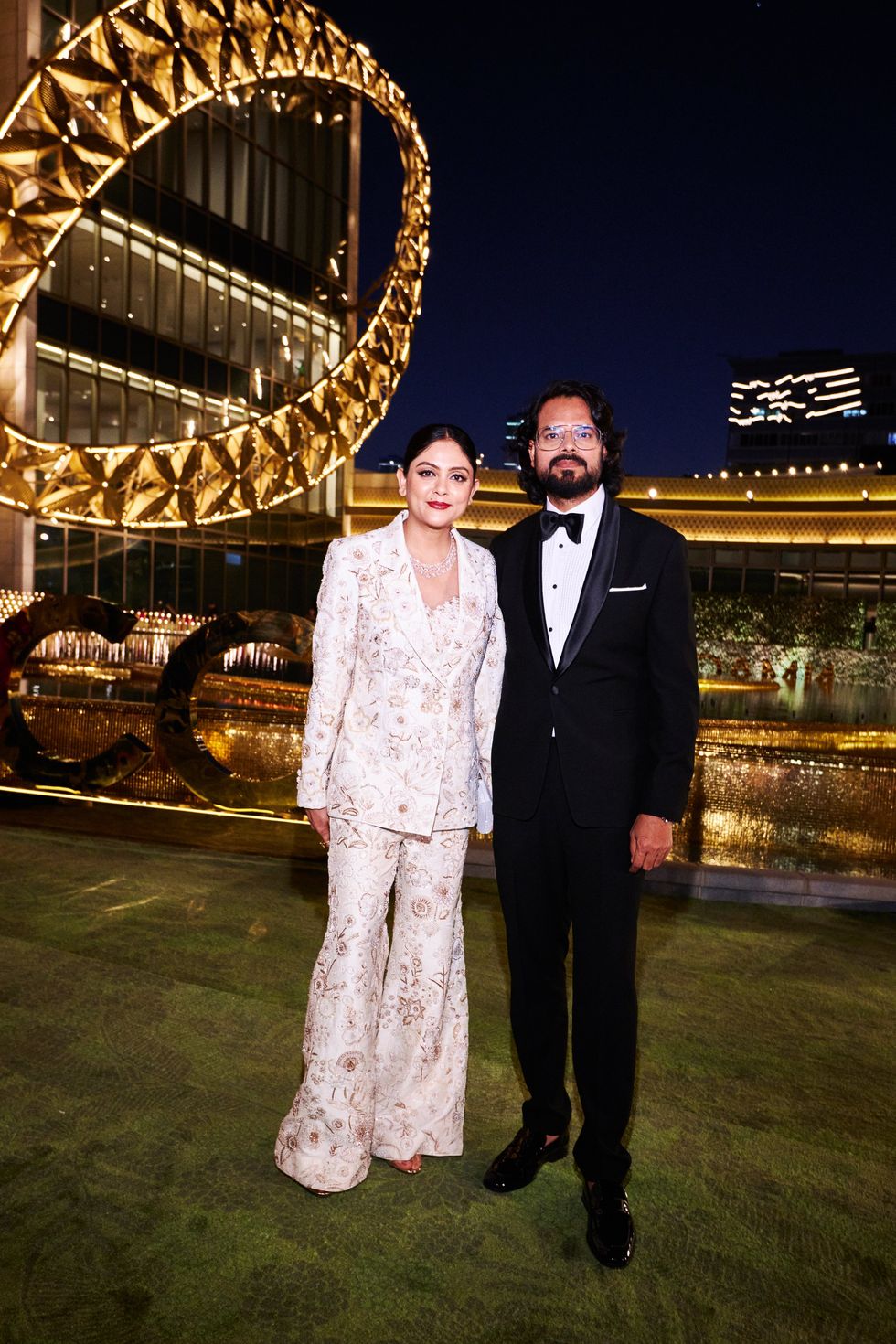 Rahul Mishra and his wife Divya Bhatt Mishra at the opening of "The Great Indian Musical: Civilization to Nation"
(Photo via BFA)
I love the Dirty magazine shoot with Uorfi and she was someone who many designers would maybe not dress because she's a little bit scandalous and a bit controversial. How did you feel about dressing her for that shoot?
I think it was amazing because what I really like about her, she's very strong girl. It shows she has got a lot of courage. So to me when I was asked for that and she was the first person who would wear our latest haute couture from Paris, I really liked the idea. I jumped for it, because somebody like her who's also very creative in her own way, who has used social media as a tool, being a normal girl. She's not a celeb, she does not come from the background and all that. And she has created social media tool as a strength to show her individuality, to show her courageous voice. I think it was a great thing.
Last night was the first time you saw the fashion exhibit?
It was completely surreal. If you look at even Sabyasachi or Manish Malhotra or Anamika Khanna, contemporary Indian designers, I was studying when they were at their prime. So for me being there exhibiting my work alongside these people and brands like Chanel and McQueen, all that was completely surreal.
Gandhi talked about instead of seeing the primary objective as consumption production. We need to look at how everything can create participation from people. So that is all the whole objective right now. And I think the more these things happen, the more I will take risks, the more I will employ more people. And I always say as a fashion designer, I don't have choice to make something which cannot have embroidery. Even if I'd like to make it, we need to employ the 1500 people which I work with. It needs to create purpose for them.
That's great.
It's their work, it's their beauty, what they create. And I get emotional because I also come from a very small village. I've seen very bad hardships. I come from a small village in Uttar Pradesh, and first 10 years of my life, I only lived in the village. I did not see anything. The big dream is to be able to employ 1 million people one day. I don't know.
From Your Site Articles
Related Articles Around the Web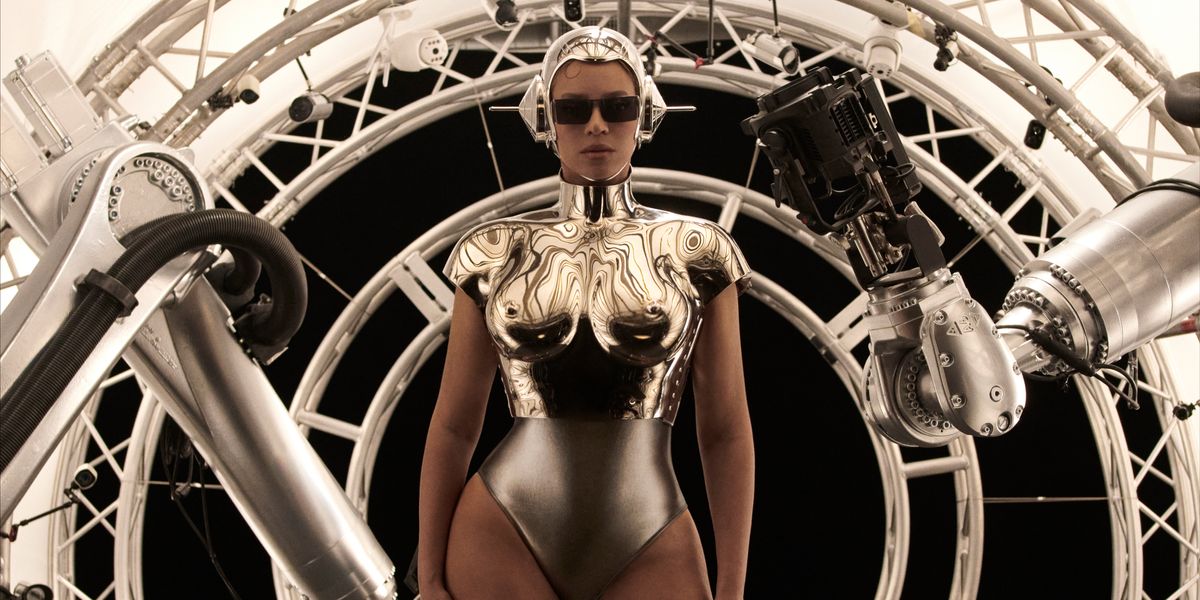 Music
Story by George M. Johnson / Photography by Mason Poole / Styling by Shiona Turini / Hair by Nakia Rachon / Make-up by Rokael Lizama / Creative direction by Andrew Makadsi
Story by George M. Johnson / Photography by Mason Poole / Styling by Shiona Turini / Hair by Nakia Rachon / Make-up by Rokael Lizama / Creative direction by Andrew Makadsi
01 December