Queen Key, one of Chicago's most exciting new rappers, always knew she'd be famous. Now 21 years old, Queen, born Ke'Asha McClure is the artist behind Eat My Pussy, her dazzlingly hilarious and feminist debut EP. And these days, Queen attributes the fame goal to having lots of free time as a kid. "I never wanted to do regular stuff," she shrugs.
Luckily for her, nothing about what Queen Key does is regular. For starters, she began calling herself "Queen" in high school, because she just knew she was royalty, and everybody around her followed suit. It was also a way to combat sexism. "There was this moment I remember when Chief Keef came out, and I noticed men online being really disrespectful, talking women down, so I said fuck it, and changed my name to 'Queen' on Twitter. Now that's all I'll respond to," Queen says.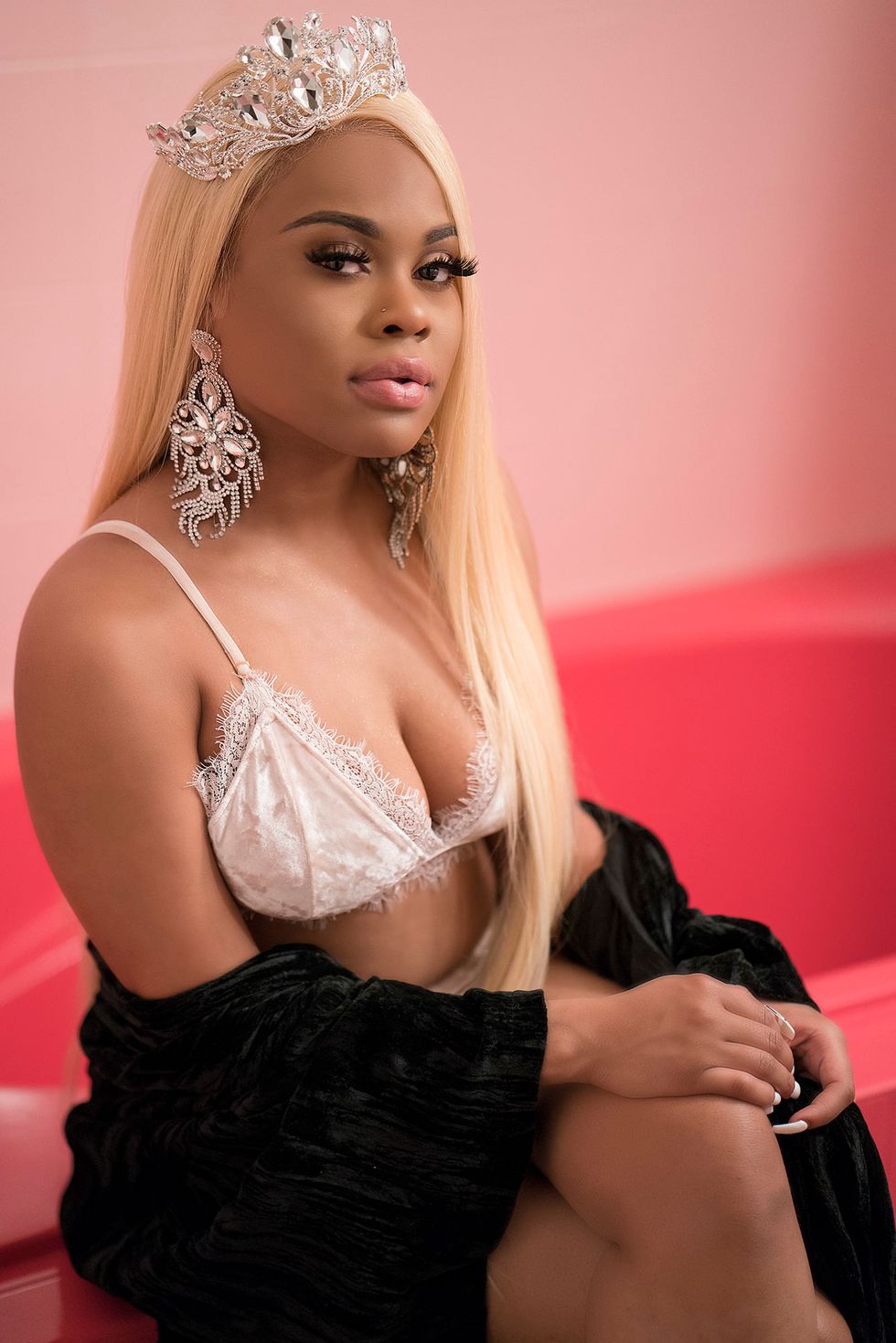 Furthermore, Queen is self-taught and self-made, someone who wrote her first rhymes at age seven with her brother — a feat more impressive considering how even some of the industry's most respected rappers sometimes use ghostwriters. After building critical buzz and street credibility through a two-volume mixtape series, entitled Your Highness, and savvy flips of Drake's "Nice For What" and Cash Money Millionaires' "Project Chick," Queen's next goal became Internet notoriety. She cleverly titled her debut EP Eat My Pussy as a memento to the sex-positive female rappers who inspire her, and, ever true to herself, as a joke. "I was just fucking around on Twitter," Queen explains, letting loose a wild, rippling cackle. "And I thought, who else but me to do this? This is exactly what the world needs right now."
Related | Beautiful People: CupcaKke Deserves to Rule the World
Her trademark sense of uproarious humor is refreshing, and it courses through her music. Paired with high-energy, left-of-center production that may remind listeners of prominent drill acts like Young Chop and Katie Got Bandz, Queen raps gleefully about loving and leaving (but mostly leaving, because she's got a life to live). Take the nonchalance she drops during cunnilingus-friendly opening track, "Am I Wrong" where Queen raps: "Made a movie, got ate from the front and the back/ And meow/ I was all in his muhfuckin' mouth/ Can't lie, gotta pee now." Meanwhile, "Spenda Night" featuring fellow Chicago scion Tink ("I love how she works," Queen says of working with Tink. "We vibed instantly.") features this one-two punch: "Hit' em with that 'ugh' like he ugly/ We just be fuckin', but he love me." And "Toes Out" is a "sky's out, thighs out" summer banger that blends a ladies' night sensibility with drop-top minimal trap production meant to rattle the speakers.
That said, it's quite easy to imagine Queen literally laughing her ass off as she raps, and it's mostly because she draws inspiration from the humor of everyday life. "For one, I love to laugh," Queen says. "With laughter comes a good mood and good energy. It can be some bad shit going on but I just can laugh at anything. Once, I broke my damn TV because I was making a song and I was so turnt. It fell and broke, but don't worry, I already replaced it."
This was a problem for Queen in school. "I really didn't do shit but laugh at inappropriate times, and it would make people so mad, but it's like I can't help it," she says.
In Queen's case, with humor comes a great deal of creativity beyond her music. The cover art for Eat My Pussy, she confesses, was inspired by PAPER's 2016 "Break the Rules" issue with cover star Rihanna. In Queen's re-imagining, she is center stage, smoking in front of a bowl of fruit with rollers in her hair, flanked on either side by shirtless male models, whose faces are blurred out. Queen waves it off. "I didn't want to give them no shine," Queen says while laughing. "I didn't want to put them in a position of being 'the dude on the pussy cover,' and having to answer questions about who was involved and why or whatever."
Related | Break the Rules: Rihanna
While men may be Queen's playthings, strong women and the desire to empower other women fuels her.
"The truth is: We run our own damn shit," Queen says of herself and her legendary rap forebears, which includes rapping pussy-power evangelists such as Trina, Lil' Kim, and Khia. "I want to be a woman that other women listen to. And girls who hate on other girls: all that shit has gotta stop because dudes are not like that. Like boys who don't know each other call each other 'bro'. Girls, when they don't know each other, they mean mug. Like, what the fuck? It shouldn't be like that."
"The truth is: We run our own damn shit [...] I want to be a woman that other women listen to."
While Queen navigates her newfound fame, performing summer gigs in Chicago and nationwide, she focuses on making music that doesn't pigeonhole her. Yes, it's nice when an artist makes music exclusively for their fans, but isn't one perk of music-making being able to perform songs you'd actually listen to? "Listen, I like beats that will just make a motherfucker get up and dance," Queen says when asked. "And for me, that isn't about creating a certain type of sound; it's just a turn-up sound. And what's more is I feel like people who don't even have guns will listen to my music. Like, I feel like that's just not what it's about. I feel like it's just fun party music; women empowerment music. I just really like to have a good time."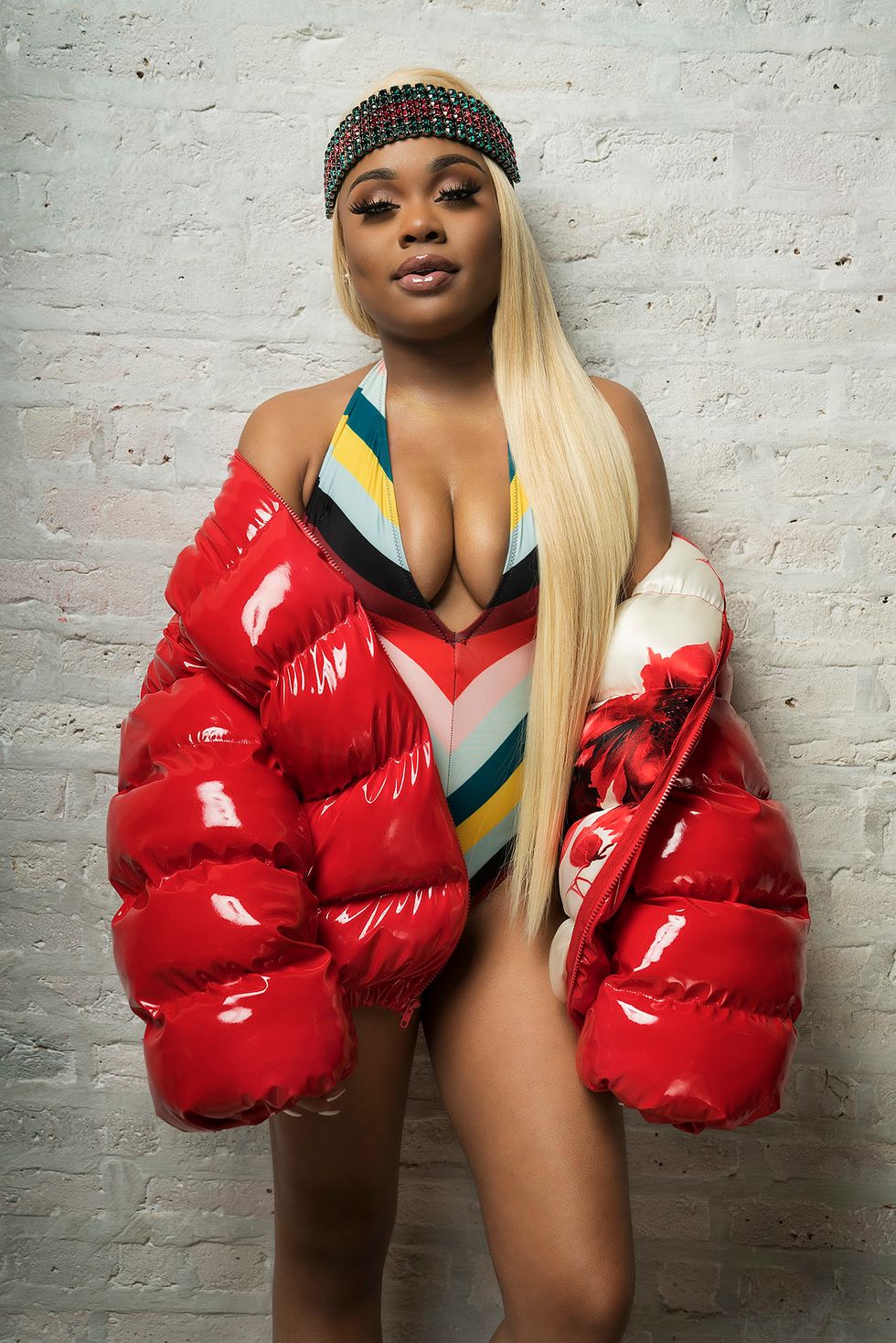 Being famous young might have its downsides, as we so often see in the realm of modern instant celebrity, but Queen is determined to stay true to herself, calling her platform a blessing, and noting that she doesn't feel too much pressure, nor does she get overly "tweaked out" by compliments.
A full-length album is in the works for Queen, and though the Gemini reserves the right to change her mind, there may be plans to take her sense of humor to the big screen. The Friday comedies by Ice Cube are some of her favorite films and biggest influences. And Queen, if she so chooses, would premiere on-screen as an actor, and yes, behind-the-scenes as a director. But what would a Queen Key-helmed movie be about?
"Someone like me," Queen says. "And I would try to make it mimic today as much as possible, and just make it real as hell and keep it in the day."
But for now, Queen's going to get her hair done.
Photography: Parrish Lewis