Every summer, for four days in July, Paris flings open the cosseted doors of its temples of haute couture for a heady bottleneck of glamour, celebrity and Lesage embroidery. If you have been waiting your whole life to see Céline Dion improvise a street style photo shoot with a Dior logo bag atop a livery car, then this was definitely your week! Miss Dion Beyond aside, there was plenty to behold for fashion (and gossip) starved eyes. Herewith the hautest moments of the week:
It's Céline's world….
…Anna Wintour is just living in it. Céline Dion once again alighted the couture shows with her super human joi de vivre and the Rose of Québec gave us everything we wanted. From standing O's at Giambattista Valli to improvised street style editorial, there was a feast for celebrity gawkers and meme generators for years to come. All Hail Queen Céline. If there was a ruler of #TeamExtra, the throne would be in Montreal.
Dutch Debut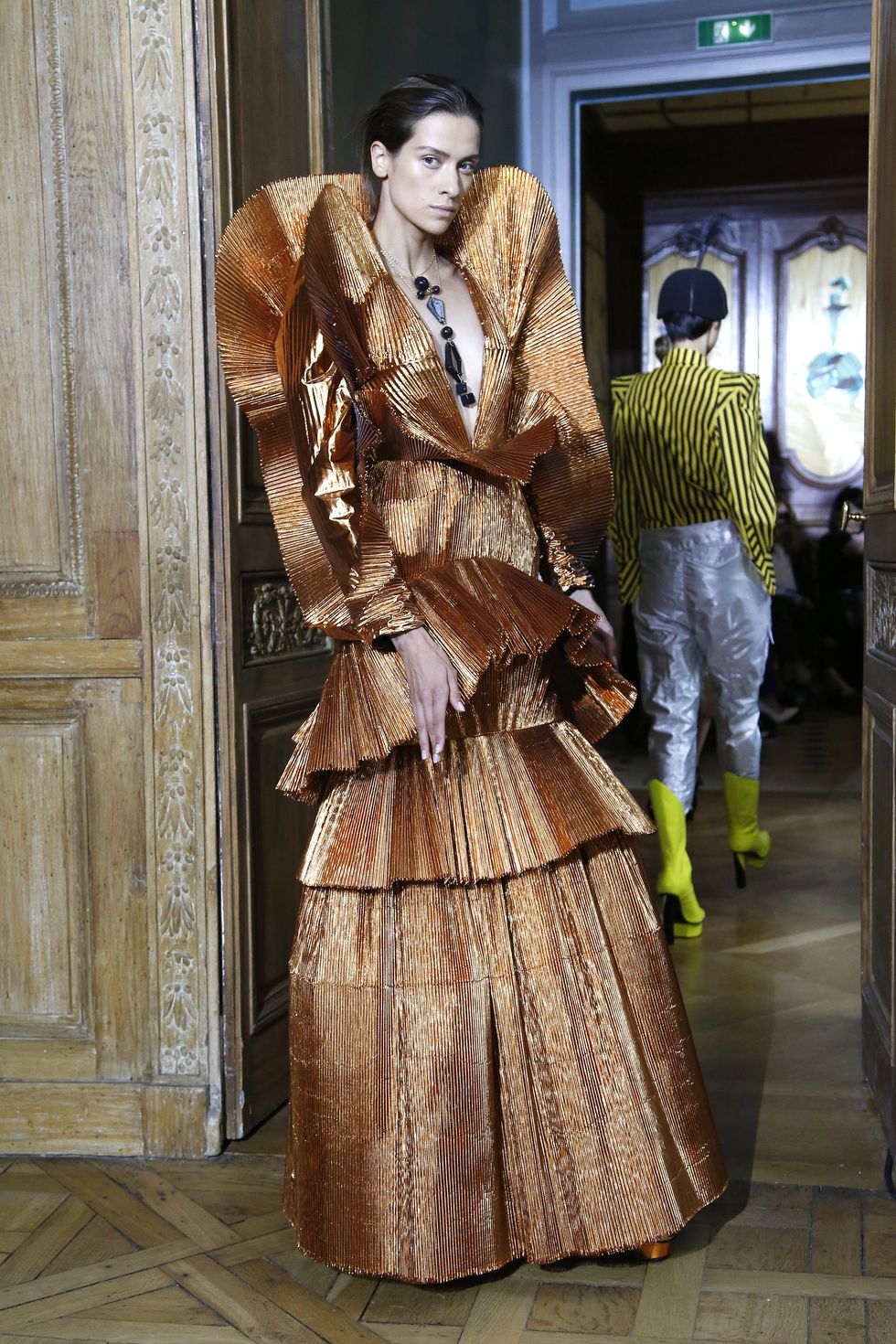 Estrop/Getty
The Amsterdam-based designer, Ronald Van Der Kemp, kicked off couture week with his first ever runway show (he's produced by appointment collections for a handful of seasons previously) and the result was a gangbuster start to the week's gilded parade of gowns. The ecstatic, mash-up style of RVDK has been a hit with industry influencers and the coolest couture clients for the last year or so and it was about time he got a proper couture stage; and he didn't disappoint.
Snatching Trophies
In a town where fashion is practically a patriotic institution, the first among equals is the (ironically German-born) Karl Lagerfeld. To formalize that honorific, the Mayor of Paris, Anne Hidalgo, conferred on The Kaiser the Médaille Grand Vermeil de la Ville, the city's highest honor, after his couture show for Chanel at the Grand Palais. Fitting too that the collection was based on the très parisien silhouettes of Coco Chanel's canotier hats and the girding of the Eiffel Tower (of which a scaled replica was built center stage). If we may not always have Karl at Chanel, we will at least always have his idea of Paris, which perhaps is sometimes better than the real thing.
An Editor Scorned…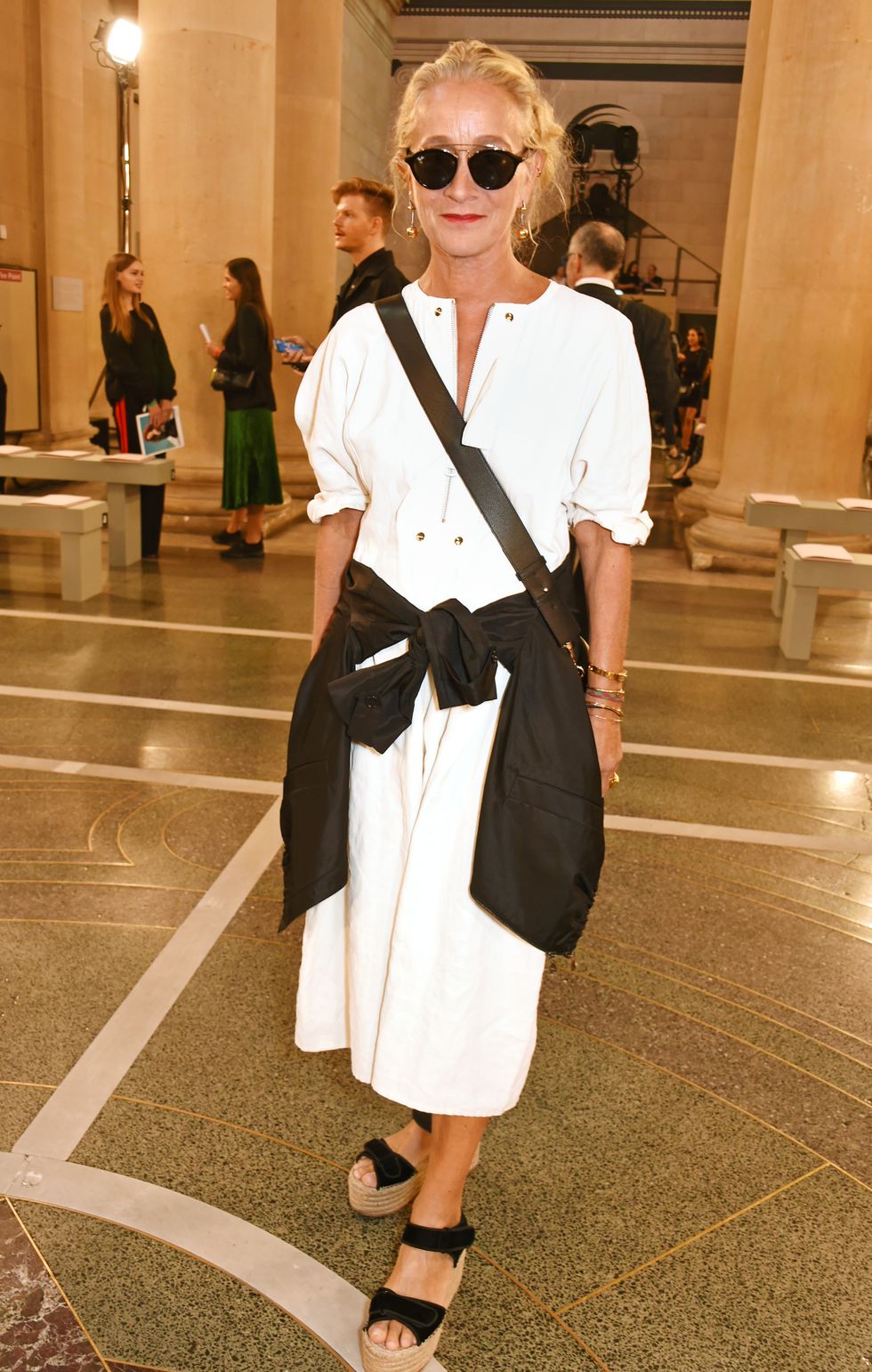 David M. Benett/Getty
In an instantly viral interview with online fashion journal vestoj.com, the recently sacked former Fashion Director of British Vogue (of 25 years), Lucinda Chambers, gave a downright refreshing and gimlet-eyed account of the State of Fashion after, in her view, an unceremonious dismissal by the incoming EIC. It was the talk of couture knitting circles (and front rows) and it was met with some pushback from Conde Nast brass, who first ordered it be taken down and then some more contentious parts about the firing be amended. No doubt a cri de cœur for industry vets who find themselves increasingly at sea in a world of bloggers, clicks and digital ad demands.
Young Americans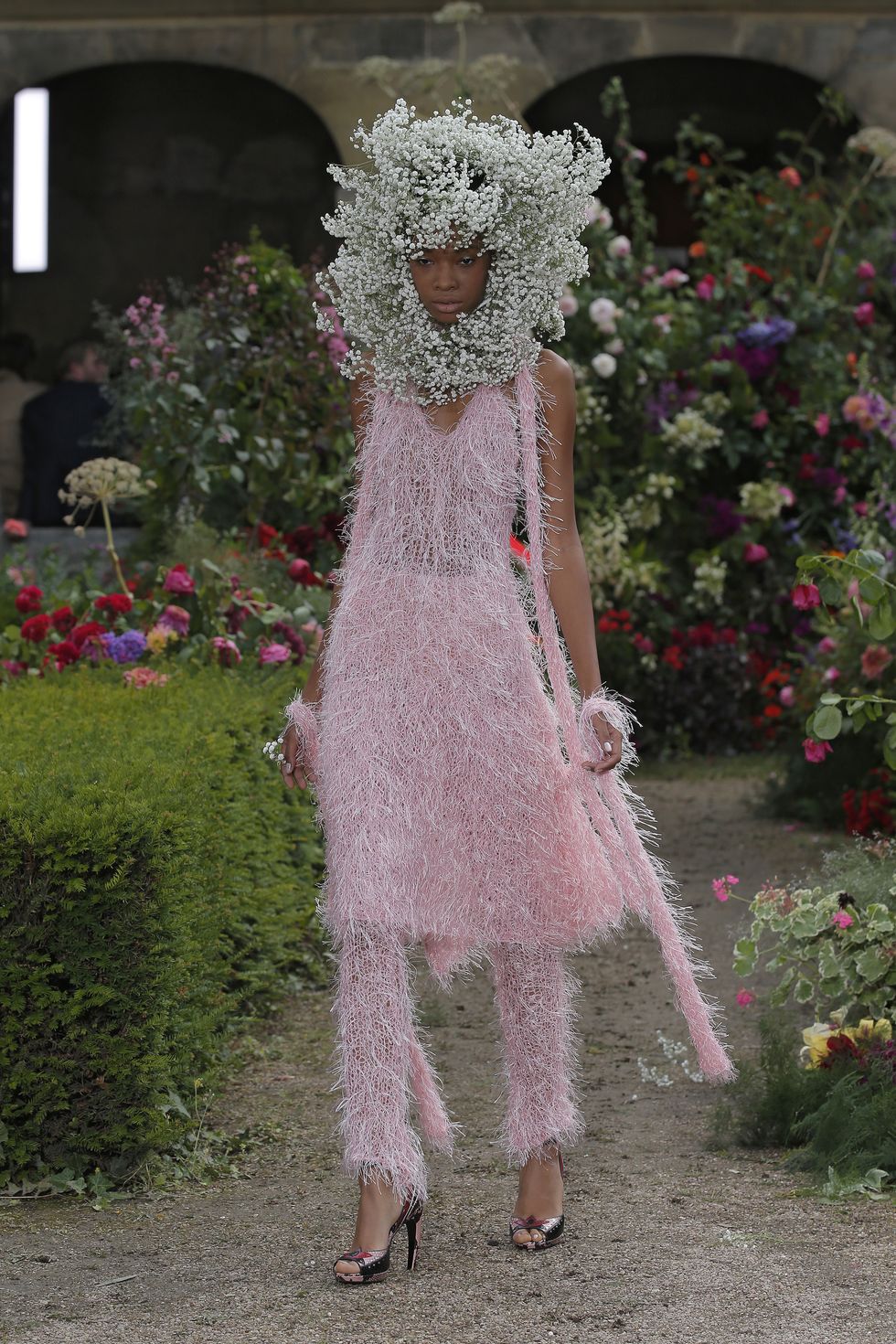 Estrop/Getty
If fanfare and frippery are the order of the day during couture week in Paris, there was some attention paid to two American labels, Proenza Schouler and hothouse flower favorite Rodarte, who showed their Spring 2018 RTW collections. Big picture, it's a comment on the vertiginous logic of the fashion calendar, but the debut of these two in Paris were both smashes and perhaps a bellwether of more brands crossing the pond to show.
The Happiest Return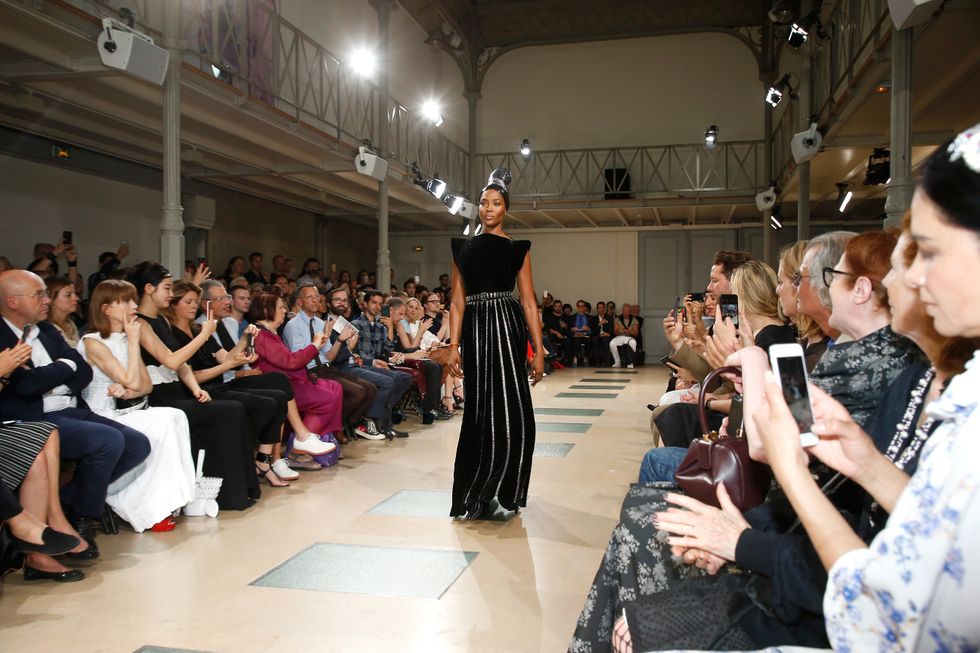 Bertrand Rindoff Petroff/Getty
It has been six long years (about 60 in fashion years) since Azzedine Alaïa has shown a couture collection and it was undoubtedly worth the wait. But the crowning moments were Alaïa muse and practically adopted daughter, Naomi Campbell, opening (and closing) the show in the designer's signature micro-knit gowns and coats. Alaïa shows are already golden-ticket rare and to see La Campbell in this particular presentation was nothing short of celestial alignment.
Bratz Pack
Leave it to dutchmen Viktor & Rolf to make Bratz doll-esque bobble heads a thing on the couture runway. Inspired by the surreality of the current moment, the pair cast their action dolls in hopes of championing a more diverse and hopeful world (despite current indications) and the result was cheerful—if perhaps a bit camp—and not creepy. It is unclear whether the heads—later removed by models for another pass on the runway—are available for purchase. Welcome to the Doll (couture) House!

Mad Dash at Margiela
John Galliano took for inspiration this season an extemporaneous dog walking outfit (coat over PJ's), among a few other key references, and the rest was couture history. With his usual flair for mad glamour and eccentric touches he took apart coats and separates and mashed them riffing on the idea of fast glamour, with wet faces and stained lips by Pat McGrath, to brilliant effect. The pairing of Galliano and the abstract legacy of Margiela continues to wow and captivate the normally staid couture.
Buzzworthy at Chanel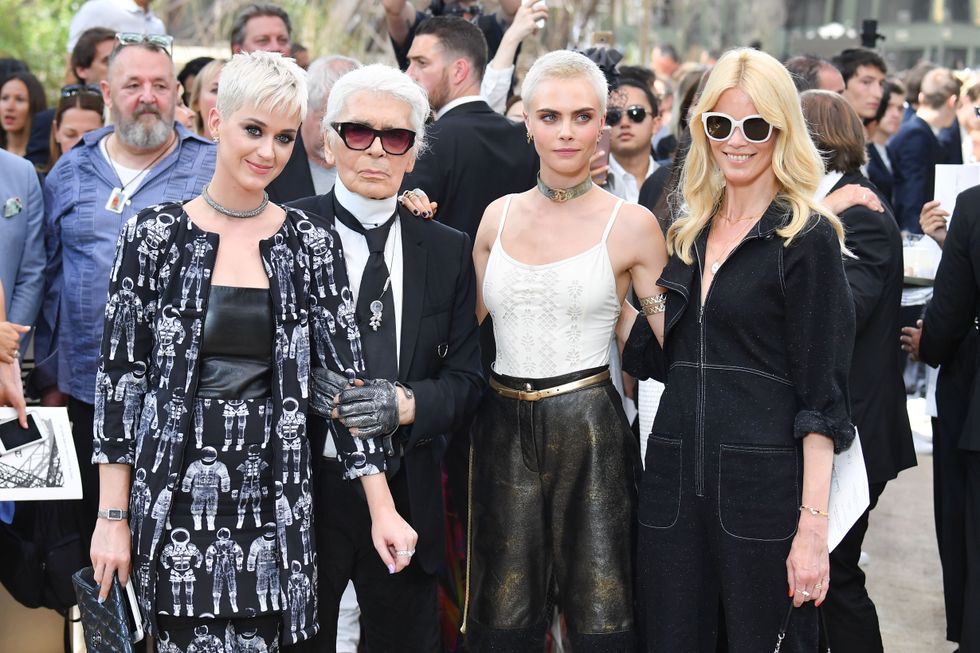 Stephane Cardinale - Corbis/Getty
If three is a trend then we've got a buzz cut, bottle blond craze on our hands. With Kristen Stewart, Cara Delevingne and Katy Perry all sporting their version of peroxide pixie at the Chanel show this week, something is certainly in l'air du temps. But does such a celebrity confluence signal the trend's opening look or the finale show-closer?
Bicycle Built For Coco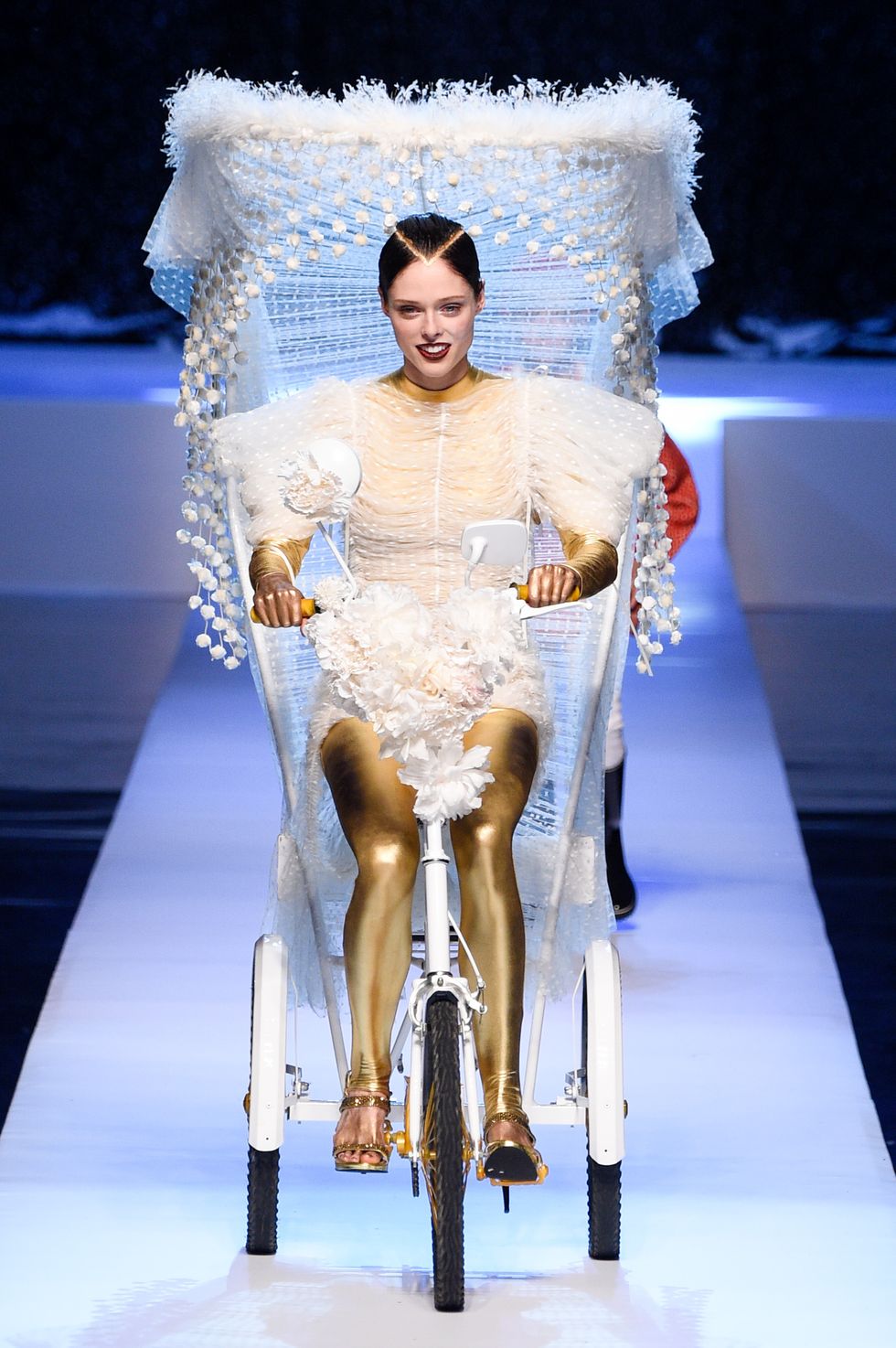 Peter White/Getty
After shuttering his RTW line three years ago, Jean Paul Gaultier has poured all of his energy into his biannual couture shows; and how. For this season he took on the theme of ski and the glamorous destinations for said pursuit. To close out the défilé he chose maison favorite Coco Rocha to wheel down in a pom pom draped bicycle (perhaps meant to evoke a ski lift?)—and any après-chill by evoked by the sweaters and muffs was melted.
Splash photo via Getty