Valentino, led singularly by Pierpaolo Piccioli since 2016, is an anomaly within fashion: in an industry steeped in rumors of designer discord and departures, revolving-door creative churn, or cynical ivory tower dictates, the Rome-based maison founded in 1960 by Valentino Garavani and Giancarlo Giametti, remains fabulously above that tiresome fray. Even the departure of Maria Grazia Chiuri, Piccioli's former creative partner at Valentino, for Dior a couple of years ago was seen as fashion's version of conscious uncoupling. No scorched-earth interviews or behind-the-scenes backhanding. And on top of all that, the founders, like benevolent parents, can be seen steadfastly in the front row each season in Paris, sometimes weeping with joy at what the successor has done. So what is the secret to one of fashion's only functional famiglias?
The answer would seem to lie squarely with Piccioli himself. For starters, there is not a whiff of the brooding, self-mythologizing créateur that Paris just can't quit, but rather a man committed to the dream of Valentino and also grounded in the reality of the world outside of the fashion bubble, with a dash of glamour to be sure. For his ravishing spring 2019 show, he was thinking of artist communities of the last century — the idea of escaping to a place where one could be (and presumably dress) as one pleased in the service of self-expression and their art.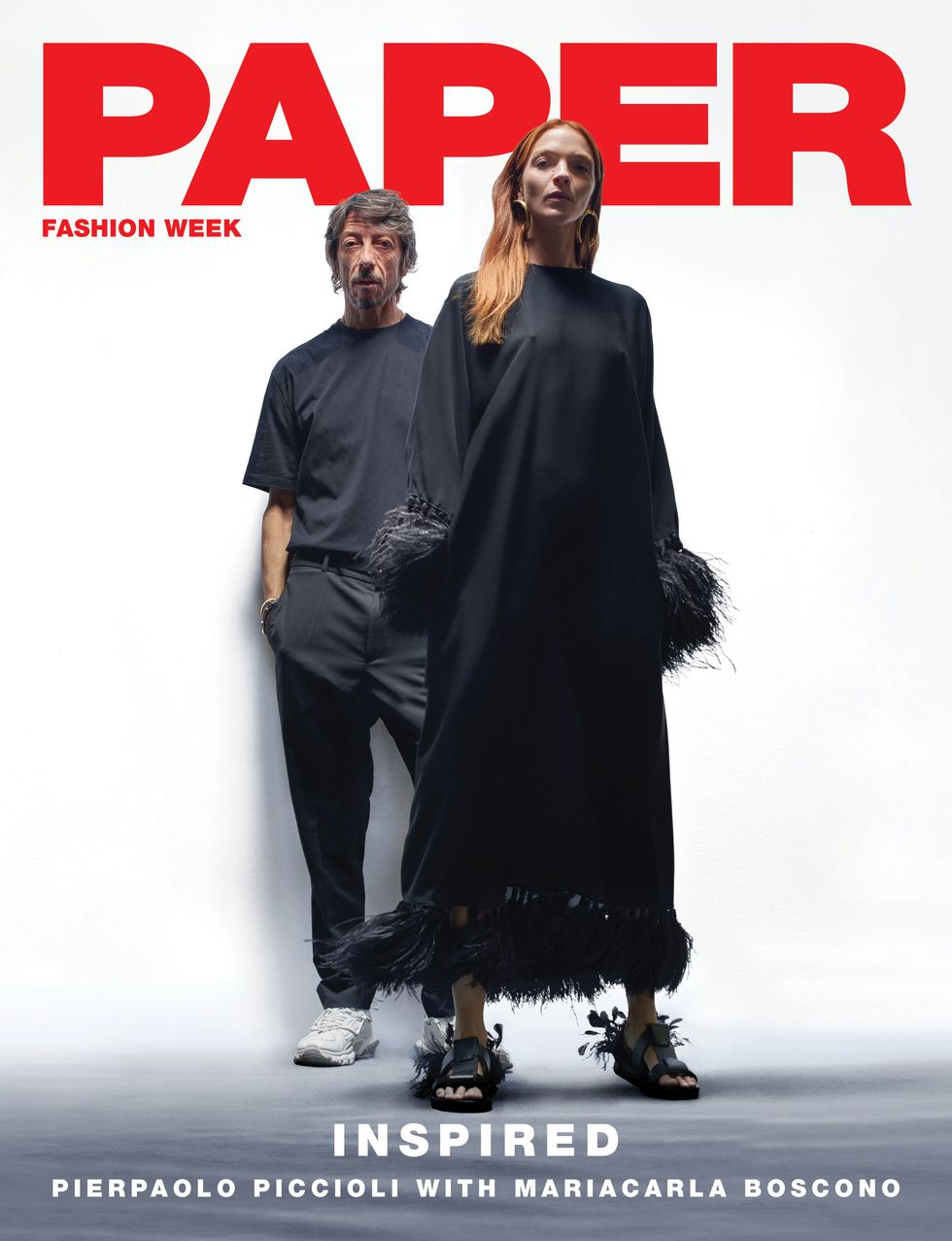 Pierpaolo Piccioli with Mariacarla Boscono (wearing Valentino spring 2019)
Though he hedged: "I don't like the idea of escape. I like the idea of freedom of expression, you can be whoever you want to be, wherever you want to be," he said backstage. The show notes were koan-like, about freedom, interiority and aesthetic. "Freedom is not escape but presence," the last line read — a veritable cri de coeur to stop looking high and low (or bending over a screen) for beauty, but that paradise instead lies within. And then he showed us just what he meant.
An opening salvo in all black was a meditation on the craft and handmade exuberance on offer chez Valentino; the pleating and draping all the more exquisite in the negative space of each piece. In the white backdrop of the runway, held at Les Invalides, a cluster of cacti and other flora sat centerstage so that, when say Mariacarla Boscono passed in a sublime feather-trimmed black column, it brought to mind the Steiglitz photographs of Georgia O'Keefe, an iconoclast who knew the best way to find herself was to get away.
But Picicoli can resist color for only so long and there soon marched a deluge of prints and technicolor fantasies, each more resplendent than the next. Eden-esque in their primal joy, but this was no allegory. It brought more to mind that uncanny meditative feeling, when closing your eyes in repose while your retinas adjust, bursts of color and dazzle hurtling from within. Amidst all of the unrestrained elegance — this really felt like Piccioli at his most deliciously liberated — perhaps the most poignant note in the show was on the floor.
There was not a single high heel in the entire run, each look anchored in a flat sandal, espadrille, or sneaker. Granted, the majority were festooned in feathers, but the message was clear: no matter how high the flights of fancy, the surest path to beauty is trod firmly, and comfortably planted on the ground. To decompress post-show, the designer confesses he will go dancing with his team, who clearly share his affinity for flats. This ethos is arguably the key to the house's continued success and unwavering relevance, and one owed solely to Piccioli; that of meeting the Valentino woman where she is in life and on the street, quite literally, and giving her exactly what she needs, which at the moment feels like balance (on flat, but nonetheless gorgeous, shoes).
Maintaining a sense of reality and timeliness within a brand largely known, and regarded, for its jet set glamour is something of a fashion gauntlet, especially with the founders so close at hand. Who is the Valentino woman in 2018 versus 1960, theoretically and sometimes actually, the granddaughter of the original woman Garavani dressed? "In the '60s, it was different," Piccioli said. "They were women who were trying to affirm themselves. Not as wives or as lovers, they were trying to express themselves as women." And some six decades on that effort is still alive and well with more than one feminism wave having crested and crashed since. "Valentino has moved from the idea of exclusivity, which was close to the old world, to the idea of inclusivity," he continued. The casting eschewed tokenism in its breadth of diversity but Piccioli was not taking inclusivity at face value. "I'm talking about communities — which is about sharing ideas not appearances. That's what I want to stand for."
"Valentino has moved from the idea of exclusivity, which was close to the old world, to the idea of inclusivity."
Piccioli's earnest inspirations aside, the collection holds up sans context as unequivocally gorgeous, a gust of glamorous air just as fashion month putters to a close, however you care to look at it. It felt like a reminder during the Paris shows that beauty for beauty's sake was more than enough sometimes, if you are just present enough to let it find you.
Sign Up for the Morning PAPER