Patti Smith's first book Just Kids exploded '60s and '70s New York City — all its grime and glamour — into kaleidoscopic, savory, pungent detail. It drilled a peephole in the world of the (according to Patti, indeed often) starving artists who made the city their home long before Sweetgreen or Lyft or Instagram, letting Boomers reminisce and Millennials discover.
Just Kids also documented Patti's intense, singular relationship — spiritual, creative and romantic — with photographer Robert Mapplethorpe, which lasted up until his death from complications from HIV/AIDs in 1989. Although the sexual part of their relationship ended in the early '70s when Robert came out, their partnership has become recognized as one of the great American love stories.
In the book's photo insert there are several portraits of Patti and Robert nude, kneeling worshipful and blindfolded. The photos are beautiful and painful. The artists look either like they're in the midst of religious ritual, or like they've been violently kidnapped.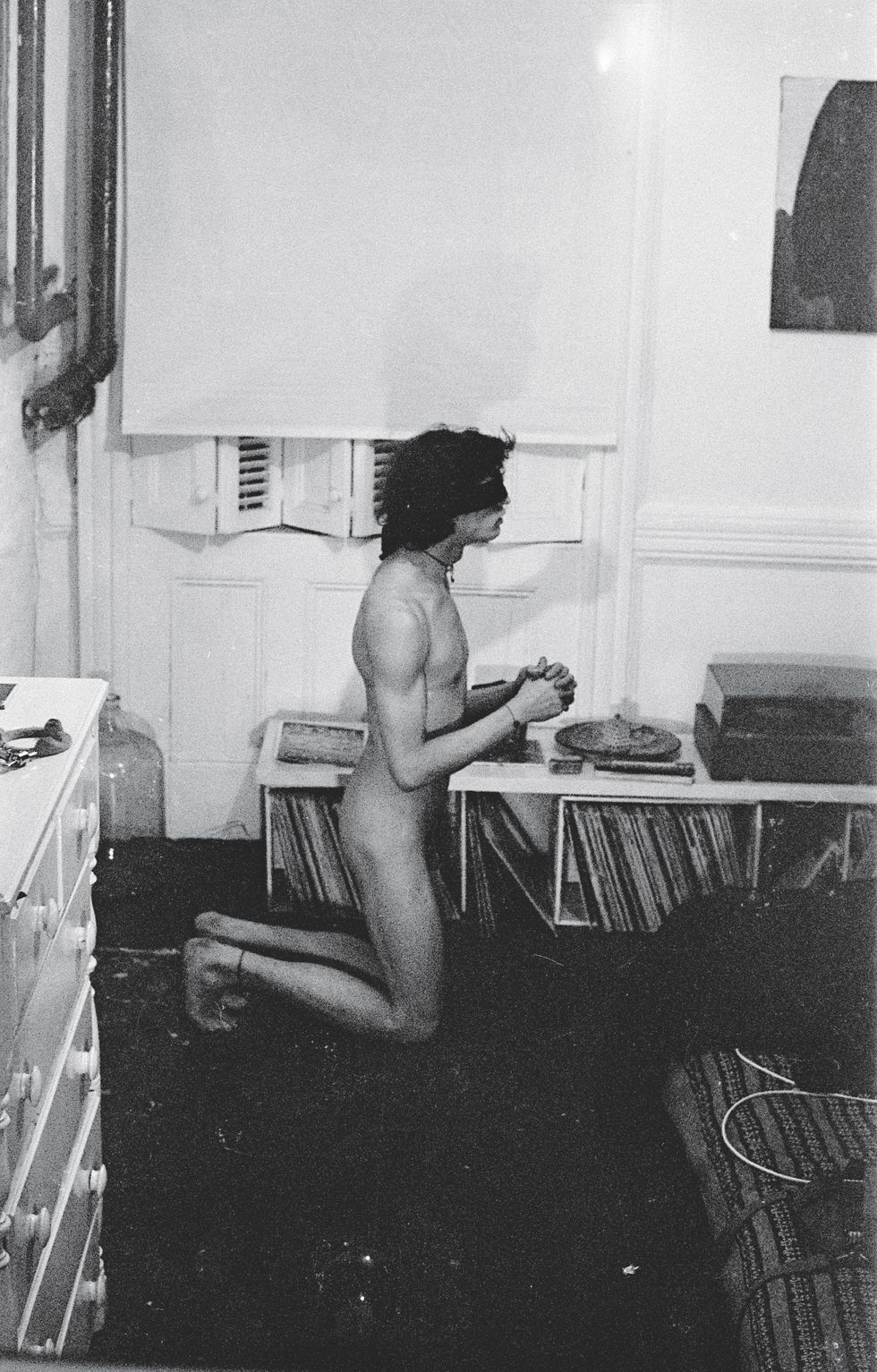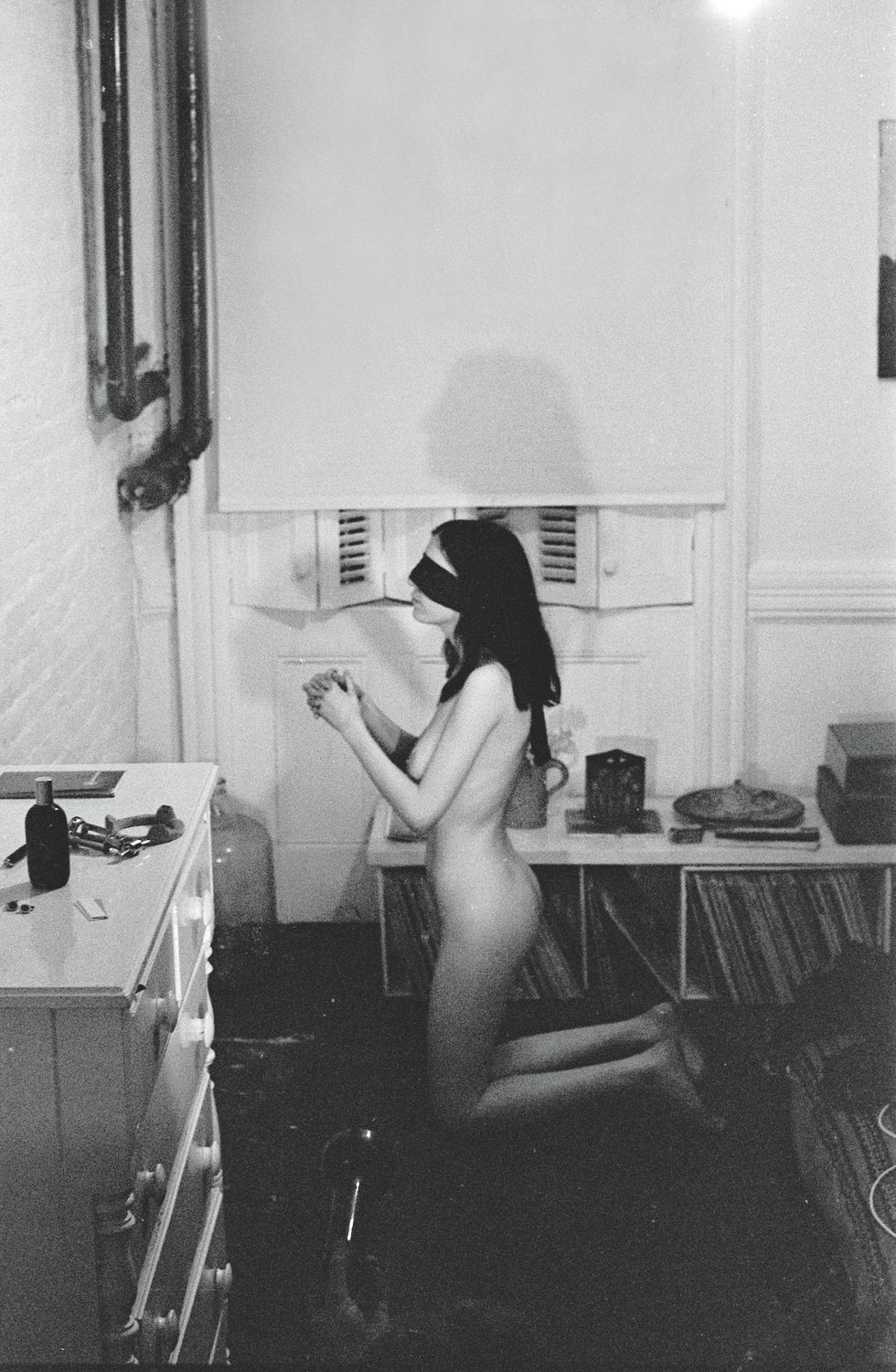 These photos were taken in 1969 by Lloyd Ziff, and represent the first time the pair ever posed nude together. The first time Robert and Patti were ever photographed together was a year earlier, also by Lloyd.
Today, Lloyd is a professional photographer, graphic designer and art director, who's worked at Vanity Fair and Rolling Stone, and designed album covers for Janice Joplin, Johnny Winter, Bessie Smith and Sly and the Family Stone. Before he acquired that resumé — and long before Patti Smith and Robert Mapplethorpe were Patti Smith and Robert Mapplethorpe — Lloyd and Robert were both students Parsons School of Design in New York City.
"We recognized something about each other," he tells PAPER over the phone. "I can only speak for myself, I wasn't really comfortable coming to terms yet with being gay. Maybe Robert felt the same, we never really discussed it. But out of maybe thirty or forty people in the class, we were friendly and we liked each other."
Without knowing that one day photographers would give an arm to shoot the couple, Patti and Robert were already appealing subjects. "She was so intense. Both Robert and Patti were extremely beautiful and very intense, but not in the conventional, beautiful way, they just carried themselves with beauty, I suppose," he says. "I like making people feel good, look good. I've never used a studio or lights, I just like to have a relationship with people and try to photograph the relationship.
He asked the couple if he could come by their tiny apartment near Pratt for a casual shoot on his 35 millimeter canon. "They said 'of course.' You can see in the photographs that they want to have their picture taken. They liked having their picture taken. We didn't spend much time shooting or preparing. You know, I didn't have any money. I could only shoot half a roll of film."
"I didn't ask them to do anything, they just posed," he says. "They were natural stars, even though they were babies or like Patti said, 'just kids.'"
In the photos, Robert tenderly drapes his arm around Patti, staring off at the distance. Patti is more comfortable locking eyes with the camera. In one shot, Patti smiles radiantly, her gaze trained in the distance, and you can tell it's on Robert. "She and Robert have desire in their eyes," Lloyd says, explaining that he named the book after a lyric from Patti's song "Piss Factory," about escaping the misery of small-town working class life: "But you know she got nothin' to hide/ And I got something to hide here called desire."
The nude shoot took place a year later in '69 after Robert and Patti famously took up residence at the Chelsea Hotel. However, they were never meant to be standalone works of art. "Robert called me and asked if I would do some naked pictures of them for a little film he wanted to animate. They were meant to be silhouettes for the animation."'
"I mean, it was the '60s. There was no question that it was going to be sexual," Lloyd says, chuckling. "They trusted me, and I trusted them. They just came over to my little basement apartment, and took their clothes off. Robert and Patti did what he wanted: kneeling, arms out, blindfolded. We weren't trying to make a great photograph, he just wanted the silhouettes."
Although the nudes were meant for a film about a "tantric Garden of Eden," Robert never did anything with them. That's because shortly after that shoot, he'd lose interest in film, and begin the photography work — beautifying and exploring marginalized bodies as they'd never been before — that made him a legend.
Lloyd wouldn't learn this until Just Kids came out, but their session was one of the events in Robert's life that nudged him towards photography. "Patti wrote about the naked pictures in the book… She said something really interesting. She wrote that she said to Robert after that shoot, 'If you want to have pictures, why don't you learn to take them yourself?'"
The first time anyone besides Lloyd, Patti and Robert saw these photos was in Just Kids. Any magazine would've paid royally for them, but Lloyd felt uncomfortable sharing them once Robert and Patti became household names. "They were my friends, and as they became more renowned, it didn't feel right to use our friendship that way."
More than 50 years after the shoot took place, Patti phoned Lloyd asking to print his photos in Just Kids. "I was so honored, especially that she wrote about them. I was friends with Robert until he died. We became better friends, in fact, in the '70s. He would visit me in LA, and when I came to New York, I remember once he took me on a tour of all the gay bars on the West Side Highway," he recalls. "By then we were totally comfortable with who we were. I enjoyed giving him work for the magazines I worked for. Not that he needed the money, but just because he was a great photographer, of course."
By the mid-'70s Robert and Patti were on their way to becoming Robert Mapplethorpe and Patti Smith, and Lloyd had some sense of what he'd gotten to be a part of. But even back then, he suggests everyone had a sense of who they were: "You knew they were on the artist's road, and they weren't getting off it."
Lloyd ended up straddling the editorial and art worlds, but alongside Patti, Robert and the rest of their NYC mini-generation, he came of age as an artist in a world where rebellion felt possible. "The '60s became legendary, because it was a time of real, radical change. The drug use mattered too. By the time I got to college, everyone was smoking dope, LSD was around. It changed your perception even more," he remembers fondly. "We thought we could… I don't know, change the world. Or at least be part of the change."
Thanks to Lloyd, we have the chance to observe Robert and Patti in the midst of doing just that.
DESIRE is out now. A limited edition publication of 600 books is available here.
Sign Up For The Morning PAPER