As 2017 comes to a close, we've predicted 11 names you'll undoubtedly know in the New Year. Between art and fashion, music and film, discover who'll be on fire in 2018.
If there was ever a multi-hyphenate to end them all, it's Carlotta Kohl. The German-born, Paris-raised, New York-based woman redefines "slashie" as a model-slash-painter-slash-sculptor-photographer. If you haven't yet heard her name, it's likely you'll instantly recognize her face, if not from social media then perhaps as the star of Juicy Couture's fall '17 campaign, which has been plastered across every street corner in NYC.
Related | PAPER Predictions: 11 Names You'll Know in 2018
Despite several years of setting fashion ablaze, it's behind the lens where Kohl's current passion and focus lies. She has been practicing as a fine artist, as well as shooting for the likes of Jalouse and L'Officiel Paris. One of her art pieces, a sculpture, is an all white book printed with the title, "How to Say No." Another, a colorful pastel print, is repeatedly stamped with the words, "Pretty Pussies."
As an industry legacy (she's the daughter of a model and a photographer), Kohl has naturally immersed herself in a crowd of fellow creative femmes. She counts rising model Paloma Elsesser, ubiquitous Toronto photographer Petra Collins and nail art vanguard Madeline Poole among her BFFs, prompting Vogue to once declare them the "coolest girl squad in town."
You've been a successful model, but you're also a talented artist. Is it frustrating to be known for one more than the other?
I would say it's half and half. When people ask me what I do, I say I'm an artist. That's always what I identify as. Modeling is a job. It's what I do to pay my bills and support my art. There are times when the two are able to blend and that's been exciting. I'm lucky to be working at a time where it's encouraged and almost expected to do other things. The industry has changed a lot in that regard. You're no longer cast based solely on appearance.
How do you define your style as a photographer?
I'm interested in capturing strength, and I don't mean that in the sense of being fearless or physically strong. I'm trying to illustrate that there's strength in being emotional and vulnerable.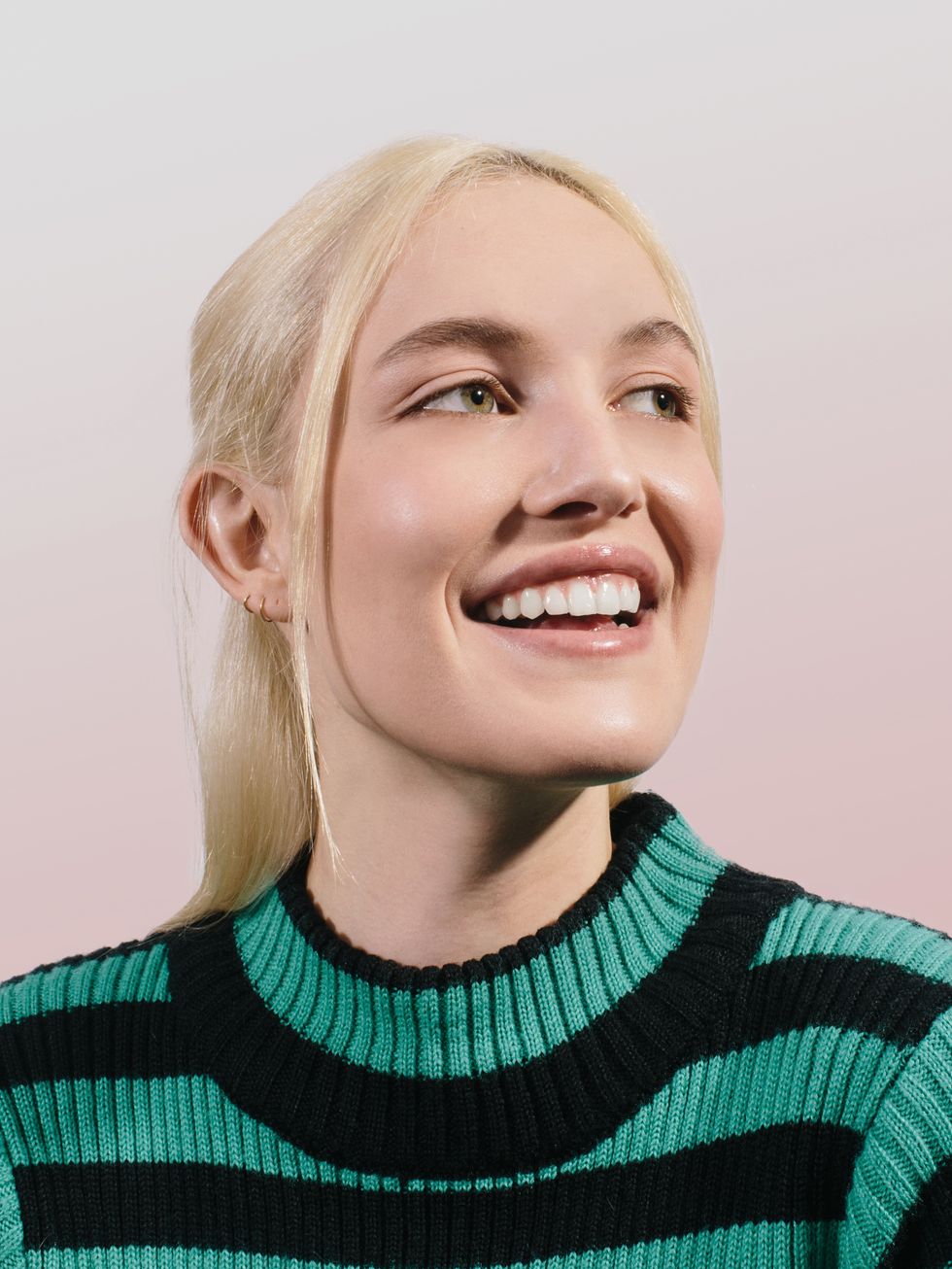 Who inspires you?
Simone de Beauvoir, Roy Orbison, Agnes Varda, Sophie Calle, and my brilliant badass friends.
Did you always envision a career for yourself in fashion?

My parents were in the industry for a long time. I grew up seeing two different sides of the industry and how they came together to create something powerful. I got to see how both my parents brought their unique sensibilities to a photograph. Being so close to that world definitely shaped my interests subconsciously. I became aware of the power of photography and started taking photographs of my own at a young age. I ended up going to SVA and graduating with a BFA in photography. I didn't necessarily think I would end up in fashion, but it's been cool to bring my aesthetic and ethos to fashion shoots.
What's exciting to you about the industry right now?

It makes me hopeful that more and more women are coming forward about their lived experiences that were for so long silenced and rejected. Their voices and stories are already and will continue to dismantle the systemic ills that have been been ingrained in and plagued this industry and others for all of history.
Fashion has been ripe with controversy, but that's slowly coming to light.
I do think that there's been some movement in the right direction — I'm so proud of and inspired by the many women who have come forward about their experiences in the fashion industry. But because this culture of harassment and mistreatment of women is so entrenched and systemic, there's obviously much more work to be done. That includes people in fashion being held accountable for their actions and making a commitment to diversity and better treatment of models. The braved women who have come forward are a small percentage of the models who have been harassed and rendered powerless.
How do you hope these conversations will change fashion?
My hope is that people will not just change because they are afraid of being outed by the media, but that companies and individuals will address and dismantle the societal systems which perpetuate such abuses. We would be doing a disservice to ourselves if we simply pat ourselves on the backs for this effort instead of enacting necessary changes. It's also important to note that mistreatment of women is not always sexual in nature — men and women of all sexual orientations have made models, myself included, feel inferior and powerless.
Having a strong social presence has become crucial to getting booked in 2017. What is that like?
It's twofold. On one hand it's great because you are in control of your image. Your voice is not edited or altered. You can get booked for what you represent and with that you have another opportunity to get your message across and do something with your voice. On the other hand, this agency is sometimes dispensed and negated when what being booked comes down to is the number of followers you have.
Has it been a battle for you to be taken seriously as an artist?
Yes, absolutely. I think people can get preoccupied by my working as a model. Being an artist has definitely helped my career as a model, but the same can't be said the other way around. Modeling still has this stigma attached to it. Then there's the whole being a woman thing.
What's your 2018 dream?
Women ruling the world.
Click here to discover 10 more PAPER predictions.
Photography: Ryan Duffin