We're really starting to run out of "First Openly Gay" people. (That's a good thing). But just as American poet Cassie Ventura once declared, we've still got a Long Way 2 Go — especially as we shift our attention outside of the Western Hemisphere.
Over in the East, the push for LGBTQ equality is steady, but slow-moving. Within South Korea specifically, the concept of coming out is still regarded as mostly taboo — but attitudes are evolving, especially within the past decade. While there are no outright laws made against homosexuality, and one's gender can be legally changed, there's also no official recognition of same-sex unions of any kind. As of a 2017 poll, 41% of the general public approved of same-sex marriage. (By comparison, 61% of the U.S. population showed support in a poll from 2016).
Having out-and-proud pioneers in our communities is key in breaking down misconceptions and unfounded phobias in every part of the globe, especially in terms of pop stars. To date, however, the number of openly LGBTQ Korean artists can be counted on one hand.
When MRSHLL made headlines for being the "First Openly Gay" Korean musician a few years back, friends warned that the rainbow-colored cross to bear would be "social suicide."
But the world kept spinning. And over a year later — following the debut of Holland, an out-and-proud performer on the idol scene — MRSHLL is ready to exhale with Breathe, a collection of sexy, slinky electro-R&B infused songs about the various forms of love he's feeling in his life.
It's a set of songs that proves that while his very existence is vital in advancing the cause in a territory in dire need of visibility, MRSHLL's got plenty more to offer than just that title.
I'm heading up to Boston Pride right now. Korea's Pride is in July, I believe? Are you going to go to Pride this year?
Yeah, we're a month behind. They haven't released the details of who's going to be there, or the exact dates just yet, but I'm definitely going to go to the parade and all the different events that they have. Who knows? They may even hit me up for a performance. [Laughs]
Is Pride important to you? What does it mean to have Pride in Korea?
Pride is still very important to me. I think there are many parts of the world that are not so open to people of different genders and sexual orientations, and there are still a lot of countries where you can't live freely as yourself. There's still a lot of work to be done, although there's been great strides. Pride is still a very important event for people who may not know that we exist. Even in Korea, there are still people from my parents' generation who still believe that the LGBTQ community is more of a Western thing, and not really a global thing.
That's really interesting. And kind of horrifying.
Yeah. They think it's something that came about in the past 30 or 40 years.
Here in the West, we're lucky to have acts like Sam Smith, Troye Sivan, Hayley Kiyoko and MNEK making moves. Apart from yourself, do you see any other openly queer pop artists breaking in the East?
Not necessarily those who are completely out and open. There are some indie artists, but none that I'm aware of who are actually out and open, other than Holland and me. They either play with the concept or it's more of an artistic thing, or there's a music video concept where they toy with the idea, but nobody's really gone full force. They dress up in drag and wear makeup and heels, but nobody actually takes the extra step forward and says "Hey, I am... blank." Nobody actually makes a definitive statement. So, not that I know of!
You made headlines as the first openly gay Korean artist to debut, and then Holland came around as the first openly gay idol in early 2018. Can you talk about the "idol" concept for those unclear of what the distinction is?
In terms of the idol concept, I am still kind of figuring out what that exactly means. To my understanding, an idol is usually either in a boy group or a girl group, and they're kind of…what's the right way to say this? I don't want to say "manufactured," but it's kind of like the pop boy band factories of the 2000s, like NSYNC or Backstreet Boys, where they have songwriters and producers and stylists and makeup artists and people who create a concept and characters for each member and whatnot. In a way, the artists themselves don't really have a say in what their concept is. It's kind of given to them, which is in and of itself its own genre. People love it. I love it — it's fun! That's what I think the idol concept is, in my understanding.
Related | MNEK Talks 'Tongue'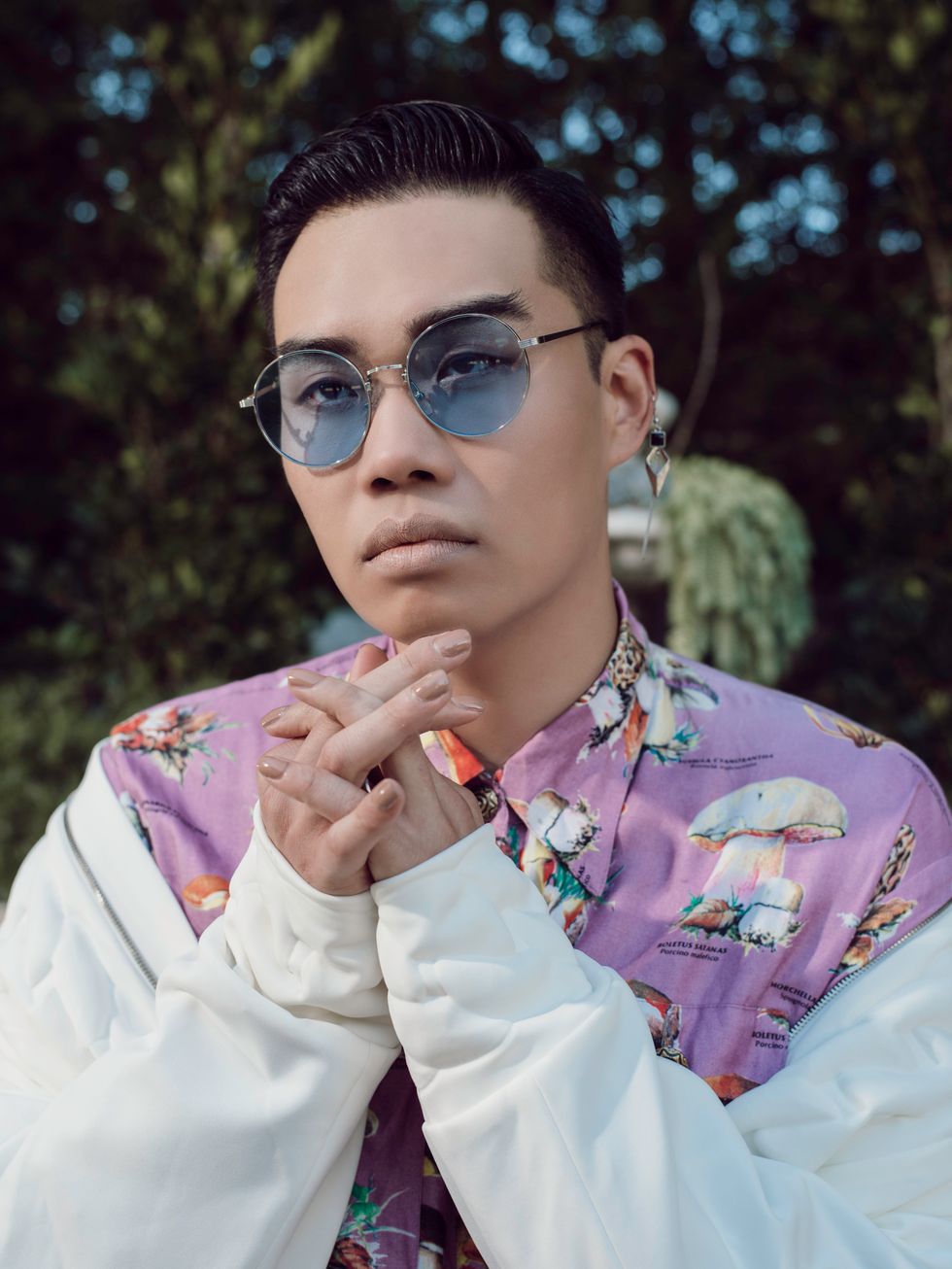 Did you see his debut? If so, what did you think?
I think it's incredible that there's another artist who's catering to a different group of fans out there. I think the more the merrier! There needs to be visibility. With just two artists out there, it's not enough. There should be a Korean openly gay opera singer. There should be a Korean openly gay... country singer. Who knows? I'm all about it.
Public support from allies also seems to be getting louder in the East, with acts like Jolin Tsai showing support in Taiwan, Ayumi Hamasaki performing for Rainbow Pride in Japan. BoA was already performing at Pride stateside years ago. Are you seeing this represented in the K-Pop industry today? Do you think it's helping to shift public attitude?
I believe so, especially in the past few years. There's been a lot more support publicly from different artists in the K-Pop genre. For example, there's an artist Lee Hyori — she's one of the original K-Pop idol stars. She's been bringing awareness to the community. She had a song "Miss Korea" that she put out a few years back, and she used a lot of local drag queens in her music video. I believe when she was asked about it, she was very open about, like, "These are some of my friends, they're super loving and open and honest about who they are." There's also Uhm Jung-hwa. She's like the Korean Madonna. She uses a lot of dancers from the waacking community, which is a form of dance that's based in the gay community. She's super cool. And then there's Yoon Mi-rae. She's an artist on my label, and someone who is kind of legendary in the hip-hop scene out here. She's been very supportive of me — AKA, signing me to her label along with her husband Tiger JK, who's kind of like the Jay-Z of Korea. Just the fact that they're even behind me and supporting me in me being open about my sexuality in and of itself is a statement. I think more and more it's opening up, and hopefully in a few years, more people will be vocal about it, and not be afraid to be who they are be supportive of each other.
Related | Kehlani: the Softer Side of Savage
You told Billboard a year ago that your friends considered coming out "social suicide." How do you feel about it a year later? Has there been any significant backlash?
I mostly hang around with musicians and other artists, and they're more on the open side from the get-go. I haven't had any backlash personally within my social circle, but there are comments made about me. If anyone searches, you'll immediately see "MRSHLL, openly gay!" It's not hard to find that. But at least in Korea, the media hasn't really talked about me being the "first openly gay" — or anything gay-related — quite yet. They've only focused on the music, which is good I guess, because that's what I want to be known for. It's a part of my identity, but it's not all of who I am. I haven't gotten anything crazy so far, but who knows? As I get more known in Korea, I'm sure the question will pop up. Who knows what'll happen? I'm kind of gearing up for it, or preparing my heart and body for whatever's to come. But so far so good!
The more known you are, the more backlash you'll get regardless, so brace for it anyway.
Exactly.
So besides gay stuff, let's talk about the things you'd like to be known for beyond just that.
We love gay stuff, but onto the next! [Laughs]
We love gay stuff! I'd love to talk about the EP. How long did you work on it, and what does it sound like, in your own words?
I began working on it earlier last year. There was a different album that was supposed to come out that summer, but ended up being pushed back. I went through a bunch of different things and ended up creating more songs. I titled the EP Breathe because I was kind of trying to figure out when to release it, and ended up kind of just letting it go, like breathing. I had some really incredible conversations with my mom and some really close friends of mine. The songs on the EP encompass love in general, and the different types of love I've gone through in my experience, whether it be in relationships, or acceptance, or self-love. It's a little sampling of what I offer as an artist. It's just the tip of the iceberg for me, musically.
There are a bunch of collaborations! How did some of them come about, and why did you choose those artists?
Lydia Paek, pH-1, Sumin and Ja Mezz are all featured, and I also worked with different songwriters and producers — one of them being Lee Hi. All of these people that I worked with are people that I'm actually friends with and who I admire as artists in their own right. It was very organic... I didn't actually seek anyone out. There's a song called "Hold Me" that I wrote earlier last year with my friend Amy [Kuney] and my friend David. Amy and I attended Biola University, which is like a private Christian university. We both went through our own experiences with coming out. She's now writing for Kelly Clarkson, Akon, Tori Kelly — all these incredible artists, and she's had her own musical journey. It was just natural that we came together from experiencing similar things with our families and our faiths. Lee Hi and I have known each other for the past couple years. Lydia, I've known since like junior high. There's longevity to everybody. It was just so natural. I'm happy about how everything turned out.
You've hung out with lots of awesome acts, as evidenced on your Instagram. Any dream collaborations still on your bucket list?
Oh my God. I mean, you mentioned MNEK earlier. I love MNEK. I've been following his career since he was writing for Madonna and whoever else. He's just really incredible. I'm all about what he stands for, and I think his voice is just pure magic. I'd love to do something with him. I love the music that he loves as well, because it's the music I grew up on back in the day. I love Kehlani, I think she's incredible and her voice is wonderful. In terms of K-Pop, Dean and Crush are friends of mine and singer-songwriters and producers I admire. SOPHIE from the UK, who is one of the few openly trans female artists and produced for Charli XCX, Madonna and Vince Staples, and whose beats are just out-of-this-world. I'd love to work on a record with the legend, Miss Janet Jackson-if-ya-nasty. I'd love to get into the studio with Julia Michaels who, along with Justin Tranter, are literally the best in pop music songwriting right now. H.E.R. Her R&B vocals. The songs from her album earlier this year were, and still are, on rotation on my playlists. And since I grew up on pop music, I think Britney would be an incredible person to work with. One of my favorite albums from her is the Britney album from 2001. That album is when she was like, "I'm done with the 'Oops!...I Did It Again' and now here's my 'Slave 4 U' with Pharrell." And that, like, ruined me in the best way ever. She's a dream collaboration. There's so many — I'm open for business. Girl, I'm ready.
Related | Julia Michaels' 'Issues' Got Her a Grammy Nomination
Glad that you referenced Britney. True stans know that's one of her cooler records.
We can talk about Britney forever. Her whole Blackout album — a dope-ass album. "Gimme More," all those songs.
Of course. Will you be heading out on the road to promote your music?
Summer's kind of the season where everyone performs at different universities in Korea, but I'd love to do a tour in the States or in Europe, that's definitely a possibility. My goal for 2018, for the most part, is to continually release music and get out all the actual meat of what makes up a tour. I want to get as much music out there to the people as I can, and then really focus on touring and performing next year. I still have different shows, parties and events that I'll be performing at for this year. I'm super excited to be out on the road, on the stage and getting my life for the people.
For the K-Pop fans who might have stumbled on you from their love of K-Pop in general, are you into any idol groups or singers? And for people who might not be familiar with other Korean acts, are there any Korean artists they should also know about that you recommend?
I really love this band called Hyokoh. They border more on the indie-rock side of things, but the lead singer's voice — his voice is just, it's like... husky, scratchy and reminds me of bluegrass, but with a rock edge to it. The songs that he writes and the music that he puts out with his band, it really hits a part of my soul that I'm like — oof. Guttural. He has a song called "Wanli," which actually is in Chinese, and the music video is in Mongolia and there's all these crazy horses — super epic stuff. In terms of the more mainstream stuff... I like BLACKPINK, sorry not sorry! I think they're beautiful, their songs are hella catchy and they can dance their asses off. They're fierce as fuck. I think they're fabulous. I love Lee Hi as well, obviously, but she's a friend of mine. Her voice is unmatched.
Bearing the "Gay Pop Star" title is difficult — I don't blame you for not wanting to be the representative of an entire community. How would you like to be known?
First and foremost, I want to be known for my music and my performance skills more than anything. Everything else is just an extension of who I am. The music is the most important. Otherwise, I'm just a gay person. [Laughs] I'm a musician, I'm an artist, I'm a performer – everything else is part of who I am. It's the many different factors that make up a person. I think I'm blessed enough to be in a position that I can make a positive impact on the world. Granted, I'm human. I'm going to make mistakes and say things I don't necessarily mean, but I'm allowed to make mistakes. I'm blown away by the different experiences I've had so far, and the talented people I've met. I can't wait for the next step and the next part of my journey. I can't wait to release new music, do crazier collaborations — Britney, MNEK, call me boo. I hope people are excited what I have to offer in the future, and I'm excited to show them what I can do.
Photography: Hannah Gweun