From debuting as a solo artist at 17, to writing lyrics for Billboard bigwigs like Beyoncé, Madonna, Diplo, Dua Lipa, and Zara Larsson (just to name a few), MNEK is now coming into his own in the Pop-R&B scene with the release of his new single: "Tongue."
For those who haven't heard the song just yet, MNEK describes it as "very up-tempo, it's fun, it's sexy, it's sassy, it's gay as hell." With deliciously seductive lyrics, a sick bassline, and killer vocals, the 23-year-old Londoner is serving us one of the best songs of 2018.
While the newly released music video shows a romantic, hot and heavily sexual tension between two Black, queer men making eyes at each other from across a long table, the song is an anthem for all people — regardless of color and sexuality — itching to break the silence and cut to the chase.
PAPER spoke to MNEK about his favorite lyrics, his experience making the Bradley&Pablo-directed video, and what to expect in the upcoming album.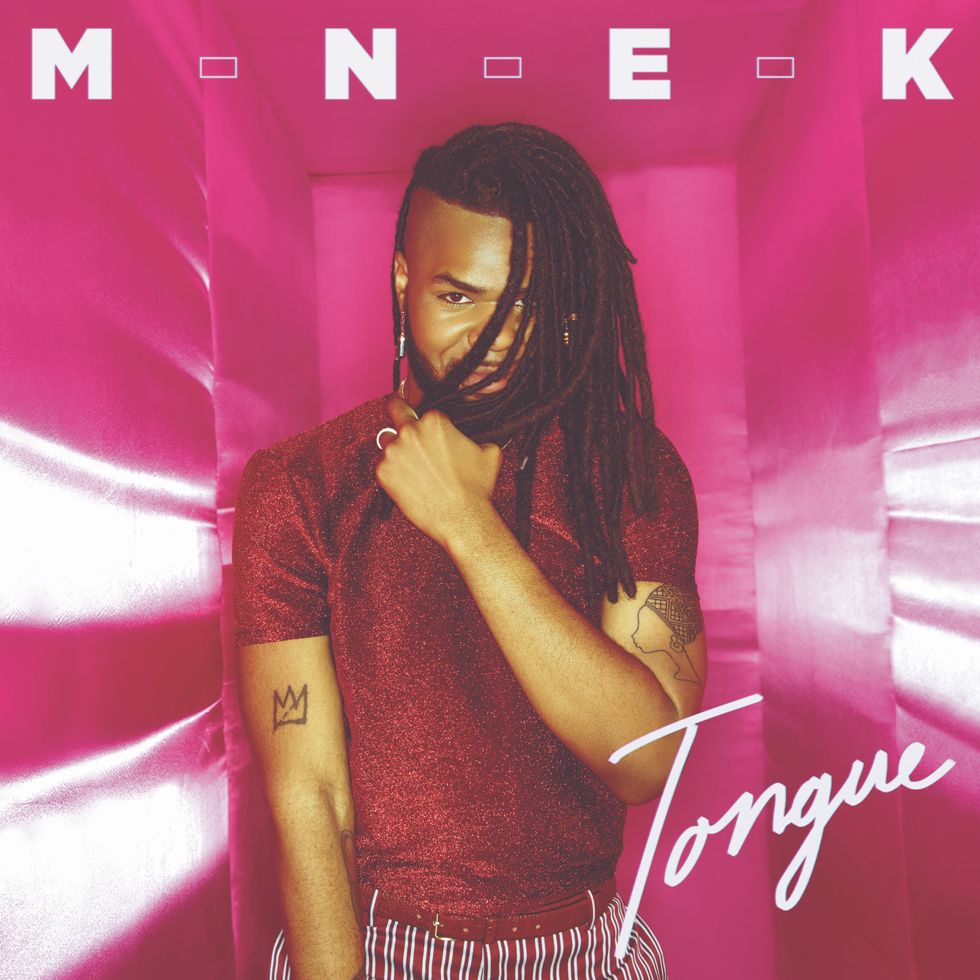 What was it like writing "Tongue"?
Actually, the chorus to "Tongue" was something I had for a really long time. I was toying with the idea of the lyrics, and I wan't sure if I was going to put a melody to it or just to speak the chorus. It was a collaborative effort.
When I wrote it, and when I had the first version, there was something really interesting about it in that it was something I couldn't have done a year ago. Now I'm more into myself, I'm more coming into my own a bit. I kind of like that this song's an indication of the extremes I'm allowing myself to go to, or at least ought to go to. So I think it's a good indication of me wanting to take risks and really go there with my music.
What's your favorite lyric in the song?
I really like the "Tippy two, tippy tea, tippy ta-ta-tongue" section. We can be songwriters, we can be clear-cut with all these intelligent phrases, but to everyone I've played the song to, that's the section everyone resonated with. Especially with music being worldwide, having sections like that are so cool because everyone in the world can sing to that — whether you speak English or you speak another language.
Related | Zara Larsson's Modern Day Love Story
What sets this single apart from all your past work?
I think I'm definitely coming into my own a bit more. My past music, part of it I have put out with the intention of doing well and me being halfway there, but I think now I feel like my full self and in my element. And I'm excited to release new music especially now that the album is done and ready to get mixed. You kind of go and feel like anyone can shape shift you or move you into a different direction, but I'm finding my lane, which is great.
What was your experience like working on the music video?
The video came about with Bradley&Pablo hitting me up on Instagram, and they said they really wanted to work on a project together. I played some stuff for them from my album, and they really resonated with "Tongue." And when I went to the label and played the album, they liked "Tongue" as well. So I thought it was the right thing to start the campaign with "Tongue."
I told them I really wanted a video with sexual tension of some type between two black gay lovers, and somehow make it artistic and fun. I wanted like a pop star video. I don't want to try and be cool. I didn't want to try and be like edgy. I just wanted it to be fun. They came up with the party, and I was sold from the time I saw it. This is my favorite video that I've ever done.
Related | Dua Lipa Is Your New Favorite Pop Star
What was the best part of shooting?
I definitely think it was having my friends on-set. More than anything, everyone on the set was such a credit to the video — from makeup to styling, to the people at our table. These are all people who made the video what it was and I had the best time. I had more fun at this shoot than any other video shoot that I've had over the years. I left that experience so happy.

What can listeners expect from the rest of the album?
The rest of the album I wrote and produced, and I go in and worked with different people there. I wanted this album to be just an extension of everything I've done. I've done a lot of writing and production, and that is really part of what is truly "me." And this is definitely that. I wanted to be able to push boundaries and really create my lane as far as what I have that other people don't, and make the most of those things. And I can't wait for everyone to listen to it, because [the songs] are all going to be out by the end of this year.
Images via Universal Music Group