In April of last year, megastar Rihanna posted a slow motion video of herself on Instagram, raven tresses flowing in the wind, soundtracked by a siren-esque voice that would easily coax any sailor to steer their ship into the rocks. The Internet scrambled to find the song's source, and turned up with little more than a acronym: H.E.R., the moniker of California-born R&B artist, Gabriella Wilson.
"Focus," the track Rihanna was ethereally jamming to, was from the soon-to-be 21-year-old's debut EP H.E.R. Volume 1. For those who dug a little deeper, they may have found that at the time of the project's late 2016 release, H.E.R. had already garnered significant support from a series of superstars, including Usher, Alicia Keys and Wyclef Jean. She was quickly picked up for a tour with Bryson Tiller, and hasn't slowed down since with even bigger plans for 2018.
What remains so interesting about H.E.R., much like her contemporary Frank Ocean, is her penchant for mystery and expert navigation of the public eye. She performs in darkness, shrouds her face in shoots and won't take off her frames onstage. While a quick Google search might tell you her real name, few fans even know that her moniker stands for "Having Everything Revealed." Perhaps that's what made her a natural choice to front the camouflage-inspired Beats collaboration with streetwear label UNDEFEATED — particularly her ability to hide in plain sight.
PAPER spoke with the soft-spoken songstress, who weighed in on her mystery, mentors, and making it as a woman in music.
It's only been a year since your Debut EP, but it's impressive how you've managed to keep yourself quite separate from the public — your art is really the only public face that we, as an audience, get to see. Is that a challenge in the social media age...where everyone is expected to be so accessible and promotional? Is that difficult for you?

Well, I've always been kind of a private person. I live a very private life. So, I don't think it's difficult because it's not that I hide, I just don't share much. I like to focus on the music and my message more than anything, rather than the stuff that everybody else really focuses on when it comes to physicality, fashion, and things like that. I'm more so focused on my music and my message.
That's so admirable because it's exactly what you say, you know artists are expected to have the personality now and the look and be on the scene. It's really amazing that you've managed to maintain your integrity like that.
Thank you!
I have to ask, how was it seeing Rihanna Instagram "Focus"?
Yeah it was amazing! When people ask me about it I never really know what to say because that moment is just so irreplaceable. I can't even describe what that feeling was like. I was literally jumping up and down, it kind of felt surreal. It wasn't like she just posted my song it was an actual video of her hair blowing in the wind, it was a legit moment. It was a vibe, so I was really, really excited.
I can't even imagine. So obviously, we're still recovering from the Grammys and female representation was really dire. Who are some female artists right now that you really respect? R&B or otherwise.
One artist that I'm really happy for and excited about is, Alessia Cara. I'm so excited about her Grammy win and I think she definitely deserved it. She's just one of the true female artists that's really about the art, in my opinion. She's got her personality and something that makes her super unique and different. Her kind of introverted lifestyle and personality definitely shines through. It's not traditional when it comes to artists these days. She's not everywhere and she loves to hang with her close circle of friends. Her music represents that and represents the women that aren't the loudest in the room. I really love her message and I respect what she does, she's incredibly talented.
What was your reaction to hearing what the Recording Academy president say women will get the awards when they come through with the goods?
Yeah, that's a horrible thing to say. It just shows you how sexist things can be and how hard women have to work to get the recognition they deserve. I think a lot of women killed it this year. It's just an ignorant thing to say, and I don't really want to touch on negative things.
Related | Charli XCX, Halsey And P!nk Respond to Grammy President's 'Step Up' Comment
Have you felt that reflected in your own career? That you have had to grind more than a male artist might of had to?
I don't really consider it difficult for me. I have a great team and I haven't really been faced with that, honestly. I released my music and I had a message that empowered women. It was for women and women gravitated towards it. I just represented them. I never felt that it was an obstacle. So, I personally haven't had that experience to have to work extra hard and prove something to a man.
That's amazing and, unfortunately probably a very unique experience.
Yeah, it's about going against the grain and saying the things that people are afraid to say and just being true to it. Staying the path and not letting those thing block you, hinder you, or making you feel less than.
This latest Beats campaign is based on the concept of being undefeated, how do you feel like you relate to that?
They're doing this whole thing with undefeated and it's about camouflage, and I think that's so dope! I feel like I relate to camouflage and it represents the strength. That's how I approach my music. The flexibility to blend in with any kind of environment and becoming apart of it. It's distinguishable. BEATS is this huge, super high quality headphones and speaker company. Them using camouflage to make a statement is so dope. It makes them unique.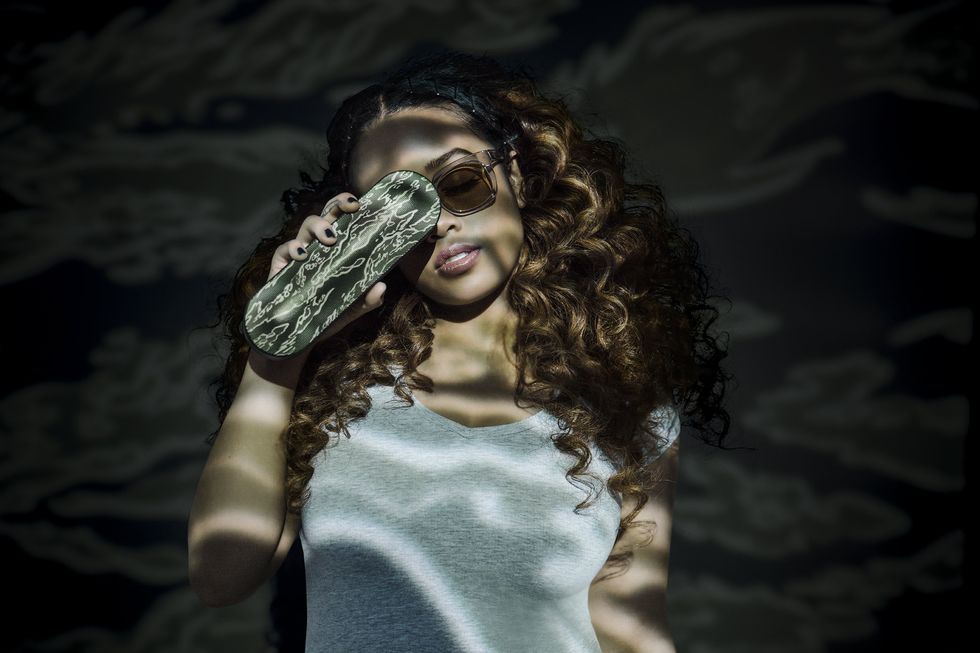 Beats in particular as opposed to any other sound engineering company is so integrated into hip hop and the culture in general. Beats has become the pinnacle.
Absolutely! They focus on what's unique about artists. The fact that they had me be apart of it was an incredible honor.
You see all of these brands, artists, and people operating in the music industry who have reached those insane heights, remain relevant by pulling other people up with them... The Gucci Manes and the Drakes. Did you have a mentor or someone of that stature reach out saying, "Hey, you're doing amazing things"?
Alicia Keys was one of them. She was a huge supporter of my music. My manager, Jeff Robinson used to manage Alicia Keys and he managed a lot of other artists like K. Michelle, Elle Varner, and even Tyrese. So they all became my big brothers and sisters and they've been really proud of me. Watching me grow up and find myself and blossom really.
You were also just touring with Bryson Tiller right?
Yeah, and that's another person that's been a huge supporter. Bringing me on tour was a big deal. I gained a lot of new fans and my message reached a lot of new people. So, it's very cool he shows a lot of love.
Touring must be at odds with you keeping a low profile.
I'm still pretty low key. I wear my shades on stage and that's where people can get to know me. That's where you see a lot of artists shine, on stage. I don't really have a favorite. When I'm on the stage I miss creating, but when I'm creating I miss the stage. It's just two different worlds, two different molds. Sitting in your emotion and writing a song is so much more personal than being on a stage and having to display that emotion every single night.
Do you need to be going through something or having that emotional upheaval to write well?
Sometimes, but I can revisit an emotion or look at something and have it inspire a thought or idea. I don't necessarily have to be living in it but I feel like that's when I get that song. When I'm feeling it all. Sometimes I have to go through it and process it in order to write about it. It really just depends. I'm a very moody and emotional person I don't think there's ever a time when I'm not feeling something. Maybe that's why I write.
How is that taking it to the stage and having to relive emotions in front of thousands of people?
I've always loved performing and being on a stage. I feel very free there. Putting on a show is different. I can be a character, I can be totally myself, and I can pick up my guitar and cry with the guitar. It's different.
What if a big fashion campaign or an opportunity came up that required you to have your face out there or putting H.E.R. on display? Is that someone you would consider or is it a flat no.

I don't think it would be a flat no, if it was the right thing. The right thing that represented all that I am because I'm not necessarily just hiding my face but it's a vibe and it's a feeling. So, something like a fashion campaign that represented that and still had the mystique to it then absolutely. Has to be the right time, maybe not right now but eventually. Right now my music is still reaching a bunch of people.
Related | I Went Shopping at Tj Maxx with Remy Ma
Is it the fame element that worries you? Is becoming famous unappealing to you?
No, not at all. Like I said, I live a private life and it is a little bit scary but at the end of the day it comes with the territory. It's what dreamed about, it's what I asked for, and there's no avoiding it. I've mentally prepared myself but I just want to touch millions of people. If I'm doing that then I'm going to be happy regardless. There's obviously a little bit of a fear of not being able to live a private like but it comes with it. I just love music and the fact that I can do it everyday is enough for me.
Is there a full length project on the horizon? Is there something big coming?
Absolutely. I'm in the studio right now actually. I'm working on an album but we'll see, maybe the summer time there will be some surprises. Everything will be elevated and everything is progressing. Just expect a lot of surprises, even with my live show it will be more of an experience.
Obviously, H.E.R. stands for Having Everything Revealed, will everything eventually be revealed?
There won't be a "Ta-da!" moment, it's really not what it's about. It's just going to grow from here and eventually you'll have to see me, you'll have to know certain thing but it's going to happen organically. It's nothing forced, I'm not hiding.
Image courtesy