There are very few artists that elicit the kind of extreme, excited response as the Backstreet Boys . They've been tacked onto countless bedroom walls, inspired gut-busting parodies, performed in musicians' most-coveted arenas and ushered in a kind of boy-band fan hysteria that now seems commonplace in pop culture today.
Related | Backstreet Boys Are Bigger and Better Than Ever
More than 25 years since the Backstreet Boys' debut, not much has changed. The posters may have been removed (and archived), and world tours have become residencies, but even the Backstreet Boys successors (the likes of NSYNC, One Direction, and BTS) cannot be credited with eclipsing their success.
While the band's members — Howie Dorough, AJ McLean, Nick Carter, Kevin Richardson and Brian Littrell — and their disciples may no longer be in their teens and twenties, only a few bars of "Larger Than Life" is enough to induce feverish fan-demonium. Back with a new single, "Don't Go Breaking My Heart," Howie D. explains that the Backstreet Boys aren't back — they never left.
I feel like everyone in my generation grew up with you. What's it been like to watch your fans age with you?
Honestly, looking at our audience now and the residency we've been doing this past year and almost two years, I'm out there seeing two or three, sometimes four generations out there. That's awesome to know we transcended that many generations. It's very cool to see fans that came with their parents or grandparents when they were maybe in their young teens and now the three of them are coming with the youngest members of their family, their newest addition.
Is there still the same sense of pandemonium like the 1990s?
Yeah, it's kind of crazy to think that it is, I don't know what it is about our music I'm going to be honest but I don't understand how music can touch people to the point where they want to cry or scream, sometimes, jumping back into their teenage bodies.
How was navigating that way back in the early days?
Navigating the fans? I mean it was, I don't know the right word for this, but what guy wouldn't want a bunch of screaming ladies after him? It's flattering. We're just five guys from American middle class families, to all of a sudden be thrown into this spotlight where people are being affected by you and your music it's kind of overwhelming. I always knew watching other big celebrities like Michael Jackson and Madonna and seeing how they would stop the streets and cause pandemonium at airports, to actually see that happen to us it's like, Is this for real? Do I need to pinch myself? It's one of those things you learn how to embrace and how to cherish. Sometimes people are like, "Oh my god, I'm sure you're tired of taking pictures and giving your autograph" and I say, "The day that I stop getting asked for pictures or my autograph is the day that I need to work." So I've learned appreciate the fans that I am able to touch like that.
I t's really amazing you guys were able to stay grounded through that.
I think it's just the fact that we realized success can be here today and gone tomorrow. Don't take it for granted. And don't take your fans for granted. Always push yourself to be better and know if you're not, and you just get at that one level and never push the envelope, someone else is going to come behind you and grab it. That's why I think having a great support system around you and having each other to keep each other in check and also our family our loved ones and friends. I'm just blessed I have a great support system.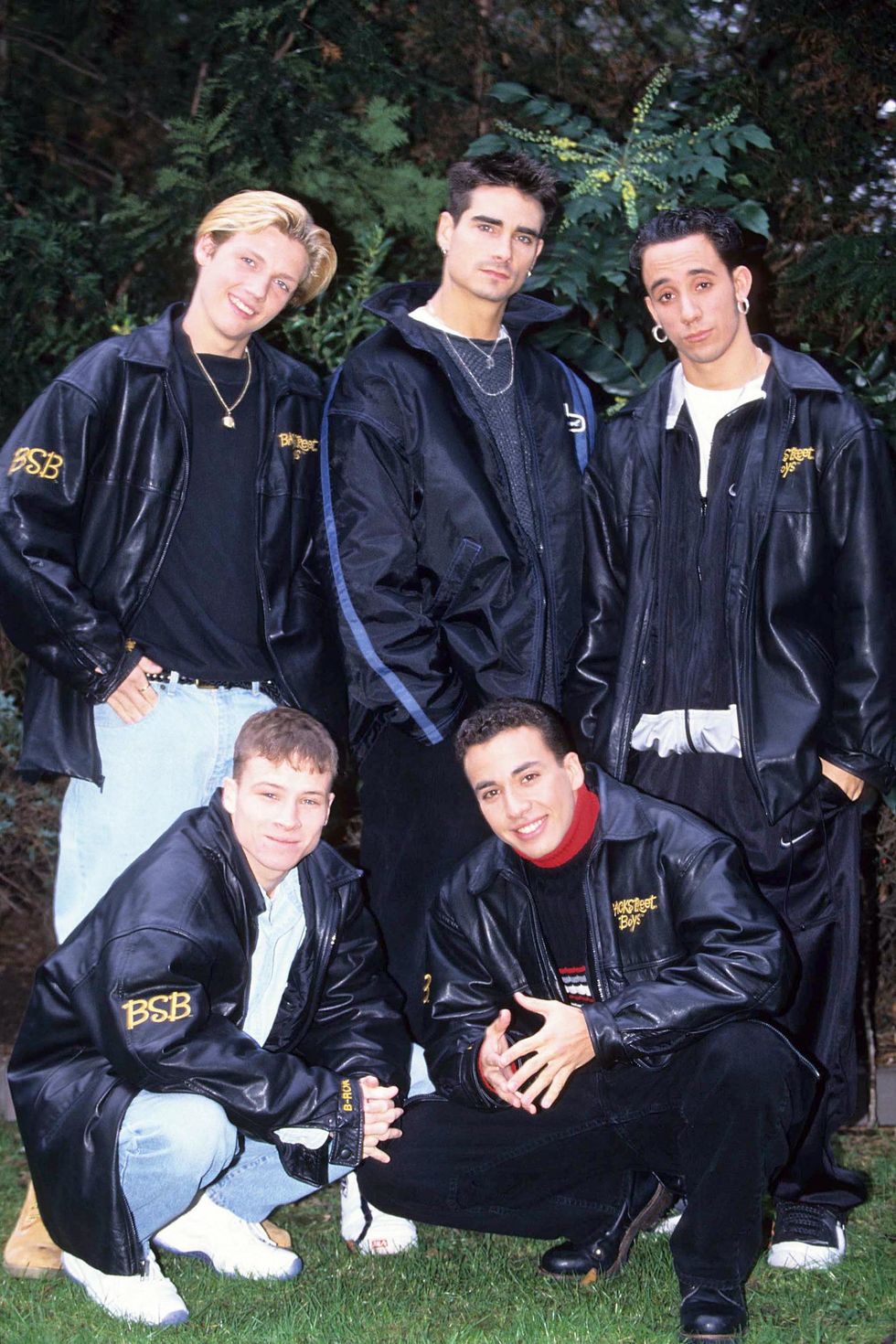 The Backstreet Boys in London, 1996 (Photo via Getty)
How was it to see those other bands reach your level of success? I know the Backstreet Boys and NSYNC were often compared.
Well at first it was like, "Oh okay well here's this next group on the scene. Got to keep your chops moving." If you start to think you're just riding the wave and keeping on top of your game, next thing you know, someone is right behind you who's hungry and willing to come over and possibly even take your position if you're not willing to work for it. I think all of the groups that were around us, it became like a friendly competition, it kept us all on our toes. To not just get lazy about things. With NSYNC, I think there was a lot of media and hype created around the fact that we were rivals to each other — we had no beef with those guys. I actually went college with Chris, we were in choir together. I actually think, part of the reason Nsync was created was because I didn't ask Chris to audition for my group. At first, that within itself was a little weird because it's like you're the first child stepping out and going to college and the next child behind starts going out. But we've known all the groups and now we're all hanging out together. We're all good, we have no beef with each other. It's because of each other we have had all had the success we've had. I laugh when I hear some fans be like you can't be an NSYNC and Backstreet Boys fan. No, you can be both.
You also look at these boys bands that have these meteoric rise, like One Direction. They peak and suddenly the band is broken up. How has that never happened to you guys?
If you would have asked me 25 years ago if I would have foreseen that we would have stayed together through the rise of it all... it's just a testament to our commitment to our fans and to our music. All help each other to achieve different goals whether its with each other or without, and sometimes that can even help the band. None of us want to hold each other back. Each of us have done individual stuff and we've had stronger legs to come back to the group on. And sometimes bringing in new fans to the group, so it's all about communication.
Related | Watch the Backstreet Boys Lip Sync the Spice Girls in Spice Girls Drag
There never any temptation for individuals to break off to be the Beyoncé?
I think we were always in it together. At the same time. There has definitely been times when either Nick was being asked or Brian had the idea of doing something or AJ and myself. Sometimes in a group we have to do some kind of individual stuff so you can keep your identity. But sometimes it's not about your individuality it's about being a team player, and I think the fact that none of us said, "No you can't do that" or "How dare you do that?" helped us and it's made us stronger. se the time to work on some individual stuff. It's all about communicating with each other. We have more appreciation for each other and we came back stronger. For whatever reasons in the cards that may be, that none of our individual projects exploded I think it's helped us to realize that we are the core and we're stronger together.
One more thing, is this single indicative of a large project?
Absolutely, we'll be coming out with another single as well and then hopefully the record before the end of the year. Right now, we're just playing it one day at a time. And at the same time we're going to keep on recording, I feel like everyday something new comes around the corner. We don't want to miss this opportunity so we're going to keep on doing it and see what comes of it.